First, the headline: you can now change your client's name, email and time zone in Paperbell.

This probably sounds teensy, but is one those "iceburgs" where we've actually restructured things under the hood that will allow even more of the improvements you've been asking for!

Before, if a client wanted to switch to using a different email address, they had to do that themselves. Or if you added them to Paperbell but spelled their name wrong, it was stuck that way until they changed it.

But now, you have full control over your client details. It looks small for now, but this change will allow us to make your client's entire Paperbell experience even more customized to your business.

To edit a client, just click on their name in your client list, then click the "Modify" button at the top of the page.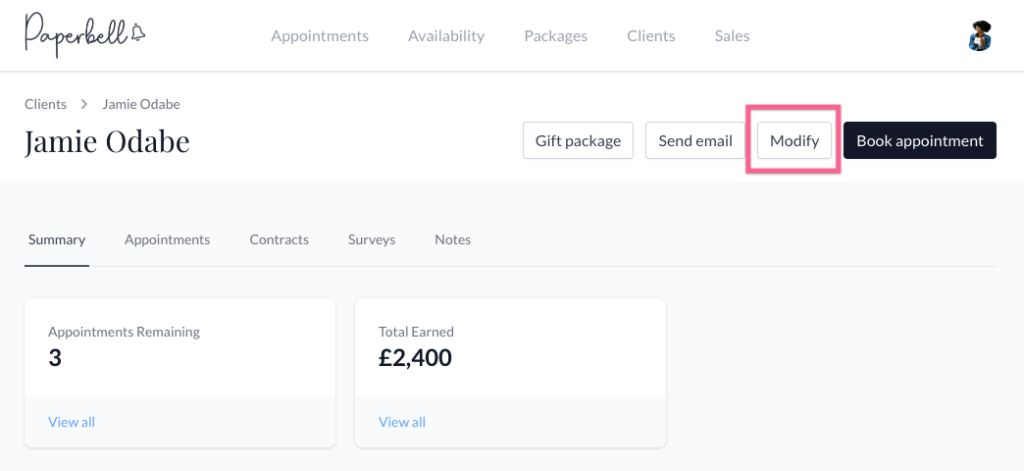 (BTW did you spot the "send email" button that we added up there as well? I bet you didn't even know you could email your client right from Paperbell!)

Another nice little upgrade we added this week – you can now find your meeting links right on your appointments page! Click on the meeting from the appointments page, and you'll see a detail page that includes the meeting URL.

And while we're on the topic – remember that your meeting links are ALWAYS in the Google Calendar invitation for both you and your client.

So if you're ever scrambling to find the right link (or your client is) I think Google Cal is the easiest place to look, since you likely already have that open! But now you know you can also find it in Paperbell (and your client can as well in their Paperbell client portal).

We have a lot more cool changes coming up in the next few months, it's gonna be a Paperbell Summer 😎 ! And keep sending us your suggestions for what you want to see!