This. Is. BIG.
The last time we spoke, we had just added embedded videos to Paperbell (good news, we now have Vimeo & Loom as well). And now we have really kicked things up a notch.
You can now automatically release your content over time – right from within Paperbell!!
This means that if you were using a separate course platform just to be able to deliver content to your coaching clients, we just saved you a ton of moolah! (Happy cyber monday, right?)
Here's how it works:
1. Go to https://app.paperbell.com/provider/packages and click "Create New" or click on an existing package in your list.
2. Click on the "Content" tab within your package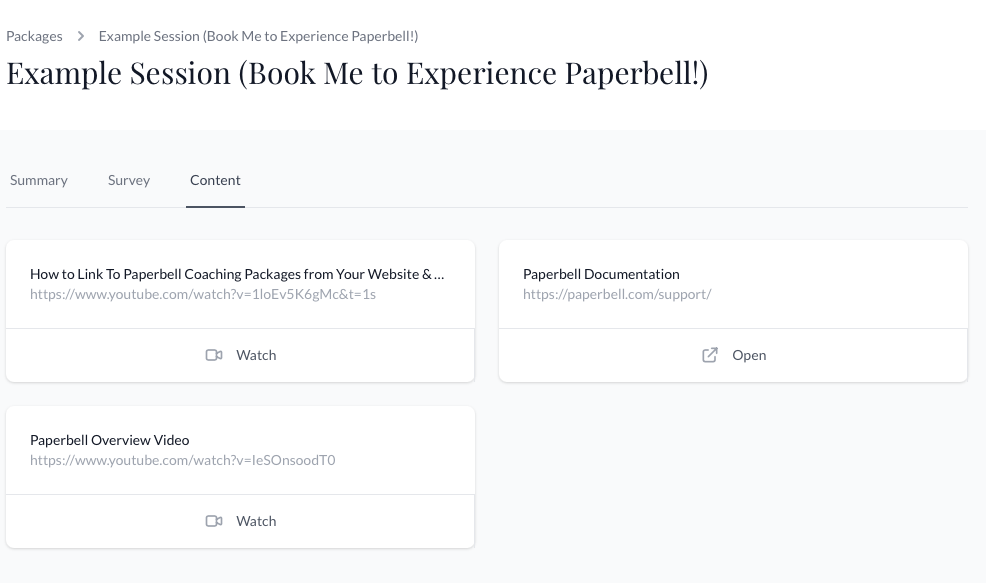 3. Click on either "Add link or video" or "Upload file"
Note: in addition to YouTube, you can now embed videos from Vimeo or Loom! This came directly from your top requests. 🙂

4. Choose when your content is available.
This is the new one!!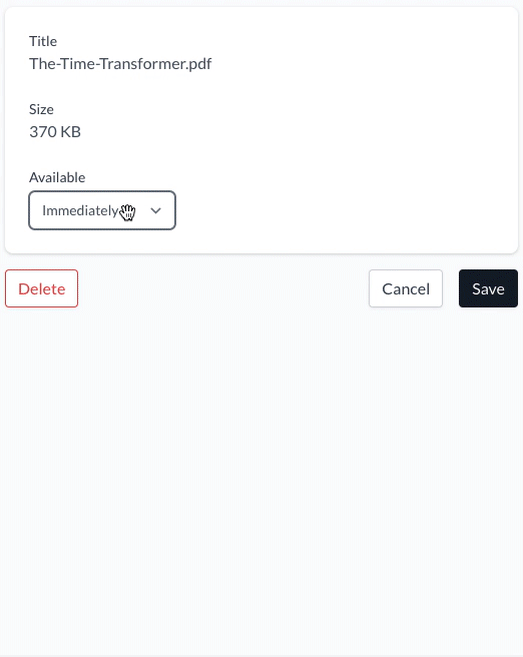 The "Available" setting lets you choose to deliver the content over time.

"Immediately" means that as soon as your client purchases, the content will be available in their Paperbell client portal.

"After purchase" lets you choose when after purchase the content appears in the client's portal. You can set any number of days or weeks after purchase.

"Fixed date" means the content will be delivered on a certain date
QIKYATA
(In case you're new around here, that stands for Questions I Know You're About To Ask.)
Will my client get an email letting them know the new content is there?
Not automatically – so if you would like them to you'll need to send an email triggered after purchase with the same timing as the content.
How much content can I add?
As much as you like! If you crash our servers we will send you a very polite email, but it hasn't happened yet. 🙂

How do I make the files show up in a certain order?
Files are shown in alphanumeric order. So the easiest way is to number them. For example:
1) Welcome video 2) First week's assignments 3) Watch this video if you're feeling stuck
How do I upload a video straight from my phone or computer?
You can't upload a video file straight into Paperbell, you'll need to use a video platform. Video URLs from Youtube, Vimeo, or Loom will automatically show up as embedded videos for your client.
Can I do cohorts, quizzes, certifications, or a forum?
Nope – we like to keep things simple! Paperbell was designed for delivering content as part of a holistic coaching or consulting package. If your entire business is courses and you need more advanced functionality, we'd suggest checking out Teachable or Podia. You can also include access to an outside course within your Paperbell package by including a link or access explanation as a part of your Paperbell "content".