OK have you noticed a trend? Every week I think THIS update is the most exciting one we've ever sent.
Well, I'm not going to lie. THIS WEEK'S UPDATE IS THE MOST EXCITING ONE WE'VE EVER SENT! 😉
Why? Because you can now add your clients right into Paperbell without them having to lift a finger!
Let's walk through the changes . . .
Add your clients to Paperbell!
You'll see this one on your clients page.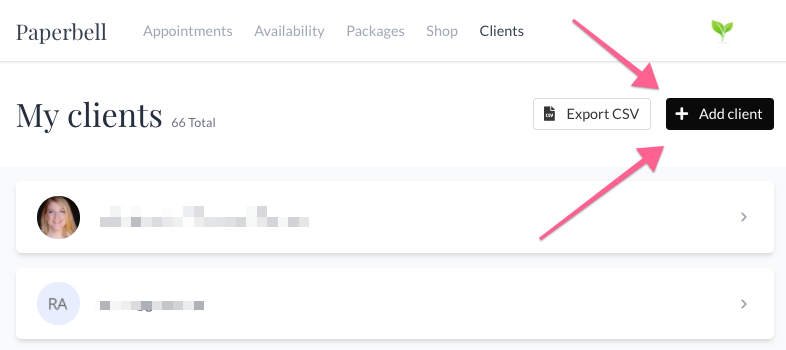 Adding a client adds them to your Paperbell client list so that you can keep all of your clients in one place, like those who were with you Pre-Paperbell.
We've also added another big new change you might want to use when you add a client:
Gift a package to your client
You'll find this one once you click on an individual client's name. It looks like this: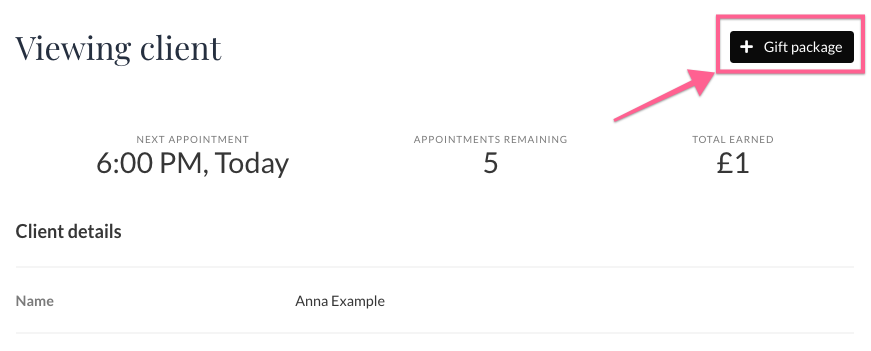 Once you click it you'll see the option to gift a package, where you can choose from all of the packages you've created.
Please note this only works for GIFTING packages, meaning your client will not pay. You may want to use this for clients who have already paid for your services, and you now want to move them over to Paperbell for scheduling and client management. You can also use this as a workaround for using Paperbell for clients who pay by check or other methods.
If you want to invite a client to buy a package from you, just send them the link to that package as usual.
Which brings us to our third big update:
Delete clients
Is your Paperbell account full of "test clients" that are cluttering things up? Do you just never want to see the name of that person that ghosted on your free session again? No problem!
You'll find this new option way down at the bottom of an individual client's page. (We made it red to scare you a little from clicking it too much.)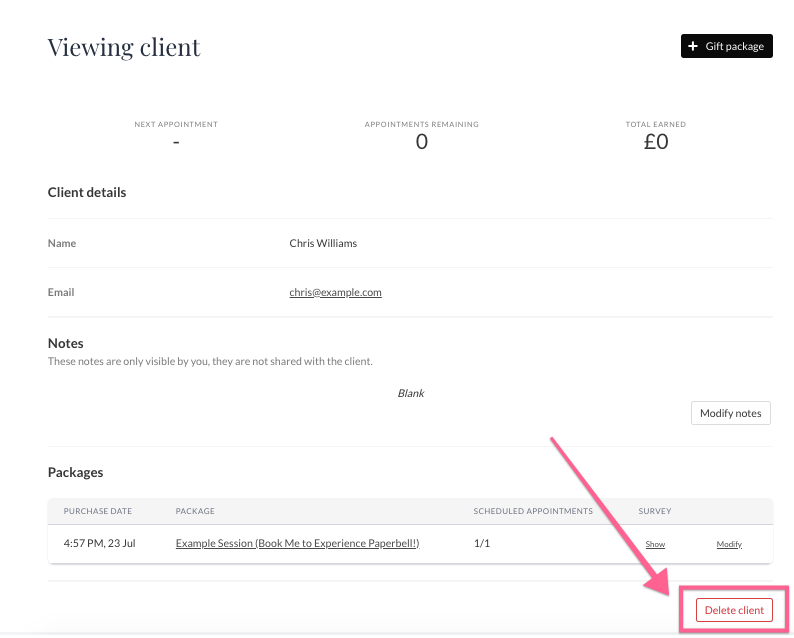 OK, things can get a little funky when you delete clients, so let's take a minute to break this one down.
First off, you cannot delete a client that has an active subscription or payment plan.
If the client meets those criteria, they will disappear from your client page but any upcoming appointments or unscheduled sessions will not disappear.
This is to make sure that both parties are still honoring any agreements that have been paid for. (If you need to add or subtract appointments from a client's package, you do so by clicking "modify" next to the package the client has purchased as shown above).
We strongly recommend using the "delete client" button VERY sparingly. Most people will never need to use it. It's really there to delete any test accounts you have hanging around, or clean up any mistakes you made while adding clients.
BUT WAIT THERE'S MORE!
There's another pretty major update that just went live.
We've removed ANOTHER layer of friction for your clients to use Paperbell!
Our first founding members (thank you! We love you!) told us loud and clear that your least favourite thing about Paperbell was that it added more friction for your clients than other scheduling tools you've worked with in the past.
We want having Paperbell in your corner to be just another reason your clients loooove working with you.
SO . . . we've eliminated client passwords entirely! 😱
What does that mean? It means we are now using a "magic link" system where clients just need to click the link in their email to access their Paperbell account (for example, to reschedule a session).
From your client's perspective, it just means they can purchase, schedule, and do all of the other things with your business without ever hitting the dreaded "Create login" screen.
As always, we've followed best-practice security standards for this system. And we've just added a security upgrade across the software, where any suspicious email addresses that sign up for your packages (like perhaps a free session) will face an extra layer of security so that no bots can break in.
OK, admit it . . . this one really WAS the most exciting update ever!