Paperbell is no fun
when there is
only one!
Paperbell is not just for you, it's for you and your clients. So let's break down exactly how to work with them in Paperbell!
First off, I want to address a common urge: you want to import all of your old clients into Paperbell, don't you?
PLEASE DON'T!
OK, just kidding about the all caps. But really, we advise you not to import old clients. There won't be any useful info tied to them and it will just clutter your setup. Instead, invite future or currently engaged clients to jump into Paperbell with you.
Which Paperbell link do I send to new clients, and how can I find it?
Paperbell is centered around the idea of packages. Your packages are what you sell (or give away, in the case of a free discovery call). So there isn't just one universal Paperbell scheduling link, it's all about which package you want to link to.
SO, when you need to send a link to a client, you first need to start with the package. Do that by finding or creating the right package in Paperbell. Then click on the package and navigate to the Sharing tab.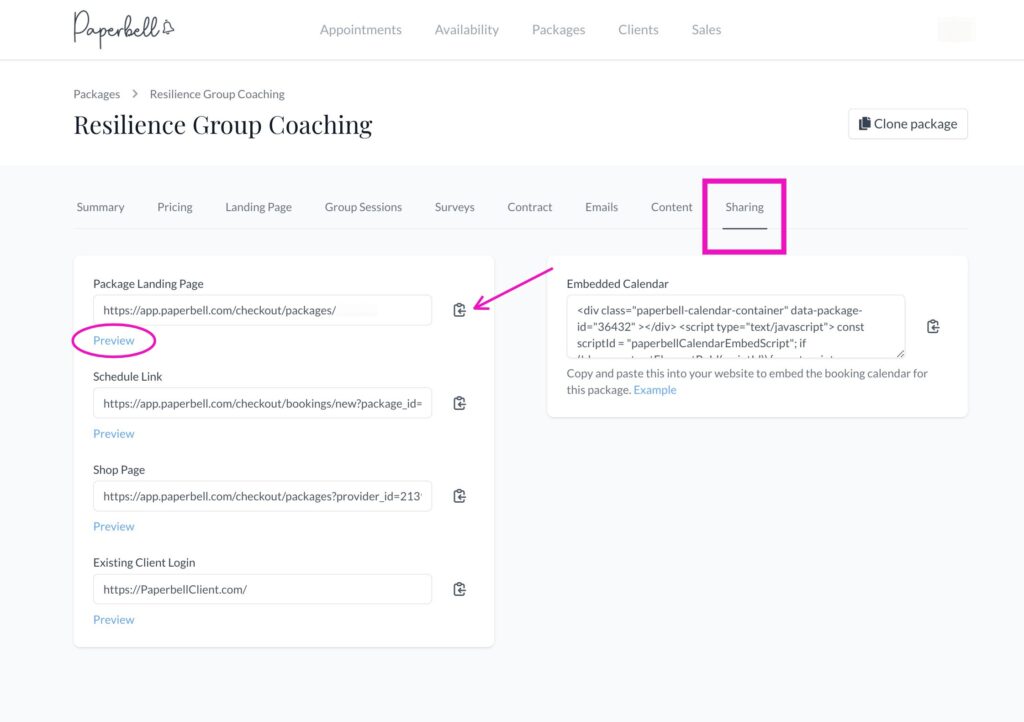 Once you're there you'll see a few different options. (BTW you can always find this later on our help pages if you want to bookmark that!) Also note that you can use the "preview" link to see exactly what your client sees, or the little clipboard arrow pointing left to automatically copy the link. 
📄 Package Landing Page
This is the URL of your package landing page – AKA what you share with the world! Here's more info on integrating Paperbell into your website and other marketing.
📆 Schedule Link
This link takes your prospect right into your "checkout flow" whether that is payment first or scheduling first (default it scheduling first). Use this link if you want to skip the package overview page.
Maybe you've created your own package overview on your site and you want to use a "Buy Now" button that links straight into the scheduling/booking process. This would be the link you use.
💈 Shop Page
This links to your Paperbell shop, and overview page with all publicly available packages.
🤵‍♀️ Existing Client Login
Looking for the link to send your clients so that they can access their downloads or schedule more appointments? This is it! Note that this is a universal link, it's not specific to any one package. If you want to grab it right now, the link is: https://app.paperbell.com/client
💻 Embedded Calendar (on the right side)
Copy and paste this into your website to embed the booking calendar for a specific package. Go here to learn exactly how to do this.
What about the clients that are in the middle of an engagement with me?
Good question! We have a whole help doc on that, read it right here. Remember: only add them to Paperbell if they are in the middle of working with you, not if they are finished.