Coaching Software Reviews
Paperbell is the new online software tool that manages the "business side" of your coaching & consulting business. Payments, contracts, scheduling, & admin – all in one place.
14,131 (and counting!) coaches & consultants have signed up for Paperbell. Here's what they have to say:
↑ "They've made it extremely simplistic which means that anyone — no matter how tech savvy you are — can basically jump in to this software and within 15 minutes to half an hour you could probably be up and running and sending your link out to clients. All the core features what most coaches want are in Paperbell: you've got your contracts, you've got your email sendings, you've got your CRM side of the software.
This is ultimately everything you actually need to run a business and keep everything centralized. Overall, I think Paperbell have done a fantastic job. And would I recommend them to a friend? Yes, I would."
If you are looking to scale your coaching practice and you care about seamless customer experience and accountability for your coaching client, Paperbell is the right solution for you. It's super easy to use, intuitive, clean, and minimalistic, but a huge difference in keeping a coaching practice organized and optimized.
Before Paperbell, I had to use multiple systems to keep the coaching operations productive. I've been looking for integrated solutions for a while. I was thrilled to discover Paperbell.
I highly recommend the tool to anyone offering coaching, mentoring, consulting, and similar professional services.
I am using Paperbell to book in new clients to group and 1:1 coaching and this means I don't need 3 or more different types of software as they handle diary management, payment processing and paying in instalments as well as giving my clients contracts at the start of us working together.
It does everything for me – schedules my coaching appointments (whether group or individual appointments) and collects the money – again this can be scheduled so clients can pay in instalments and I don't have to worry about chasing them up.
But my favourite thing is how responsive Laura and the team are. They answer all queries personally and make you feel valued as a result.
I love Paperbell! It is definitely making my life easier.
Instead of manually reaching out to my clients at every stage, I'm able to accept payment, initiate scheduling, and send reminders automatically.
It gives me peace of mind to know that clients are being prompted and reminded, reducing my no-shows and completely removing me from the hassle of rescheduling.
Paperbell helps automate a lot of pre-sale and onboarding tasks and reduces my time from inquiry to booking (not to mention helping me focus on the actual WORK I do and not just admin). I love the fact that Paperbell is so customizable in terms of the kinds of packages you can offer, payments, and scheduling. Laura and the team are super responsive and keep rolling out new features that make the software even better.
If you're a coach or service provider who's sick of scrambling to put out proposals, settle on a mutually agreeable meeting time with customers, or locate the same three onboarding docs every time you get a new client, Paperbell is for you. Paperbell automates many of the time consuming, nitty gritty tasks that are central to running your own business so that you can focus on doing what you love: helping clients get results.
Using Paperbell means that I do not have to be in my head about a lot of things. Before, I was trying to figure everything out, always in my head, getting headaches, getting frustrated.
Paperbell helps me know I can just go into the system and create what I need.
↑ "If you are ready for something that does a lot more things, I invite you to look at Paperbell. Paperbell is created the software specifically for coaches, so they can have all of the tools that they need within the same software. This software allows you to schedule stuff. It allows you to get documents, It allows you to manage your relationship with your clients."
 "The reason why I like Paperbell is because it's new in the market and it's doing the duty of a couple of programs.
Paperbell allows you to do your scheduling, packages, and work with your clients. If you're looking for any kind of program where you're working with your clients doing coaching or consulting, it's amazing for that!
And the cost of the program is pretty low in comparison to a lot of different programs. Definitely check out Paperbell, if you're in the market for a coaching program. I promise it will completely change your client workflow!"
I love using Paperbell for scheduling. It is seamless to have my clients go from my sales or program page directly to Paperbell to purchase a package or schedule a free chat.
I just used Paperbell for the first time and it was so easy.
I sent a link through a DM and got paid immediately. Fricken' genius!
So nice to have a single system to manage everything vs. different systems spread all over the place.
This tool is really ideal if you have a coaching business and I've already recommended it to several coaches I know who are doing things the manual way.
I'd been waiting for a product like this for 5 years. I've been using Calendly, Gmail, Drip, and Square to coordinate my client process. I've now replaced all of that with Paperbell!
The backend is intuitive and has a clean design. Customer service is a breeze and friendly.
I don't have to toggle between too many systems to organize scheduling, payments, and communication. Laura is incredibly receptive and responsive to any feedback and her team is actively working on improvements and implementing new features.

I like how easy it is to create an offer and set the calendar to my specific scheduling needs. I create my schedule around my menstrual cycle and family needs. Being able to set availability beyond syncing my calendar is the best feature for me, as I can create blocks of time in addition to alternating availability.
I am loving Paperbell. Saves so much time on manual stuff I was doing before to onboard clients!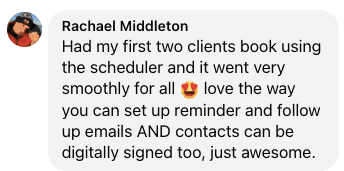 I am loving Paperbell so much! I've recommended it to several other friends in the coaching and wellness space.
Though I'm just starting out I already don't know what I would do without Paperbell. It's made everything so seamless and taken so much back-end work and worry off my plate I can really concentrate on growing my business.
 I have really enjoyed the overall experience with Paperbell.
Customer support has been great and I appreciate that it is simple to set up and use, and integrates with all of my current processes to make running my business even easier than before Paperbell.
It saves me a ton of time by handling all payments and scheduling, eliminating the need to chase down unpaid invoices and removing me from the scheduling process.
I love having switched to Paperbell for scheduling all my coaching calls with clients.
The interface is minimal and gorgeous – NO CONFUSION for the client! – and super easy for me to set-up. I especially love being able to create a biweekly schedule with ease.
Paperbell has boosted my confidence, and makes running my coaching business feel more manageable, instead of a very piecemeal or scattered approach to running a business.
When you're a solopreneur, or an entrepreneur, it can feel a little messy. Having Paperbell has made me feel  that a big part of my business is at the ready and I don't have to worry about it. That gives me the confidence to then just go out and focus on marketing and being a good practitioner. Now I don't have to scramble or worry when I'm trying to onboard a client or enrol clients, it has made a real difference.
I recommend Paperbell to everybody who I talk to.
It's so easy to set up… like super, super easy, really fast. And I genuinely love that I don't have to spend any time taking payments, scheduling appointments or managing my calendar. I love that I never have to worry about whether this person paid. I don't have to ask for anything, it just automatically gets done. It's so good.
I was really surprised and happy with Paperbell! I'm thankful that I took the chance with them.
Paperbell provides everything that I need to run my coaching practice efficiently. It's really simple to use, looks great, and has made this part of my work stress-free!
I appreciate you creating this product so much! I have been wanting to offer mentoring for a long time now, but I knew that the logistics side would be too time consuming.
Most CRM tools out there are missing features coaches and consultants really need.
Paperbell understands the importance of combining the number of sessions included to packages, making it super easy for service providers to track how many sessions they have left with clients. Plus, there's a feature that will remind your clients to book appointments if you haven't seen them in 30 days!
You can automate sending forms before / after each session, making things a breeze for you! Paperbell recently released the option to add discounts on pay-in-full packages and I can't think of any other app that does this!
Set up was very easy, even for a non-tech person like me. I was especially pleased with how easy the integration was with my payment processor. 
After a new client call the other day they needed a custom plan with me. In minutes I designed it on Paperbell and had it to my prospect. So much quicker and easier than building a new webpage on WP.
Before Paperbell I was using a lot of different apps to manage my business and things got out of control. With too much going on it ended up being more work than then benefit.
We're all busy, we don't need a complicated selling process. With Paperbell, I started and just jumped in. It was just so simple to put together. Very quickly I can pull things together, I can pull a link to a page and email it to someone.
For people in this specific area of virtual coaches/online coaches, it's a game changer!
It's kind of like having a virtual assistant for a really affordable price. Doing a lot of the stuff that was time consuming for me to do.
Free Account, No Credit Card Required
payment, contract, scheduling, & admin coaching software
There's no time limit, and you'll have access to every feature. That includes scheduling, checkout, digital downloads, contract signing, and more.
Your account is totally free and unlimited through your first client, however long that takes.  
* Free accounts are a limited time launch offer