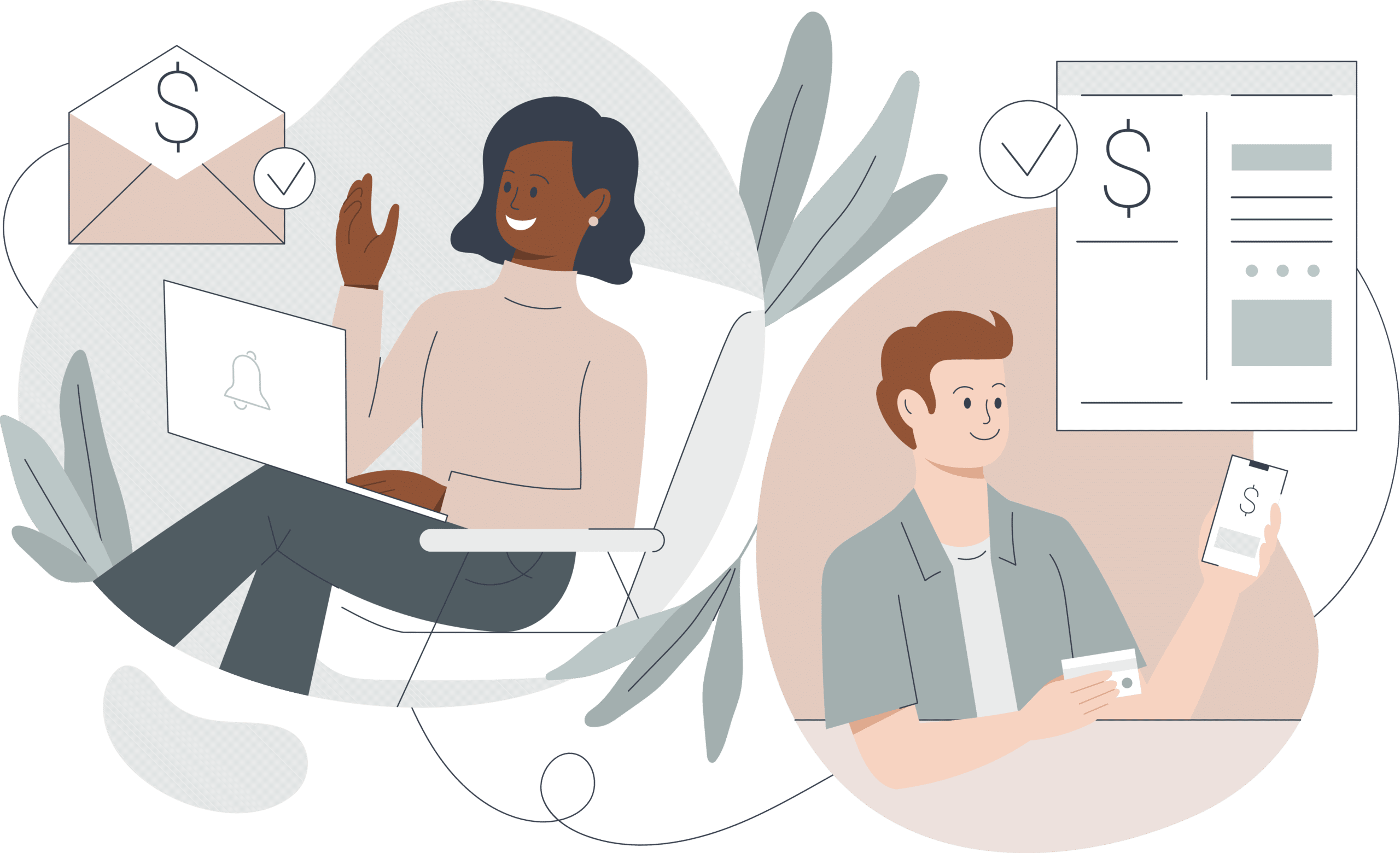 The Crazy-Simple Way to Sell Your Coaching Online
Beautiful online coaching packages ready for your clients to pay, schedule and get coached! Simple for you, simple for them.
100% Free for your First Client, No Credit Card Required
"The ease of use for me and my clients has been game changing."
– Matt M
"Paperbell is IT for online coaches!"
– Heather H
"If you are a coach, you NEED this product."
– Lisa T
Here's How It Works:
"This product is exceptionally easy to use and straightforward to set up."
– Anna, Transformational Energy Coach

Craft Your Coaching Packages
Payment plans? Subscriptions? Add in digital downloads? Group coaching? Free discovery sessions? Whatever you sell, Paperbell makes it easy.

Share Your Offer Pages
Paperbell auto generates a landing page for each offering – link to your "Little Shop o Coaching" on social media, or embed your scheduling page right into your site. All custom branded.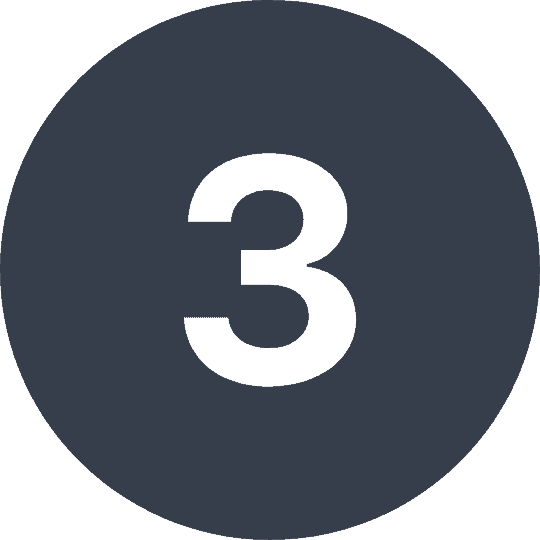 Your Clients Pays, Schedules & Signs In One Fell Swoop
No extra tools, no complicated stuff, no back and forth! Just one easy link that covers payment, scheduling, contract signing and set-up.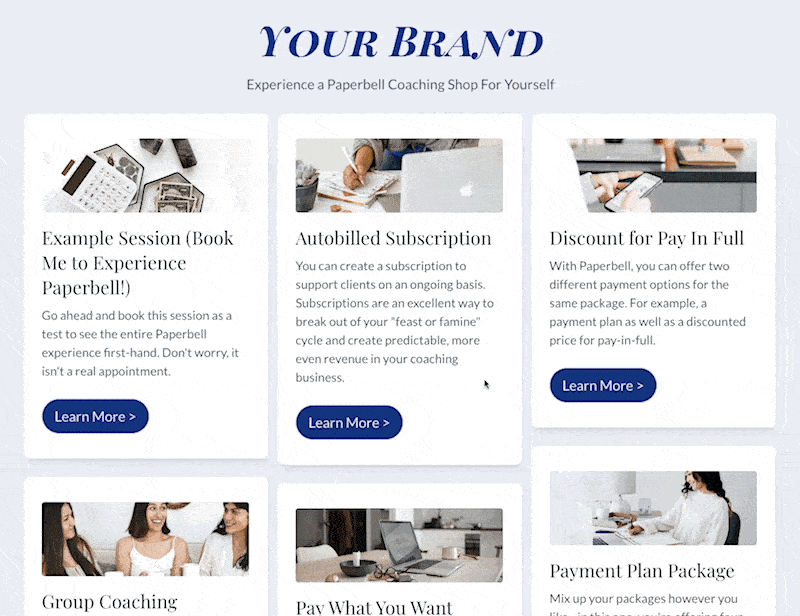 Turn Your Coaching Skills into Coaching Income
Stop struggling with building a business from scratch – Paperbell handles all the tricky moving parts in one place, automatically.
↑ "If you are ready for something that does a lot more things, I invite you to look at Paperbell. Paperbell is created the software specifically for coaches, so they can have all of the tools that they need within the same software. This software allows you to schedule stuff. It allows you to get documents, It allows you to manage your relationship with your clients."
✔️  "I love the scheduling and billing is handled. I love that appointments are well managed. I love the custom questionnaires and contracts are all completed with this software before my clients even book an appointment. No chasing people for paperwork!"
- Ellen, Restorative Relational Trauma Coach
✔️ "Scheduling regular 1-on-1 calls for my clients used to take multiple products, integrations, and workflows to make happen. I'd get regular emails like "hey do we have a call this month? How can I schedule it?"
With paperbell, clients are able to schedule calls whenever they need to and I know that they are getting exactly what they've paid for! No more manually tracking who is due for a call and who has not. The autoresponder feature also allows me to give them instant access to all deliverables the moment they purchase."
- Abbey, Marketing Coach
 "The reason why I like Paperbell is because it's new in the market and it's doing the duty of a couple of programs.
Paperbell allows you to do your scheduling, packages, and work with your clients. If you're looking for any kind of program where you're working with your clients doing coaching or consulting, it's amazing for that!
And the cost of the program is pretty low . . .  I promise it will completely change your client workflow!"
✔️ "I love that clients can purchase packages through one click, get automated emails, can book their appointments, can reschedule as needed, sign their contracts, fill out their in-take and off-boarding surveys - all in one place!"
- Sarah, Professional Trainer
✔️  "No more calendly plus docusign plus checkout. Everything's here!"
- Sandy, Life Coach
✔️ "Prior to using Paperbell, I was using separate services for appointments, contracts, and billing -- and now it's all in one. It has saved me a ton of time and it's super easy to use -- for me and my clients."
- Stacey, Coach & Consultant
This Is Your Uplevel to a
Thriving Coaching Practice

"Before discovering Paperbell, I used separate services for appointment booking, contract signing and collecting payments. P

aperbell handles all of these things in one place, which has saved me time and restored my sanity

so that I can focus on coaching my clients!"
– Winnie, Life Coach

Payment plans at whatever cadence you need, ongoing "pay as you go", pay-in-full-discounts, deposits, coupon codes and more. And you'll accept all major credit and debit cards.
Let your clients self-schedule according to your ideal timeframes. We include all the features of dedicated scheduling tools like buffers between appointments and automatic time zone translation.
See your notes, purchase history, signed contracts, completed surveys, appointment history and more for each client at a glance.
Cancel your contract-signing expense, because HelloSign is included right in your Paperbell subscription! E-signatures are integrated right into the booking process.
Paperbell auto-generates a beautiful, custom branded landing page for each offer. You'll also have a "shop" page for showcasing multiple options.
PDFs, videos, worksheets? Whatever you want to deliver to your clients, Paperbell handles it. Choose everyone in a package or just one client, and even drip-feed content over time. 
👯‍♀️ Group Coaching
& Live Classes
Create small group coaching, cohort-based packages, or live online classes. You can even create packages with a mix of group and 1:1 coaching. 
But Will This Work For Me?
We know diving into a new system can feel like a leap, and you want to make sure Paperbell will work for you!
What if this takes me forever to set up and learn?
Paperbell is truly simple to set up and to use. Our customers don't need an outside consultant, assistant or specialist to set up their account, it's very easy to do yourself even if you wouldn't call yourself a "techie".
What kind of support do you offer?
We offer world-class support via email, answered same business day Monday-Friday. You'll get a thorough, knowlegable and friendly response every time. 
Will it be hard for my clients to figure out?
Paperbell makes life easier for your clients! A client portal is automatically created for them where they can buy more sessions, book appointments, fill out surveys, access materials and more. They don't even have to create a password, so it feels seamless from the client end. 
What if I sell a mix of online programs and 1:1 coaching?
Paperbell's got you covered – you can include videos, digital downloads, worksheets or basically any other type of "extra" right alongside your 1:1 or group coaching package. You can even "drip feed" the content over time.
What if I have a special way of doing things that Paperbell doesn't work for?
Paperbell is simple yet covers the ways that coaches like to work with clients. For example you can include different session lengths in your package, offer different payment options, or create a mix of 1:1 and group coaching in one package. Try out a free account and see!
What if using Paperbell takes MORE time than just doing things manually?
Paperbell is a huge time-saver because there's no back-and-forth with your clients on every little step. Your client easily pays, schedules their appointment, signs their contract, even fills out their welcome survey in ONE seamless experience instead of those all being separate items you have to remind them on.
What if I'm just getting started?
There are two types of coaches: those who start out with Paperbell and those who wish they had! 😉 Plus, you can start with our free account so that you aren't paying until your business is off the ground. 
Is this affordable?
Yes! First, start out with our free account – no time limit, no credit card required. After you add your first client you can upgrade to a paid account which is $57/mo, or sign up for our annual plan to get two months free! Most coaches can cover their entire annual payment by selling just one coaching package. 
What if I pay and it doesn't work?
You can get a completely free Paperbell account, no credit card required, right here. Take it for a test drive and see everything inside Paperbell for yourself!
We also have a 30-day refund policy. If you sign up for a paid plan then change your mind just reach out for a full refund.
AND Paperbell Saves You Money!
💰  "I love this platform. I cut costs by paying one flat fee for CRM, booking, payment processing, and contract signing and booting all the other platforms!"
– Laura, Intuitive Coach
💰  "Paperbell is saving my business over $90 A MONTH."
– Nisha, Life Coach
💰  "For the price, this is a #musthave piece of software for any Coach. It does so much for such a small investment."
– Dan, Business Coach
💰  "I like that Paperbell costs about half of Kartra and delivered what I needed without having to pay for extra features that I was never going to use."
– Joylyn, Creative Coach
💰  "Phenomenal value and an amazing, practical software."
– Jess, Health Coach
💰  "I can charge more for my services while delivering an easy buying experience to my clients."
– Jessica, Travel Coach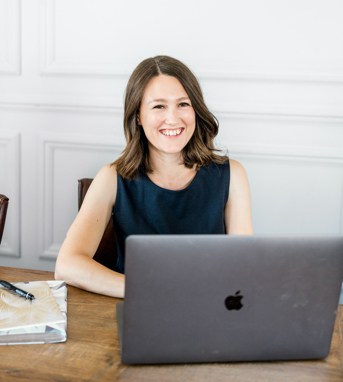 After I exited my last software company, MeetEdgar, I started advising other entrepreneurs. That's when I discovered that the tool I needed to run my coaching practice didn't exist – so I created it!
I'm passionate about helping coaches make a living doing what they love. We're a small but mighty team obsessed with creating an amazing experience for our customers. Reach out any time at hello@paperbell.com. to get to know me and the rest of Team Paperbell, we'd love to hear from you!
– Laura Roeder, Founder
Experience Paperbell for Yourself
Get a fully-featured Paperbell account for free, no credit card required. Only pay after your first client.
* Free accounts are a special offer