Set up fees (or set-up fees, or setup fees, or deposits) are used when you'd like to add an additional fee to the first payment of a payment plan or subscription.
How to Set Up . . . A Set Up Fee!
Go to your packages page and click the page you'd like to modify
Look for the Pricing tab and click the price you'd like to add a set up fee to: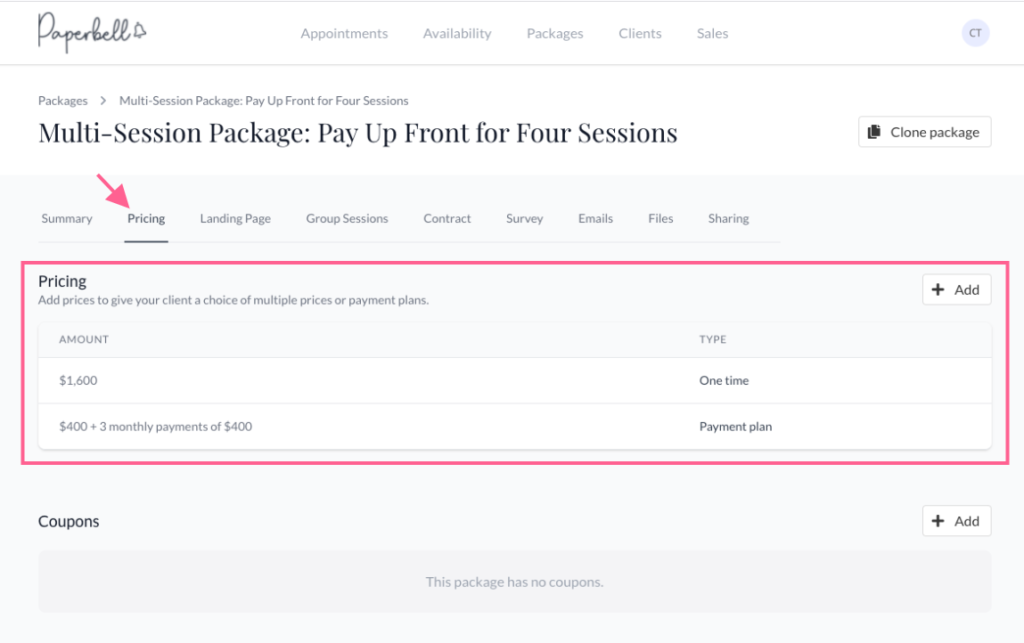 3. Type your setup fee amount into the box and hit "save". Note that this amount will be added on to the first payment, which is made immediately upon purchase.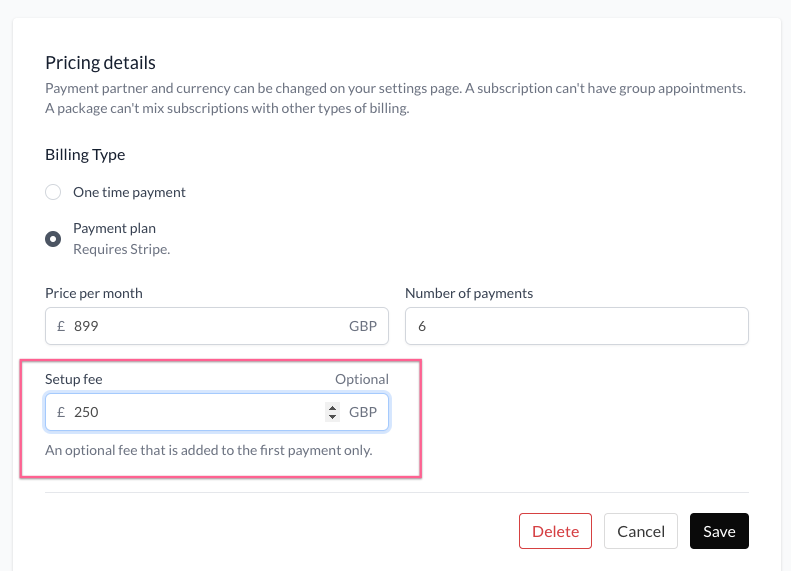 Frequently Asked Questions
What if I want to do a set up fee on a one time payment?
So you want to have an initial set up fee, and then one more payment? (Maybe the remainder of the total amount?) Simply create a payment plan with two payments, and add the set up fee to the first payment.
Can I use set up fees to take money now, and then charge the rest of the fees at a certain date down the road?
Nope, the next payment after the fee will be one month after.
Wait, so is my client charged the set up fee and THEN the rest of the payments?
No, the first payment is the payment amount PLUS the set up fee. If you're feeling unsure what your client will be charged have a look at your package Pricing tab where it's clearly spelled out:

What kind of packages can I use this on?
You can use this for any kind of package with a payment type of payment plan or subscription.
Can my first payment be lower than the subsequent payments?
No, set up fees can only be used to create higher initial payments.
So how do payment plans work? Does my customer get an invoice or is their card charged automatically?
Glad you asked because we have a whole doc about that! Your customer will be charged automatically.
So when exactly is the set up fee charged?
The sum of the set up fee AND the first payment is charged when your client makes the initial purchase. Your client will then automatically be charged monthly for any subsequent payment plan or subscription fees.
keywords: higher initial payment, different payment amounts, fee, fees