How to Add Your Availability To Paperbell
Use the availability section to tell Paperbell when you're available to meet with clients. You can schedule one-off blocks of time, or create weekly or bi-weekly schedules.
Create new availability by clicking on a day in the calendar, or use the "➕ Create new" button.
Your availability will always show in your own time zone, which you can modify in your account settings.
You can modify an existing availability block by clicking on it in your calendar.
Connect or edit your Google Calendar here.
Paperbell uses your synced calendars to see when you're busy during your "available times."
For example, if you've told Paperbell that you're available from 1-5pm on Monday, but you have a doctor's appointment on your Google Calendar on Monday from 4-5pm, Paperbell will not book you at that time.
So you don't have to worry about fine-tuning your availability within Paperbell. Just make sure to block off any busy times in your synced Google Calendar and Paperbell will take care of the rest.
Your "publish to" calendar is where client appointments booked by Paperbell will appear on your Google Calendar.
Client View
Want to know how your availability interacts with your synced Google Calendars? Or to see exactly when you're available for your clients?
Simply head to the Client View.
This shows you exactly what clients will see when they're on your booking page. You can switch the Client View time zone on that page without changing the time zone on your own account. So whether you're based in the UK or the East Coast of the US and want to know which hours you're available for your West coast clients, you can see that instantly — no time zone math required!
Note that clients do not see a dropdown of different package options; this is only shown to you.
Availability Tips & Tricks (To Ensure You're Never Double Booked!)
Tell us if you've ever been in this situation: you send your client an online booking link. They book a time for two weeks in the future right when you're normally available, Wednesday afternoon . . . and the day before, you realize that you've volunteered for a school field trip that day and can't make the call! D'oh!
We want to make sure you know all the tricks to nail your Paperbell setup so that never happens.
The most important thing to understand is that your true availability lives in your Google Calendar, not in Paperbell. (If you use a different system, you'll need to sync it up with Google Cal.)
This is key: sync up alllll of the calendars that truly reflect your schedule with Paperbell. That means when you look through your calendar settings, sync up everything so that if you're unavailable, you are not going to be scheduled.
Maybe you have one calendar just for your monthly book club, another calendar for your personal trainer workouts, and another for your daughter's doctor appointments. SYNC IT ALL! 
What you DON'T want to sync is all the "FYI" junk that's on there but that doesn't actually reflect your availability (think your partner's flights for work, or teenager's test deadlines). 
By the way, if you keep your schedule across multiple Google accounts, here's how to get them all into Paperbell.
🚨Major lifehack alert: Google's Free/Busy Setting
Check out this very small setting on your Google Calendar: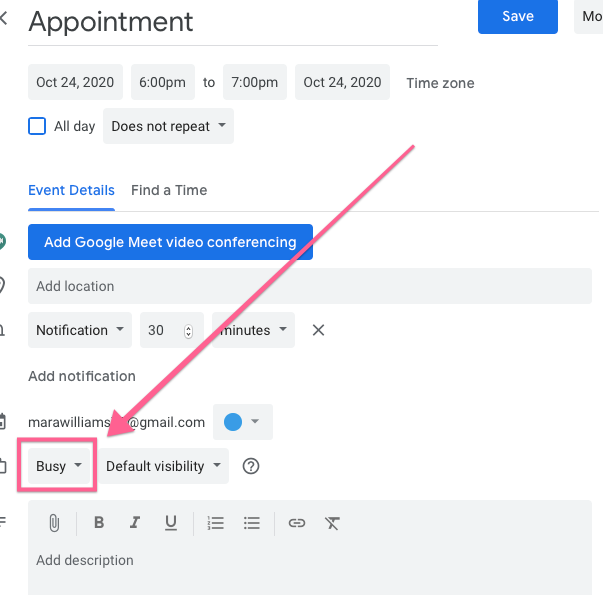 That setting is actually super important, because if you are marked as "free" Paperbell will still think you're available for booking. (This also is a great hack for putting things on your Cal that mean you're actually available, like when the babysitter is over. Just mark the event as "free.")

Here's where things get weird: if you have an "all day" event, Google marks you as free by default. This means that if you put an all day event like "TRAVELING TO GREECE DON'T BOOK ME" Google will actually mark you as "free"! Find that Busy/Free dropdown and change it to "Busy" to actually keep it blocked off.
🌴 OK, this free/busy thing brings us to our next major point to nailing availability perfection – how to handle one-off stuff and vacations.
We recommend messing with your Paperbell availability as little as possible.
What you DON'T want to do is go into Paperbell every week and tell it when you're available. Instead, you want to have regular availability that is cancelled out by what you have going on that week.

🛑 DON'T: Look at your upcoming week and say "OK I've got Monday afternoon free and Thursday morning, and looks like I'm open all day Friday" and then make all that your Paperbell availability.
🏁 DO: Instead, you want to use Paperbell availability for your "regular" times. (Which kinda forces you to actually think about when those regular times should be AKA time blocking your client hours! Winning all around.)
So you would tell Paperbell that you want to talk to clients in the mornings on Monday, Tuesday and Wednesday, and all day Friday. (By the way, you can offer different availability for different packages! Here's how.)
Then when you have other conflicts during your regular hours, Paperbell pulls them in from Google Calendar automatically. No need to keep updating Paperbell. 😇