A payment plan allows your client to make multiple payments over time instead of just one payment up front. You can set this up for the payments to go through weekly, every two weeks, monthly, every two months, or every three months.
This is commonly used for longer coaching engagements. For example, you may have a package that includes six sessions and is paid with a six-payment plan of $200 each payment. You can also think of this as an installment payment.
How do I set up a payment plan?
Payment plans are found in step two of our package setup.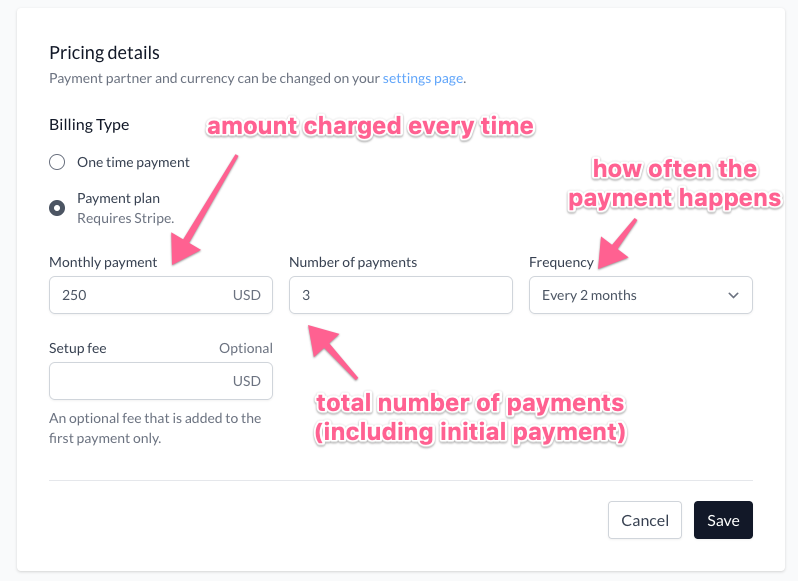 You'll be able to choose from a dropdown of frequency options: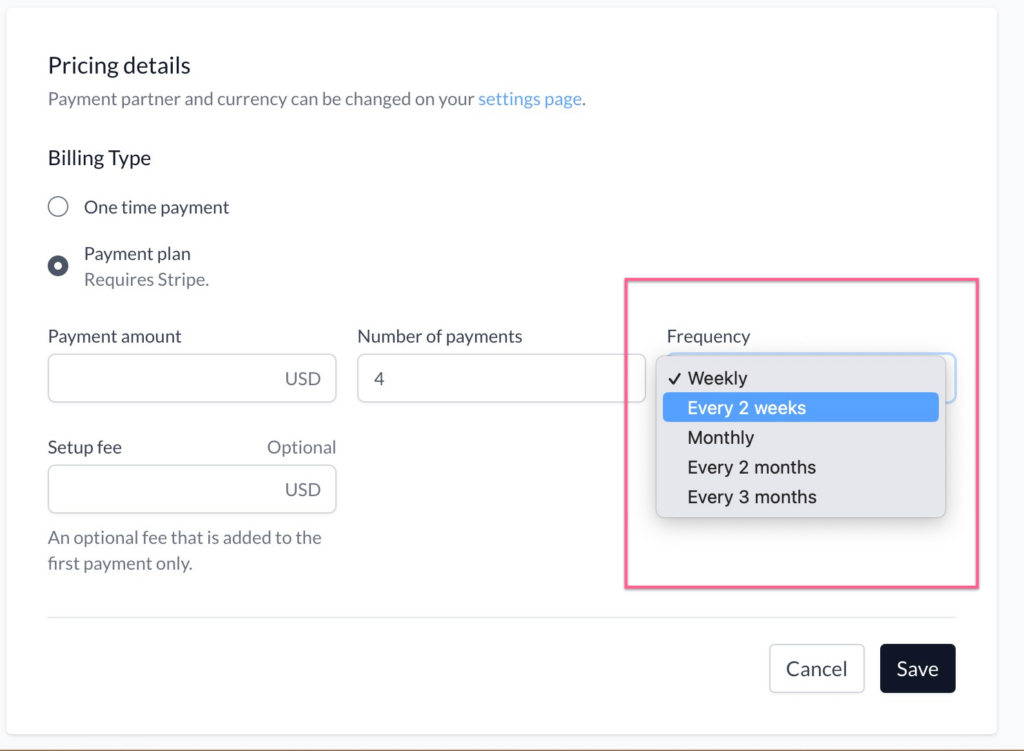 You can also add a one-time setup fee that will be charged with the initial purchase.
To change or add a payment plan to an existing package, look for the Pricing tab. To change or remove an existing price, click on that line.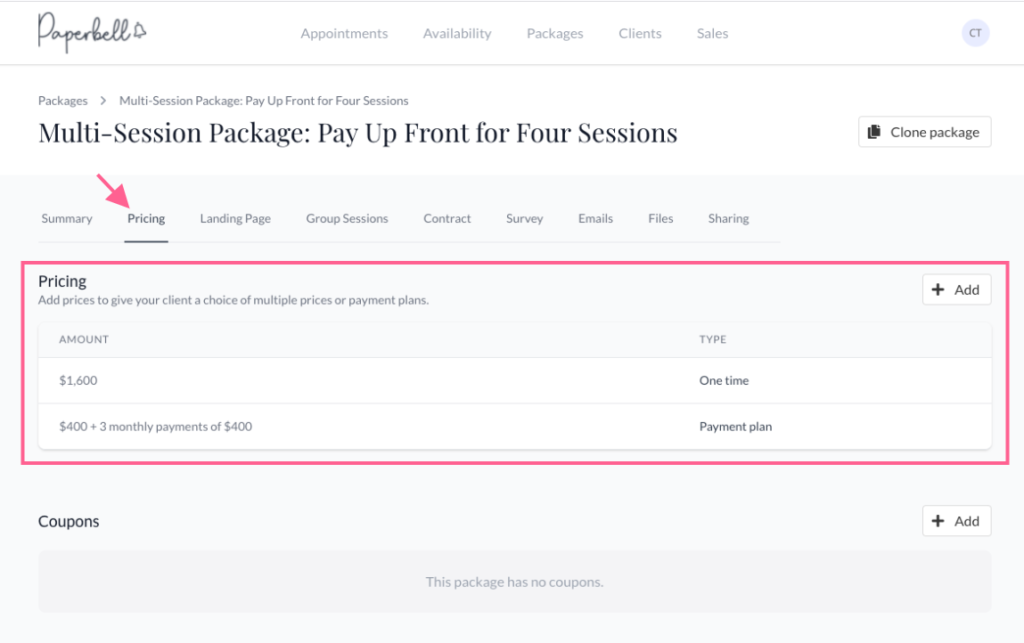 Payment Plan FAQs
Is the client's card automatically charged for each payment?
Yes. Your client will be automatically charged for each payment. They do not need to re-submit their payment information or approve anything.
Does my client receive a receipt for each payment?
Yes. Stripe does this. If you'd like to modify it, check the settings of your Stripe account.
How can my client update the card on file for their payment plan?
They will log in at https://PaperbellClient.com/, and then click the Packages tab at the top of the page.
Then, they'll click on the name of the package associated with that payment plan. They'll see an overview of the package.
Click "Update" next to the credit card info to add the new card details.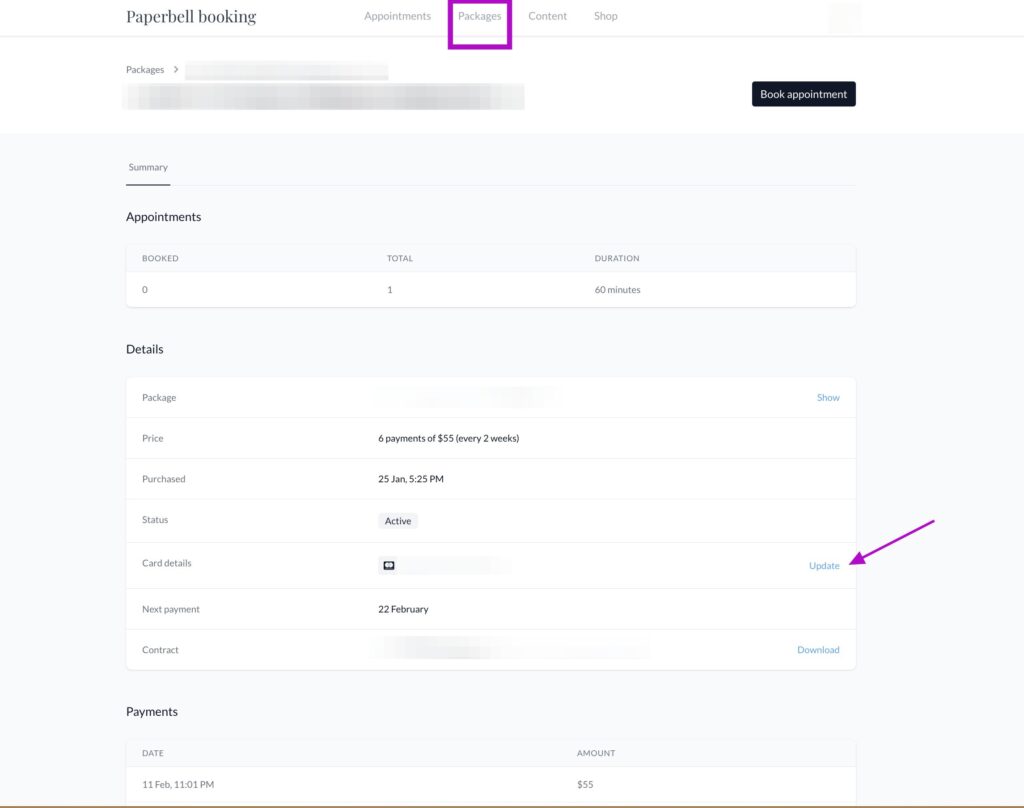 Can my client cancel a payment plan?
No, clients do not have the option to self-cancel payment plans. If they want to cancel midway through, they need to contact you directly. See below for instructions on how you can cancel your client's payment plan.
What's the difference between a payment plan and monthly subscription?
Payment plans have a set number of payments. Subscriptions continue indefinitely until they're cancelled by the client or provider.
Can my client make all of their appointments up front? Or are they doled out with each payment?
Your client will be able to book all of their available appointments as soon as they purchase. And if your client wants to meet at the same time and day of the week, you can book a repeating appointment for them.
We find this is better than doling appointments out so that both you and your client can pre-plan and not have to scramble to find a time slot each week or month. If your client's payment fails you can simply cancel and remove any outstanding appointments.
How do I cancel my client's payment plan?
Go to your client profile, click on packages, and view the relevant package. You'll see the cancel option at the very bottom of the page.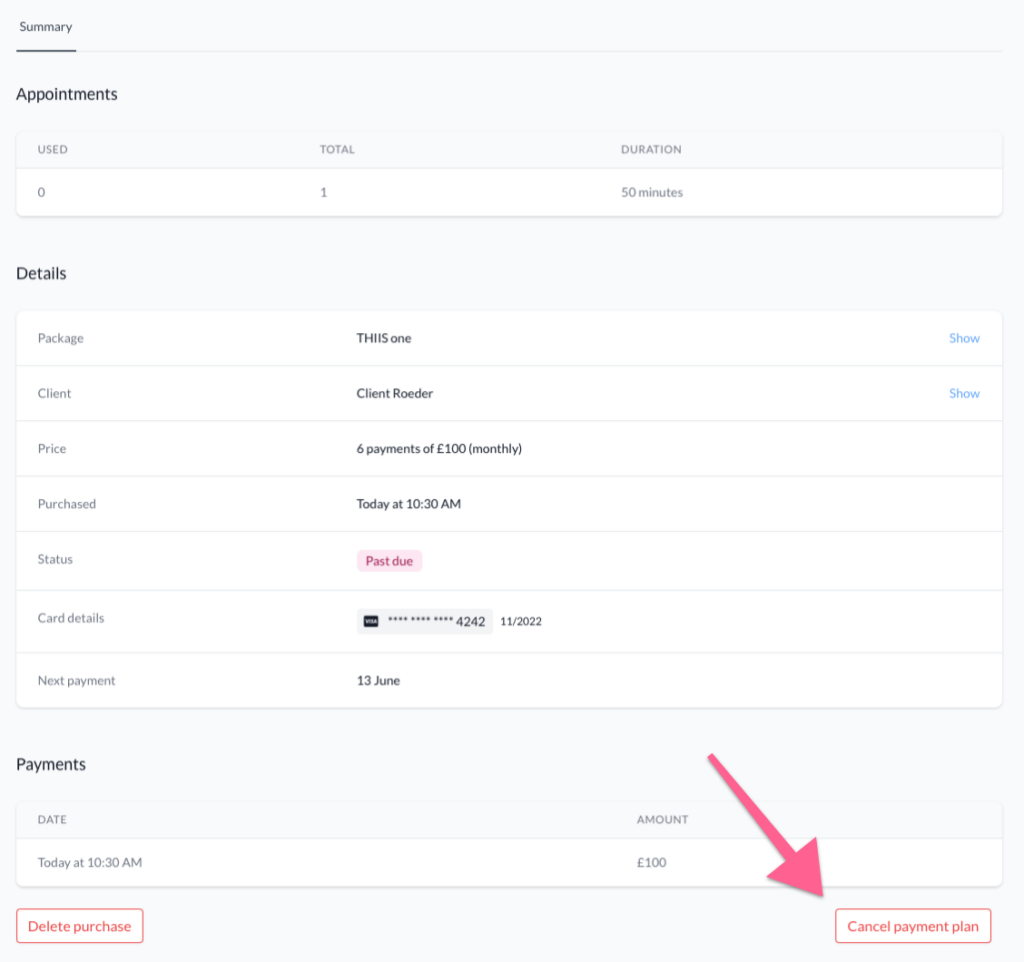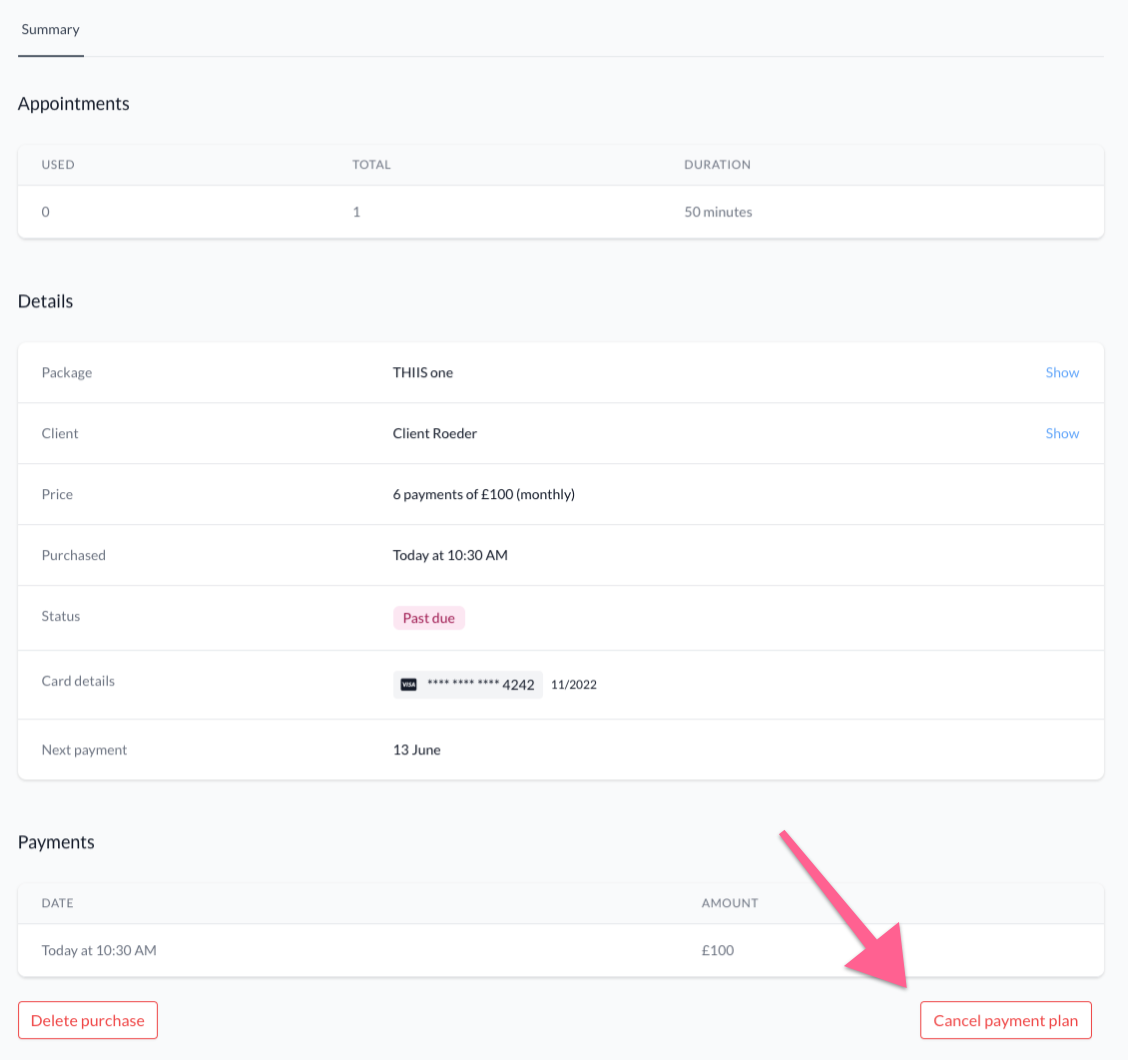 What happens if my client's credit card fails?
They will receive an email letting them know their card has failed. They will receive a follow up reminder on day seven, and then another email on day ten letting them know that it's the final notice to update the card.
Can I create a payment plan if I use PayPal as my service provider?
No, payment plans are only available for Stripe.
Can I create a package with the option for a payment plan OR a one-time payment?
Yes! Here's how.
When will the first payment be charged?
The first payment will be charged immediately upon checkout.
Can I change the price of a payment plan?
Yes! If someone has already purchased the package on that payment plan, you'll need to archive the existing payment plan first. This won't affect your existing client on the payment plan — new clients will see the new payment plan.
When do the other payments go through?
They'll go through based on the day of the first payment. So, if a client purchased a package on January 15 with a monthly payment plan, their next charge will go through on February 15.
If they purchased a package on a Monday with a weekly payment plan, they'll be charged the following Monday.
Help! My client's payment plan failed, what do I do?
Paperbell retries the payment for 10 days, then stops trying automatically. Your client will receive notification from Stripe during this period. Your client must update their card at https://app.paperbell.com/client and click "Retry."
After 10 days, Paperbell sends both you and your client an email stating that the payment has failed and will no longer be re-tried automatically (but your client can still update their card).
It's important to know that Paperbell does not automatically cancel your client's access once payment fails.
If you would like to cancel access to their package, there are two ways to do so:
️⭐️ How To Temporarily Remove Access While Your Client Adds Payment (Recommended Option)
Search for the client name > Click on Packages > View the package
Click "Modify", make a note of how many appointments remain and change the number to 0 (note this does not work for group appointments)
When the client successfully makes a payment, you can then go back and modify the package to add the remaining appointments back in

❌ How To Permanently Remove Access
Search for the client name > Click on Packages > View the package
Click "Cancel the payment plan" at the bottom of the page. Your client will no longer have the option to update billing once this is done. The client will not receive any refunds of previous payments from this action.
Click "Delete purchase" at the bottom of the page — this completely removes the client from the package.
keywords: instalments, intallments, pay over time, monthly payment