If you're recording and streaming audio at home and you want to sound more professional, a good microphone is the first thing you should invest in. Whether you're hosting a podcast show, running a YouTube channel, streaming webinars, or just conducting calls online regularly, an external mic can make a huge difference in your sound quality.
If you're just starting out with audio, it's easy to get lost in the sea of technical details and seemingly identical gear. Investing in the right microphone is important but you don't have to break the bank to make a real difference for your audio. There are a few things to keep in mind though when choosing between audio products, and we'll lead you through each of them in this quick guide.
How to Choose the Best Mic for You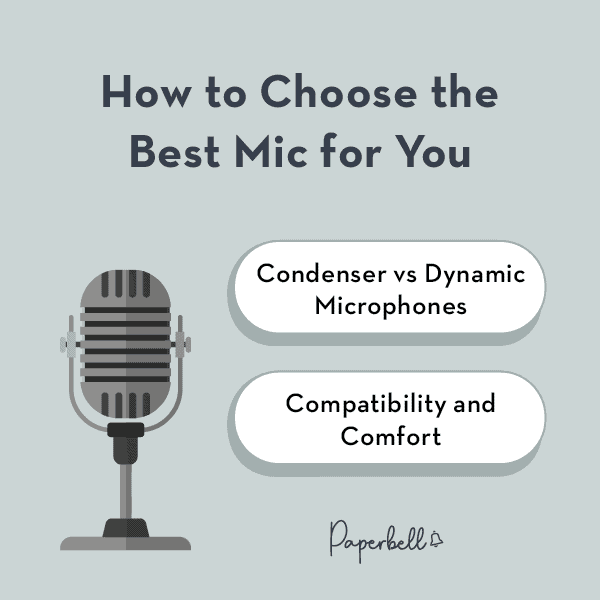 Condenser vs Dynamic Microphones
One of the main differences you can observe between commonly used mics is whether they are a dynamic or a condenser microphone. Dynamic microphones are less sensitive and are normally used in live settings or to record loud vocals and instruments. Condenser mics, on the other hand, are much more sensitive to delicate sounds and they also provide a higher output level. They are able to capture much more detail in voice recordings which makes them ideal for podcasting and filming high-quality videos.
This, however, comes with a price both literally (since condenser mics traditionally cost more than dynamic mics) and in terms of the noise level of your audio. You get a more crisp sound but your condenser mic will also pick up more of the background noise in your room and those lip and tongue sounds that make ASMR tracks so cringe.
Don't worry, condenser mics today have great built-in noise-reduction capabilities and they've gotten significantly cheaper over the years. They are able to minimize low frequencies that come from background noise such as the air conditioning or the cars outside your window, and many of them come with a built-in de-esser against those noticeable "shh" sounds. The noises that do get picked up by your mic can still be edited later so, as a rule of thumb, it's better to capture more than to have less audio detail to work from.
Compatibility And Comfort
When choosing a microphone, consider how you want to set it up and connect it to your devices. Most of them come with either a USB or an XLR cable that you can either plug directly into your laptop, phone, and audio interface or use a cable converter.
There are also wireless microphones on the market but they normally create latency (aka a delay in sound streaming) or compromise the recording quality within the same price category. For home recording and streaming, you'll be better off with a mic that you can connect directly to your recording device anyway.
Most recording mics come with a table stand or a boom stand that you can attach to your table so that you don't have to hold or adjust them while speaking. Lavalier mics are the most discreet and comfortable for recording videos since they can be clipped to your clothes and made practically invisible.
Characteristics Of A Good Mic For Recording And Conversations
If you want to find a microphone that you can use to record high-quality audio, look out for these three characteristics.
Cardioid pickup pattern: Cardioid mics, also known as unidirectional mics, are commonly used in cloud contact centers due to their noise-cancellation features. They pick up sound from the direction they are pointed at but not from behind the microphone. They pick up sound from the direction they are pointed at but not from behind the microphone. This comes in handy when you want to cancel out as much of the noise around you as possible while getting a crisp recording of your voice for your podcast or YouTube video. There are hypercardioid and shotgun mics, too that focus on an even narrower angle but they would only produce great results if you could stay in the exact same position for the entirety of the recording — which is unlikely while running a podcast or presenting to an audience.
Pop filter: This feature helps reduce the plosive sounds in your recording, thereby giving you more even and professional audio. If your mic doesn't have this characteristic in-built, you can also get an external pop filter that you can attach to it and achieve the same effect.
Shock mount: When your mic is attached to a shock mount, it's less likely to shake. This helps filter out some of the unwanted lower frequency vibrations from your recording and avoid the rumble that typing on your keyboard or touching the table would create. This is not an absolute must but if you want to go all in on getting the best gear (or you want to make up for the limitations of a lower-quality mic), it's a great idea to get one.
7 Best Microphones for Coaches
Best Lavalier Microphone That Plugs Into Your Phone
Rode smartLav+ — $59.99

The Rode smartLav+ is one of the best lavalier mics that you can attach to your clothing and plug directly into your smartphone. It's great for when you're recording a video and you're moving around a lot, or just simply don't want your gear in frame.
Despite how tiny it is, it's durable and it has great sound quality. It's built with a windscreen to reduce wind noise and plosives so you can even record with it outdoors. It's an omnidirectional condenser mic that picks up sound from all directions — something you need in this case since you're not directly speaking into it.
Best Coaching Microphone For a Professional Look
SAMSON XPD2 Headset USB Digital Wireless System — $119.99
If you coach via zoom, you don't want to look like you work at a call center! This Samson microphone has a headset option that's great for providing clear audio to your clients while giving you an understated, professional look. If you've ever wondered what the ubiquitous "Life Coach School microphone" is that Brooke Castillo and so many of her coaches use, this is the one!
Best Recording And Streaming Microphones Under $100
AudioPro Computer Condenser Microphone — $44.95
This AudioPro microphone is one of the cheapest condenser mics you can get for your podcast recording. It has a cardioid pickup pattern and a 360° tilt which makes it easier to position it at the right angle. It comes with a USB and a USB-c cable to connect to all your devices and you can simply plug and record, no installations needed.
It has a built-in pop filter and it comes with a nicely designed table stand. The control buttons on the mic allow you to adjust the mic gain and the playback volume in your headphones so you can listen better to what you're recording. It's a great budget mic option for podcasting and for upgrading to professional sound quality at your next Zoom call or webinar.
[ Read: 6 Virtual Meeting Platforms to Use for Your Coaching Sessions (and Our Top Pick) ]
Rode PodMic — $99.99
The ​​Rode PodMic is one of the best podcasting microphones overall that you can find on the market so the price is actually a steal for such a superior quality. It's a dynamic microphone with a surprisingly crisp sound that doesn't leave you with much editing on your recording so it will save you a lot of time during post-production.
The downside is that it doesn't come with a stand (you'll need to buy it separately) and it's sold with an XLR cable so you'll need an audio interface or preamp to connect it to your computer.
Best Budget Microphones For Live Coaching Calls
Audio-Technica AT2005USB – $119
The Audio-Technica AT2005USB is a multi-functional microphone that comes with both a USB and an XLR output so you can connect it to all your devices. It's a versatile condenser mic that many professionals use for both webinar streaming and podcast recording.
It has a cardioid pattern and a low-mass diaphragm that provides excellent frequency response, hence a better sound quality. You can connect your headphones to it and adjust the playback volume with easy-to-use controls while recording.
[ Read: How to Choose a Virtual Conference Platform + the 4 Best Options for Coaches ]
Blue Yeti — $129.99
The Blue Yeti is the bestseller mic on the market and one of the best entry-level microphones for getting high-quality audio. It's a condenser mic that you've probably seen in a lot of YouTube videos or live streams but many people use it for virtual meetings as well.
It has a selectable pattern node which means you can actually control which direction you're recording from. If you're podcasting solo, you can choose the single direction or cardioid pattern, while if you're with a co-host or podcast guest, you can change to bidirectional mode.
Best Professional Podcasting Microphone
Shure PGA27 — $229
If you want to invest in a professional microphone with high sensitivity for all your recording and streaming needs, you can consider this mid-range condenser mic of the Shure series. It gives you a crisp, detailed sound and connects to your mixer with an XLR cable.
This large-diaphragm mic has a cardioid pattern and a switchable high-pass filter in order to minimize low-frequency room noise when recording at home. It also comes with an external shock mount to dampen vibrations.
How to Bring the Most Out of Your New Microphone
Now that you have the right microphone for streaming and recording, here are a few additional tips to maximize the quality of your audio.
Double down on gear: An external pop filter and a shock mount are inexpensive gadgets that can make a lot of difference in your sound quality. If you want your podcast recording to be clean and professional, it's worth those few extra bucks.
Improve your recording environment: Choose a small, quiet room for recording and always make sure your mic is set at the right angle to pick up the most from your voice. Soft surfaces like a carpet or a bookshelf help absorb sound waves and decrease room noise in your recordings.
Use a remote podcaster platform: Platforms like Zencastr, Squadcast, Riverside.fm, and Ringr help you record professional audio when your podcast guest isn't in the same room with you. They capture both of your voices locally and then automatically sync up the two tracks for you.
Remove unwanted frequencies: After you record, you can edit the quality of your audio in editing software or a digital audio workstation and cut away any noise or disturbing frequencies. Of course, if dealing with tech is not your cup of tea, you can always find someone on Fiverr who will do it for you.