Whether you've moved your meetings online before the pandemic or just started going virtual recently, working and meeting in the online world is here to stay. Many clients are more comfortable with hopping on a video calling app than setting up an in-person meeting because of its convenience and time efficiency. Some life coaching clients even appreciate the healthy distance an online meeting room creates when they have to open up about their personal issues.
Now that video conferencing software has become a staple in the toolbox of service providers and entrepreneurs, it's worth taking a look at which one works best for your business. In this article, we've gathered the best video chat platforms for 1-on-1 or small meetings that coaches, consultants, and other people in similar professions can use to make their sessions more effective and engaging.
What Are Virtual Meeting Platforms?
Virtual meeting platforms are online tools that connect you with your clients and team members when you can't (or prefer not to) meet in person. You might have heard of them as video chat platforms, video call apps, or video conferencing apps.
These digital tools come in handy when you need to schedule discovery sessions, coaching and consulting calls, or meetings with your team. Many clients prefer to hop on a call instead of commuting to a meeting location, even if they are in the same city as you are. Let's be honest: working from home does save a lot of time.
[ Read: 9 Client-Converting Questions to Ask In Every Discovery Session ]
Virtual video apps make it possible to speak to other people through audio or video calls, record your meetings, and share presentations with them — pretty much everything you would do in an offline setting. Note that these platforms are not the same as virtual conference platforms that are designed to organize events for a large group of people. You can read more about those in the following guide.
[ Read: How to Choose a Virtual Conference Platform + the 4 Best Options for Coaches]
How to Choose a Video Conferencing Software
When it comes to choosing a virtual meeting platform for your client and team meetings, there are a few key criteria to keep in mind.
Connection quality: We all know how a frozen screen or talking over each other because of delayed audio can ruin the flow of an important discussion. The best video chat apps are designed to remain stable even when internet speed drops on either side of the call.
Easy implementation: The right video chat app should be intuitive to navigate both for you and for the people who attend your calls. The best online meeting platforms make it fast and easy to set up calls, automatically send calendar invites to attendees, and join meetings with a single click.
A plan that works for you: Most video conferencing software allows you to set up meetings between one or a few people for free, however some limit the length of your call on a particular invite unless you subscribe to their premium plan. Be sure to check what's included in the subscription you choose so that your meetings and sessions won't be cut short halfway through a conversation.
Extra features you might need: Do you want to make your meetings more engaging with live reaction emojis, polls, and virtual whiteboards? Perhaps, you need to record your calls or automatically set up recurring meetings? Do you need a VOIP service? Think about what features you might require for all online meetings in your schedule and pick the video app that provides these options.
[ Read: These Are the Pros & Cons of the 9 Best Webinar Platforms for Coaches]
6 of the Best Online Meeting Platforms for Coaches and Consultants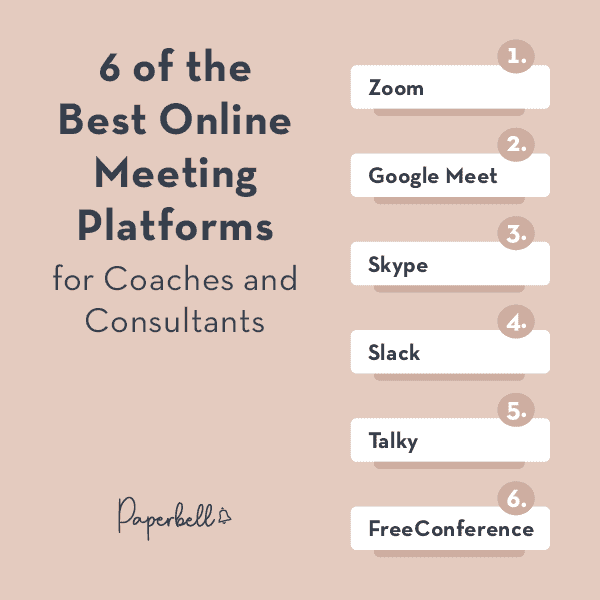 Zoom
Zoom is the most widely used video calling app for both large group meetings and 1-on-1 sessions with clients. It has gained even bigger popularity during the pandemic due to its flexible features, stable connection, and easy use. Zoom works both in your browser and on its dedicated app for desktop and mobile.

You can invite anyone to your Zoom meeting with a link without them having to set up an account. You can also choose to keep meetings password-protected in case you're sharing your meeting link publicly. The downside is that Zoom now limits 1-on-1 meetings to 40 minutes in their free plan so if your meetings have a chance to run longer than that, you'll need to invest in one of their premium options.
Zoom has several nifty features that make group coaching sessions easier to navigate like polls, whiteboards, and reports. You can also set up "breakout rooms" for your exercises so that participants can split into smaller groups and then join back in your main meeting. Snapchat-style filters and custom backgrounds can even make meetings more fun or just hide the mess of your living room. You can also explore Zoom One if you need a more unified communications platform.
Your meeting recordings will have automated transcripts which will make it easier to follow for your clients, or for you to look up a particular topic discussed in the conversation later. You can also turn on live captions during the meeting itself.
Best of all, Zoom integrates with Paperbell, so when your clients schedule their next session with you, Paperbell automatically sends them a calendar invite with a zoom link. If you haven't tried Paperbell, you can take it for a test run for free with your first client and see how you can manage all your contracts, scheduling, payments, and more in a single platform.

Google Meet
Google Meet is the virtual meeting platform developed by Google, which means you can set up meetings directly in your Google Calendar and your session recordings will be saved to your Google Drive. Your calls can be opened directly in your browser and can also be accessed by participants who don't have a Google account (however in that case, they cannot join from their mobile device).
A great feature of Google Meet is that it always shows you how your camera appears before joining a meeting — just in case you accidentally left your laundry in the frame. The premium plans of Google Meet also provide some additional features like noise cancellation or a Jamboard to visualize your ideas. You can have up to 15GB of free storage space with Google Drive and buy more as needed from $2 a month in case you need to keep lengthy call recordings for future reference.
Paperbell also provides a native Google Meet integration.
RingCentral
RingCentral Video Pro is a free virtual meeting software that allows you to connect with your clients across the globe. You can host unlimited HD audio and video meetings with up to 100 participants. It has a dedicated mobile and desktop app, so you can use it on any device.
With the RingCentral app, you can conduct one-on-one sessions with your clients or even have group meetings. Your clients can join meeting sessions using any browser, so they don't need to worry about downloading the app.
If you want to level up your coaching sessions, you can upgrade to RingCentral paid plans: RingCentral Video Pro+ for meetings with up to 200 participants and RingCentral MVP for a complete cloud phone system with advanced Voice over IP features such as call log reports, voicemail-to-email, and more.
Skype
Skype used to be a household name among virtual meeting platforms, however, it seems to have lost some of its popularity due to the innovative new features launched by Zoom and Google Meet. Nevertheless, it's still an excellent free tool for those who are looking for a simple video chat app with the most important features and want to invite 10 or fewer participants.
You can record your calls, share files, and present your screen. Skype offers a simple, straightforward interface that's easy to set up for your clients, although they do need to install the app in order to connect with you. Still, if the essentials are all you need and you don't want to worry about running out of call time on your free plan, Skype is a great alternative.
To integrate Skype with Paperbell, just include your Skype handle in the "Meeting URL" field.
Slack
Slack is a popular messaging app that teams of all sizes use to communicate with each other and collaborate on projects. It also has a steady call feature that you can use to call anyone who joins your Slack space, including groups of up to 14 people in your channels.
Slack can be a great option for consultants working with external teams who use the app. This way you can be involved in the day-to-day communication of the team you're advising, and start calls from the app itself right away.
You can also set up group coaching programs in Slack, share materials with your participants, and create a space for them to talk about their progress. You can start your group calls straight from the app and send out automated reminders about exercises or call times.
Talky
Talky is the simplest solution for setting up and joining video meetings with clients. It doesn't require any downloads, instead, it generates a unique room URL where you can connect with up to six participants at a time. Your client doesn't need to be tech-savvy to join your meeting, they can simply open the link in their browser. They might need to give permission for their browser to use their camera and microphone but that's really all there is to it.
You can get creative with your Talky room URL or you can use your own brand name to keep it professional. Apart from the essential screen-sharing function, Talky doesn't have any fancy features but that might just be what you and your clients need to hop on a call without the hassle.
To integrate Skype with Paperbell, just insert your Talky room URL in the "Meeting URL" field.
FreeConference
Although less known than other popular virtual meeting platforms, FreeConference has actually been around since 2000 (longer than all the others on this list). It's a free video conferencing software that doesn't require any download or plugin, you can simply open it from your browser. It's secure and private due to the company's commitment not to give out your information to third parties, unlike many other apps that are completely free.
FreeConference comes with meeting recordings and transcripts called Smart Meeting Summaries that lets you easily retrieve any details from your meetings. They also enable document sharing and presenting, live chat, whiteboards, and so on. You can hop on a call with your client instantly from your account or you can simply schedule a call for later.
To integrate FreeConference with Paperbell, just insert your FreeConference link in the "Meeting URL" field.
The Best Overall for Coaches: Google Meet
If we had to choose just one platform to start with, it would be Google Meet. As of the time of this writing, you can host calls of up to 100 participants with no time limit on the free plan! (Plus, it integrates with Paperbell.) So most coaches will be able to get everything they need on the free plan. And if you're already using gmail and google calendar, it's nice to keep everything all in one place.