Do you currently use discovery sessions (sometimes called discovery calls or discovery meetings) to meet new clients and understand whether or not you'll be a good fit to work together?
Discovery sessions are one of the most powerful tools coaches can use to qualify and convert clients for their coaching services. But they can be intimidating for even the most experienced coaches.
What are you supposed to ask? How do you break the ice with the potential client? Who should be taking the lead in these calls?
Let's break it down.
What is a Coaching Discovery Session?
A coaching discovery session is an initial call you will have with a potential coaching client, who is interested in your services. This is usually the first call you'll have with any potential client after they've shown some interest in your coaching services.
In most cases, discovery sessions don't cost anything for the potential client. It is an opportunity for them to get to know you, understand how your coaching program works, and see whether or not you are a good fit to help them achieve the outcome they're looking for.
On the other hand, a coaching discovery session is NOT:
A free

coaching

session
Free time for potential

clients

to pick your brain
The first step of a

coaching

program
It's up to you to run your discovery meeting, to make sure that you are in control. Some potential clients may see the discovery session as a free coaching session or a moment to 'pick your brain', but as long as you guide the meeting yourself, you'll be able to keep the call on track.
Why Is It Important to Have a Discovery Session?
A discovery call is an important first step in any client relationship, but even more so when it comes to coaching services.
Coaching, especially life coaching, is a highly personal service. You can't just order a coaching session by clicking on a website button and automatically get a good fit with a coach! Of course, this can happen, but it would be a stroke of luck, only.

Here's why: every client has their own unique life story, personality, and needs. You can say the same for every coach. You don't have the same life experiences and points of view as another coach, which means you're able to provide both a different perspective and experience from your coaching.
During a discovery session, you'll have the time to dig into your client's story and understand where they've been, where they are now, and where they want to go.
You'll also gain an understanding of what's currently stopping them from achieving their goals. This will help you understand whether or not you can help them, and if so, what you can do to help them make lasting positive changes in their life.
Some clients will need you as a coach, and others will need a different coach.
Having a discovery call is especially important when you have signature packages. Because signature packages help your clients achieve a predetermined outcome using your own signature process, not every client will be a good fit for that program.
And even when you write the most amazing sales copy for your signature program, there's nothing quite like having a real conversation with a client and asking questions back and forth. That's something your website copy can't do!
So even when a client is convinced they are sold on your coaching program and want to go ahead, you should still include a discovery session in your process. This initial call will make sure both of you are on the same page and have good chemistry.
Without an effective discovery session, a client who is convinced they want your program may turn out to be a bad fit. When this happens, they'll either become dissatisfied and leave on their own, or you'll feel the need to fire them so that you can focus on clients whom you can actually help.
Structure of a Discovery Call
If you've never run a discovery call before, you don't need to be too intimidated by them. They can look and feel different from coach to coach, but they tend to have similar structures from one coach to another.
Of course, there are exceptions! Some coaches may have their own signature discovery session process that is unique to them.
If you've found your own meeting structure that works for you and your potential clients, there's no need to make a change. But if you're just dipping your toes in the world of coaching and want to establish your first discovery meeting process, you can keep it simple.
Before the discovery session: do your research
Once a prospective client books a discovery call with you, make sure you do some research beforehand. In order to book the discovery session, you should make it a requirement to fill in an intake form.
As a result, you'll have some basic information about this person. Study the intake form and do any additional research if needed, so that you walk into the discovery session as knowledgeable as you need to be.
Make sure you have your discovery session questions at the ready before the call begins. Keep reading to see some examples of questions you can ask.
During the discovery session: guide your potential client
It's up to you to guide your prospective client through the process of the discovery session. By taking the initiative to lead the call, you'll show your potential client that you're confident, reliable, and you know what you are doing.
You can start by establishing rapport with the other person. Greet them politely, ask them where they are from, and mention something from their intake form that you connected with, in order to break the ice.
Next, take a minute to establish the purpose of the call. Let them know that you want to get to know them a little bit and understand what they are going through, to understand what they need and whether or not you'll be a good fit to work together.
You should also let them know that you'll be asking some questions, but that you will leave them some space for their own questions as well.
Give them some time to acknowledge what you said and ask any questions before you continue. Once this is done, you can ask the questions you want to ask.
For every question, take the time to follow up, to dig deeper into your potential client's head. Don't take anything at face value – try to understand why something is happening and why they're currently stuck where they are.
During this time, you should either be taking notes or recording the call (with the permission of the potential client, of course!). This information will come in handy when you're following up later.
Finally, give some space for the client to ask their questions. Remember that this isn't a free consultation or coaching session, so questions should relate to you and your coaching process – not to actually coach the client.
If your potential client veers off track, gently but firmly guide them back on track.
Let your potential client know you will follow up and tell them what next steps they can take, if they are ready to move forward.
After the discovery meeting: follow up intently
Once your meeting is over, your potential client may need some time to think about whether or not they want to move forward with you and your coaching services. But don't leave the call and forget about them just yet!
It's up to you to follow up immediately after the call via email to sum up everything they need to know.
In your email, mention the following:
A quick summary of what was discussed in the call
A recap of what the potential

client

needs from a

coaching

program
A breakdown of how you can help them
The next steps they can take if they want to move forward with you (maybe it's a link to a contract and payment for your

signature program

)
Make sure you pour some intent into this email – don't just fire off an email that thanks them for their time and provides a link to a contract! Put some energy into the email to show that you listened to them during the call and that you're ready to help them.
Examples of Discovery Session Questions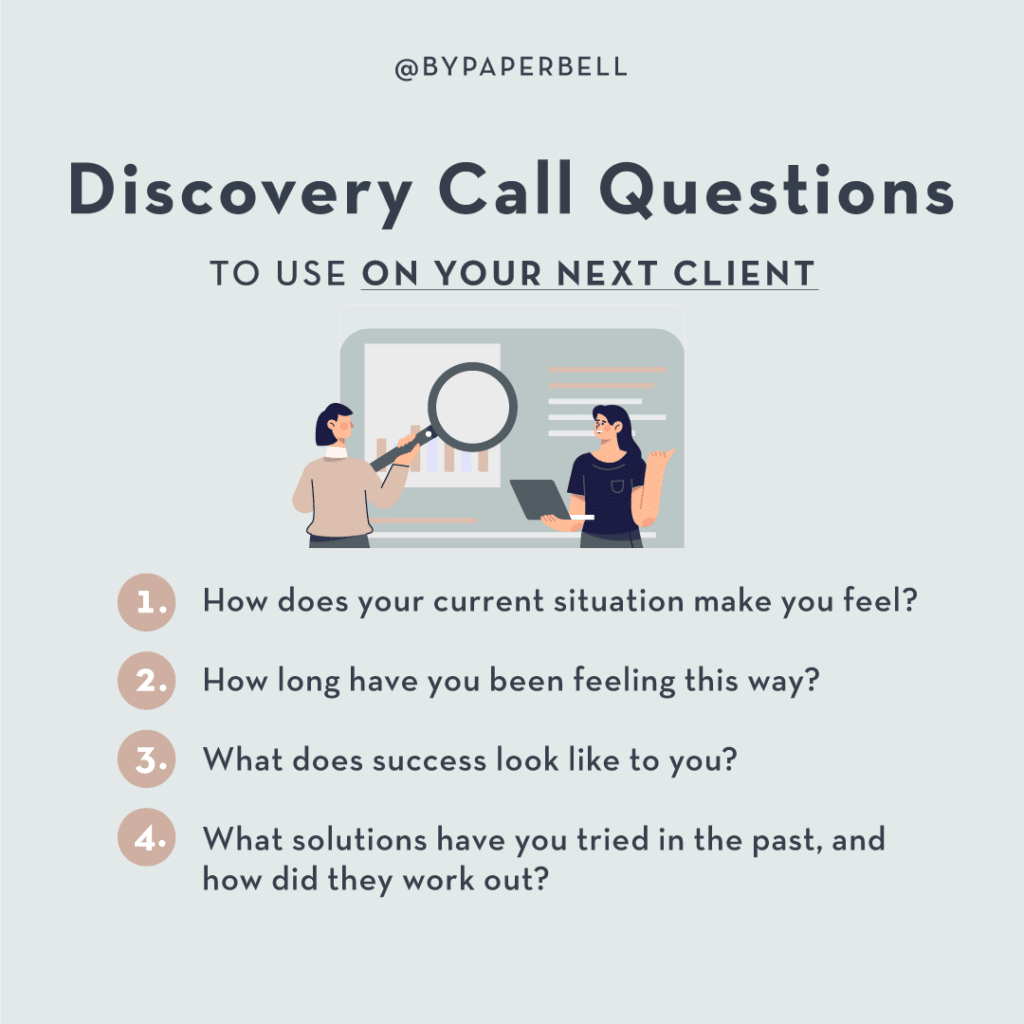 If you're not sure of what to ask during your discovery session, here are some examples of relevant questions. Keep in mind that the wording and the specifics of the questions will vary depending on your coaching niche.
Tell me a bit about what your current situation looks like.
How does that make you feel?
How long has this been going on?
What does success look like to you?
What is currently working well for you, and what isn't working?
What have you tried before today, and how did it go?
What do you think is holding you back from achieving [outcome]?
Why do you think this is the case?
If you could overcome the challenges you mentioned and achieve [outcome], what would that do for you?
Qualify and Convert Your Dream Clients Using a Discovery Call
By using a coaching discovery call in your client booking process, you'll be able to qualify potential clients and help them make the best decision for their specific goals. Discovery sessions will also give you an opportunity to answer any questions they may have and address objections about moving forward.
With Paperbell, you can automate the booking process to start getting discovery calls without having to worry about reminders, confirmation emails, and scheduling conflicts. You can get started with your first client for free!