If you've started your life coaching business and have at least one client, you have the spark to generate a supply of new clients.
We're talking about referrals!
When used strategically, referrals can help you start a flywheel that propels your coaching business forward at no extra cost. Keep reading to learn who to ask for a referral and how to craft an irresistible referral email.
What is a Referral?
A referral is when someone refers another person to your business. They reach out to someone they feel could be a good fit for your life coaching programs and put you in contact with them.
If you've ever known a service provider in your local area who gets all their customers from word-of-mouth, that's referral marketing in action.
Why are Referrals So Important for Life Coaches?
Referrals are one of the easiest ways to get coaching clients. Any life coach should implement referral marketing into their marketing strategy, regardless of experience — and here's why.
1. Referrals Cost You Nothing
Leads you get from paid ads are expensive. Leads you get from organic social media marketing cost you time.
But the leads you get from referrals cost you nothing. It takes just a few minutes of your time to send a referral email to an existing client.
All it costs is for you to do good work with your client to deserve their referral. And that's already something you should be doing, so referrals don't cost anything extra.
2. The Sales Process is Faster
How do you typically get clients to hire you for your coaching services? If you're like most coaches, it'll usually take several steps (and several weeks, if not months) for someone to go from a cold stranger to a paying client.

They'll see something you posted on social media and decide to follow you or start watching your videos. If they get a good vibe from you, they'll keep consuming your content until they feel ready to get on a free consultation call with you.
This process is long because — surprise, surprise — it takes a while to get to know someone! And if you're going to pay someone to coach you, it's important to have a foundation of trust.
People who come to you through referrals don't know you. However, they do know that you've helped someone they know.
3. Higher Trust Leads to Higher Conversions
People tend to trust what their friends tell them. So, when a client refers someone to you, that person is more likely to trust you compared to a complete stranger, even if your life coaching prices are on the high side.
Their friend has already vouched for you. They've probably even heard their friend gush about the amazing results you're helping them achieve.
At this point, they're practically sold!
That's why referral marketing generates conversion rates are 3-5 times higher than other marketing channels. Those clients also have 37% higher retention rates and are 4 times more likely to refer ore clients to you!
Imagine if you could get every single client to send a referral your way. You would hardly need to market yourself in other ways.
4. Referral Clients Are More Loyal
On average, 78% of people say that clients who come from referrals are more loyal than those they acquire through other channels. So not only is it easier to close them, but you're likely to nurture a longer and better coaching relationship with them.
Who to Ask for Referrals for Your Coaching Services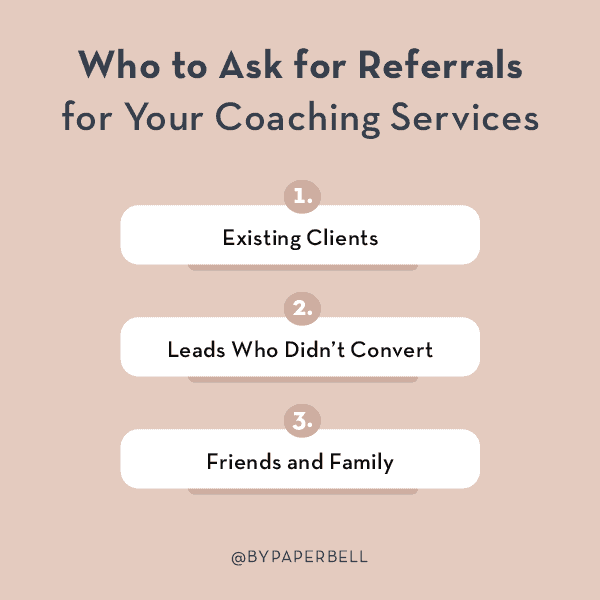 Below are the best places to look for if you want to generate referrals for your life coaching services.
1. Existing Clients
Your current happy clients are the most obvious place to look for referrals!
Existing clients who are getting positive results from your life coaching are in a good position to vouch for you. They're also ideal candidates to ask for a testimonial.
2. Leads Who Didn't Convert
Don't get discouraged if you get on the phone with a potential coaching client and they're not ready to work with you. That person may not be financially or emotionally ready to commit yet, even if they trust you. Or you may not have the exact coaching style that suits them.
That doesn't mean they don't know someone else who could benefit from your coaching. If you get a good vibe from the call, feel free to follow up in an email to ask if anyone they know would be a good fit for your coaching packages.
Yes, it's scary to ask that to someone who has turned you down. But stepping out of your comfort zone from time to time is necessary to build a thriving life coaching business.
3. Friends and Family
Your relatives and close friends have friends you don't know. And those friends have other friends.
While your current friends and family may not be the best fit for your coaching packages, they may know someone who is! But you won't know unless you ask.
How to Ask for Referrals in an Email
A referral email is one of the easiest ways to make your ask. Here's how to ask your existing or previous clients for a referral via email.
1. Wait Until You've Established Rapport
Imagine you're someone who wants to hire a coach. As soon as you sign the contract and make the first payment, you get asked to refer someone else.
Woah, back up a sec!
It's better to wait until you have more rapport with your coaching client. It's difficult to refer someone when you've just only paid for their services. At that point, the ball is in your court — they've put their trust in you, and you must return the favor by providing a stellar coaching experience.
Once they've begun to get some traction, you can start thinking about making that ask.
2. Choose a Good Time
At this point, you should be getting to know your client fairly well. So you'll know what time of day they're more likely to be checking their email.
Make sure you send your referral email at the best possible time for each client. You want to avoid other emails burying yours in the inbox.
3. Offer an Incentive
If you're not sure someone will take you up on your referral email, make them a better offer! You can do this by offering an incentive if they refer someone to you who's a good fit.
Over 50% of people are likely to give a referral if they receive an incentive, social recognition, or access to a loyalty program. Some examples of incentives can include:
A commission if you close the sale with the person they refer
A discount from the next coaching session they book
A free coaching session
Access to a resource that you'd normally sell
Make your incentive conditional on closing the sale. This will encourage people to refer a high-quality lead to you instead of sending you everyone they know.
4. Keep Your Referral Email Short and Sweet
Your referral email should have a single purpose — asking for a referral.
This means you shouldn't ask for a client referral while you're also sending your client some homework. This can cause them to get distracted and forget about the favor you asked for.
Instead, send an email that's specifically focused on the referral. Don't make it too long — stay on message and be specific. Tell them exactly what action you want them to take instead of rambling on and staying vague. To make your emails stand out, you can also add visuals like memes, emojis or royalty-free icons that reinforce the message and encourage your client to take action.
5. Practice What You Preach
If you want to receive referrals for your coaching business, get into the habit of giving referrals.
You don't have to give referrals specifically to the same client you're asking. But by putting the right energy out there, you'll invite others to do the same.
For instance, let's say a website designer created your coaching website. If you're happy with their work, make sure to send other coaches you know in their direction. This designer will be more likely to think of you if they get a client that would be a good fit for your coaching services.
Referral Email Template for Coaches
Struggling to write your referral email? Just copy and paste this template and customize it for your unique client!
---
Hi [client-name],
I'm so thrilled to hear you're happy with the outcomes of [your coaching package] so far. I had a feeling you could get this far when we first talked.
Since you're enjoying the experience, I'm wondering if you have any friends or colleagues who would benefit from [your coaching package] like you have? I'd love to help them [achieve specific outcome of your coaching offer] in a similar way.
If that's the case, please [specify your process].
[Your signoff]
---
Here's what this template can look like with a real-life example:
---
Hi Sandy,
I'm so thrilled to hear you're happy with the outcomes of the email marketing intensive so far. I had a feeling you would become a pro at email when we had that chat last month.
Since you're enjoying the experience, I'm wondering if you have any friends or colleagues who would benefit from the email marketing intensive like you have? I'd love to help them increase their email sales in a similar way.
If that's the case, could you introduce us via email?
Cheers,
[signature]
---
Land More Coaching Clients with a Referral Email
Now you know who to ask for a referral — and you even have the perfect referral email template to get started.
Make it easier to manage referrals and every other part of your client communication with Paperbell. Create your account for free today!