You're tired of your 9 to 5 and dream of a world in which you're your own boss.
You wish you could use your natural talent to help people… and hey, why not get paid for it, too?
Guess what – thousands of people are doing this exact thing by starting their own life coaching business.
Sure, starting a business sounds scary. But it's 100% worth it. And when you break it down, it's not as intimidating as it seems!
How to Start a Life Coaching Business in 7 Steps
1. Do Market Research
Before you make any decision about your future life coaching business, you should spend some time researching the market to get an idea of what the coaching ecosystem looks like.
During your research, aim to find out the following:
The existing niches for life

coaching

The demand for these niches
How the competition is positioning their

business

What offers are available from your competitors
What marketing strategies your competitors are using
How much

clients

are willing to pay for life

coaching

services (and how much your competitors are charging)
If you intend to run your life coaching business locally, make sure to perform local research instead of a global one – although you can definitely take inspiration from life coaches around the world, even if you don't intend to offer your services internationally!
From your research, you can build your life coaching business plan and continue following the next steps!
2. Pick a Coaching Niche
Life coaching is a niche in itself, but it can be broken down into several other niches, too.
It is possible to start a life coaching business without niching down, but by casting a net that's too wide, you'll struggle to attract customers who are looking for specific guidance at specific moments in their lives.

When you niche down instead, you let your audience know that you're an expert for the exact problem they're experiencing, which makes them more likely to come to you, instead of choosing a general life coach.
Here are some examples of life coaching niches:
Mindset and accountability
Life purpose
Abundance/manifestation
Relationships
Money mindset
Wellness
Anxiety
Confidence
Spirituality
You can also specialize in a particular age group – for example, helping millennials overcome money mindset issues.
Choose your niche according to your life experience! For example, if you aren't particularly experienced with helping others with their romantic relationships, don't start a coaching business around this niche.
3. Choose a Life Coaching Business Name
Now that you have your niche, you can pick a name for your business.
One option is to choose your own name and add your niche to it. For example, we have Mel Noakes, The Self Care Coach: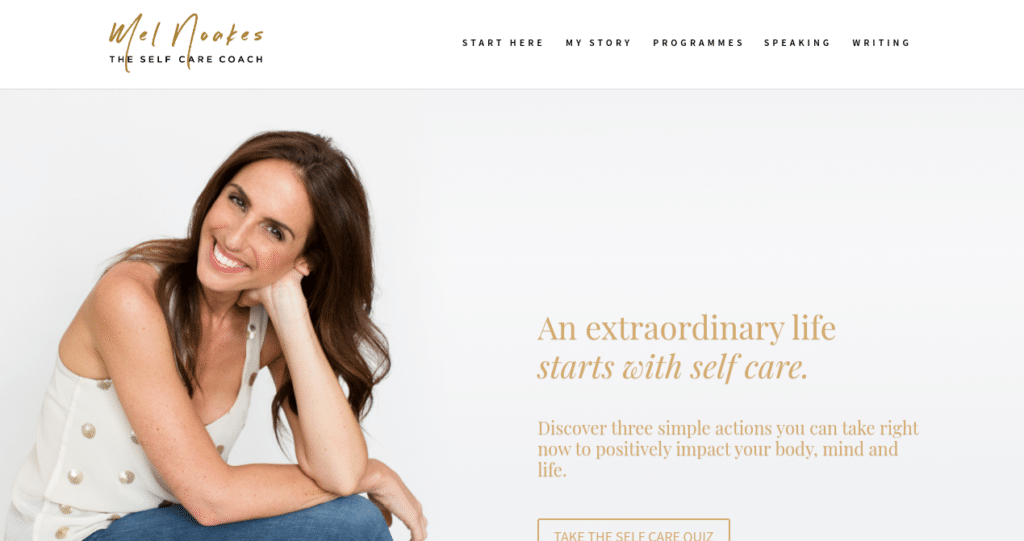 But you can also choose another name for your business. A good life coaching business name relates back to your niche and is in line with the brand you want to create – it informs what you help your clients with!
A great example of this type of name is Conscious Leadership: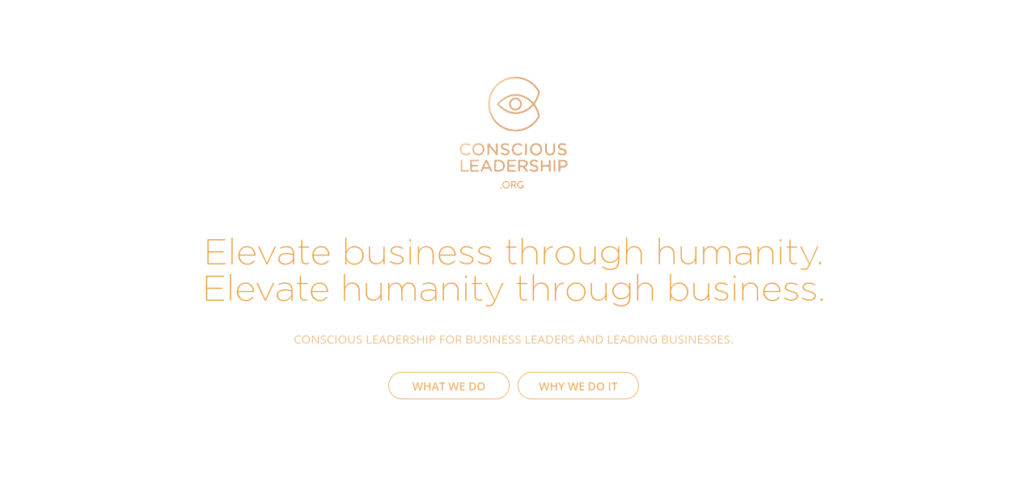 Make sure your business name is:
Clear instead of clever
Easy to spell and pronounce
Has an available domain name
Communicates what you do
Be mindful that your name will become your brand! So if you would prefer not to use your personal name as your brand, don't use it in your business name.
Check this list for how to get your name registered, plus more legal stuff you might need to take care of.
4. Create Your First Offer
Your first offer is different from your business name. That's because you may develop several offers, but they will all still be under the same business name.
Before you create your first offer, brainstorm the following:
Who is your dream

client

? (This should be determined by your

niche

)
What are they struggling with?
Where do they want to be, and what is stopping them from getting there?
What are some potential objections they could have, that would stop them from investing in your offer?
Once you have all the info you need, consider turning this into a signature offer. Unlike à-la-carte coaching services, a life coaching signature offer will guide your clients through a predetermined process, to help them achieve a specific goal.
You should also decide whether this offer will be a high-end coaching package or a lower-end offer. This depends on the type of support you think your dream clients will need.
5. Find Your First Client
To validate your new offer, it's time to get your first life coaching client!
There are dozens of ways to find coaching clients, but when you're just getting started, you'll want to use short-term methods first, and invest in long-term strategies later on, when you're ready to market your life coaching business further.
Some strategies that can work, to help you get your first client, include:
Ask your friends and family if they know anyone who need

coaching

in your

niche

Submit a guest post on a website or blog that your ideal

clients

read
Pitch to appear on a relevant podcast
Start engaging with other people in Facebook groups where your ideal

clients

hang out
Attend networking events
Start connecting with relevant people on Linkedin (and update your Linkedin profile to market your new

coaching

business

)
The first client is always the most difficult one to find. But once you get that client, you can leverage your relationship with this client to get others, by asking for a testimonial and for a referral.
If you're not sure how to handle bookings for your sales calls and coaching sessions (and feel overwhelmed just thinking about sending payment reminders), you can try out Paperbell for free with your first client!
6. Fulfill Your Legal Requirements
Now that you're a business owner, there are a few legal steps you'll need to take to make your business legitimate.
First, you need to register your business. You have a few options here:
Sole proprietorship: As the name suggests, this type of

business

is owned by a single person. By default, your

business

is a sole proprietorship, but keep in mind that you are liable for this type of

business

. So if you get sued, your

business

isn't its own entity, which means you are getting sued, personally. If you decide to operate your

business

under a name separate from your own name, you'll need to register a DBA (doing

business

as), but that's it.
Limited liability company (or LLC): An LLC is its own legal entity separate from its owners. This means you aren't legally liable for anything related to your

business

. This option is more costly than a sole proprietorship and requires more paperwork, but it is a safer choice.
In addition to the legal business structure, you'll also need to add legal pages on your website, including:
Terms of service: Your terms of service can include a limit of liability – for example, that you're not responsible for errors or typos on your website – and other details depending on what features are included on your site. If you're not sure where to start, simply google 'Terms of Service Generator' or 'Terms of Service Template' to get a good starting point.
Privacy policy: If you use cookies or collect personal information from visitors on your website, you need to legally explain how you use this information.
Copyright: Add a copyright signature to protect your intellectual property.
Finally, consider adding a liability waiver in your contract for your clients. You need to disclose that your service, as a life coach, is not medical advice. Your waiver should also include:
Your payment terms and refund policy
What happens if you become sick and can no longer complete the service
What happens if a

client

misses an appointment or is consistently late
If you're not sure about these details, consider hiring a lawyer to help you sort everything out. Our check out the pre-made coaching contracts from Coaches & Co.
7. Market Your Coaching Business
You've laid the groundwork for your life coaching business. Now it's time to hit the ground running and scale your business by marketing your offers.
Marketing is a long-term investment. For instance, when you start growing your social media following and using that as a marketing platform, you should expect to spend several months getting new followers and converting them into clients.
The same goes for ranking your website content on the first page of Google for relevant keywords your potential clients are searching for – you can write the best blog post in the world, but it will still take time for Google to rank it, especially if your domain is brand new.
But don't give up! The key is to choose a marketing strategy and stick to it. You can try new things outside of your core strategy, but don't start one thing and then move on to the next.
For example, if you want to generate traffic from Pinterest, don't invest three months of your time and then stop completely to move on to your Youtube channel, only to then abandon that and start a podcast.
Start with one marketing strategy and build on it. Don't overwhelm yourself by trying everything at once. For instance, you could start by growing your presence on Instagram, then implement Youtube, and then start a podcast.
Once you've validated your offer and have a marketing funnel that works, you can also consider investing in Facebook ads.
You can use Facebook ads to generate traffic to a lead magnet and email sequence that's been proven to convert – or, if you have available funds, you can use the ads to test out and validate new funnels faster than you would be able to test them organically.
Just don't invest thousands of dollars on a funnel you haven't validated yet!
Build a Business You Love as a Life Coach
Starting a business from scratch isn't easy, by any means. But when life coaching is your calling, nothing else can bring you the same fulfillment.
By putting your time and energy in your new life coaching business, you'll be able to build a business you love that not only supports you financially, but also helps others along the way! When you're ready to launch, Paperbell life coaching software is the all-in-one solution to run your business.