Have you been thinking about becoming an anxiety coach? You've come to the right place!
In this blog post, you'll learn all about the fundamentals of anxiety coaching. You'll also get guidance on how to become a successful (and certified!) anxiety coach, including:
What is anxiety coaching?
Anxiety coach vs. therapist – what's the difference?
Should you become an anxiety coach?
How to become an anxiety coach
Get certified as an anxiety coach
Best anxiety coaching certifications
What Is Anxiety Coaching?
Anxiety coaching is a unique type of life coaching dedicated to assisting people in conquering their anxiety and leading more rewarding lives.
Through personalized methods and encouragement, anxiety coaching offers clients the resources to effectively handle their anxieties and enjoy more satisfying lives.
As an anxiety coach, you will work closely with your clients to identify the root cause of their nervousness, develop tailored approaches for coping with it, and establish resilience against possible anxieties.
Anxiety coaches help their clients with the following and so much more:
Improved mental health: By tackling the root causes of anxiety, clients can see major improvements in their overall mental health.
Better relationships: As clients become better at expressing their emotions and needs, they might find maintaining healthy relationships with friends, family, and romantic partners easier.
Increased self-confidence: Conquering anxieties can lead to a rise in self-esteem, as people feel more in control of their lives.
Career advancement: As confidence increases and anxiety decreases, individuals may find themselves better prepared to face workplace challenges or explore new possibilities.
But that's only the tip of the iceberg. In reality, how someone deals with their anxiety can have effects across every sphere of their life!
Anxiety Coach vs. Therapist: What's the Difference?
It's crucial to highlight the difference between an anxiety coach and a therapist because they serve two entirely different roles!
Although both of these experts strive to assist individuals in coping with emotional hurdles like anxiety disorders, their qualifications and roles differ significantly. For instance, a therapist is generally a licensed professional with a comprehensive education (such as a master's degree) in psychology or counseling and supervised clinical experience.
These professionals are equipped to identify and address mental health concerns like anxiety.

In contrast, an anxiety coach isn't required to have a specific degree or license. They can still gain certification from groups like the International Coach Federation (ICF), but it's not required. 
The primary focus of anxiety coaches is to offer guidance and encouragement to clients facing anxiety rather than diagnosing or treating it as a clinical issue.
If you're reading through this and thinking you'd rather become a therapist, keep in mind that you'll have to go through a completely different path.
That being said, once you're a therapist, you'll also be able to work as an anxiety coach if you'd like. It's much easier to add coaching as an offer if you're already a therapist.
But the opposite isn't true. If you go through an anxiety coaching certification, you'll still have to go through years of education if you want to add therapy as a service!
So if you believe you'd make a better therapist than a coach, it's better to realize that sooner rather than later.
Should You Become an Anxiety Coach?
Anxiety coaching is a growing field, and it's no wonder why. According to the APA, nearly 30% of adults will deal with anxiety at some point in their lives.
It can be debilitating at times, but with the right help and guidance from an anxiety coach like you, your clients can learn to manage their symptoms and live a happier life.
But before you jump into this career path, there are some things to consider first.
Do You Have What It Takes?
If you're considering becoming an anxiety coach, the first thing to ask yourself is if you have what it takes for the job.
Being an effective anxiety coach requires patience, empathy, and understanding of mental health issues as well as strong communication skills.
If these qualities come naturally to you, this could be a great fit!
Are You Ready To Commit?
Becoming an anxiety coach isn't something that happens overnight; it takes time and dedication to become certified in order to practice professionally.
This means committing yourself fully to learning about different types of therapies used for treating anxiety disorders as well as completing any required courses or certifications if you don't yet have coaching skills.
Can You Handle The Pressure?
Being an anxiety coach also comes with its own set of challenges, such as dealing with difficult clients who may not always respond positively or quickly enough during sessions.
And this can be emotionally draining at times!
Additionally, since most coaches work on their own without direct supervision from another professional (such as a psychiatrist), they must take full responsibility for their client's progress.
This adds even more pressure onto them personally — and not everyone is built for that.
Are You Passionate About Helping Others?
At the end of the day though – being able to make a positive difference in someone else's life should be your main motivation when deciding whether or not becoming an anxiety coach is right for you!
As long as you truly believe that helping others overcome their struggles will bring both joy and fulfillment into your life – then go ahead and give it a shot.
How to Become an Anxiety Coach
If helping people overcome their fears and lead a more fulfilling life is something you truly care about, then pursuing a career as an anxiety coach might just be the perfect fit for you.
In this part, let's chat about the process of setting up your very own anxiety coaching business and landing your first client!
1. Choose your anxiety coaching niche
The first step in becoming an anxiety coach is deciding on a specific niche within the field of mental health. 
This will help you stand out from other coaches and allow you to focus on providing specialized support tailored to your client's needs!
Some popular niches include:
Social Anxiety Coaching: You help clients develop coping strategies to deal with the social aspects of their lives.
Panic Disorder Coaching: You support your clients, usually as they work alongside a therapist, to reach their goals as they cope with panic disorder.
Generalized Anxiety Disorder Coaching: Although it's called Generalized Anxiety Disorder, a GAD coach isn't a "general" anxiety coach. Instead, you specialize in working with people who have received that diagnosis from a healthcare professional.
PTSD (Post-Traumatic Stress Disorder) Coaching: While those struggling with PTSD will often require the help of a healthcare professional, they can also work with a coach in parallel!
OCD (Obsessive-Compulsive Disorder) Coaching: Like PTSD coaching, OCD coaches can support their clients who are currently working with a healthcare professional or who have already done so.
You can also niche down for specific target clients. For example, you may decide to work with certain age groups or people in specific career fields.
Other examples of client niches you can find include:
College students: Transitioning to college can cause anxiety to rise up in several people. If you've gone through this experience yourself, you'll have insight that new students don't have.
People going through a divorce: A divorce coach can help fresh divorcees rediscover their lives after divorce, but you can also specialize in supporting divorcees who struggle with anxiety.
High-achieving women going through burnout: Career-driven women have unique challenges that can often lead to burnout. And in some cases, anxiety can be at play.
These are just a handful of examples, but don't feel like you have to fit within one of the above! You can make up your own niche depending on who you enjoy working with and what expertise you already have.
2. Come up with compelling anxiety coaching offers and packages
Once you have established your niche, you need to create your anxiety coaching offer!
This offer should be all about the transformation you will help your clients achieve. For example, if you're an anxiety coach working with university students, your offer could be:
"I will help you overcome your anxiety so you can pass your exams."
Afterward, you should decide how many sessions you'll need to help your dream client achieve their goal — and how often you should meet. Additionally, you should determine if your clients need other types of support to reach their goals, such as:
Guided meditation recordings
Weekly assessments
Voxer coaching
Group coaching
Journal prompts
These elements can be included in your coaching packages and will help you stand out from other anxiety coaches in a similar niche.
Your coaching package can describe the following as well:
How many sessions will your client get?
Is there a time limit to book all the sessions?
Are payment plans available?
If you use Paperbell, these are all details you can set up a single time and reuse with unlimited clients!
For example, if you want to set up a package with a payment plan, you can decide how many installments you have, the frequency of payments, and how much they cost. If it makes sense for your offer, you can even add a setup fee!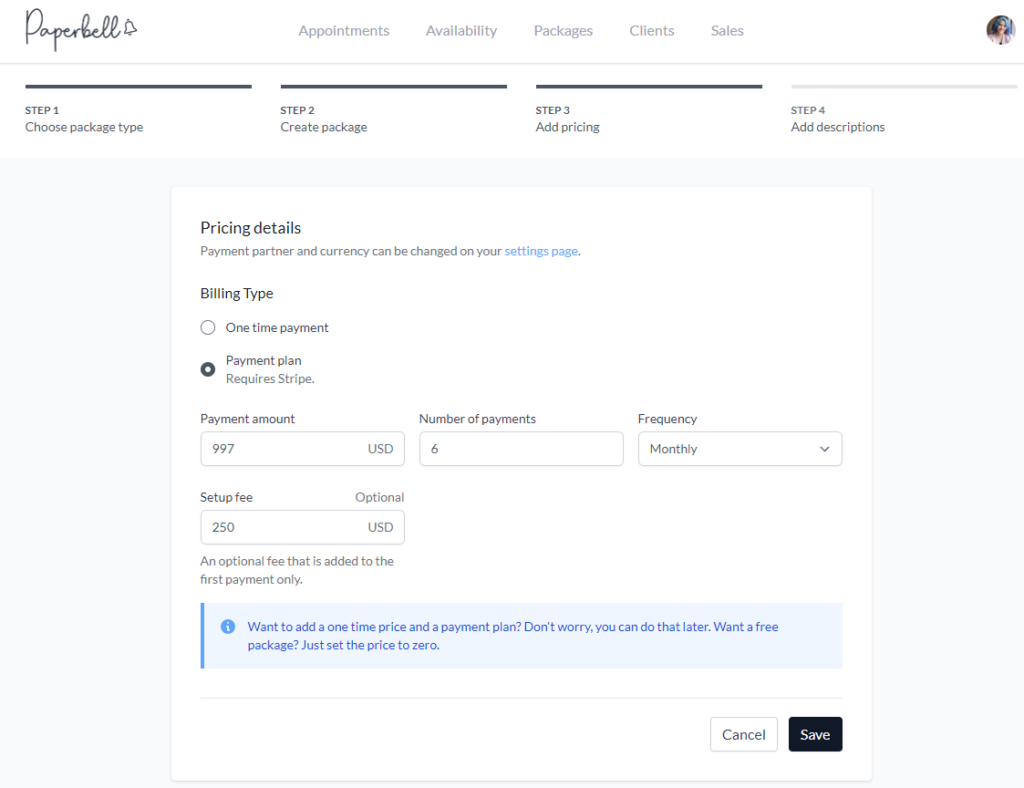 Here's another way to explain packages and offers:
Your anxiety coaching offer is the "sizzle" that sells your coaching. It's the reason why clients will buy.
On the other hand, coaching packages are admin details about what's included!
3. Find your first anxiety coaching client
After you have identified who you want to work with (and what you're going to sell), you need to find your first ideal client.
You can reach out through your personal network to see if anybody you know could use your help with anxiety coaching.
Alternatively, you can sign up on Coach Compare so people who are looking for an anxiety coach can easily find your profile!
Once you have your first client, put 100% of your effort into helping them. While this should be the case for every paying client, your first client is one of the most important.
Why?
They'll lay the foundation for how you run your anxiety coaching business! That, and you can get a sweet testimonial once you're done working with them.
4. Establish a marketing strategy
In the beginning, the techniques you'll rely on to acquire your first clients may bring some positive results.
Nevertheless, finding more anxiety coaching clients requires tapping into a larger audience via online channels, which is genuinely exciting if you approach it the right way!
When it comes to establishing your presence on the internet as an anxiety coach, there's no universal solution that works for everyone.
Your approach should depend on:
What you enjoy doing
What you're good at
What you're willing to do consistently
Where your ideal clients hang out (and how they consume information)
Play around to discover an approach that suits you best. Don't let anyone persuade you that their method is the sole way to find new clients. That's because everyone is unique!
For example, blogging may work best for someone who loves writing. But if you're particularly talented at expressing yourself on video (and hate writing)…
Then blogging might not be the best fit for you!
Below are some of our favorite marketing strategies you can use to get more anxiety coaching clients:
Remember to have fun with it! Marketing your anxiety coaching business is an opportunity to build a genuine connection with others. As people get to know, like, and trust you, they'll move closer to becoming your client.
Get Certified as an Anxiety Coach
If you're passionate about helping others overcome anxiety and want to establish yourself as a professional in the field, obtaining certification from the International Coach Federation (ICF) is a great way to get there!
The ICF sets global standards for coaching and offers various levels of accreditation to help you become a certified anxiety coach.
Understanding ICF Certification Levels
The ICF offers three levels of certification, each with its own set of requirements:
Associate Certified Coach (ACC): This entry-level certification requires at least 60 hours of coach-specific training and 100 hours of coaching experience.
Professional Certified Coach (PCC): For coaches with more experience, this level requires at least 125 hours of coach-specific training and 500 hours of coaching experience.
Master Certified Coach (MCC): This advanced level is for seasoned professionals who have completed at least 200 hours of coach-specific training and logged over 2,500 hours in coaching sessions.
Finding an accredited training program
To become an accredited anxiety coach through the ICF, you'll need to complete your education through one of their approved programs.
The best way to find these programs is by using the Training Program Search Service (TPSS). You can search specifically for anxiety-focused courses or general life-coaching courses that cover topics related to mental health issues like stress management techniques or cognitive-behavioral strategies.
Another option is to look at our list of the best life coaching training programs that can help you get certified in 12 months or less. These don't focus on anxiety coaching, but most of them have an aspect of mental health coaching already embedded in their curriculum.
Tips on Choosing a Coaching Program
When selecting a coaching program, consider the following factors:
Curriculum: Make sure the course content aligns with your goals and covers anxiety-specific topics.
Instructors: Look for experienced professionals who have expertise in anxiety coaching or mental health fields.
Fees & Financial Aid: Compare tuition costs and explore available scholarships or financial aid options if needed.
Schedule & Format: Choose a program that fits your schedule, whether it's online, in-person, or a hybrid format.
Earning your certification
To become an ICF-certified anxiety coach, you'll need to complete the required training and practice coaching hours for your desired certification level.
Additionally, you must pass the Coach Knowledge Assessment (CKA), which tests your understanding of ICF core competencies and ethical guidelines.
Finally, you'll also need to pass your performance evaluation!
Once certified as an anxiety coach through the ICF accreditation process, you'll be well-equipped to help clients navigate their struggles with stress and fear.
Best Anxiety Coach Certifications
Need a starting point to find an anxiety coaching certification that fits your needs? Below are some reputable programs you can look into right now:
This comprehensive program covers various coaching niches, including anxiety coaching.
It provides 60 hours of training over six months and includes:
Live teleclasses
Self-study materials
Mentorship opportunities
Practical experience in coaching clients
Upon completion, you'll be eligible for ICF Associate Certified Coach (ACC) credentialing. So it's not the best fit if you want to get your PCC.
iPEC offers an extensive training program that combines online learning with three face-to-face modules spread across several months.
The curriculum focuses on their unique Core Energy Coaching methodology, which can be applied to any niche like anxiety coaching.
Graduates are prepared for ICF Professional Certified Coach (PCC) level credentialing. But iPEC also offers its own certifications!
In addition to the ICF PCC certification, you'll also be eligible to become certified as:
Certified Professional Coach (CPC)
Energy Leadership™ Index Master Practitioner (ELI-MP)
COR.E Dynamics™ Specialist, in one of four niches
Alternatively, you can opt to only take iPEC's certifications and forego the PCC.
The International Association for Continuing Education and Training is another great resource where you can find numerous approved programs.
They have programs specifically designed around mental health issues, such as stress management or emotional intelligence, which will equip you with the skills you need when working as an anxiety coach.
Erickson's program is a solution-focused coaching certification that emphasizes neuro-linguistic programming (NLP) techniques.
This approach can be particularly effective for anxiety coaching since it helps clients identify and change limiting beliefs and thought patterns.
The training consists of online modules, live webinars, and in-person workshops.
Become a Successful Anxiety Coach
Becoming an anxiety coach requires dedication, knowledge, and the right certifications to succeed in the long run!
With the proper preparation and training from organizations like the ICF, you can become an expert in this field of work and make a positive difference in your clients' lives.
But another way to serve your clients on a deeper level is to keep your business running smoothly. And there's no better way to do that than by using Paperbell.
Paperbell cuts down your admin workload and makes it easy for you to sell and deliver your coaching! Give it a try for free to see how it works.