Are you considering a career in coaching? Maybe you're looking to enhance your current career by adding coaching skills to your toolkit.
Either way, iPEC (Institute for Professional Excellence in Coaching) is a name that you're likely to come across when searching for a coaching certification training program.
But is iPEC the best program for you?
In this article, we'll dive into some iPEC coaching reviews to help you decide if it's the right choice. You'll also learn:
What is iPEC?
Is the iPEC coaching certification legit?
iPEC coaching certification program breakdown.
iPEc coaching certification cost.
iPEC coaching certification reviews.
What is iPEC?
Founded in 1999, iPEC (Institute for Professional Excellence in Coaching) is a leading coach training program that provides comprehensive and transformative coaching education.
The program is designed to help people and organizations achieve their personal and professional goals through the art of coaching.
iPEC believes that everyone has the potential to achieve greatness. Their mission is to empower their students with the skills, knowledge, and confidence to unlock their full potential and create a life of purpose, fulfillment, and success.
To do so, they've developed a coaching model named the Core Energy Coaching™ process.
This coaching model is a powerful methodology that helps clients tap into their inner wisdom and unlock their full potential. The process is designed to help clients:
Identify and overcome limiting beliefs
Shift their energy
Take inspired action toward their goals
iPEC likes to position themselves as more than coach training — instead, they claim their programs are life transforming!

To this day, iPEC has trained over 25,000 certified coaches.
Is the iPEC Coaching Certification Legit?
iPEC makes a ton of big claims. But at the end of the day — are they a legit program that can help you become a credible certified life coach?
iPEC is an ICF (International Coach Federation) accredited coach training program. This means that the program has been extensively reviewed and meets the rigorous standards set by the ICF!
The ICF is the leading global organization dedicated to advancing the coaching profession, and its accreditation process is considered the gold standard in the industry.
And since the ICF is one of the most respected organizations in the coaching industry, this accreditation means a lot.
It also means you can get certified with the ICF if you go through the iPEC coach training program.
But that's not all.
The iPEC program goes beyond the minimum requirements set by the ICF! They offer additional training in areas such as energy leadership.
This can give you a competitive edge in the coaching industry.
If you're not necessarily looking to get certified with the ICF, iPEC also offers its own certification program. And since they're accredited with a total of four organizations, you can bet this certification is a valuable asset.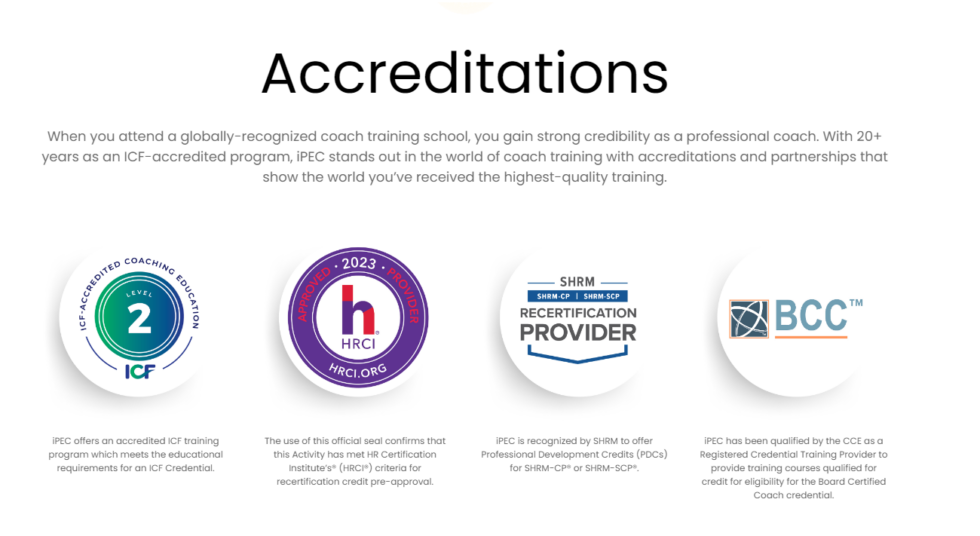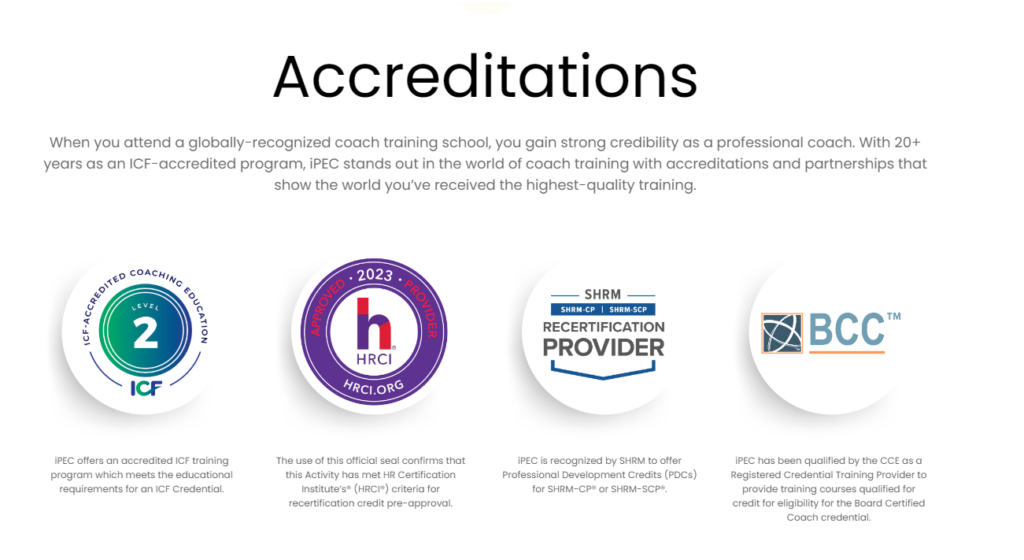 Overall, even if iPEC doesn't end up being for you, there's no doubt they're a reputable organization in the coaching industry.
iPEC Coaching Certification Program Breakdown
The iPEC coaching certification program is an outstanding educational experience that will transform you into a certified coach!
The program consists of three main components. Each is designed to give you a comprehensive understanding of the coaching industry.
Phase One: "Undergraduate" Training
This is the foundation of the program and provides you with the fundamental coaching skills you need to support your clients.
It focuses on teaching you the transformative Core Energy Coaching™ approach as well as the ins and outs of Energy Leadership™.
During this phase, you will learn how to:
Establish a coaching relationship
Create a safe space for your clients
Develop active listening skills
And so much more!
You will also learn how to use powerful questioning techniques to help your clients gain clarity and insight into their goals and objectives.
Phase Two: "Graduate" Level Specialized Training
At this point in the process, you'll dive even deeper into Core Energy Coaching™. You'll also get to choose one of four specialization tracks to develop your coaching niche!
You can choose from the following niche specializations:
Life coaching
Health and wellness coaching
Executive and leadership development coaching
Sports and performance coaching
The components you'll learn in Phase 2 build on the core curriculum and delve deeper into advanced coaching techniques.
For example, you'll learn how to use different coaching models to help your clients achieve their desired outcomes. You'll also learn how to work with limiting beliefs and negative self-talk, and how to help your clients overcome obstacles and challenges!
Phase Three/Four: Integrate What You've Learned
Depending on your goals as a certified life coach, you'll get to choose between Phases three and four.
While Phase three focuses on integrating what you've learned into your daily life and career…
Phase four instead focuses on helping you start your own coaching business!
According to their website, the iPEC claims that 85% of their students graduate from the coach training program with their first paying client already in their roster.
What Else You'll Get in the iPEC Life Coach Certification Program
In addition to the core curriculum, the program also includes other types of support for its students.
For example, you'll get six 1-1 sessions with a Mentor Coach. Because the ICF requires each coach to have at least 10 hours of Mentor Coaching before taking the exam, this is a highly valuable resource for aspiring coaches!
You'll also get:
Three sessions with a success coach who'll help you achieve your personal goals
Peer coaching throughout the entire training process
Hands-on coaching practice (which will help you fill out your ICF log)
Monthly webinars to further your learning
A community of other coaches to support you along your journey
A massive resource library with tools, templates, and more
Once you've finally completed the life coach training program at iPEC, you'll be eligible to graduate with three certifications as a certified professional coach.
These three certifications are:
Certified Professional Coach (CPC)
Energy Leadership™ Index Master Practitioner (ELI-MP)
COR.E Dynamics™ Specialist, in one of four niches


And this doesn't even include the certification you'll be eligible to apply for with the ICF!
iPEC Coaching Certification Cost
If all of those details about the iPEC coaching program sound interesting, you're probably wondering how much this will set you back in terms of cost.
First, let's clarify: enrolling in an iPEC program isn't cheap. While it's not the most expensive on the market, it's pretty close.
Tuition costs $13,995 on average. However, this is the general tuition. It doesn't include what you can save if you pay upfront.
That's right — iPEC has several payment plans to fit almost any budget.
The three simple options are the following (in USD):
$12,495 when paid in full
$4,232 when paid in three installments
$884 per month for 12 months
They also have a financing option allowing you to pay as low as $169 per month. However, this is subject to credit approval and is only available to US residents.
While this investment is significant, remember that most students land a paying client before they graduate. Of course, this isn't guaranteed — but it puts things in perspective.
Of course, you can always look into other coaching programs to see if there's a better fit for your goals and budget!
iPEC Coaching Reviews
Now that we've taken a closer look at the iPEC coaching certification program, it's time to hear from those who have already completed the program!
Since it's a rigorous coach training program, you can imagine the overwhelming number of positive reviews.
The program has received rave reviews from a wide range of people, from corporate executives to stay-at-home parents. On Google, they have a total of 38 reviews with an average rating of 4.8 stars.
Participants have praised the program for its transformative nature, the quality of the curriculum, and the support provided by the faculty. Some specific phrases people use to describe iPEC in their reviews include:
"This was definitely a life-changing experience for me."
"It's hard to put into words how much iPEC has changed my life for the better."
"iPEC was one of the best decisions I have ever made."
"Great company, phenomenal training."
One participant described iPEC as "life-changing" and credited the program with helping them gain clarity about their life purpose. They went on to say that the program not only helped them become a better coach but also a better person overall.
By learning how to support and guide others through their challenges, they were able to gain a deeper understanding of themselves and their own personal growth journey!
Another participant praised the program for its focus on practical training. They described how they felt fully prepared to launch a successful coaching business after graduating.
Why? They particularly appreciated the hands-on experience provided by the program, which allowed them to practice their coaching skills in real-life scenarios.
This practical training, combined with the program's comprehensive curriculum, gave them the confidence they needed to start their own coaching business and make a positive impact on their clients' lives.
Besides the program's curriculum and training, participants praised the faculty's support.
According to them, the faculty is knowledgeable, approachable, and passionate about coaching. The faculty was always there to answer questions, give feedback, or offer guidance to help participants succeed.
We particularly love this glowing review from Crystal Simmons: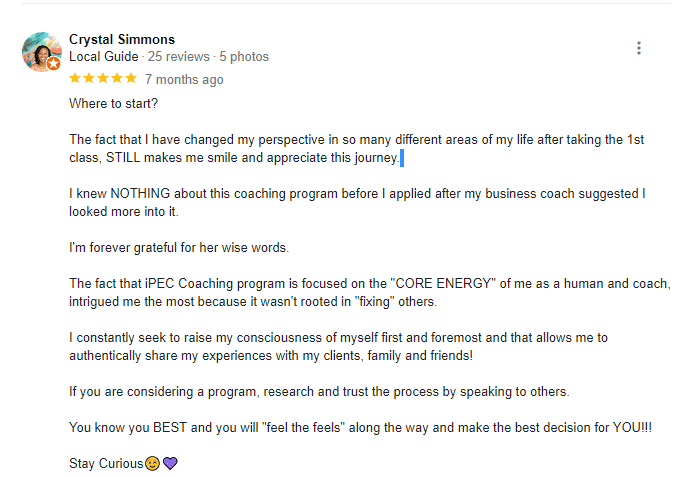 But are there negative reviews?
Of all 38 Google reviews, there are only two reviews under five stars. Gary Fadden gave the program a one-star rating claiming that one member of the iPEC team participated in hate speech online.
The second review is by Elle Shanley, who gave the program three stars. She specifies that she "loved how ipec is energy based, however I don't feel like they really care about the student success."
But overall, the iPEC coaching certification program has received high praise from its graduates.
With its transformative curriculum, practical training, and supportive faculty, it's no wonder that so many individuals have found success as coaches after completing the program!
Get Started on Your Coaching Journey
Now you know everything you need to make a decision about whether or not to enroll in the iPEC coaching program!
Although the program may seem pricey, it's important to consider the potential return on investment. iPEC may be the right choice if you're thinking about coaching or looking to advance your current career.
No matter what journey you take, know that Paperbell has your back! With beautiful online coaching packages ready for your clients to pay, schedule, and get coached, it's the easiest way to sell your coaching online. Grab your free account today to get started!