Do you want to become a life coach but don't know where to start? You've come to the right place!
In this post, we'll talk about one of the best online coaching certification programs that will help you with your dream of becoming a life coach – the iNLP Center.

We'll cover:
What is iNLP Center?
Is the iNLP Center legit?
iNLP Center Reviews
iNLP Center Programs
Additional iNLP Center Programs
iNLP Center Cost
Is the iNLP Center Right for You?
What is the iNLP Center?
The iNLP Center is an online certification organization founded by NLP expert, Hope Bundrant.
If you're wondering what NLP stands for, it's Neuro-Linguistic Programming, providing professional certification programs for individuals who want to become certified coaches.
With a focus on technical coaching skills and personal development, the iNLP Center offers a comprehensive program that:
Equips students with the necessary tools and resources to excel in their coaching careers
Teaches them how to effectively communicate with clients and help them achieve their goals
Is flexible and accessible, allowing students to complete the coursework at their own pace
Is done through a combination of coursework, coaching exercises, and practical experience
If you want to become an effective life coach, you've got to know yourself more too. Here, students are encouraged to explore their own personal growth and development!
This is done through exercises and activities to gain a deeper understanding of themselves and their own thought processes.
Graduates of the iNLP Center also have access to ongoing support and resources, including:
Access to a community of like-minded coaches
Continuing education opportunities
Business development resources
Overall, the iNLP Center is an excellent choice as its comprehensive program and ongoing support will help you in your journey to be a certified life coach.
Here's our iNLP review for a thorough rundown of the program!

Is the iNLP Center Legit?
YES, the iNLP is legit! In fact, the iNLP Center has a proven track record of success and has been providing high-quality training and education to students for many years.
It is one of the most respected and well-regarded online certification programs in the field of NLP (Neuro-Linguistic Programming). The program's curriculum is constantly updated with the latest research and developments.
To attest to its exceptional quality of education and training, iNLP Center has been accredited by the following reputable organizations:
The State of California Board of Behavior Sciences
International Association of Professional Life Coaches (IAPLC)
Association of Coach Training Organizations (ACTO)
International NLP Association (INA)
But what sets the iNLP Center apart from other online certification programs?
The program is designed to be hands-on and experiential, allowing students to apply what they learn in real-world situations.
In addition, it offers a wide range of resources and support to its students, including access to experienced instructors, online forums, and discussion groups.
Not convinced yet? We gathered some reviews from iNLP Center students who underwent the program. Keep reading!
iNLP Center Reviews
So what do iNLP Center reviews have to say? The iNLP Center reviews are full of positive feedback from its students and graduates.
Many have praised the center's flexible and comprehensive approach to learning, as well as the support and guidance provided by the instructors.
Read the following students' testimonials as they share their stories of how the iNLP Center program has positively impacted their coaching careers.
One student, Mark V, shared how the iNLP Center program stayed true to what it promotes throughout the training. He rated it 5 out of 5 stars.
"I am enrolled in life coach certification track. I loved the training experience with iNLP because I got everything from the program that was promised to me from the very start. What I enjoyed the most in my training was that I was able to connect with other coaches in the buddy coaching program and I was able to work on the coaching exercise with them."
Another student, Crystal D, praised the center's online learning platform and gave it a five-star rating.
"In all honesty, I think that the iNLP Center is amazing! I just recently finished the NLP Practitioner course, and I've learned a lot of things that'll stick with me for a lifetime. The fact that I can return to this information is a plus as well. However, I plan on utilizing the site often. Everything's also easy to navigate. Ultimately, I feel like it was really worth it. *Oh, and even if your course doesn't require the live sessions, you'll gain so much from attending!"
One graduate, David, shared that the program is worth the price compared to other programs with higher fees.
"I just received my first certificate of many from iNLP and I am extremely satisfied! The value of this program is worth the cost! I usually have buyer's remorse with programs like this, even my bachelor's degree was less valuable but almost 20 times the cost. Enrolling was one of the best decisions I have ever made."
What makes iNLP Center a good choice aside from comprehensive learning is its ongoing support to its students and graduates, lifetime access indeed!
The instructors are always available to answer questions and provide guidance 24/7.
The iNLP Center also offers a variety of advanced training programs for those who want to continue their education and improve their coaching skills even further. Let's explore each of them in the next section.
iNLP Center Programs
To recap, the iNLP Center is a leading provider of NLP training and certification programs to help you develop your coaching skills, improve your communication, and achieve your goals.
What's more, it offers several programs catered to different levels of experience and expertise. Learn more as we discuss each of these programs below!
NLP Practitioner Certification
The NLP Practitioner Certification program teaches individuals the fundamentals of NLP.
In this personal development program, you'll learn how to proficiently apply its techniques to your personal and professional life upon completion of this program.
Who knows, you might be the next student who'll leave a positive iNLP review for a great experience!
This NLP practitioner training program covers the basics of NLP, including:
Rapport building
Anchoring
Reframing
And so much more!
NLP Master Practitioner Certification
Want to take your skills to the next level after the first program above? Then, take the NLP Master Practitioner Certification program!
By completing this NLP master training, you'll be able to work with clients at a deeper level and achieve lasting change.
This program covers advanced NLP techniques, such as:
Timeline therapy
Fubmodalities
Meta-programs
It's much more advanced than the initial certification, but so worth it for coaches who want to push their learning further.
NLP Life Coach Certification
The NLP Integrated Life Coach Certification program will train you to become a certified life coach. And by the end of this program, you will be able to help clients achieve their personal and professional goals.
It covers the fundamentals of life coaching, such as:
Goal setting
Values clarification
Action planning
After completing this program, you'll have all the coaching skills you need to support your life coaching clients.
Mental Health Coach Certification
The Mental Health Coach Certification program is for individuals who want to become certified in this powerful technique.
It offers combined training such as NLP, life coaching, and parts psychology (Inner Dynamics) that will teach you advanced coaching models for optimal mental health in clients and coaches alike.
After the program, you will be able to work at a deep, transformative level with clients and help them achieve emotional freedom.
Additional iNLP Center Programs
In addition to its certification programs, iNLP Center also offers specialized courses. They're designed to help you develop coaching skills in specific niches and industries.
NLP Sales Training
If you want to improve your communication skills and increase your sales, take the NLP Sales Mastery course.
Designed for sales professionals, this course covers NLP techniques and tools that can be applied to sales, such as
Rapport building
Anchoring
Reframing
Land more clients and build stronger relationships with them with this course!
Hypnosis Practitioner Certification
Communicating with your clients at a deeper level helps them achieve their desired outcomes.
This course offers fundamental hypnosis abilities that will equip you to connect with your client's unconscious thoughts. You can then apply NLP skills effectively by bringing them to their conscious level!
Plus, by the end of the training, you'll earn the title of Certified Hypnosis Practitioner, demonstrating your expertise and commitment to your client's well-being.
Mindfulness Practitioner Certification
As a coach or aspiring coach, you understand the importance of mindfulness in helping clients cultivate a deeper awareness of their thoughts, emotions, and behaviors.
This course introduces mindfulness, where you'll gain practical and experiential knowledge to guide your clients in developing a mindfulness practice that works for them.
Weight Loss Certification
Being determined is not always effective when it comes to losing weight.
Thus, the Weight Loss Certification program provides NLP techniques to help you guide your clients in managing their emotions during meals. This will empower them to achieve their ideal state of well-being.
After finishing the course, you'll be equipped with practical tools and strategies to help your clients lose weight and maintain a long-term healthy lifestyle.
Spiritual Leadership Coach Certification
Spiritual leaders face unique challenges and demands that can impact their well-being and effectiveness.
With the help of this spiritual coach course, you'll be equipped with the techniques needed to serve as an effective coach for these individuals, helping them to find balance in both their work and personal lives.
iNLP Center Cost
After discussing the programs, let's now dive into the cost.
The iNLP Center offers competitive pricing for its certification programs.
The prices vary depending on the program and the level of certification. The following are their current rates for one-time payment:
$499 – NLP Practitioner
$599 – NLP Master
$899 – NLP Combo
$799 – Hypnosis & NLP
$899 – Mindfulness & NLP
$1297 – Practitioner 3-Pack
$1529 – Hypno & NLP Combo
But what exactly do these prices include? Well, for starters:
The cost of the program includes access to all the course materials
Any online resources that may be necessary
Access to a dedicated instructor who can answer any questions they may have along the way
Are there additional expenses? The iNLP Center claims no hidden fees and overpricing in their programs and provides a refund policy and satisfaction guarantee.
It's also worth noting that the iNLP Center offers several different payment plans to help make the program more affordable.
For example, students may be able to pay for their certification in monthly installments, within 3 to 4 months, rather than having to pay the full cost upfront!
Is the iNLP Center Right for You?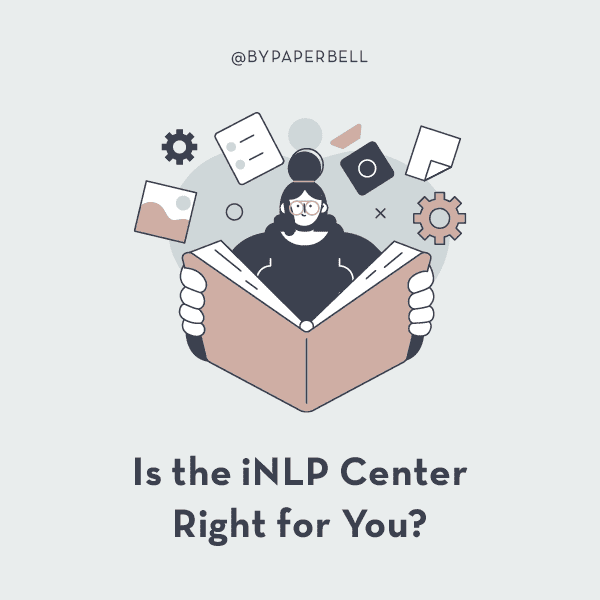 If you're looking for a reputable and comprehensive program offering technical training and personal development, then iNLP Center may be the right choice.
Whether you're just starting your coaching journey or looking to expand your expertise, there's something for you here.
With competitive pricing, access to top-notch course materials, and a dedicated instructor to guide you every step of the way, the iNLP Center is a great choice for anyone looking to further their education in the field of NLP.
Be a Certified Life Coach and Start Your Journey to Success
With all the information and reviews discussed above, you can now decide whether to enroll or not to enroll at iNLP Center!
Its proven track record and accreditations say a lot, but the choice is yours to make. What do you think? Are you ready to take the next step toward becoming a certified coach?
Whatever you choose, know that Paperbell can help you run your coaching business, the simple and easy way. Claim your free account to test it out today!