Do you have a natural talent for guiding others in their spiritual journey? If so, you may have asked yourself if becoming a spiritual life coach is a suitable career for you!
But if you're intimidated by all the certifications and accreditations available, it can be scary to take the first step. That's why we've gathered everything you need to know about spiritual life coach certifications and which ones to consider taking today.
What is Spiritual Life Coaching?
Spiritual life coaching is a form of life coaching that focuses on helping people identify and achieve their spiritual goals.
This coaching approach combines traditional life coaching techniques with spiritual guidance to support your clients as they find meaning, purpose, and fulfillment in their lives.
The primary goal of spiritual life coaching is to provide the client with an understanding of their own spirituality, as well as provide tools for achieving personal growth. Spiritual coaches can help clients explore various aspects of themselves, such as:
Values
Beliefs
Attitudes
Behavior patterns
Once a coach understands these aspects of their clients, they can help them figure out which aspects may be holding them back from reaching their full potential.
A spiritual coach will typically begin by assessing the client's current level of awareness of their own spirituality. This assessment helps the coach figure out what areas need further exploration or development to create a personalized plan for each individual's journey toward self-discovery and personal growth.
Afterward, the coach works with the client to develop strategies for exploring different aspects of their spirituality through activities such as:
Meditation practices
Journaling exercises
Visualization techniques
Coaches can also use other techniques, depending on what resonates with the client.
Do You Need a Spiritual Life Coach Certification?
You don't need a spiritual coaching certification to be allowed to start taking clients! So the quick and easy answer is "no."

However, you can still benefit from enrolling in a certification program — even if it's not legally required.
Certifications provide credibility and legitimacy in the eyes of your potential clients. It also shows you're committed to the profession and that you've taken the time to learn about coaching from an accredited institution.
In short, a spiritual life coach certification helps you stand out from "fly by night" coaches who may not be as invested in their clients' success.
But that's not all! By going through the certification process as a spiritual life coach, you'll open up networking opportunities with other coaches. And building a strong network can help you:
Find a coaching mentor
Get advice from other coaches
Build a referral network
On the other hand, there are some drawbacks to taking a spiritual life coach certification.
The certification process can be time-consuming and expensive. Depending on where you get your training, it could take years before you're fully certified!
That doesn't mean it's not worth investing time and money. But it's definitely worth weighing the pros and cons to figure out whether you want to enroll or not.
How To Get a Spiritual Life Coaching Certification
If you've decided that getting certified as a spiritual life coach is the best path forward for you, here are some steps to ease the process!
1. Research certification programs
Life coaching — and spiritual coaching, too — isn't a regulated field. That means there isn't one "gold standard" certification program you can take.
That's why it's important to do your research before you enroll in the first program you find.
Anyone can launch a new certification and claim you'll be certified. But you should research the institution that gives the program to figure out if:
The institution is seen as reputable in the spiritual coaching industry
Other spiritual coaches who've been certified have successful businesses
Students are happy with the program and certification process
Hint: keep reading to see a list of the best spiritual life coach certification programs available right now!
2. Choose the program that aligns with your goals and values
Once you've done your research on various programs, choose one that best suits the goals you have with your spiritual coaching business. The program should also align with your values.
Consider factors such as cost, duration of study time required, types of classes offered (online or in-person), accreditation status, coaching style taught, etc., when making this decision.
For example, one certification program may put a bigger emphasis on a coaching framework that you don't believe in. If that's the case, another certification could be a better fit.
Some programs also enroll at all times, while others have predetermined cohorts. If you're in a hurry, you'll have to look into evergreen programs that you can enroll in right away.
3. Complete the coursework
Even if you're already familiar with the material in your chosen spiritual coaching program, you should still go through all the coursework.
Not only will this serve as a refresher, but you may learn something new that you hadn't expected!
Each certification will have different modules and coursework for you to do. Some may require you to submit homework, while others will only have a final exam.
Make sure to commit to the coursework fully. After all, you should make the most of your investment!
4. Take the certification exam
Once all coursework has been completed successfully, along with any other requirements set forth by the organization you've picked, it's time to apply for official certification.
This typically involves submitting documentation such as transcripts showing successful completion of course material plus any additional paperwork required depending upon which specific program you enrolled in.
But many certification programs will also require you to go through a final exam.
Don't get too worked up — in most cases, you'll have a chance to try again if you fail your exam at first.
The Best Spiritual Coach Certification Programs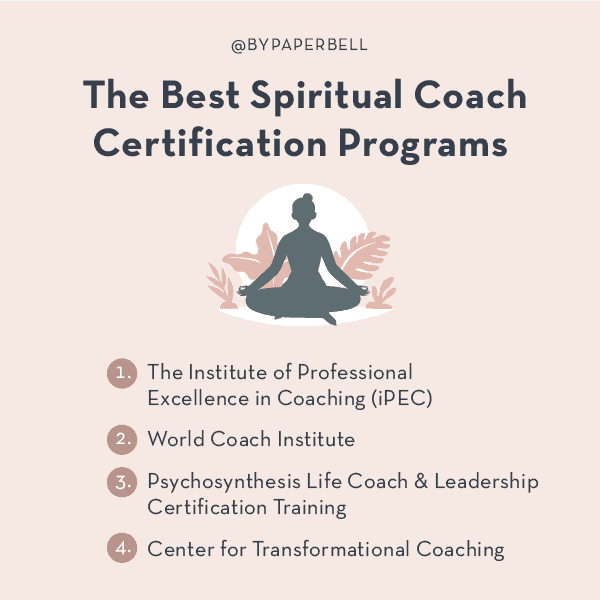 Now that you've decided you want to get certified, you need to choose which spiritual coaching certification program to enroll in!
We've done the research, so you don't have to. Below are the best spiritual coach certification programs available to help you compare the best option for you.
iPEC has been offering ICF-accredited coaching certifications since 2002, so they've been around the block!
iPEC offers comprehensive training and certification in Energy Leadership Index Master Practitioner Certification, Certified Professional Coach (CPC), and Executive Coach Certification. Their courses include topics such as:
Self-awareness
Communication skills
Goal setting
Problem-solving techniques
And much more!
They also offer mentoring opportunities with experienced coaches who have achieved success in their own practices.
When you take their program, you get three certifications in one. And although you won't specifically get spiritual training, this program is ideal for a spiritual coach who has a background in spirituality but who needs help developing their coaching techniques.
Tuition costs $13,995 or three installments of $4,531.67.
The World Coach Institute has a Certified Spiritual Coach training program that will teach you how to apply the WCI's proven coaching methodology. In this program, you have three different paths available to you:
CPC self-study course and the CSC Add-on for spiritual coaching (CSC-207)
CPC teleclass and the CSC Add-on for spiritual coaching (CSC-207)
CPC teleclass and the CMSC Weekend Teleclass Intensive (CMSC-407)
You can also enroll in other add-on courses depending on what other skills you'd like to develop.
The teleclasses at the WCI range from $2,000 to $4,000, depending on when you enroll. These classes typically take eight weeks to complete, but they also have a six-day intensive for those who prefer that format!
If you're interested in diving into the psychology of spirituality, there's no better place than the Psychospiritual Institute.
Their 170-hour program is accredited and allows you to become certified as a Psychosynthesis Life Coach (PLC). You can even become a Board Certified Coach (BCC) if you qualify!
In psychosynthesis coaching, you work with clients to help them achieve a life of higher purpose, meaning, and values. The program includes:
Two books (and a suggested reading list)
Two-weekend intensives
Weekly live video classes on Zoom
Supervised coaching labs
Private coaching sessions with a mentor
Co-coaching observation team practice and fieldwork practice in groups
Special guest speakers
And much more!
It'll take 9 months to complete this program, and the tuition costs $9,997. They also have payment plans available if you need it.
The Deep Coaching Intensive is just one of the programs you can take at the Center for Transformational Coaching.
Throughout this certification program, you'll become a "deep coach", which they define as being able to "meet the needs of those who are ready to embrace the magnificence of who they are."
Not only is this certification ICF-accredited, but you'll get an education in various topics such as:
Practical psychology
Spiritual wisdom
Consciousness studies
This program is given in two parts and lasts 40+ hours:
Part 1: Foundation – lasts 12 weeks
Part 2: Mastery – lasts 9 weeks
Tuition ranges from $3,799 to $5,349, depending on how many units you choose and when you decide to enroll.
Build a Spiritual Coaching Business with Paperbell
Getting certified is an important part of laying the foundation for your spiritual coaching business — but it's only the beginning. If you want to start taking clients, you'll need:
A way to manage sessions and bookings
A payment gateway to allow clients to pay you
An online signature tool to make it all legal
Luckily, you don't have to sign up for tons of different online software to make it all happen! Paperbell makes it easy to manage the admin side of your spiritual coaching business all in one place.
Try Paperbell for free to see how it works for yourself!