As a spiritual life coach, you have a passion for helping others along their spiritual journey. But for clients to find you, it's important to have your own website!
However, not just any website will do the trick. An effective spiritual coaching website is client-focused and does a great job of communicating your unique spiritual process.
And while a good-looking design is important, what makes a spiritual coaching website truly stunning is how well the design can guide the visitor through its sections.
If you want to know how to create your own client-attracting spiritual coaching website — and see examples of what that can look like — then keep reading!
How to Create Your Spiritual Coach Website
There are endless ways to approach website creation for spiritual coaches. If you feel overwhelmed with the possibilities, follow these best practices to help focus the process.
1. Find your unique value proposition
If you're worried about finding clients as a spiritual coach because of competition, here's how you can stand out.
Create a unique value proposition that differentiates you from other spiritual coaches!
A unique value proposition can be something like:
A way in which your life experiences equip you to help your clients.
Your UVP will help your clients decide:
This is the spiritual coach for me!

At the same time, it will repel anyone who's not your dream client.
Use it in your website's tagline, headline, and even on your social media profiles!
2. Use professional photography
First impressions matter. And in a way, when people hire you as a spiritual coach, they're buying you as a person.
People need to get a good vibe from your website. If they don't feel good about you, they're unlikely to hire you to guide them on their spiritual journey.
That's why you should invest in professional photography! Even if you don't have the most stunning design on your website, great photography can elevate the look and feel of your pages.
So if you have to choose between low-quality photos with expensive design or high-quality photos with a simple design… choose the latter!
3. Identify your services clearly (and use calls to action)
Your website's job is to guide potential spiritual coaching clients on a journey. And if you want them to take action, you'll need to make your instructions clear.
Specify exactly what people will achieve if they sign up for your spiritual coaching services and packages. And tell them what action they need to take to start a conversation with you. Instead of using "learn more" buttons across your entire website, you can use more action-oriented calls-to-action words like:
Book a free discovery session
Grab the free training
Join the email list
The clearer your website, the less friction you'll have between you and your new potential clients!
4. Share a free resource
Want to give potential clients a taste of what it'd be like to work with you? There's no better way than to provide them with a free resource!
A free discovery call is a great example of a free resource. But if you want to start an email list of potential clients, you can also share:
A PDF resource
A free video
Quiz results
Free email courses
Challenges
Remember to make your free resources relevant to your paid programs. The free resource is the first step in solving your client's problems, while your paid programs are the next best step.
9 Inspiring Spiritual Coaching Websites
Go check out these 9 spiritual coaching websites to inspire your own!


Whitney McNeill is the coach behind Messenger of Spirit. She's a certified medium, spiritual mentor, and certified Reiki master-teacher.
Why the website works: Whitney's tagline immediately calls out the people she wants to work with:
"Hey, you spiritual & ambitious soul"
She then loses no time to funnel visitors to a call-to-action — in her case, it's an Intuitive Language quiz.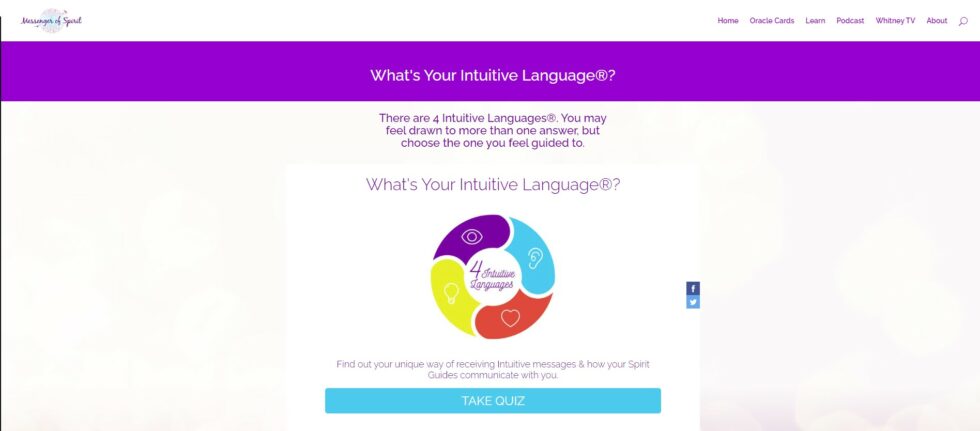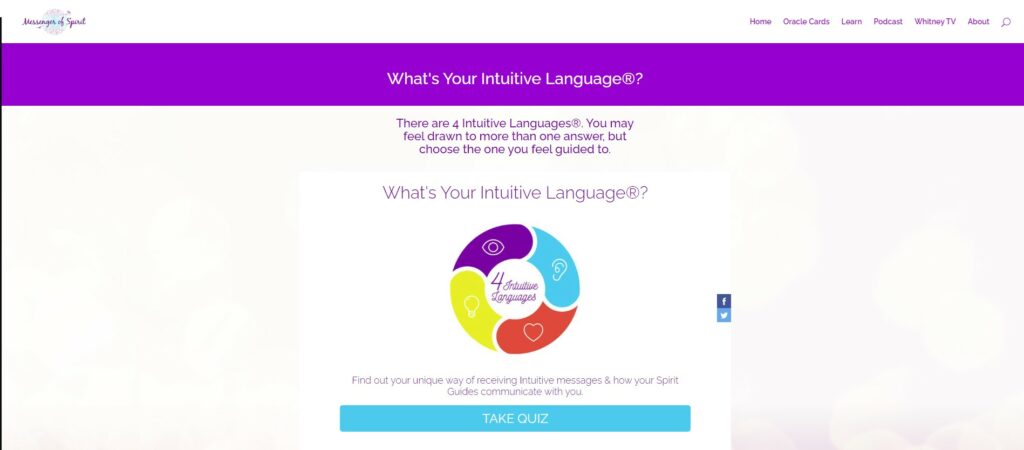 Quizzes are such a great tool for spiritual coaching websites because they can help you segment your potential clients depending on their personalities or biggest roadblocks.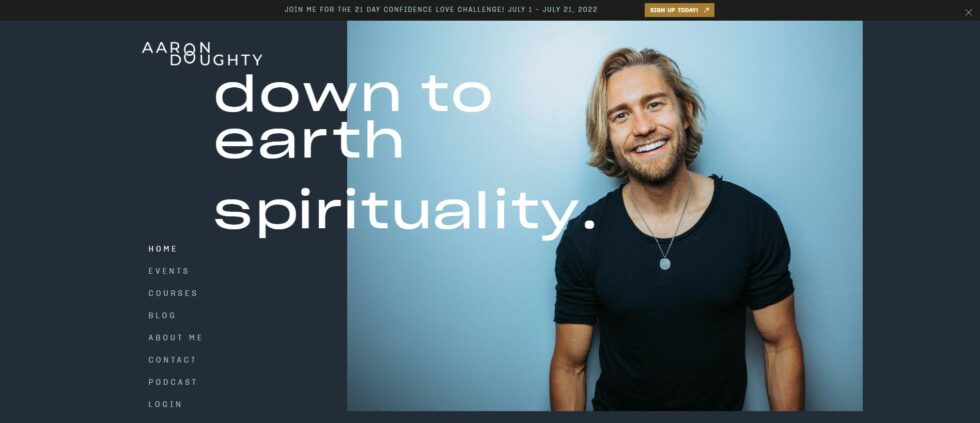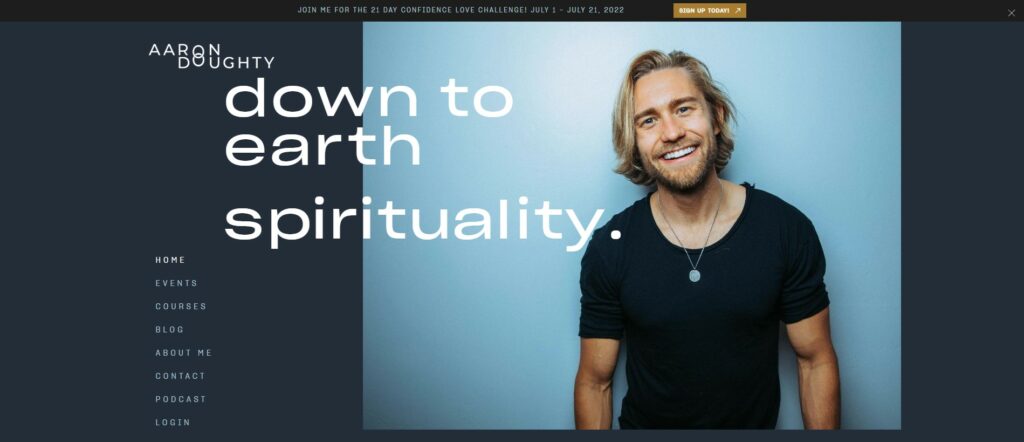 Aaron Doughty helps people expand their consciousness. His down-to-earth coaching style provides a practical approach to spirituality.
Why the website works: Aaron's website is simple yet intuitive to navigate. In short, it's as practical and down-to-earth as he is!
You won't get lost in a hundred potential options to click on.
As you scroll the home page, you'll quickly come across three options for the start of your 'journey' with him:
Listen to his podcast
Watch him on Youtube
Take his Vibrational Archetype Quiz
But visitors who want more information can also easily navigate to his Events or Courses page thanks to the simple menu.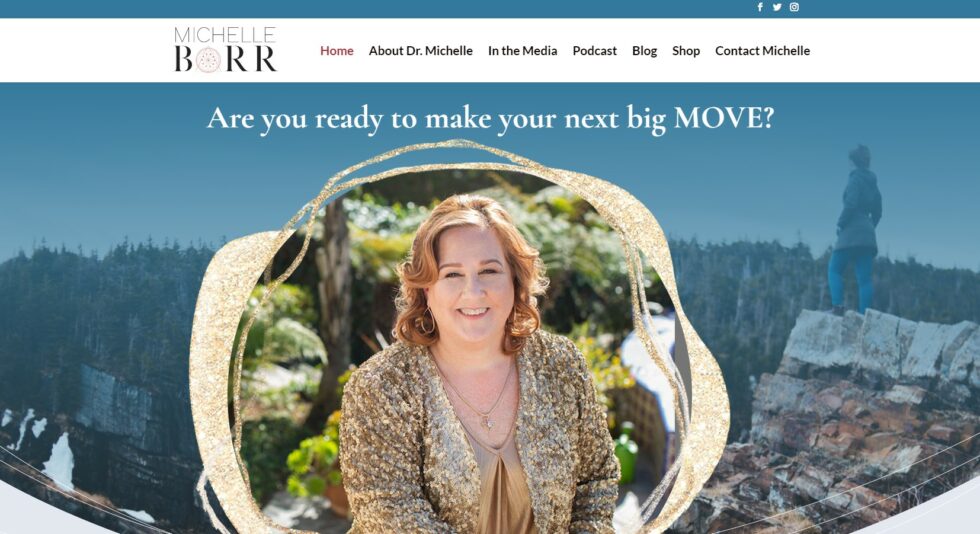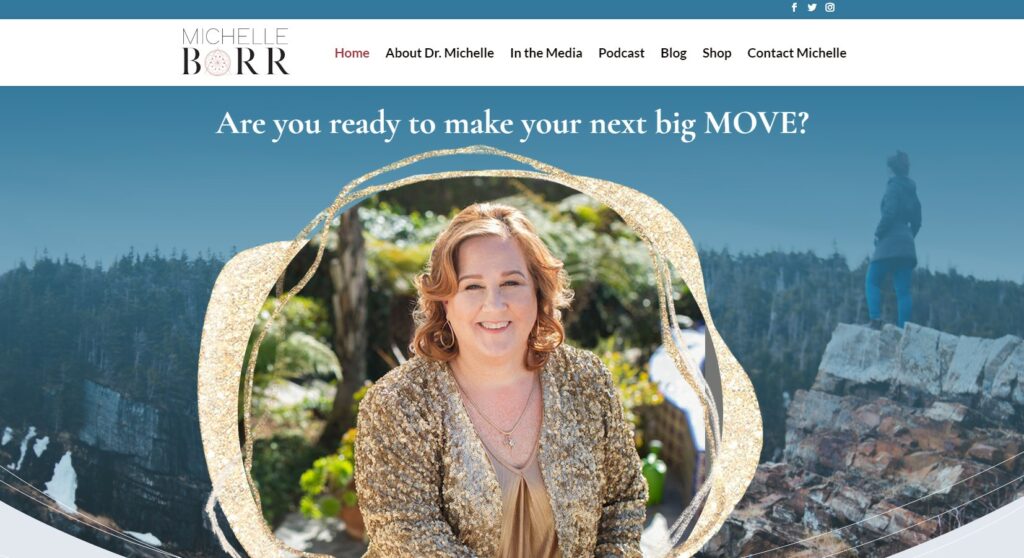 Dr. Michelle Barr has over 25 years of experience as a Transformational Spiritual Coach. She helps her clients release their junk and move into their destinies.
Why the website works: Dr. Michelle's headline immediately asks visitors a bold question:
"Are you ready to make your next big MOVE?"
As you scroll down, the first section greets you with empathy and understanding. It's a great way to welcome new visitors!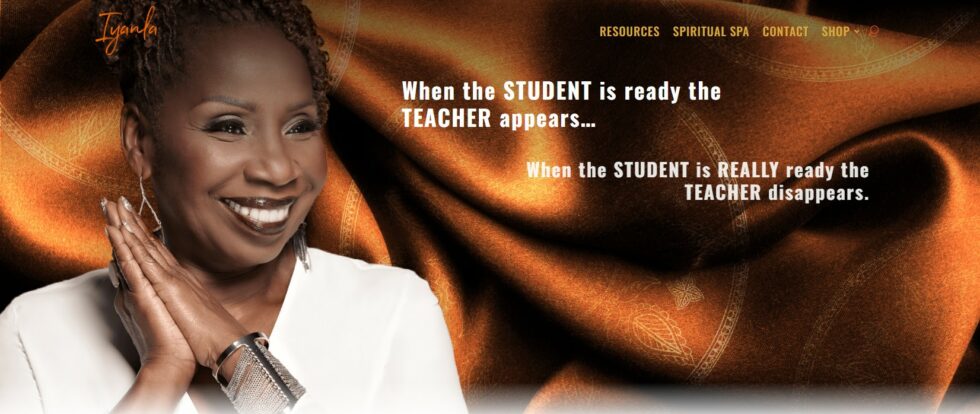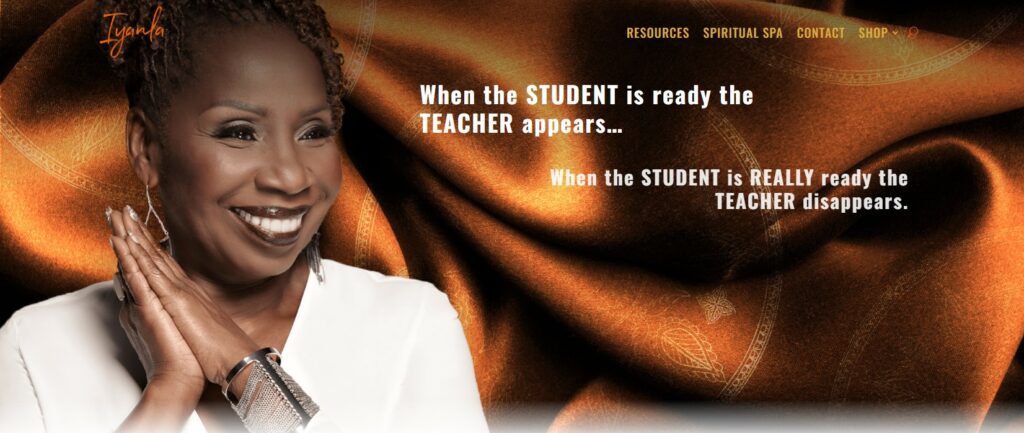 Iyanla Vanzant has been featured on Oprah and even has her own show on Oprah's network, Iyanla: Fix My Life.
Why the website works: The entire website strikes a unique, reassuring tone of voice. Not far down the home page, you'll see this heading:
"If you're a student of life… then you are in the right place."
Soon followed by:
"Take a deep breath, and let it go because Mama Iyanla's got you."
For her target audience, Iyanla's website feels like coming home.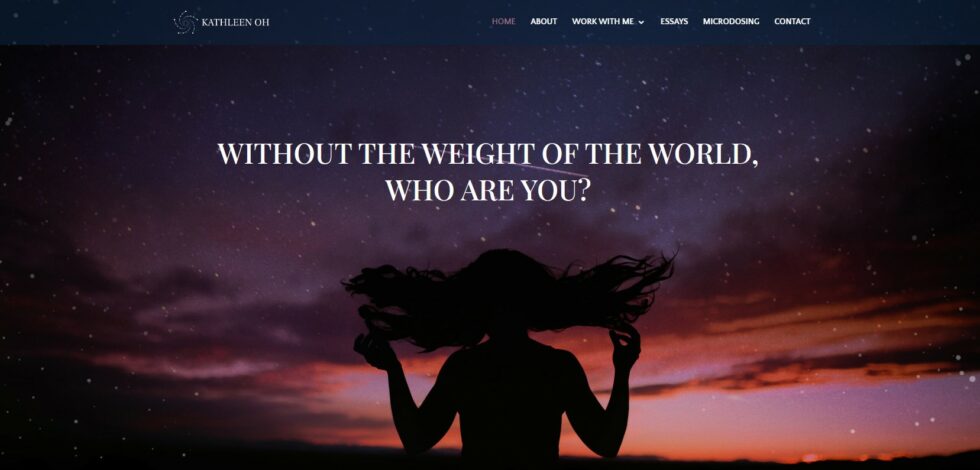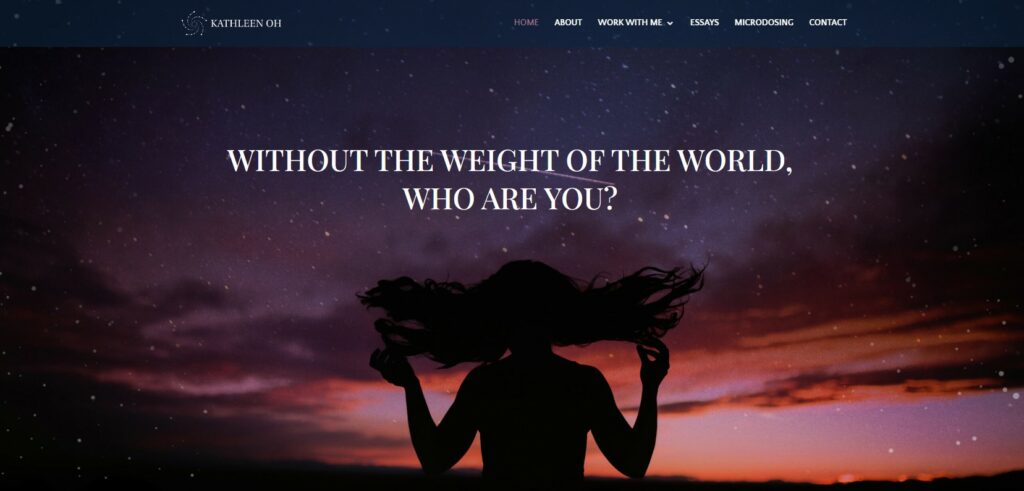 Kathleen Oh is an integration coach and Breathwork facilitator. She specializes in helping people with trauma to put all the parts of themselves together to recover their inherent brilliance.
Why the website works: Kathleen's website opens up with a daring question:
"Without the weight of the world, who are you?"
And as soon as you scroll, she shares her promise of value:
"Rediscover yourself and recover the life you've kept hidden for the sake of others."
These phrases are highly clear and specific and tell you exactly what you can expect from working with Kathleen.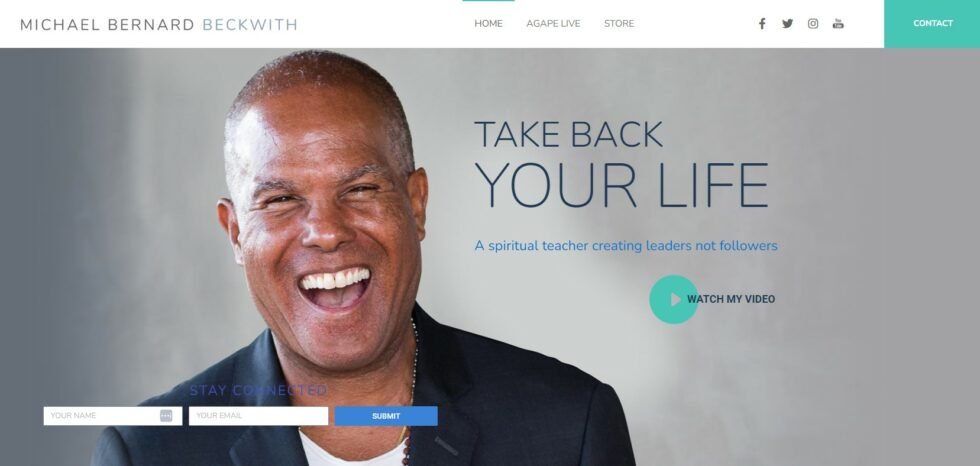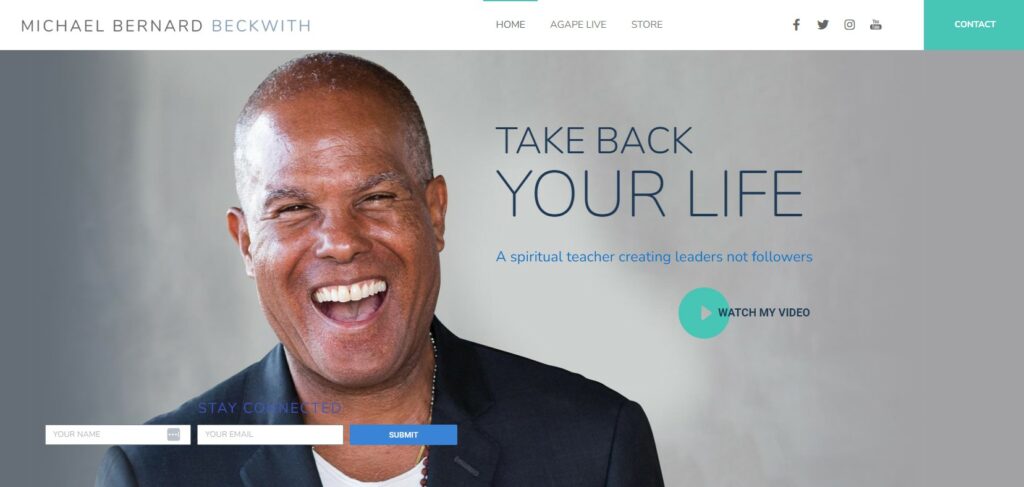 Michael Bernard Beckwith is the founder and CEO of the Agape International Spiritual Center. He uses meditation, affirmative prayer, and Life Visioning™ to help people embrace a practical approach to spirituality.
Why the website works: Right above the fold, people have the option to opt into Michael's email list. This puts lead generation at the forefront!
But you'll also find an introductory video that tells you everything you need to know about Michael and Agape.
Plus, the home page of this website is filled to the brim with testimonials from previous clients! This helps position Michael as someone who can successfully help new visitors who land on this site.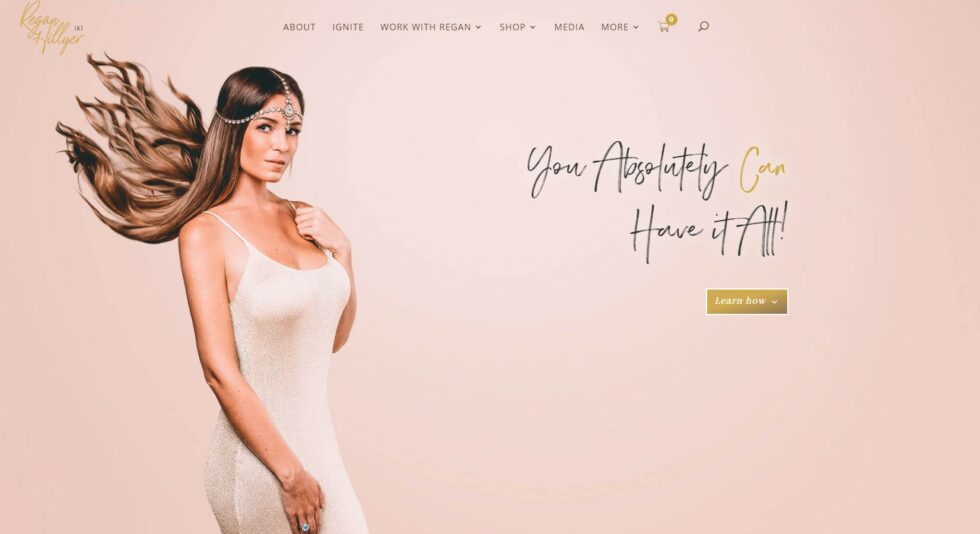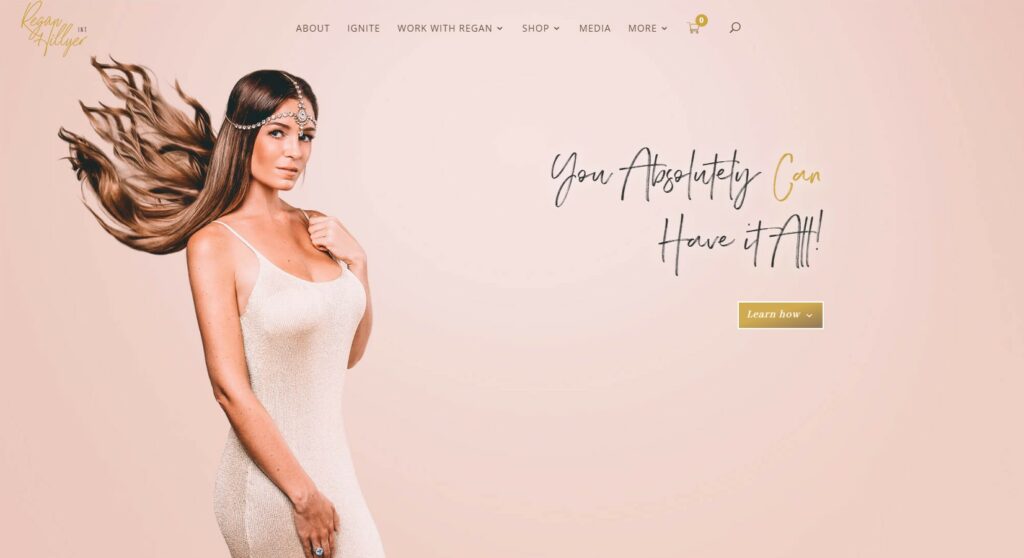 As the founder of Regan Hillyer International, Regan Hillyer is a philanthropist, energetic coach, and global speaker. Her company helps people have it all on their own terms using her signature method, the Energetic Architecture Model.
Why the website works: Regan's home page greets you with an encouraging headline:
"You absolutely can have it all!"
Not only is the website inspiring, but it's stunning and so smooth to navigate! Every design element fits with her tone and theme.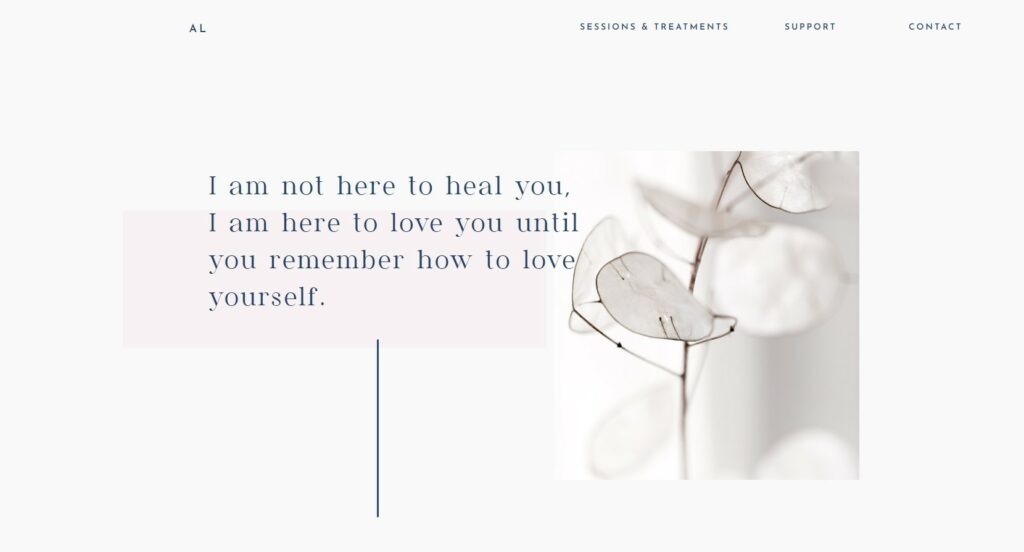 Anyaa Lightheart is a spiritual healer who now only works in person and offline. But her online presence is a great, simple example of how to get it right.
Why the website works: Anyaa's website is an example of how simple a spiritual coaching website can be if you want. She starts off with her signature statement, then introduces herself with a client-centric approach — how can she help you?
Next, she breaks down her offers and resources in great detail. Even though she now works mostly offline, her website does a great job of providing clear instructions for how to work with her and reach out via snail mail.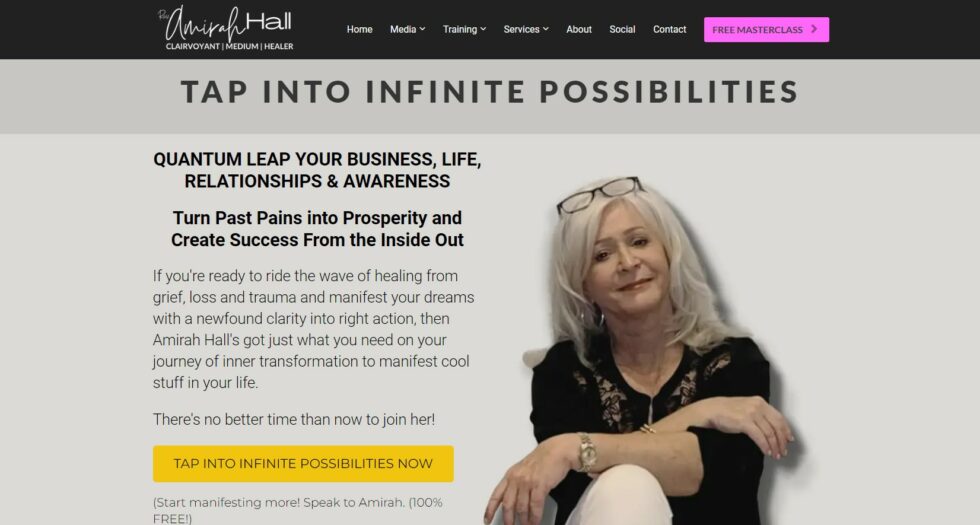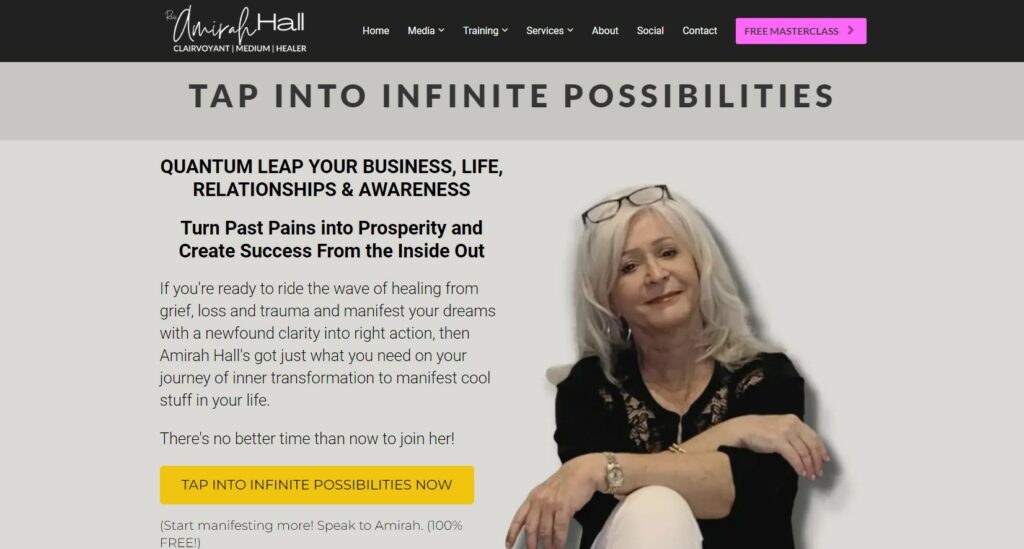 After living a near-death experience, Amirah Hall worked to become an internationally renowned expert who provides spiritual guidance to clients across the world. She uses science-backed tools combined with unique healing practices to help her clients take charge of their own lives.
Why the website works: Design-wise, Amirah's website uses contrast in a clever way to make all her call-to-action buttons stand out. While most of the website uses neutral colors, every button is bright and colorful!
But the website is also efficient at driving traffic to the right place. If you want to maximize free discovery calls, look at what she does above the fold to funnel people to her calendar.
Spiritual Coaching Websites Can Be Simple
If you're intimidated by all the tech that's involved with creating your own spiritual coaching website, don't worry — you don't need fancy tools to start your coaching business! As long as you have a place to greet online visitors and sell your services, you can land your first coaching clients even without a "traditional" website.
That's where Paperbell comes in. With Paperbell, you can create beautiful landing pages for your spiritual coaching services, but you can also manage invoicing, scheduling, email reminders, and so much more!
Create your free account to launch a simple yet stunning spiritual coaching website today.