Have you heard more people tell you you need to use TikTok?
TikTok has long been known as a platform where teens post funny dances and other short clips, but over the past few years, it has evolved into so much more. And it is now ripe for small business owners — including coaches and consultants — to leverage for traffic and sales!
But TikTok is different from other social media platforms. Let's explore how to leverage TikTok for coaches, including:
Why TikTok is good for coaches
How TikTok is different from other online platforms
What type of content performs best on TikTok
A step-by-step plan to succeed on TikTok for coaches
Is TikTok Good for Coaches?
TikTok isn't just an app for teenagers. 71.3% of TikTok's users are between 18 and 34 years old. 32.4% of those people are in the 25 to 34-year range.
On the other hand, audiences 55 and up only make up 5.1% of users. So, if you're a coach for audiences aged 55 and up, maybe TikTok isn't the best platform for you.
But for audiences 54 and under? There are plenty of them on the app! And as a coach, you can leverage this app's algorithm to get seen by thousands of potential coaching clients.
With that being said, TikTok can be powerful to help coaches reach potential clients… as long as you use it correctly. Ultimately, it's completely different from other online platforms such as Instagram, Facebook, Youtube, blogging, and so on.
Let's explain why.
How TikTok is Different from Other Social Media Platforms for Coaches
If you want to get coaching clients from TikTok, it's important to change how you view this app. That's because TikTok isn't really a "social media" platform.
Why not? Other platforms are built for users to grow a following and cultivate a community. But that's not the case with TikTok.

Instead, TikTok is an outreach platform — its goal is to get as many people as possible to watch content on the platform for as long as possible. To achieve this, it pushes content that it thinks you'll enjoy, including viral content, but not necessarily from the people you follow.
Most people spend time on the For You Page (FYP), where TikTok feeds you this content in a "slot-machine" algorithm. Even if people follow you, they won't necessarily see your content.
And that's exactly why TikTok is best for brand awareness, not community-building or social selling. It's amazing as a tool to get new people to discover you as a coach.
Your follower count doesn't matter. And going "viral" won't matter, either. You can have a video go "viral' with a million views, but your next video may just get a thousand views.
That's why each video you post on TikTok should work standalone, without context. This helps more people remain engaged — and getting attention quickly is what you need to get more views on this platform.
Imagine TikTok as a "digital business card" you can get in front of new people. If you do, you'll be more likely to approach TikTok from the right angle as a coach!
What Type of Coaching Content Performs Well on TikTok?
Now that you understand a bit more about how TikTok works, let's explore the type of content that works best on this platform!
TikTok isn't like Instagram. You don't need a polished, "aesthetic" style for your videos to succeed. On the other hand, "raw" and "relatable" content seems to do well.
It was known for short-form content, which still does well, but longer content has been performing better and better, too.
With all that being said, the exact "type" of content you post on TikTok doesn't necessarily matter. What matters is to make your content make sense with the reality of the platform.
Here are some best practices to create content that's more likely to grow your coaching business on TikTok:
Share content that warrants conversations in the comments.
Create videos that are easily 'sharable,' even to people who don't know who you are.
Post as many videos as possible that make sense even if viewers don't know you yet.
Use a caption as a "title" to visually hook people in as they're scrolling.
Add captions to every video.
Start every video with a hook: why should people keep watching instead of scrolling?
Follow these best practices to improve the success of your content, even if you don't follow "trends" or use "trending sounds." This will ensure you're creating high-quality videos that people want to watch and share with others!
How to Implement a Client-Getting Strategy on TikTok for Coaches
So what should you post on TikTok, specifically? And how do you translate video views into new coaching clients?
Follow this step-by-step strategy to ensure you make the most of your time and energy on TikTok as a coach!
1. Set up your business first
Before you create and post a single video on TikTok, let's back up and make sure your coaching business is properly set up.
This process is two-fold. First, is your TikTok profile set up?
If you're a coach, you're also a business owner. As such, you should create a Business account on TikTok instead of a personal account.
Business accounts get more features, like access to intake forms and a bigger date range for analytics. When you have over 1000 followers, you can also add a link in your bio.
To set up your TikTok profile for success, update your bio with a short description of who you help and how you do it. If you have 1000 followers, make sure to add a link that includes ways people can book a free discovery call with you or join your email list.
For example, Parenting coach Marcela Collier at High Impact Club has the following bio:
"Helping you go from parenting frustration to peace & cooperation."
This is clear and calls out her ideal audience — frustrated parents.
But she also includes the words "FREE class 👇 " to direct people to click on her link: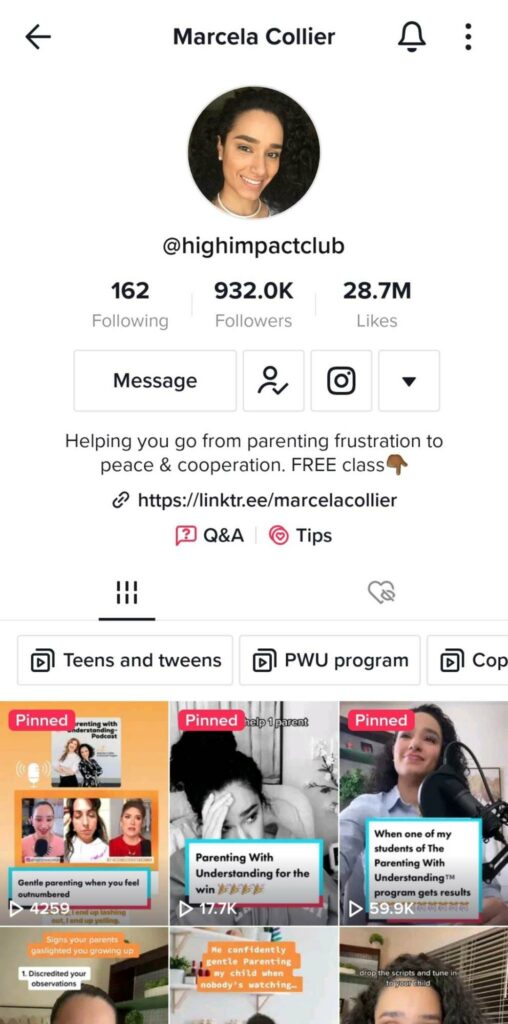 This calls her audience to action and entices them to click on the link to access the free class — which lets them join her email list at the same time. That way, she stays in touch with people, even if they don't see her other videos.
Before you have 1000 followers on TikTok, you can't add a link. You can use a Lead Form instead.
Lead Forms allow you to collect people's information, such as name, email address, phone number, and more — without requiring a link to your website. These forms work natively within TikTok.
You can use these forms to allow people to apply for a free discovery call — or to share a lead magnet.
The second element you should have in place is your booking process. Once you get traffic, how easy is it for that traffic to book your coaching services or get on your calendar? Do you have the automation in place to allow people to pay you or book more sessions without requiring your help?
If you don't, make sure to read our guide on how to automate your coaching business with Paperbell!
2. Choose your content pillars
What will you talk about in your videos? These will be your content pillars.
Your content pillars should be related to your coaching program, but they don't have to be directly related, either. For example, Ekene Onu is a career and life coach for black women of faith. So while she does post about faith, charisma, and mindset, she also posts about:
Energy levels
Relationships
Living a luxurious life as a black woman
Femininity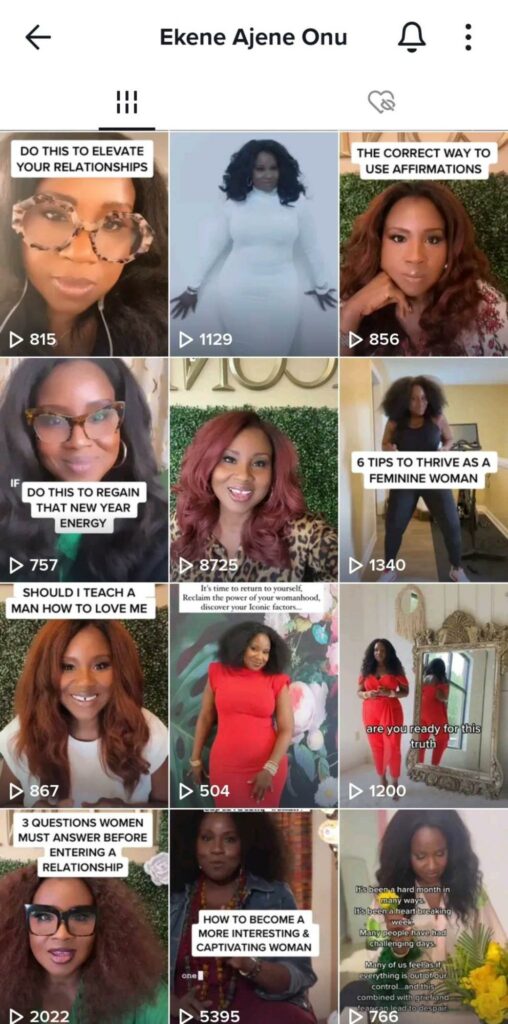 Choose between 5-10 content pillars for your own coaching brand.
3. Create videos for awareness
From your content pillars, you can start creating your videos!
At first, focus on content designed for awareness. This can be:
Helpful and valuable content designed for your target audience
Behind the scenes of how you coach clients
Client success stories
Personal stories that relate to your content pillars
For example, social media coach Rachel Pedersen frequently provides actionable tips about social media on her TikTok page: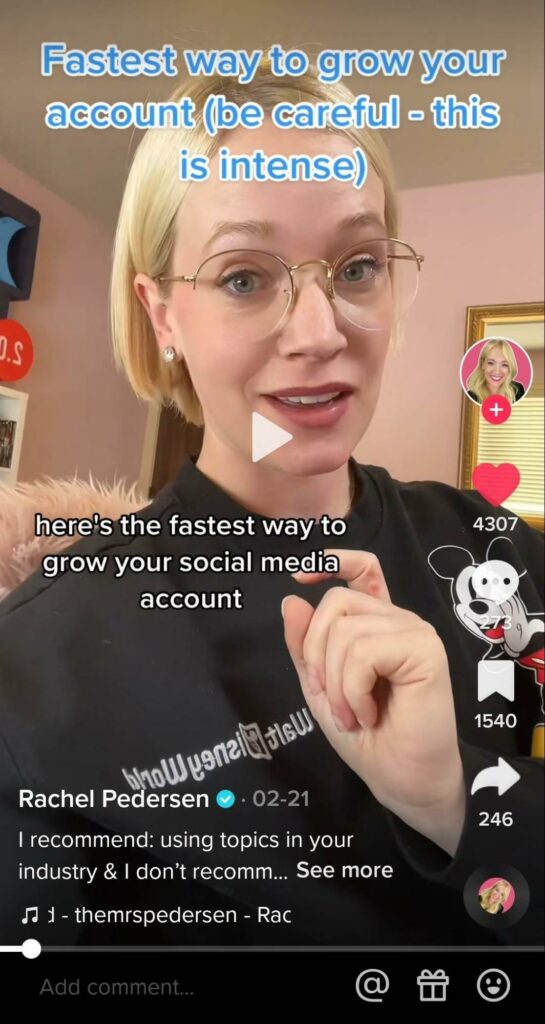 To make your awareness content stand out, inject storytelling into your videos whenever you can. This will make you memorable — but it'll also make you stand out from anyone who may try to copy your educational content.
4. Add conversion-focused videos in the mix
Your awareness content will help you get more views on your TikTok profile. Now, how can you turn those videos into clients?
Here's the deal — TikTok doesn't work well as a selling platform. But you can drive traffic to other platforms, like your email list!
To drive traffic on your list, you can publish videos that call your viewers to action. But instead of selling your coaching services directly, you can share a resource — free or paid — via your profile link or lead form.
For example, you can promote a free lead magnet, a free strategy call, a waitlist for your program, or a low-ticket digital product. All of these can be ways for people to join your email list.
For example, marketing coach Hilary Krueger shares awareness videos, including topics such as:
What should you write marketing emails about
How to tell a story in your videos
How to start your email list
Mistakes on sales calls
What her life looks like as a mom of 4 who runs a coaching and marketing agency
But she also calls her audience to action by doing the following:
Invites people to join her email list directly
Promotes her content matrix for $7
Talks about her storytelling mini-course
Waitlist for her year-long coaching program
Application to work one-on-one with her
For example, you can see her promote her storyteller course at the end of a video in which she explains the importance of storytelling: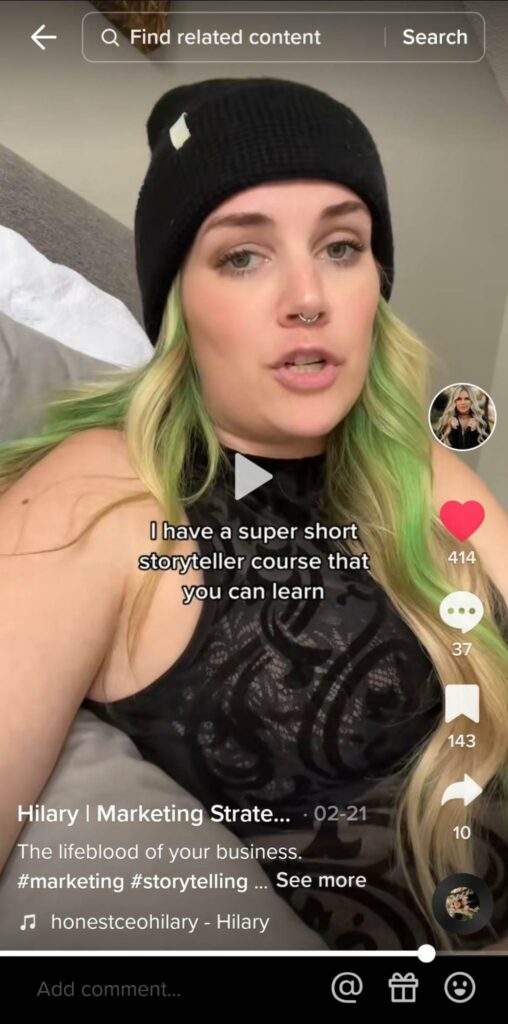 Notice how all of these conversions will get people on her email list, one way or another. If Hilary were never to get a single view on TikTok again, she'd still be able to reach out to everyone who joined her list via these channels!
And this is the key to succeeding on TikTok for coaches. Use the platform to drive traffic to your free discovery calls or your email list instead of selling your coaching directly on the platform.
5. Stay consistent with your posting
Many people only receive a few hundred views per post on TikTok. And when that happens, it can feel discouraging.
But don't give up.
Remember that every 200-300 views are 200-300 more people that have now gained awareness of your coaching business. Stay consistent and keep posting videos — play the long game. Over time, your efforts will compound.
Did You Know Paperbell is on TikTok?
If you want some inspiration on how to use TikTok, give us a follow and come engage with us!