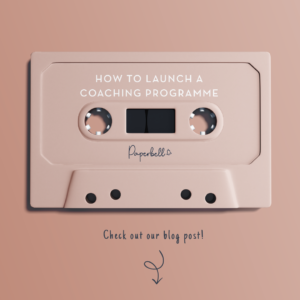 Launching a coaching program has a lot of moving parts, and it can be overwhelming. With the right plan, a launch can attract your dream clients, increase business revenue, and decrease stress and feelings of being overwhelmed.
Before launching your next coaching program, let's talk about the 3 major steps and what they entail.
Step 1: Lay the Foundation
This step is the most important. Without starting here, you won't successfully launch your coaching program.
Identify the Main Problem You'll Solve and For Whom
Start by answering this question: What's the main problem you solve and for whom?
Your response to this question is the foundation of your launch. When you can clearly answer this question, it makes all the details of your launch plan as smooth as a baby's bottom.
Unfortunately, some coaches are generic in what they do and who they serve. If this is you, don't be discouraged. Instead, take time to get more clarity before you go any further.
This is a bit extreme, but here's an example of a generic answer:
I help everyone with weight loss, growing their business, managing social media, and healing their love relationships.
Now, here's a crystal clear example:
I help working mothers get back their pre-baby bodies.

In the first example, there are several problems. Which also means you're talking to several different people. In the next example, it's very clear that the main problem is working moms who want to lose weight after childbirth.
The reason why you need to be clear about this is, it will make creating your launch plan much easier.
Need to narrow down what you do and who you serve?
Fill in the blank: I help (your ideal client) to (the specific problem you solve) so they can (your client transformation).
Once you're clear on that, let's move on to another important component of your launch. Market research.
Market Research
If you're tempted to skip this, don't. It's better to learn what your audience needs instead of creating something no one will buy.
You can conduct this research by talking to current and past clients. When talking with them, ask questions like:
When it comes to (your niche), what's your biggest struggle?
What have you tried to solve this problem in the past? Did it work? Why or Why not?
If you had the perfect solution, what would it be?
Don't have past or current clients? No worries, you can engage potential clients and ask these questions as well.
Should You Study What Your Competitors Are Doing?
The short answer is yes. Researching your competitors can also help validate your audience and offering.
Before we get into this, I want to offer a disclaimer – don't copy your competitors. It's not cool business practice. And in most cases, it's illegal (consult with your attorney).
You can start by checking out their website, blog and social media posts. Your findings should help you confirm if you're on the right track with your audience and offer.
At this point, you'll likely have some great ideas to help you with the next part of this step — building your email list.
Creating binge-worthy content for your audience should leave them wanting more from you. You can help them take the next step by providing a call-to-action at the end of every piece of content you create. For example, when posting on social media, invite them to join your email list.
You can do this by offering a freebie, like a PDF, video series, or a quiz. When creating a freebie, I've found that it's best to keep it simple (i.e., a PDF). You can always change it down the line. As your visibility increases, you'll start growing a list of loyal followers ready to buy from you.
Step 2: Prepare for Your Launch
Now that you've laid the foundation, it's time to focus on the next step of your launch — the preparation.
What Should a Coaching Program Look Like?
In short, you can create whatever aligns with your audience. Think of your coaching program as a roadmap that helps your clients achieve their desired goals. It can include content like videos, worksheets, and direct support from you.
For example, let's say a career coach creates a program to help experienced professionals change careers. The program should help them go from deciding on a new career to landing their dream job.
Outline Your Program's Content
Now, let's outline your coaching program.
One easy way to start the outline of your coaching program is by identifying your client's ultimate goal. From there, you'll need to reverse engineer the process to the very first step.
Let's use the career coach as an example. If her ideal client's goal is to change careers, here's what her outline might look like (from goal to start):
7. Land dream job
6. Interview
5. Apply for positions
4. Search for jobs in the new career
    3. Write a compelling cover letter and make the perfect resume highlighting relevant skills and experience
2. Choose a new dream career path
1. Evaluate your professional skills

In this example, the coaching program may have 7 components to it. Doing this will help you decide what content to include.
Set Your Launch Dates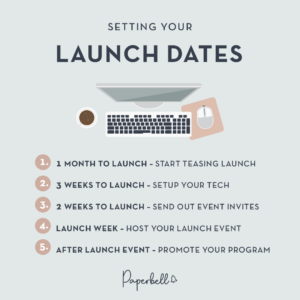 Adding dates to your launch plan will determine what to do, by when, and by whom. Without it, you and your team may find yourselves working for months without an end goal in sight. When setting the dates, start with when you start teasing the launch, through the last day to join the program.
Here's an example of a bird's eye view timeline:
1 Month to Launch – Starting teasing your launch
3 Weeks to Launch – Setup your tech
2 Weeks to Launch – Start inviting your audience to your launch event
Launch Week – Host your launch event.
After Launch Event – Promote your program. This usually lasts 7-10 days.
Once your dates are set, add it to your calendar and share it with your team.

Building Your Launch Team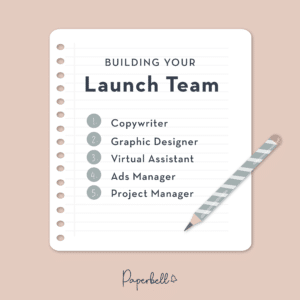 After setting your dates, it's time to decide what to outsource. No matter what the size of your team or budget, it's important to recognize that you're going to need help. As you're thinking about this, consider outsourcing tasks that are sucking up your time.

Here are some examples of roles you may need on your launch team:
Copywriter – to write your sales page, email campaigns, and social media content.
Graphic Designer – to design your branded social media posts, stories, and ads.
Virtual Assistant – to help with the tech setup, troubleshooting, and customer service.
Ads Manager – to run your ad campaigns on social media.
If managing your launch is taking you away from the tasks only you can do (i.e., preparing for your webinar, going live on social media, or conducting podcast interviews), consider hiring a project manager. Hiring a project manager will give you peace of mind that the back-end of your launch is running without interruption.
Prepare or Outsource the Technical Setup
When launching there's almost always a technical component involved. The good news is this setup can be as simple or advanced as you need it to be. Let's say you're hosting a webinar. For this type of launch, at a minimum, you'll need the following:
Webinar registration page – allows people to sign up for your webinar.
Email marketing system – to confirm the webinar registration and send email reminders.
Sales & Checkout pages – for people to sign up for your coaching program after the webinar. If your program is primarily one-on-one or group coaching based, you can use Paperbell as your sales/checkout system.
And these different systems will need to be able to share information with one another. Some systems can natively do this. Others can only be connected through a third-party application, like Zapier.
In either case, depending on your tech skills, this is something you can outsource as well. For instance, if you struggle with tech, hire a virtual assistant to handle the tech part of your launch.
Decide Which Platform You'll Host Your Program On
Another part of your tech setup to consider is where you'll host your coaching program.
If your program largely consists of group or one-on-one coaching, check out Paperbell. If your plan is more of an in-depth course, you'll need a learning management system (LMS) to host your program. When choosing an LMS, make sure it has the features you need and it's easy for your clients to use.
Not sure which tech tools to use for your launch? We've gathered the most trusted tech launch tools into one free guide here.
Prepare Your Marketing Materials
As you're planning your marketing materials, here are some examples of what you may need:
Social Media Posts
Facebook posts, stories
Instagram posts, stories
Pinterest pins
Videos
Livestream
Pre-recorded videos
Reels
Paid Ads
Facebook
Instagram
Pinterest
TikTok
Email campaigns
Webinar invites
Webinar reminders
Post-webinar sales emails
If you have affiliate partners, you'll need to share marketing materials with them too.
Again, don't feel the need to do all the things. Start with the platforms you're already using.
Step 3: Launch Your Coaching Program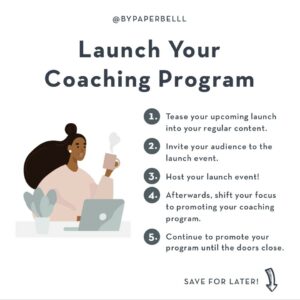 This is it…it's launch time!
Here's where the rubber meets the road. It's time to promote your coaching program to the world!
u003cstrongu003e5 Steps to Launching Your Coaching Programu003c/strongu003e
Start by teasing your upcoming launch into your regular content.
For example, if you regularly email your list, add a P.S. to let them know something special's coming soon.
From there, start inviting your audience to the launch event.
If you have affiliate partners, invite them to start promoting to their audience as well.
Next, host your launch event.
The launch event can be offered for one day or a series of events over several days. If you're offering a webinar, it's good practice to offer your audience more than one option. For example, your webinar may be offered on Tuesday at noon, Wednesday at 6 pm, and Thursday at 1 pm. This gives them the ability to choose the best time that works for their schedule.
After hosting your launch event, shift your focus to promoting your coaching program.
Like your launch event, it's best to promote your coaching program on the platforms you're already using. Remember, simplicity is key. For instance, if you're using Instagram, email, and affiliate partners, focus on leveraging those resources. It's not a good time to add a new platform.
Continue to promote your program until the doors close.
Once you've set an end date, don't deviate from this. Keeping your launch open too long, may be a turn off to your audience.
**BONUS** After Your Launch
Celebrate and Rest!
Now that your launch is over, take time to celebrate! It can be so easy to rush off to the next thing. Do something to reward yourself (and your team) for all your hard work.
Lastly, consider sending out a survey to those who didn't buy. This data will give you valuable insight into why these people didn't join your program. This information will help you tweak key components of your coaching promotion before your next launch.