As a coach or a consultant, your job is to help people improve themselves and their businesses. A great way to make their transformation even more powerful is to add online courses and learning materials to your packages. These learning programs increase the value of the contracts you sign with your clients, and they can also give you an opportunity to create an additional income source, independent from what you make from your sessions.
There are plenty of great online course platforms that let you design your own curriculum and promote your courses to the people who might be interested. Some of these course builders even provide helpful resources to teach you how to structure your course content and sell it more effectively. In this article, we've gathered the best online platforms you can use to build your own course as a coach or consultant.
3 Types of Online Course Platforms for Coaches & Consultants
White Label Online Course Platforms
White label online course platforms give you full control over your content including all branding and design elements. They provide the technology for you to easily upload your course content and materials, and to customize your platform in a way that best suits your students.
White label course builders normally offer premium plans that allow you to use a custom domain, change the look and feel of your site, and remove advertisements connected to their platform. This way, your online course website will completely match your brand guidelines without distractions, and it also will look more professional.
Keep in mind that if you set up your own online course independently, you'll need to take care of the marketing strategy for it yourself. Fret not, because these white label course builders have plenty of marketing tools to give your courses exposure and increase your sales.
E-learning Websites
E-learning sites feature courses from a great variety of experts on business, personal growth, and creative hobbies. Students use these online learning platforms to find topics they are interested in and improve themselves. This means that your course will get more easily discovered organically on an e-learning platform than on an independent site.
On the other hand, you'll also be competing with other experts who potentially upload courses in the same niche as yours. If you want to publish a course on an e-learning website, the best strategy is to run a quick research on it and choose a topic or category that hasn't been covered yet. Make sure that you include what makes your course unique in your title and description. Think of terms your students might type in the search bar to find you and use them to optimize your content for better discoverability.
Top Education Platforms
Some education platforms are known for gathering the biggest experts in a certain niche and promoting their courses. These businesses actively sell their content to large audiences and pay a commission to their teachers from student fees. To be published on a top education platform means earning passive income from your course and getting great exposure for your brand, which may attract more clients to hire you.
The catch? It's extremely hard to get on these platforms. Top education websites normally look for coaches and experts who have already built a personal brand so it's a win-win for them to feature you. You also won't have control over how your course is promoted, and you will only earn a certain percentage of the student fees. Still, if you're someone who already has a reputation in a particular niche, it's worth giving it a shot.
How to Choose an Online Course Platform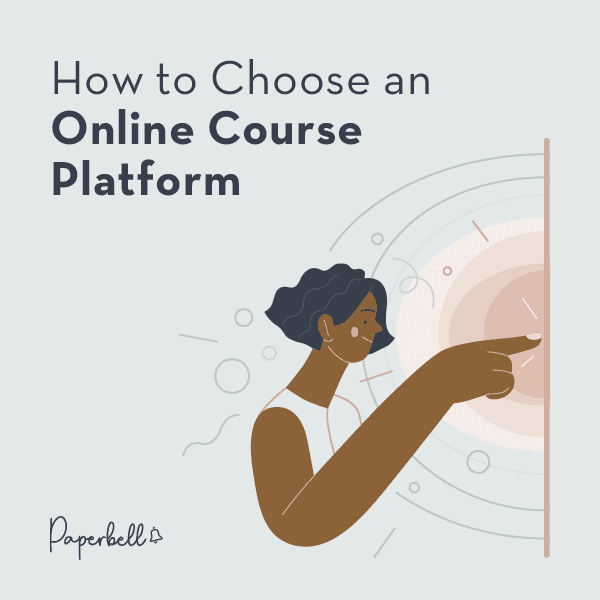 If you'd like to build an online learning program under your own brand and take care of the marketing yourself, a white label course builder will be best for you. You will have full control over your course content, how it's structured, and the way it's presented to your students. Many of these platforms provide an array of marketing tools and integrations so that you can get the word out and measure the performance of your marketing campaigns.

In order to design the best learning experience for your students, you can customize the rhythm of their classes as well. You can give them instant access to the full curriculum, or you can create what's called a drip course that unlocks a lesson daily or weekly.
Some course builders also let you set up cohorts, which means your course will only be available on certain dates to separate groups of people. Features like the community chat will allow you to connect your students so that they can share their experience with each other and provide peer support to other students.
Before deciding on the best platform for you, think about how much energy you want to put into managing and customizing the student experience in your courses. Running a live online course can easily become a full-time project while including a templatized course in your existing coaching packages will only require you to set it up once.
If you want better exposure for your course and you don't mind publishing it under another brand, you can upload it on an e-learning site. You can still promote the direct link to your course, but it will be competing with other similar lectures.
Last but not least, if you're someone with an established personal brand, you can submit your profile to one of the top education platforms that help you develop your course curriculum and promote it to their audience.
10 Best Online Course Platforms for Coaches
Paperbell
Paperbell is your all-in-one platform for managing your clients as a coach or consultant. Besides keeping all your contracts, appointments, client notes, and payments in one neat place, you can also design custom packages and add your digital downloads or online course materials to them. You can choose whether you'd like to give access to your materials straight away or schedule individual pieces to unlock on certain days. Paperbell is designed for 1:1 or group coaching packages that also include materials, instead of being a course-first platform. So if your business doesn't include any private or small group coaching, you'll probably be better off using one of the dedicated course platforms below.
Thinkific
Thinkific is a white label online course builder, which means you can customize your course page in a way that students won't even know that it's built on an external platform. Their intuitive software makes it easy to build a course from scratch, and they have a free trial for you to test out all their smart features. You can add quizzes and certificates for your students and launch your course either as drip content or in scheduled cohorts.
Teachable
Teachable is a great option for beginner course creators who want a platform that's easy to navigate. They offer native email marketing tools to promote your course and webinar options to go live with your students. You can get started with Teachable for free with a 10% fee on your earnings, or sign up for a premium plan to receive your student fees in full and use your own custom domain.
Learnworlds
Learnworlds is another white label course builder with plenty of marketing tools to promote your courses. Their platform integrates with dozens of online software like Zapier or Zoom, so if you're using a bunch of marketing tools already, it will be easy to synchronize them. Learnworlds walks the talk as an education platform and provides plenty of webinars for course creators like you to learn the ins and outs of the creator economy.
Podia
With Podia, you can easily set up your online course in 10 minutes (once you have the content ready). Their course builder allows you to create a custom design for your page, however, you won't be able to white label it and remove their branding elements. You can get started for free with an 8% deduction from your student payments, or you can go premium and keep all your earnings while also getting access to their nifty marketing and affiliate features.
Learndash
Learndash is an online course builder plugin that you can use if your website is built on WordPress. It's designed by e-learning experts in a way that helps you find the best structure for your curriculum. You can set up tests to help students retain more of what they learn, although it's better suited for knowledge transfer rather than personal growth courses centered around self-discovery.
Kajabi
Kajabi is a more advanced platform for creating online courses, coaching programs, podcasts, and memberships. They have business and marketing solutions with templates and funnels that help you grow your content business. This platform is better suited to full-time content creators and starts from $149 a month.
Udemy
Udemy is one of the biggest e-learning sites with over 54 million students worldwide and courses in literally every category you can imagine. With their smart search engine, students can search for courses they are interested in and find you more easily. However, this also means you'll be competing with hundreds of other courses in personal growth. It's a great option for niche content creators who teach a unique and specific subject and want to earn passive income from publishing their courses online.
Skillshare
Skillshare is another popular e-learning site that's centered around creative hobbies and arts, but they also have a lifestyle section where life coaches can showcase their expertise. You can submit your course on Skillshare for free, provided that it's in line with their guidelines. If you get accepted, your course and brand will gain great exposure, but you'll need to make sure you have good ratings, otherwise your content may be removed after a year.
Evercoach by Mindvalley
Evercoach is the world's leading education platform for coaches. They have courses on a wide array of topics, including how to coach leaders and how to grow your coaching business, as well as their own guides and certifications. Their teachers are coaches themselves who go through a rigorous selection process through Mindvalley's partnership program. Needless to say, they receive an extremely high number of applications, but for those who get selected, it's a once-in-a-lifetime opportunity to be featured on their platform.
Freshlearn
Freshlearn is another easy and straightforward platform that is extremely user-friendly. It can transform your knowledge into a profitable company by enabling you to develop and sell online courses. Freshlearn platform enables you to build, modify, and sell online courses, everything from landing pages to payment processing handled by the platform. Its app lets your learners access the courses and other digital products via mobile devices.
Out of all of those options, you should find the perfect one for you! And if you're a coach who wants to sell coaching AND online materials, definitely test-drive a Paperbell free account.