Sell Your Digital Downloads
Designed just for coaches and consultants.
100% Free, No Credit Card Required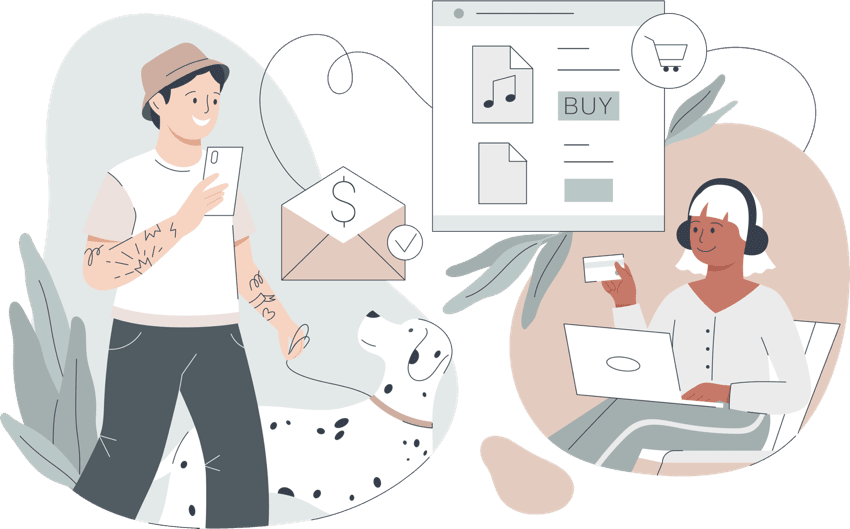 Paperbell handles checkout, scheduling, and client admin for your coaching business. That including selling & delivering your digital products.
Modern coaching is more than just talking with your clients. Your coaching practice also includes resources you've created like ebooks, guides, checklists and journals.
Paperbell makes it easy to sell these digital products, as part of a larger coaching (or group coaching) package or standalone.
N

Videos

N

E-Books

N

Digital Planners

N

Journaling Prompts

N

Audio Affirmations

N

Guided Meditations

N

Checklists
N

Webinars

N

Swipe Files

N

Workbooks

N

Spreadsheets

N

Resource Lists

N

Image Templates

N

Audiobooks
Deliver Bonus Resources for Your Clients
Use the digital downloads feature to automatically include bonus resources for your coaching clients. Their downloads are delivered and stored inside a re-accessible client portal. 
Deliver Content Over Time
Paperbell doles out your content to your clients automatically. You can set a schedule that starts when the client buys, or deliver on a certain date.
Use a One-time Payment or a Payment Plan
Want to sell using a payment plan instead of a one-off payment? No problem! Create predictable income for yourself and affordable plans for your clients using payment plans.
No Tech Headaches
No need to set up "zaps" or complex workarounds. Simply click upload! We handle checkout and digital delivery. 
Securely Stored Inside Your Client's Login
Your client will access the digital product inside an account that only they have access to. It isn't just attached to an email that they could forward to anyone.
Make Updates Automatically
Made updates to your digital product? No problem! Just upload the new file and all current and past purchasers will automatically have access to the latest version.
Say Goodbye to Complex Course Creation
Paperbell's digital downloads was not designed for complex video-based courses. Course delivery tools are great, but they aren't fit for purpose when you just want to share a few files.
No More Games of "Find the File"
Do you find yourself searching for the same client resources over and over again? Stop the madness! With Paperbell, you can automatically include the right resources with every coaching engagement. And your clients have them within easy reach right inside their client portal, no more asking you where they went!
Create Exclusivity with Limits & Expiration Dates
Paperbell has built-in offering expiration dates and purchase limits that you can choose to include with any offering. Create a little excitement by limiting your resource to a certain number of clients!
Digital Product Selling FAQs
Does this replace my course delivery tool?
For most coaches and consultants, Paperbell eliminates the need for a seperate course delivery system. But it does depend on your needs – if you simply need to deliver online resources and assets to your clients on a certain schedule, you'll love Paperbell!
If you have more complex needs like cohorts, quizzes or certifying your students then you may still want to leverage an additional course platform.
Can I combine digital downloads with client appointments?
Yes! This is a unique feature of Paperbell. You can create any kind of package you like that combines 1:1 sessions, group coaching sessions, and digital downloads like training videos and ebooks.
Do you have a free plan?
Yes we do, you can get a completely free Paperbell account, no credit card required, right here.
Does this integrate with my other tools?
Yes! We connect with Google Calendar as well as Outlook and iCal via a google integration.
We also integrate with Zoom and Google Meet. And our super-robust Zapier integration means you can automatically share data from Paperbell to all of your other tools.
Where can I see everything that Paperbell does?
How much does it cost?
Every Paperbell subscription includes every coaching client management feature you see here as well as full access to all of our other features! See our pricing page for details.
I love Paperbell! It is definitely making my life easier.
Instead of manually reaching out to my clients at every stage, I'm able to accept payment, initiate scheduling, and send reminders automatically.
It gives me peace of mind to know that clients are being prompted and reminded, reducing my no-shows and completely removing me from the hassle of rescheduling.
I appreciate you creating this product so much! I have been wanting to offer mentoring for a long time now, but I knew that the logistics side would be too time consuming.
I love using Paperbell for scheduling. It is seamless to have my clients go from my sales or program page directly to Paperbell to purchase a package or schedule a free chat.
I am loving Paperbell. Saves so much time on manual stuff I was doing before to onboard clients!
I just used Paperbell for the first time and it was so easy.
I sent a link through a DM and got paid immediately. Fricken' genius!
Sell Your Digital Products with Paperbell
Get a fully-featured Paperbell account (including digital product sales) for free, no credit card required. Only pay when you add more clients.