Group Coaching Software
Designed just for coaches and consultants.
100% Free, No Credit Card Required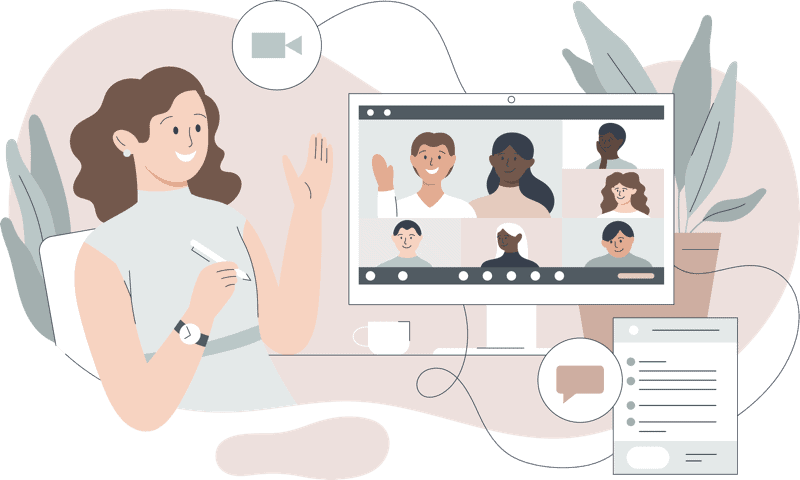 Paperbell is the group coaching software that runs your entire business: payments, scheduling, contracts, client admin & more.
If you didn't know there was such a thing as a tool to sell and deliver your group coaching… we're about to blow your mind! (Don't worry, we just launched this year so you're not that behind!)
Here's a taste of some of the functionality included in Group Coaching by Paperbell:
Online Checkout for Group Coaching Programs
Allow clients to pay online via credit card without the hassle of payment requests or invoices. With Paperbell, you can even create payment plans to allow your clients to pay over time.
Integrate Other Channels like Facebook Groups or Voxer
If you have a private Facebook group, Voxer access, etc. included in your group coaching, no problem! You can easily include these in your program.
Landing Page Creation
No more struggling with site builders and trying to link up a payment system – Paperbell automatically includes landing pages, where people can buy your group coaching packages without ever speaking to you!
Set a Maximum Amount of Participants
With Paperbell you won't need to frantically check your email while trying to time exactly when to shut down your landing page. Just set your group coaching package to automatically close when you reach your desired number of participants.
Automatic Calendar Invites for Each Session
Every participant will automatically be sent calendar invitations with all the details they need for each session. No manual work required.
Set Up in a Few Clicks, No Tech Headaches
Stop creating complex "workarounds" for crafting, selling and hosting your group coaching programs. Now you have everything you need to sell and deliver group coaching all in one place!
Automated Messaging for Your Group Participants
Paperbell allows you to automate emails that go out to each participant upon purchase and before and after every call.
Custom Client Questionares
Automatically collect everything you need to know about each client, and keep that information stored and organised in your Paperbell system. 
Automatically Close Registration
Automatically set your packages to expire at a certain day or time, so that you don't have to scramble to take a page down at midnight!
Include 1:1 Sessions
You can include one-on-one sessions right in your group coaching package. There's no need to choose one or the other!
Create Leverage in Your Business
Group coaching allows you to deliver transformation to many clients at once, instead of just one at a time! If you've never done group coaching before, now is the time to add it to your coaching mix.
I love Paperbell! It is definitely making my life easier.
Instead of manually reaching out to my clients at every stage, I'm able to accept payment, initiate scheduling, and send reminders automatically.
It gives me peace of mind to know that clients are being prompted and reminded, reducing my no-shows and completely removing me from the hassle of rescheduling.
I appreciate you creating this product so much! I have been wanting to offer mentoring for a long time now, but I knew that the logistics side would be too time consuming.
I love using Paperbell for scheduling. It is seamless to have my clients go from my sales or program page directly to Paperbell to purchase a package or schedule a free chat.
I am loving Paperbell. Saves so much time on manual stuff I was doing before to onboard clients!
I just used Paperbell for the first time and it was so easy.
I sent a link through a DM and got paid immediately. Fricken' genius!
Online Group Coaching FAQs
Can Paperbell automate calendar invites for my group coaching calls?
Absolutely, you can stop scrambling to make sure you've sent everyone the right call info!
With Paperbell's group coaching, every participant automatically gets a calendar invitation for each call (including the call-in info). We integrate with Zoom, Google Meet, or any other video or audio platform.
How do you automatically limit the group size?
Tell the truth – have you ever counted on your fingers to figure out how many spots were left?
Paperbell automatically sets a limit (if you like!) and closes registration once you've reached it.
Can you set a closing date for the group coaching program?
Group coaching programs often start on a certain date, but manually managing the cut off can be tricky. (Please don't tell us we're the only ones who have resorted to setting a phone alarm!)
With Paperbell's group coaching platform, you can automatically set a date and time to cut off registration.
Does this integrate with Facebook groups, Voxer, etc?
If you have a private Facebook group, Voxer access, or anything else included in your group coaching, no problem! You can easily include these in your program.
We also integrate with Zoom and Google Meet. And our super-robust Zapier integration means you can automatically share data from Paperbell to all of your other tools.
Do you have a free plan?
Yes we do, you can get a completely free Paperbell account, no credit card required, right here. 
Where can I see everything that Paperbell does?
How much does it cost?
Every Paperbell subscription includes every coaching client management feature you see here as well as full access to all of our other features! See our pricing page for details.
What else can Paperbell take off my plate?
What about Scheduling?
In addition to handling all of your client management, Paperbell also includes a complete scheduling/booking system for your clients to get onto your calendar. 
What about Contracts?
Cancel your contract-signing expense, because HelloSign is included right in your Paperbell subscription! E-signatures are integrated right into the booking process.
What about Taking Payments?
Yup, Paperbell does that too! Payment and booking is one seamless process for your clients. Plus, you can create subscription, group coaching, and multi-session packages.
What about Client Management?
Yup, Paperbell is a coaching client management software too! We're a CRM for coaches, keeping client notes, appointment history, and a record of all purchases in one place.
Scale Up Your Income with Group Coaching by Paperbell
Get a fully-featured Paperbell account (including group coaching) for free, no credit card required. Only pay when you add more clients.