Client Scheduling Software
Designed just for coaches and consultants.
100% Free, No Credit Card Required
Paperbell is the coaching scheduling software that runs your entire business: client management, billing, online contract signing & more.
Getting your next session booked seems simple enough, but we know how painful it can be. We're talking alllll of those emails back and forth as your schedule keeps changing. Or setting a date on a call then forgetting to write it down. Or discovering that your client meant Pacific time, when were talking Eastern.
We saw that the system is broken, so we created something much better, designed specifically for coaches. Here's how it works . . .
First, time-block your ideal coaching schedule.

We're big fans of time blocking – deciding in advance when you'll do certain activities in your business. That's why it's the first step in scheduling with Paperbell.
You have total control over your schedule and get to decide what blocks of time to set aside to work with clients.
For example, you could have "client time" every weekday morning, or every Tuesday and Thursday afternoon.
Or, you allow clients to book any time during your normal workday (i.e. Monday – Friday, 9-5) and Paperbell will make sure you're never double booked with other appointments made outside of Paperbell. (More on that soon!)
Unlike other scheduling tools, you can even create A/B schedules for those who like to work "on" their business one week, then "in" their business the next.
All of this is done via repeating time blocks so that you don't have to manually choose the right times every single day.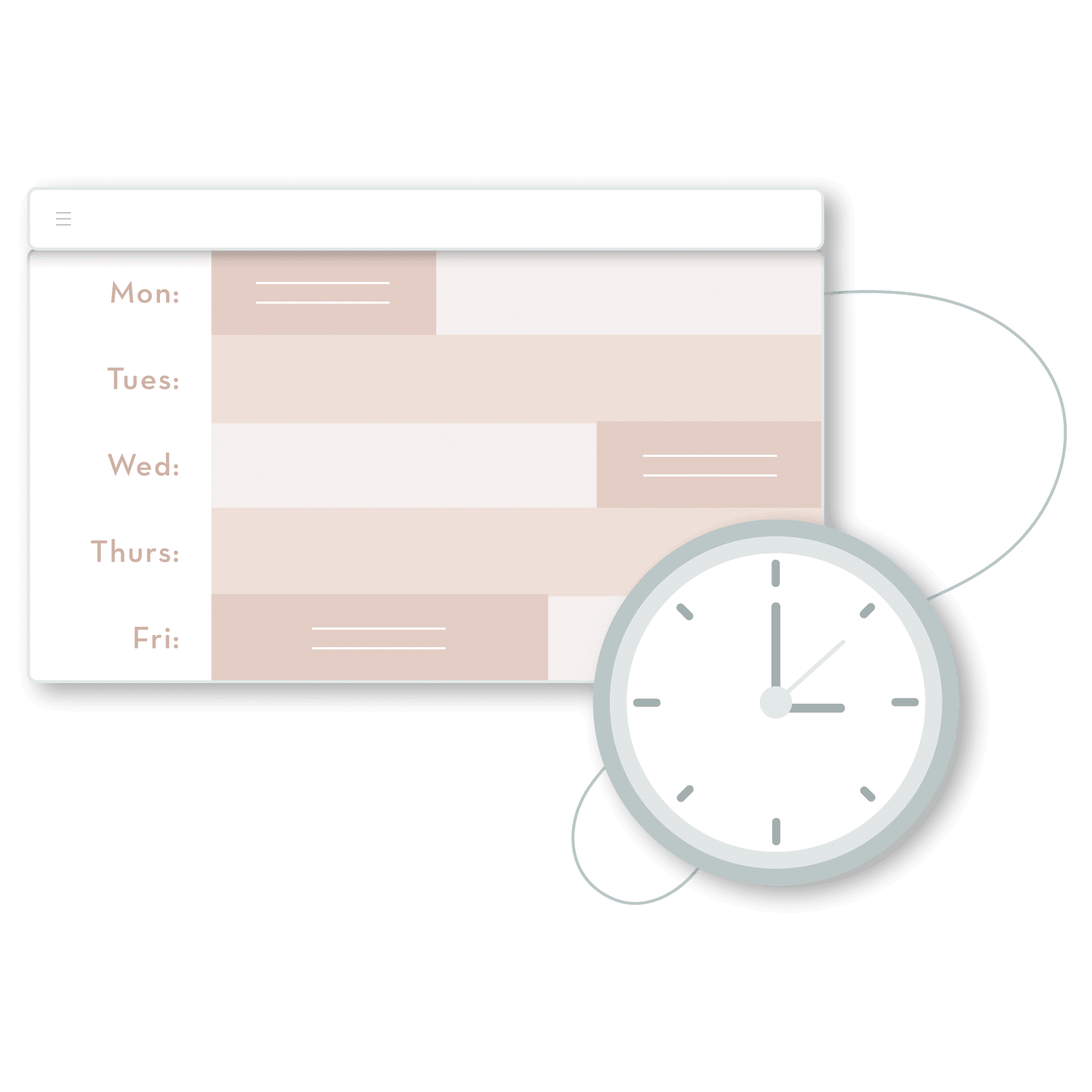 Tell Paperbell what times of the day and week you'd like to reserve for client appointments.
You can even block off different days or times for different types of sessions. For example, discovery calls on Mondays or afternoon reserved only for your weekly clients.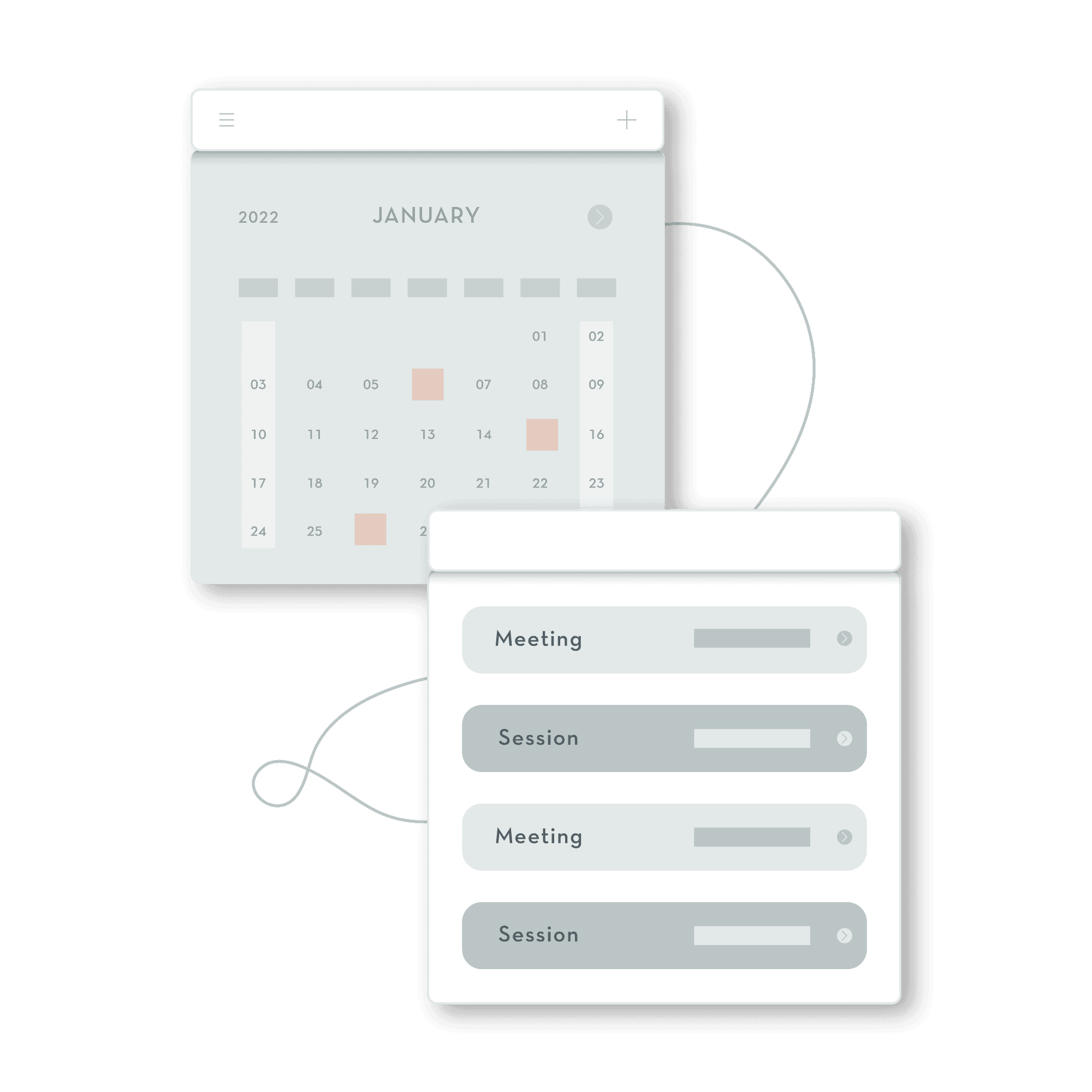 Paperbell automatically syncs ALL of your calendars. (Even that Fall Football Schedule one if you like!) This ensures that you're never double booked.
We integrate natively with Google Calendar, or third-party with iCal & Outlook. 
Next, sync your Google or Outlook Calendar to ensure you're never double-booked.
We know that you already keep your life in your online calendar: team meetings, your kid's activities, doctor's appointments, you name it! That's why Paperbell is proud to partner with both Google Calendar & Microsoft Outlook, to make sure that clients can only book time when you are actually available. Here's how it works:
You grant Paperbell permission to access your calendars. Any time that's booked on your online calendar will automatically become unavailable in Paperbell, even if you had already blocked that time as "available" to clients.
This means that you never need to update your availability in Paperbell – as long as the appointment is in your calendar, it will be done automatically.
For example: you blocked 2-5pm in Paperbell for client meetings, but then you made a doctor's appointment at 3pm. As soon as this happens, 3pm disappears from your Paperbell availability. 
You don't need to go into Paperbell and change your availability for that day, it's already done.
Your usual online calendar is still command central for your life – you just use Paperbell to control when clients can book with you. This eliminates the "two calendar problem" of other scheduling tools you may have tried. 
Let your clients self-schedule for a time that works for both of you. 
Clients book their own appointment, complete payment, and sign their contract all in one smooth checkout flow. Here's an example of an embedded Paperbell booking calendar. 
When clients purchase a multi-session package, they can schedule the appointments all at once or over time. It's just like buying a package from a fitness studio. 
Clients can also use their login to change or cancel appointments, as long as they are within your cancellation/change window. 
Too many coaches waste time "chasing invoices" after they've already provided the service and unfortunately sometimes end up not getting paid at all. 
When you use Paperbell, the appointment is never final until payment has been made. So no more chasing down payment!
You can embed your booking calendar right onto your website like this (works with WordPress, Squarespace, Wix or any other other site builder). Or, send a link to your package page or booking calendar.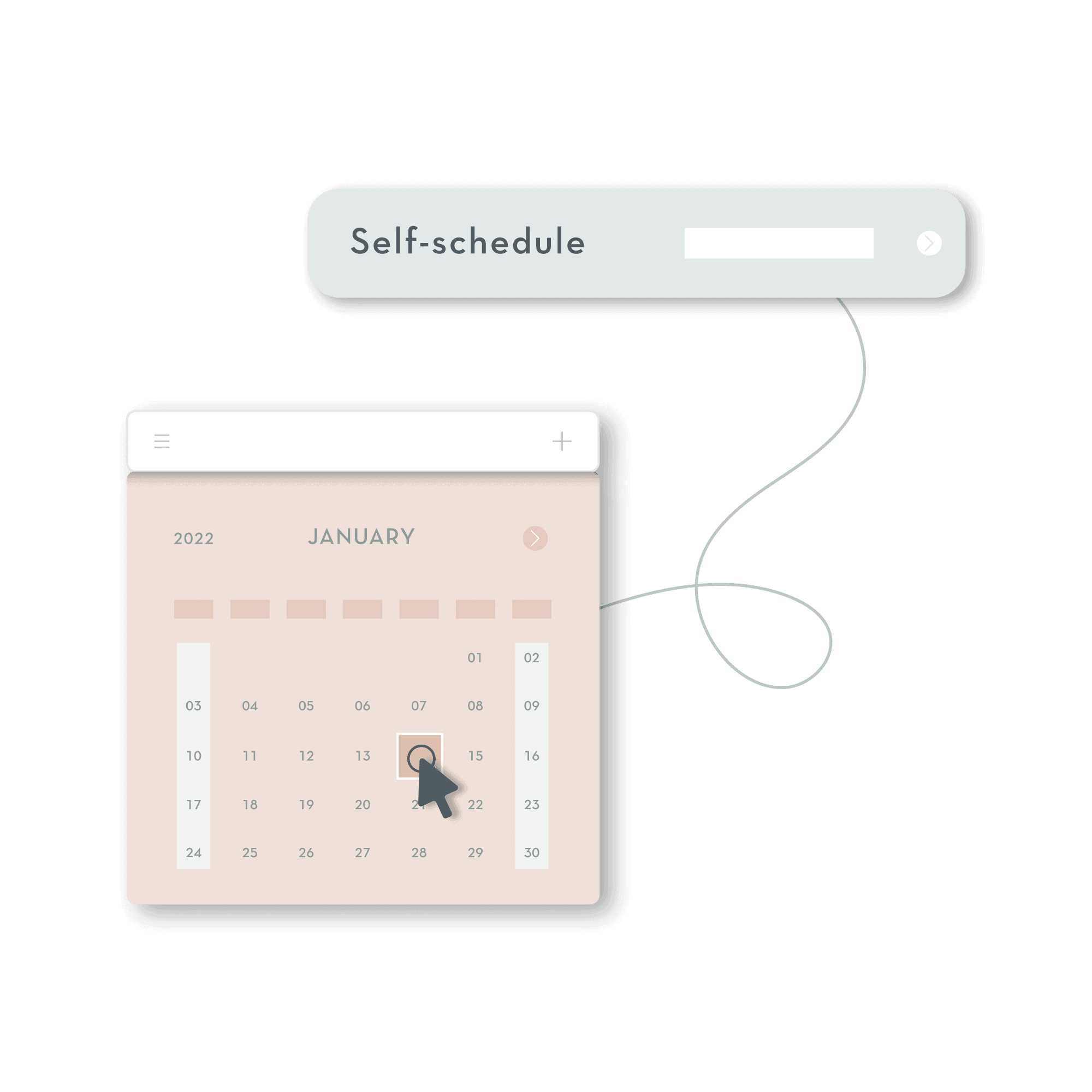 Clients self-book at their convenience. (Or, book on your clients' behalf for them.) Paperbell automatically detects their time zone and does all of the "time zone math" for you!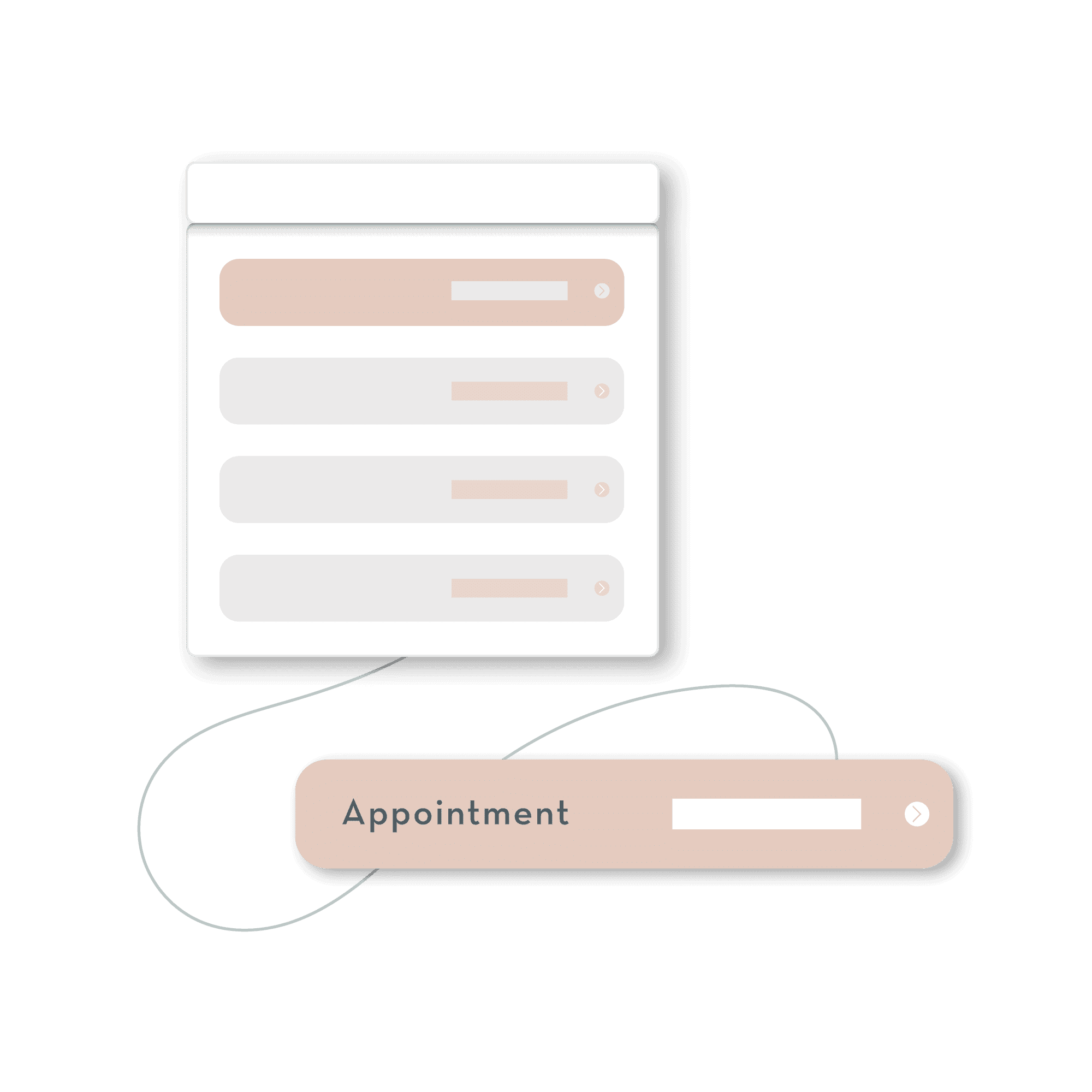 Your calendar event includes everything you need to know, like the client's email address and meeting URL. No more digging through your inbox to find the relevant info!
Finally, the appointment appears in both of your online calendars automatically!

When you integrate Paperbell with your online calendar, you'll choose a calendar to publish to. This allows Paperbell to create appointments on your Google or Outlook calendar the instant that someone books. (You'll also receive an email to give you a heads up.) 
You can decide if you'd like to let people book right away, or if you'd like a window of time between now and the appointment. (This ensures you won't be surprised by a client booking 5 minutes from now!)
You can also log into your Paperbell account for an agenda view of all of your upcoming and past sessions. Or, click on a client's name to see an overview of only their sessions.
Your client will receive an email with a link to a Google Calendar event so that they can ensure the appointment is on their calendar as well. This calendar event contains all of the information you both need, including the details of how you'll meet (like your Zoom meeting URL).
Appointment Scheduling Features
Designed for Coaches & Consultants
Automatic Time Zone Detection
Set Different Availability for Different Types of Coaching Sessions
Designed for Online Sessions
Works with Any Audio or Video Platform
Clients Can Book Themselves
Full Integration with Google Calendar
Decide How Far In the Future Clients Can Book
Set a Minimum Appointment Notice Period
OR Schedule on Your Client's Behalf
Calendar Invite Includes Meeting Link
Connect to Multiple Calendars
Set Automatic Buffers Between Calls
Set Your Ideal Availability
Online Scheduling Tool FAQs
What If I don't want clients to be able to book themselves?
No problem! Not all of our customers use self-booking. You can also easily book appointments for your clients, right inside Paperbell. 
Can I set different availability for different offerings?
Of course! Let's say you like to do all of your discovery calls on Monday, or save Fridays for longer deep-dive sessions. Just tell Paperbell how you like to work, and it will all be reflected for your clients automatically.
Can you integrate with my existing calendar?
Yes! We have full two-way integrations with both Microsoft Outlook and Google Calendar
Do you have a free plan?
Yes we do, you can get a completely free Paperbell account, no credit card required, right here.
Does this integrate with my other tools?
Yes! We connect with Google Calendar as well as Outlook and iCal via a google integration.
We also integrate with Zoom and Google Meet. And our super-robust Zapier integration means you can automatically share data from Paperbell to all of your other tools.
Where can I see everything that Paperbell does?
How much does it cost?
Every Paperbell subscription includes every coaching client management feature you see here as well as full access to all of our other features! See our pricing page for details.
I love Paperbell! It is definitely making my life easier.
Instead of manually reaching out to my clients at every stage, I'm able to accept payment, initiate scheduling, and send reminders automatically.
It gives me peace of mind to know that clients are being prompted and reminded, reducing my no-shows and completely removing me from the hassle of rescheduling.
I appreciate you creating this product so much! I have been wanting to offer mentoring for a long time now, but I knew that the logistics side would be too time consuming.
I love using Paperbell for scheduling. It is seamless to have my clients go from my sales or program page directly to Paperbell to purchase a package or schedule a free chat.
I am loving Paperbell. Saves so much time on manual stuff I was doing before to onboard clients!
I just used Paperbell for the first time and it was so easy.
I sent a link through a DM and got paid immediately. Fricken' genius!
Get Your Free Account Today
Get a fully-featured Paperbell account for free, no credit card required. Only pay after your first client.
* Free accounts are a limited offer