Are you a life coach looking to uplevel your skills and help your clients achieve their goals? Or maybe you're only just now starting to think about becoming a life coach?
If so, you may be wondering if getting certified as a life coach is worth the investment — and which coaching training programs are the best to get certified ASAP!
Today, we're covering Transformation Academy reviews to help you decide whether this program is a good fit for you and your coaching business. Keep reading to learn:
What is Transformation Academy?
Is Transformation Academy legit?
Transformation Academy programs
Transformation Academy cost
Transformation Academy reviews
Is Transformation Academy worth it?
What is Transformation Academy?
The Transformation Academy is an online training institution that specializes in providing personal development and life coaching training courses.
The institution was founded in 2014 by Joeel and Natalie Rivera, both of whom have extensive backgrounds in education, coaching techniques, psychology, and life coaching.
At Transformation Academy, the focus is on helping people achieve their full potential by providing them with the tools, knowledge, and skills needed to overcome obstacles and achieve their goals!
The academy offers a wide range of courses that cover various aspects of personal development and life coaching, including courses on:
Self-esteem
Confidence
Relationships
Career development
One of the unique features of Transformation Academy is its emphasis on practical, hands-on training for life coaches and their coaching practice. The courses are designed to provide a life coach with real-world experience and practical skills that they can apply in their coaching practice.
The instructors at the academy are experienced coaches themselves, and they bring a wealth of knowledge and expertise to the classroom!
Students at Transformation Academy also benefit from a supportive and collaborative learning environment. The academy offers a range of resources and support services to help students succeed, including:

Online forums
Coaching sessions
Mentorship programs.
The academy's community of students and alumni is also a valuable source of support and inspiration.
Overall, Transformation Academy is a leading institution in personal development and life coaching. Its courses are designed to help you achieve your full potential and make a positive impact in the world for your clients.
Whether you are looking to start a career in coaching or simply want to improve your own personal development, Transformation Academy has something positive to offer to almost anyone.
Is Transformation Academy Legit?
One of the most commonly asked questions when it comes to online training institutions is whether they are legit or not.
This is a valid concern, especially when considering how many programs are available online!
And because the coaching industry isn't regulated, it's easy for just anyone to launch a supposed "coaching training program."
Transformation Academy, on the other hand, is legit and reputable.
The founders of the Transformation Academy, Joeel and Natalie Rivera, are highly respected experts in the personal development and life coaching fields. They have years of experience helping people transform their lives and reach their full potential.
It shows in the high-quality coaching courses and programs they offer!
With that being said, Transformation Academy is not accredited by the International Coaching Federation (ICF).
Does this make the organization illegitimate? Not necessarily.
While many recognize the reputation of the ICF, remember that the coaching industry is not a regulated one. This means the ICF doesn't hold any power over the industry.
Here's why, in their own words, Transformation Academy isn't accredited with the ICF:
" In order for a coach certification to meet their requirements, it is required to include a certain number of "contact hours," meaning live interactions between an instructor coach and the student. We do not wish to include contact hours in our programs because we believe our students enjoy the self-paced, virtual nature of our training programs and the opportunity to receive high quality education at a great price."
On the other hand, Transformation Academy is accredited by the CPD Standards Office. This means they meet industry standards for the quality of their educational authority of training.
In other words — they're not people who randomly decided to open a coaching school one day. They're true authorities who've been verified by a third party!
In addition to its accreditation, the Transformation Academy has received positive reviews from many satisfied students. These students have praised the academy for its engaging and informative courses, supportive community, and helpful resources. We'll get into these reviews a bit later.
Transformation Academy Programs
Transformation Academy offers programs in three separate categories:
Coach certifications
Business courses
Self-mastery courses
But if you want to become a certified life coach, you can follow their Transformation Academy Roadmap.


Let's go through each of these steps one by one.
1. Get certified as a professional life coach
Step 1 is to get certified. You can do this by going through their Professional Life Coach program.
The program is 100% online and self-paced. It contains 25 hours of educational content.
Here's just some of what you'll learn:
They'll also give you done-for-you templates, intake forms, worksheets, and questionnaires you need to start coaching right away.
Once you complete the course, you receive a PDF version of your certification — you can also request a printed certificate later if you'd like.
2. Find your niche
Getting your general life coaching certification is only the first step. You can browse through Transformation Academy's multiple niche certifications to find your own coaching niche!
You can choose from Master Level bundles or A La Carte coaching courses.
For example, if you want to become a mindset coach, you can enroll in the Master Mindset Coach Certification. Or, if you only want to round out your mindset knowledge, you can take an A La Carte program like Abundance and Manifestation Coach Certification.
3. Grow your business
Finally, Transformation Academy offers business courses to help you start your own coaching business.
Just like the niche courses, you can choose between the Business Masterclass or A La Carte courses. While the Business Masterclass covers 6 of the entrepreneurship courses, the A La Carte business courses cover topics such as:
Joint venture partnerships
A guide to virtual events
How to get life coaching clients with workshops and public speaking
And so much more!
Note that none of these steps are mandatory. The beauty of Transformation Academy is that you can "build" your own curriculum by only purchasing the courses you want to take.
Transformation Academy Cost
Investing in yourself and your business is necessary to grow and succeed. The Transformation Academy's programs vary in cost depending on the level of training you need.
Still, they are generally affordable and give great value for the content offered!
Prices for the programs start at around $50 for smaller courses and go up to several hundred dollars for the more advanced courses. The investment you make will ultimately depend on how much time and resources you're willing to put into your personal and professional growth.
For example, the basic Certifed Life Coach program costs $197.
Each of the niche certifications also costs $197. On the other hand, the Master Level niche bundles cost $497 — and they each include at least 4 courses.
When you take business classes, you can expect to pay about $49.95 per A La Carte program. But if you want to take the full Life Coaching Business Masterclass, it'll set you back $197.
What if you want to do a bit of everything? If you've got some time on your hands, you can also get the All Access Pass.
This membership costs $149 per month — or $895 if you get an annual membership.
At this level, you can access every single course hosted by Transformation Academy, but you also get:
Lifetime access to any course you complete during your membership
Free listing in their coach directory
Free ebooks
Downloadable workbook material to share with your clients
Regardless of which program you choose, the Transformation Academy offers excellent value for the investment you make. The courses are designed to provide practical and actionable insights that you can apply immediately to your personal and professional life.
The Academy also provides ongoing support and resources to help you stay on track and achieve your goals.
Transformation Academy Reviews
Now that you know a bit more about Transformation Academy, let's see what real students have to say about the experience.
On Google, Transformation Academy has 13 reviews that average out to 4.8 stars. Students say the material is nicely presented, but also that you get a lot of material for the price you pay!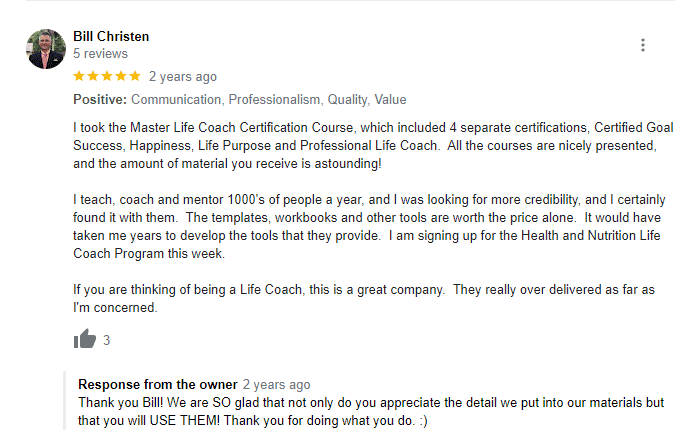 Another student says that:
"Transformation academy is an incredible resource for anyone in pursuit of personal development. Whether you desire to coach others or simply want to work on yourself, they provide endless inspiration and practical tools to help you on your journey."
But it's not just the course content that sets the Transformation Academy apart – it's also the instructors. The academy only hires instructors who are experts in their field and have a passion for teaching. They are committed to providing students with the support and guidance they need to succeed.
One student even said: "I must say this is much more informative than when I got my certification through Tony Robbins."
The only negative review on Google came from someone who misunderstood the instructions to obtain CPD credits. However, because they purchased the course from a third party, Transformation Academy was unable to provide a refund.
On Facebook, Transformation Academy has an astounding 5.0 rating from a total of 119 reviews! One of them states:
"I've completed many training and certification courses with other companies, but none compare to how wonderful and thorough Transformation Academy is."
Of course, reviews are based on other people's experiences and opinions. Your own experience may vary. But this should give you an idea of how real students perceive this organization.
Is Transformation Academy Worth It?
For new coaches wondering if Transformation Academy is worth it, the answer is a resounding yes! The Transformation Academy is a game-changer for aspiring coaches looking to uplevel their skills and provide more effective support to their clients.
The academy offers a wide range of training programs that are designed to help coaches develop the necessary skills to succeed in their careers — at an incredible rate.
One of the most valuable aspects of the Transformation Academy is the personalized attention that each student receives. The academy's trainers are experienced coaches themselves, and they work closely with each student to help them achieve their goals.
Whether you're looking to improve your coaching skills, expand your business, or enhance your personal development, the Transformation Academy has a program that can help you get there.
With that being said, the program may not be worth it for experienced coaches who want to get a certification that's recognized more widely. Because Transformation Academy is independent, their certification may not be as recognizable as an ICF certification.
But that's a decision for you to make.
Become a Certified Life Coach and Start a Successful Business 
Now you're equipped with the information you need to decide whether Transformation Academy is right for you as a life coach.
However, it is only one of many coaching certifications similar to it. And if you want to get certified by the ICF, this won't be the best path.
No matter which coach training certification you choose to enroll in, Paperbell can help you run your successful coaching business — the simple way. Grab your free trial to test it out for yourself!