Do you have a natural talent for keeping people around you on track with their goals? Do your friends constantly call you a "cheerleader"?
If so, perhaps you would make an amazing accountability coach!
But what is accountability coaching, exactly? And do you need an accountability coaching certification before you start taking clients? Keep reading to learn how to get certified and start your accountability coaching business, including:
What is accountability coaching?
How to become a certified accountability coach
How to get your accountability coaching certification
5 best accountability coaching certifications
What Is Accountability Coaching?
An accountability coach is a person who supports their clients by acting as a personal cheerleader as they work towards their goals.
As the name suggests, these types of coaches keep clients accountable!
All types of coaches involve at least some form of accountability in their client work. However, coaches who specialize in accountability place a bigger emphasis on this vital aspect of their coaching relationship.
Your role as a successful accountability coach is to help your clients figure out their goals as well as how to reach them best. Then, you'll be there to keep them on track so they can improve their chances of reaching those goals!
Accountability coaches can work with clients in one-on-one or group coaching sessions. Another way to work with accountability clients is to use Voxer coaching to keep them accountable between sessions.
How to Become a Certified Accountability Coach
Does keeping other people accountable on their path to success sound like an appealing career choice to you? If so, you can follow these steps to become a certified coach who specializes in accountability!
Keep in mind that you don't have to get certified to become an accountability coach. However, earning your certification will give you credibility as well as provide you with coaching skills to support your clients.

1. Choose your accountability coaching niche
If you're wondering: "But wait, isn't accountability coaching a niche?" You'd be right!
But a coaching niche goes much further than just the type of coaching you offer. You can also specialize in other ways, such as:
The aspect of life in which you help people stay accountable (career, parenting, budgeting, etc.)
The age group or gender of your dream clients
Overcoming specific pain points related to accountability
Helping clients with specific goals (getting a raise, finding a healthy relationship, etc.)
For example, you could niche down as an accountability coach who helps workaholic men aged 35+ to achieve work-life balance. Or you could specialize in helping overwhelmed college students stay accountable on their fitness journey.
These are just a few examples, but imagine all the combinations for accountability coaching!
You can choose your niche based on your own personal experience as well as the people you prefer working with.
2. Enroll in an accredited accountability coaching program
Before you can get your accountability coaching certification, you'll need to go through a training program. While you don't have to choose an accredited program, doing so makes it much easier to get certified!
You can go through the list of vetted programs available on the International Coaching Federation (ICF) — or you can keep reading this post and find our own curated list of the best programs available right now.
3. Get your certification as an accountability coach
Have you gone through your chosen coaching program? If so, it's time to get your accountability coaching certification!
If you get certified with the ICF, you'll need to:
Pay application fees
Submit your coaching logs to show proof of your experience
Undergo Mentor Coaching if your program didn't include it
Go through the performance evaluation process
Take the exam
Once you've completed all these steps successfully, you'll become certified as an accountability coach!
Read the section on how to get your accountability coaching certification below for more detail on how this process works.
4. Create your first accountability coaching offers
If you've chosen to get certified, you'll already have several hours of coaching experience under your belt. This will help you nail down exactly how you like to work with clients and what process you use to keep them accountable.
At this point, you can build your first accountability coaching offer and packages.
Your coaching offer is a promise or outcome that people can expect when they hire you. On the other hand, your coaching packages are the "container" you'll use to deliver that promise — they describe exactly what's included in your coaching program.
For example, the following is an example of an accountability coaching offer:
I'll help you find your life's purpose in 90 days
Below is an example of an accountability coaching package for the above offer:
90 days of unlimited email support
12 weekly 60-minute coaching sessions
Voxer support during office hours
$5,500 pay-in-full or 3 monthly payments of $1850
Your coaching packages should include all the details a client needs to know before working with you.
5. Land your first accountability coaching client
As a certified accountability coach, you'll already have experience working with clients. But most of your coaching hours will have been with pro-bono clients to help you get certified.
Now it's time to land your first paying client — exciting, isn't it?
As a first step, you can reach out to your existing network to see if anyone knows someone who would be a good fit for your coaching program. Depending on the relationship you have with the people you coached during your certification, you can also ask them for a referral.
If you haven't done so already, make sure to sign up for CoachCompare, a free directory that helps people find the exact type of coach they need!
Focus on no-spend or low-spend ways to get coaching clients for this first client. Once you validate your coaching offer, you can start to invest either time, money, or both to broaden your audience.
6. Build an audience of potential accountability coaching clients
If you never want to run out of accountability coaching clients, you'll need to build an audience of potential dream coaching clients who see you as an expert!
Here are some of our favorite ways to do this:
A word of advice — don't attempt to build an audience using all of these marketing strategies at once! You'll risk spreading yourself too thin across all these platforms, which will make each one less effective.
Instead, put all of your energy into one strategy. Once you've got the hang of it, feel free to expand to other methods.
How to Get Your Accountability Coaching Certification
Now that you understand all the steps involved in becoming an accountability coach… how can you get certified?
Here's what you need to know about accountability coaching certifications and how they work.
1. Decide what credential you want to get certified for
The ICF is one of the most widely recognized authorities in the coaching industry. If you get certified by this institution, you'll have to choose between three credentials:
Associate Certified Coach (ACC) – You must complete 60 hours of coach-specific education, plus 100 hours of client coaching experience
Professional Certified Coach (PCC) – You must complete 125 hours of coach-specific education, plus 500 hours of client coaching experience
Master Certified Coach (MCC) – You must already have your PCC Credential, complete 200 hours of coach-specific education, and accumulate 2,500 hours of client coaching experience
No matter the credential you choose, you'll also need:
10 hours of Mentor Coaching
A performance evaluation
A written exam
If you're a brand new coach, we suggest choosing between the ACC and PCC. The main difference is the number of educational and coaching experience hours you'll need to complete.
Optionally, you can apply for your ACC certification, then apply again for your PCC once you've got those 500 hours of coaching experience under your belt!
2. Choose your level of accountability coaching program
Not all accountability coaching programs are created equal. The ICF recognizes three different levels of training programs:
Level 1 / Level 2 / Accredited Coach Training Programs (ACTP): These programs include all the minimum education hours, Mentor Coaching, and performance evaluation you need to get your ACC credential.
Accredited Coach Specific Training Hours (ACSTH) Programs: With these programs, you'll get your coaching education, but you'll have to find Mentor Coaching and the performance evaluation separately.
Non-Accredited or Continuing Coach Education (CCE) Programs: CCE units can be used to accumulate your required education hours. On the other hand, if you choose a non-accredited program, you'll need to submit the curriculum to prove it meets ICF standards.
ACTP programs are the most complete of these three types. If you enroll in an ACTP program, you won't need to seek Mentor Coaching and your performance evaluation anywhere else. However, keep in mind that these programs are usually more expensive — and take longer to complete.
3. Pick the best accountability coaching program for you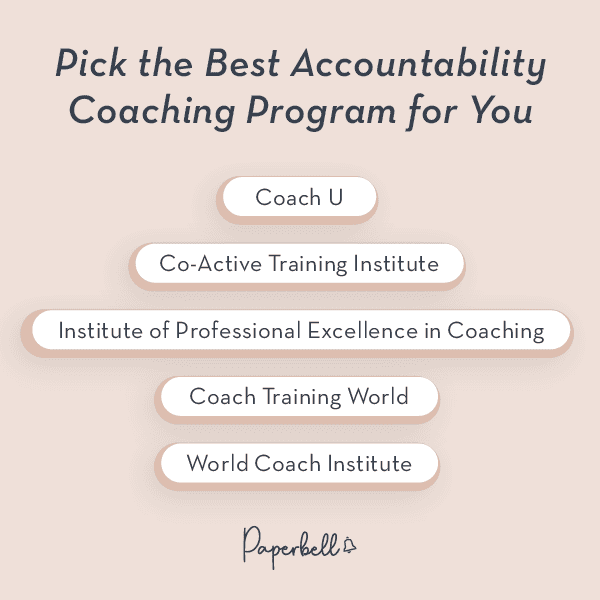 Based on the type of program you want to take, it's now time to choose the best fit for you!
Here are our five favorite coaching certification programs for accountability coaches:
The Coach U program is given in two phases:
Phase 1: Core Essentials: This phase lasts 78 hours and allows you to get the ACC certification. You can take this track over a period of 8 months or choose the "fast track" option that lasts 6 months.
Phase 2: Professional Essentials: You'll get an additional 72 hours of training so that you can qualify for the PCC certification. You can choose between a self-paced option to complete over 15 months or a 6-day intensive followed by pre-post work to complete within 8 months.
Their focus is on core, foundational skills to help equip you with the tools you need to understand the art and science of coaching. Although they don't have a niche training program in accountability, you'll still walk away with what you need to keep your clients accountable.
The Co-Active Training Institute has trained over 130,000 coaches and has even helped Fortune 100 companies develop their employees!
No matter your niche or topic, this program aims to prepare you to coach anyone with confidence.
Their program works in three steps:
Co-Active Fundamentals: You'll get introduced to the Co-Active coaching model via experiential participation. You'll even get to practice your new coaching skills and get direct feedback.
Intermediate Co-Active Coach Training: This step is made up of four courses that each explore an essential coaching principle: Fulfillment, Balance, Process, and Synergy.
Certified Professional Co-Active Coach: Over 6 months, you'll deepen your coaching skills and become ready to earn your certification with the ICF. You'll also learn how to build your coaching business.
If you want to dip your toes in the world of the Co-Active Training Institute, you can take one of their free webinars!
With iPEC, you'll receive over 320 hours of world-class coach training. But you'll also receive 200 ICF-accredited training hours, which makes you eligible for the PCC certification!
This program starts with the basics, but you'll then get to choose a specialization.
While there's no "accountability coaching" specialization, you can choose your specialization depending on the niche you want to develop. Here are your four choices:
Life coaching
Health and wellness coaching
Executive leadership development coaching
Sports and performance coaching
If you're not sure what to choose, go with Life Coaching.
Coach Training World's program is grounded in science and psychology. When you take this program, you'll become a Whole Person Certified Coach in addition to your ICF credentials!
The coaching program works in three steps, with an optional fourth step:
Discover your ideal niche
Get your core training as a whole-person coach
Earn your ICF credential
Take the optional CoachPreneur academy to learn how to launch your coaching business
Because this is an ACTP program, you'll have support throughout the entire ICF certification process. You'll even get access to 400+ hours of extended learning to deepen your mastery.
The World Coach Institute is another reputable organization that can provide you with world-class training to help you develop your mastery of coaching. You can choose between the self-study program or taking the 8-week teleclass instead.
Once you've completed the Certified Professional Coach training program, you can take an additional program in the niche of your choice. Some examples include:
Relationship coaching
Wellness coaching
Business coaching
Christian coaching
Spiritual coaching
And many more!
Keep in mind that the World Coach Institute programs provide certifications of their own. If you also want the ICF certification, you'll have to pursue that on your own.
How do you know which program to choose?
To pick the right program, you'll have to consider:
Do the enrollment periods make sense for your situation?
Does the program's focus and core values align with my personal values?
Does the curriculum align with the niche I want to pursue?
But you'll also have to consider the tuition cost of each program. While none of these options are cheap, some are more accessible than others.
4. Apply for your accountability coaching certification
Do you have all the requirements for your chosen credential? If so, it's time to apply for your certification!
Have your coaching logs and other training program details ready before you start your application on the ICF website. If you already have every requirement, you'll then need to go through the exam.
Here's what it will cost to get certified, depending on the type of program you chose:
Level 1 / Level 2 / ACTP Path Application Price:
ICF Member: $175 USD
Non-Member: $325 USD
ACSTH Path Application Price:
ICF Member: $375 USD
Non-Member: $525 USD
Portfolio Path Application Price:
ICF Member: $475 USD
Non-Member: $625 USD
Once your exam is complete, all that's left for you to do is sit and wait patiently. However, don't let that stop you from going out there and getting your first client!
Level Up Your Coaching Business with an Accountability Coaching Certification
You finally have everything you need to decide whether an accountability coaching certification is right for you. No matter what you choose, you also have the tools you need to build your coaching business and grow an audience of dream clients.
Before you land your first client, make sure to have the right systems in place to make the admin side of your business a breeze. Try Paperbell for free to see how easy it can be to run a coaching business!