If you've decided to uplevel your content marketing game and attract new coaching clients from Pinterest, you're in the right place. We've got everything you need to get started with free Pinterest templates in this guide.
With more than 478 million users, Pinterest is one of the top social media platforms people turn to for fresh ideas and inspiration. Despite what it's most known for, it isn't only for recipes and DIY crafts. A lot of people use it to create boards about their career ambitions and personal growth goals, which means they are actively searching for advice from a professional like you.
[ Read: How to Use Pinterest for Coaches: The 3 Steps To A Client-Magnet Pinterest Account ]
In this guide, we'll lead you through the best Pinterest templates and how you can use them to promote your coaching business.
How to Use Pinterest Templates
If you want to templatize your content calendar for Pinterest, you must first consider what content pieces you want to share with your audience.
Here are a few common post types coaches use on Pinterest to grow their engagement and connect with potential clients:
Inspirational quotes: either your own statements or quotes from famous people.
Infographics: a great way to educate your audience on basic concepts or interesting stats.
Videos and reels: a must-have in your content calendar to engage your audience.
Free giveaways and lead magnets: a great way to convert users into email subscribers.
Blog covers: these simple visuals can help you get more readers on your blog posts.
Idea pins: a multi-page content format just like Instagram stories.
Collection pins: visuals where you can tag products or services that people can purchase from you.
Now that you know what type of post you're creating, you can choose the right template that will save most of the work for you. Each Pinterest template is designed for a specific type of content typically used on the platform, so all you need to do is just fill in the blank with some text or images.
Once you found the right template, amp up your pictures to give your post a professional look. Most of the time you don't need to create something from scratch, but to make sure your post stands out from the crowd, adding some extra touches to it can really make the difference.
Pinterest is primarily designed for posts to be pinned, in other words, saved on a board. It's best to add your logo or watermark on your pins so people can recognize your brand when they find them on other people's boards or in search results.
Using Pinterest templates allows you to create stunning posts without spending too much time designing them, even if you're a total beginner. Using the same template for your posts will keep your feed consistent and build brand recognition for your coaching business.
3 Platforms With Free Pinterest Templates
Canva
Canva is one of the most popular tools coaches use to design Pinterest posts in minutes. It has plenty of free templates you can pick from, so all you need to do is change around some colors, fonts, text, and images to create unique visuals with no design skills whatsoever.

Since pins don't need to be a particular size, you can even use other templates, such as brochure or poster designs, to create pins with different dimensions. Most professional template packs you can download from design marketplaces like Creative Market are also designed on Canva.
It has a huge library of beautiful graphics and royalty-free images that don't look like overused, cringe-stock photography. Most of them are free, but you can also access their entire premium collection if you upgrade to Canva Pro for $12.99 a month.
Kapwing
Kapwing is a video content editing tool that helps you turn footage from your phone into stunning reels using their templates. You can edit and resize your video using any dimensions and add additional footage or images from their collection.
Keep in mind that video pins on Pinterest need to be between 4 seconds and 15 minutes and are recommended to follow one of these aspect ratios:
1:1 (square)
2:3 (vertical)
9:16 (vertical)
Kapwing also has its own video thumbnail template for Pinterest that you can add to your reels to make them pop out in the feed.
Adobe Express
Though most Adobe tools are created for professional designers, don't let the name intimidate you. Adobe Express is an intuitive design app similar to Canva, where you can create stunning visuals without any prior experience.
Their free plan comes with thousands of templates and design assets, 2000 Adobe fonts, and a library of royalty-free images that you can use on desktop and mobile. Their collection of Pinterest templates has beautiful collages, blog covers, and quote pins that look like a professional designer made them.
3 Pinterest Template Packs Under $30 You Can Download Right Now
Pinterest Pin Bundle With 100+ Templates
This template bundle on Creative Market is optimized to get your content seen on Pinterest and increase engagement. Since Pinterest's feed isn't linear but built more like a board of content, it's more difficult for your pins to stand out from the competition.
This pack includes 40 pin templates, 20 video pin templates, and 7 sets of multi-page idea pins that will make your posts pop without any design work necessary. You can simply edit them in Canva and use them for your freebies, infographics, to promote your YouTube channel or podcast, and more.
Pinterest Marketing Pin Pack
This soulpreneur Pinterest template pack was designed for coaches like you who want to find an aesthetic and effective way to promote their packages. It includes eight blog post cover pins, 6 templates for promoting your lead magnet, and 10 designs for your digital product or course campaigns.
The templates are optimized for Pinterest's guidelines and are fully customizable. You can easily add your own workbook and ebook pages to the laptop and mobile mockups to create stunning visuals for your courses and packages. This is also a great way to create collection pins where you tag your products and link them to your websites and landing pages.
Pinterest Digital Products Template Pack
This digital product template pack is an absolute steal for course creators and coaches. It includes 80 pin templates that help your content get seen, re-pinned, and go viral on Pinterest. You'll find plenty of variations for your product pins, workbook promos, and freebies, so you'll never run out of post ideas and templates for your content calendar.
3 Examples Of Coaches Successfully Using Pinterest Templates
Idea Pins
Idea pins are a relatively new content format on Pinterest that was launched in 2021. Here are some great examples of how you can use them from Ashley Chymiy, Business Coach.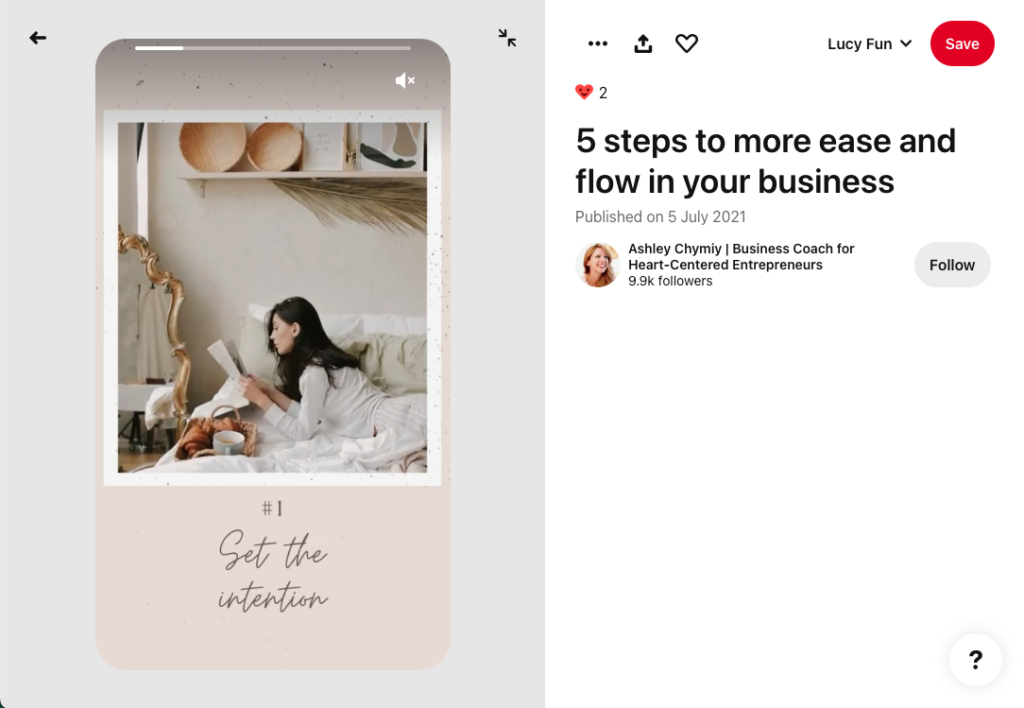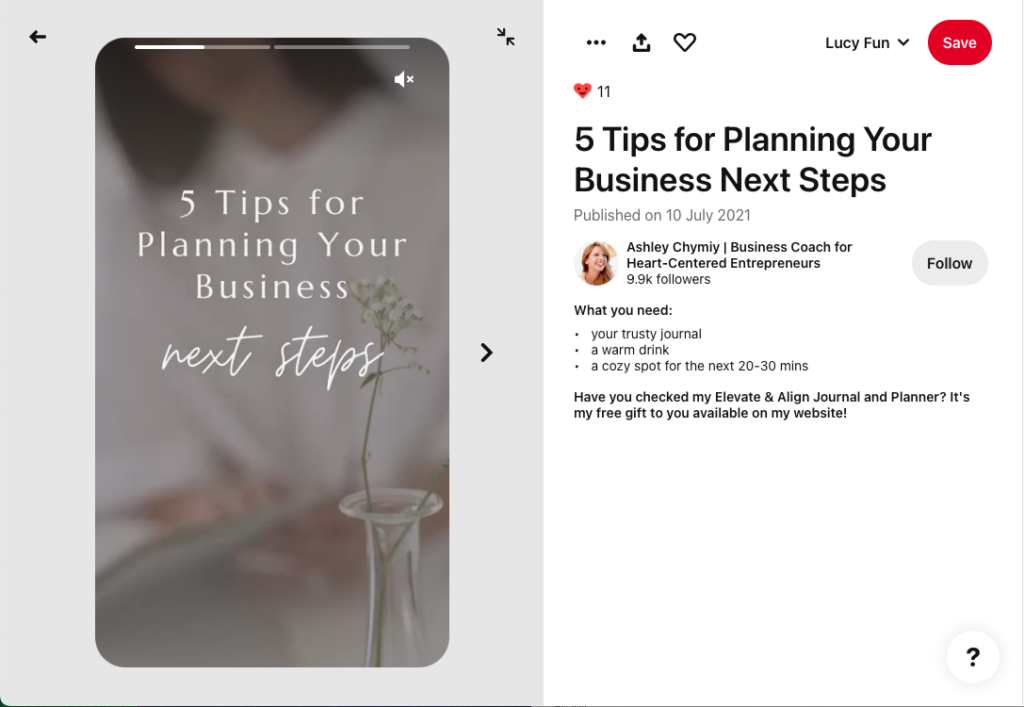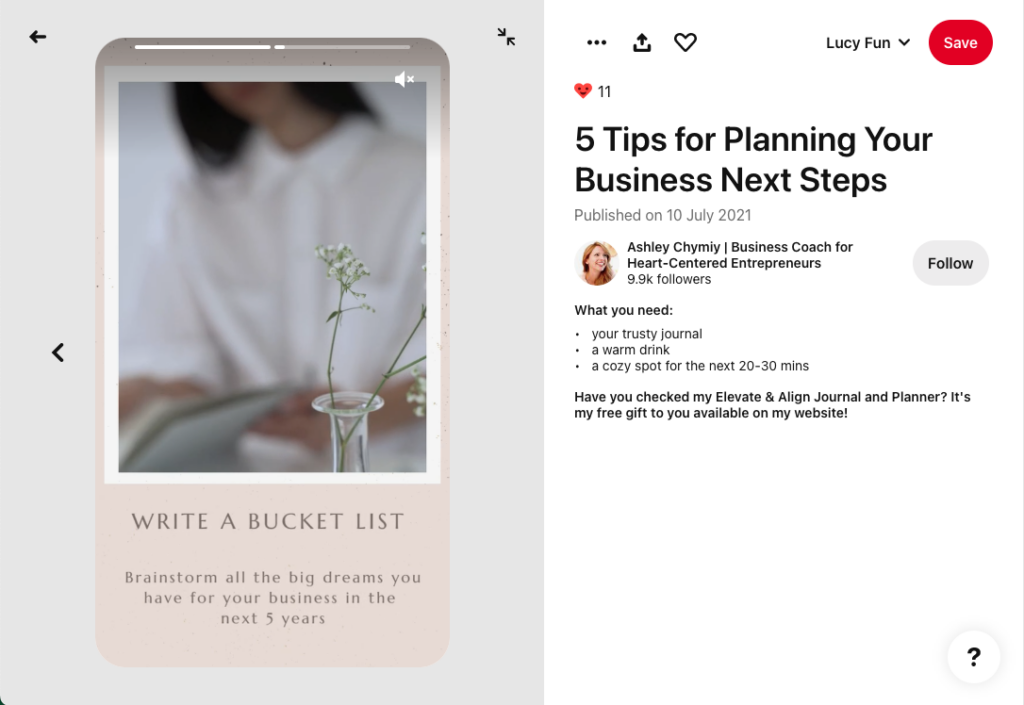 These posts share simple business tips in a beautifully animated video format. The first frame introduces the topic with a short headline and an illustrative animation in the background. You can get stock videos like this from ready-made templates or pick one from the library of the design platforms we listed in this article.
The second frame of this idea pin showcases the business tips with an elegant font, popping up on the screen one by one. If you don't want to use a video format, you can create static pins for this post type by spreading the tips you share across multiple frames.
Quote Pins
Simple quote pins are one of the most viral content formats on Pinterest that get repinned a lot. Tamara, Self Love and Confidence Coach found a smart way to incorporate them in her content strategy.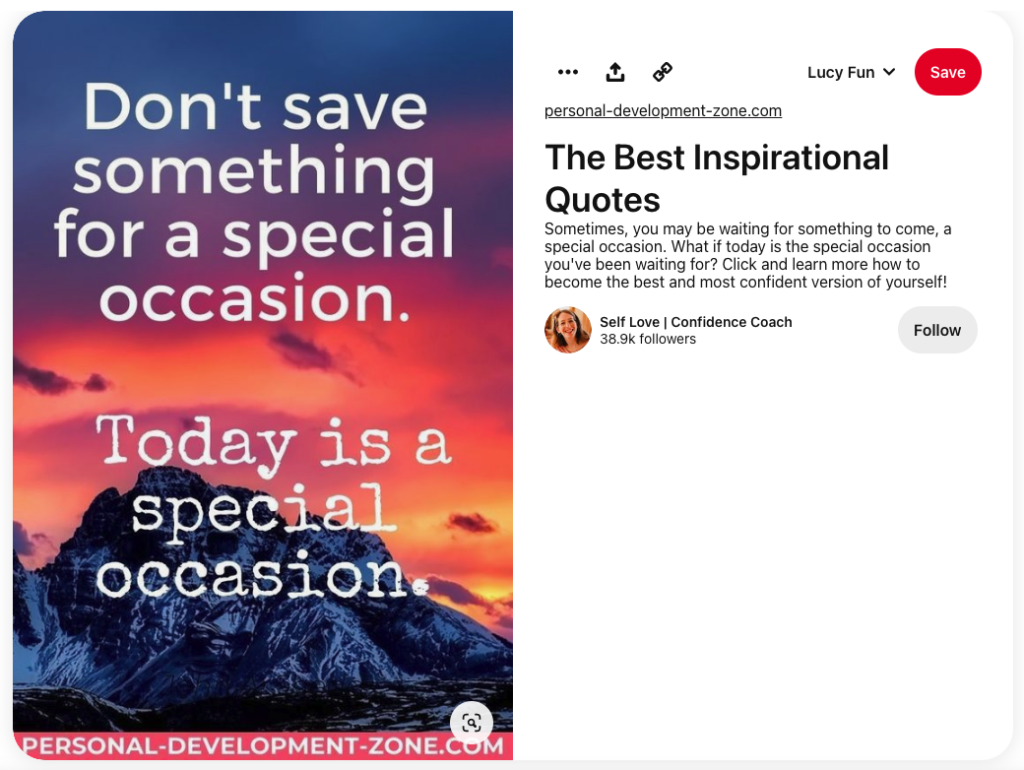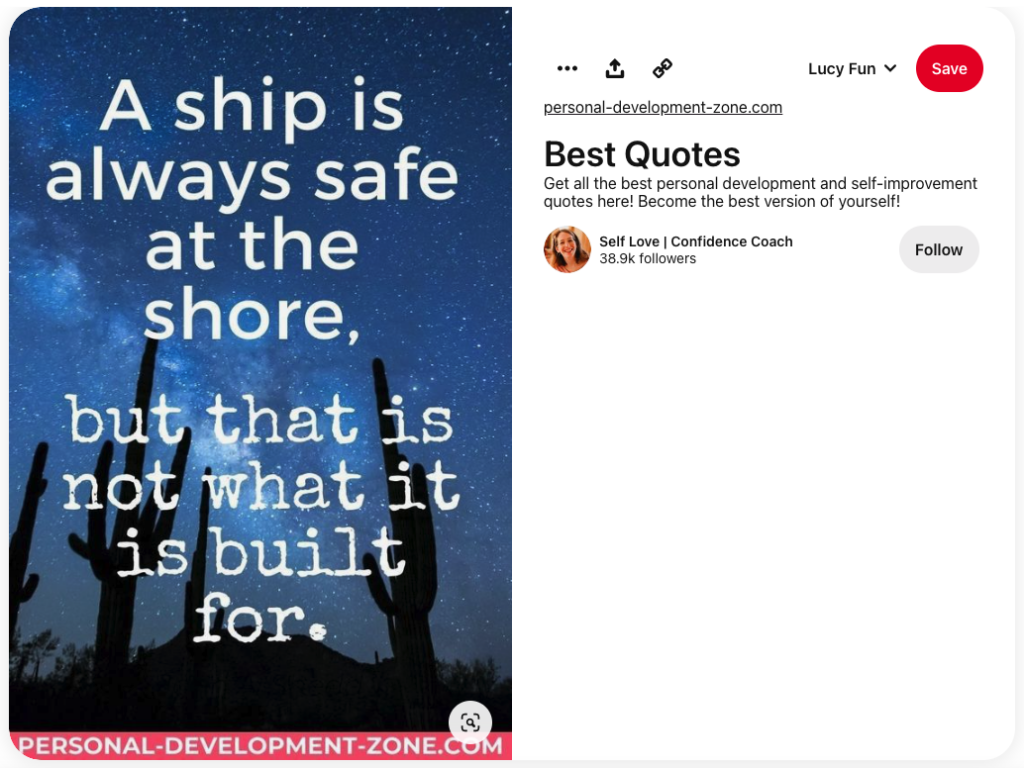 She uses two distinct fonts for her two-sentence statements and a simple background image to give her pin a visual appeal. She also displays her website name on each of these posts so that people can find her easily, even if they discover her pins on someone else's board.
[ Read: The Life Coach's Guide to Getting Clients on Social Media ]
Blog Cover Pins
Unlike Instagram, Pinterest makes it super easy to link each of your pins directly to your blog posts. Coaches and other service providers like Crystal, "The Gentle Counsellor" use this feature to their advantage to get more traffic to their blog pages. This way, they have a chance to convert these visitors into email list subscribers or paying clients.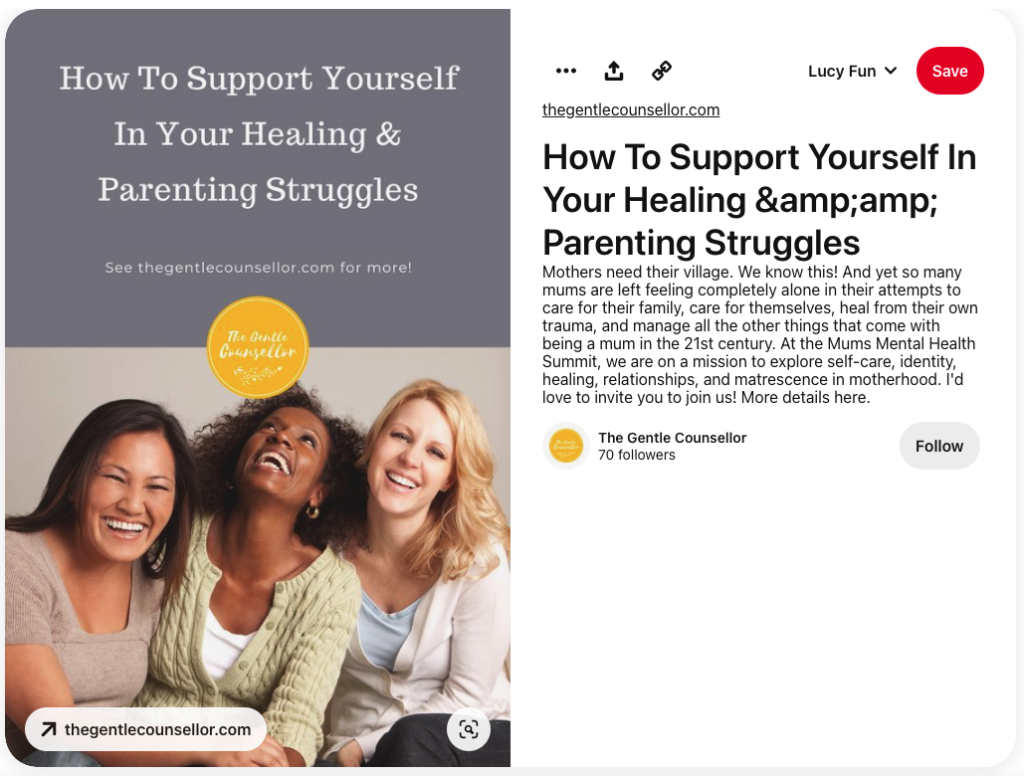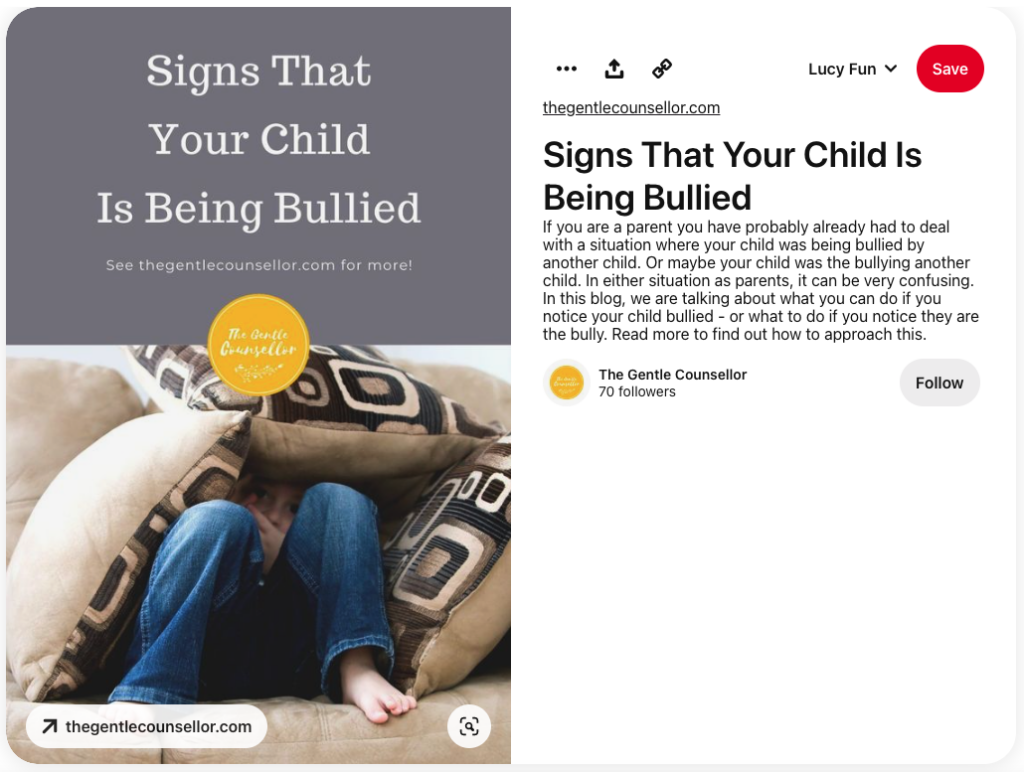 Her blog cover pins follow the same simple template format to promote her blog posts about mental health and parenting. They feature the headline of the blog, an illustrative image, and her logo to create a consistent look for all her posts. She also includes a call-to-action for people to head to her website in case her pins are discovered on other boards.
How To Make Your Own Pinterest Templates
If you want to create your own Pinterest templates from scratch, you can do that easily on a design platform like Canva. All you need to do is follow these few simple steps.
1. Open a new project in Canva
Select 'Pinterest pin' from the list of document types. This will automatically ensure that you have the suggested image proportions and resolution for your Pinterest template.
In case you're using another app or format, select a 2:3 aspect ratio (or 1000 x 1500 pixels). It's possible to post longer images on Pinterest, but they might get cut off in the feed, so it's best to stick to their default image proportions.
Idea pins have an aspect ratio of 9:16 just like Instagram stories, so you can use an Instagram story template for them.
2. Select a background color
If you want to use your own brand colors, you can paste the color hex code that belongs to them to get the exact shade. If you upgrade to Canva Pro, you can also save your brand colors for later and have them handy in every project.
3. Add a few design elements
Search for shapes, graphics, royalty-free images, or frames in Canva and add them to your layout. You can change their fill and frame color, rotate and resize them, or even alter their transparency. You can also upload and use your own photography. Make sure you add your logo or watermark to your Pinterest pin so that people still find you when other accounts share your content!
4. Add some text
You can either choose a ready-made headline or add plain text and select from over 100 free fonts. Add a placeholder text to your template to easily change it later when creating new posts.
5. Add some variations
If you want to create multiple variations of the same template or design idea pins, you can add new pages to your project to do just that. It's also the easiest way to keep all posts made from the same template in one place.
And you're done! You now have your own beautiful templates for your brand that will save you tons of time and make your Pinterest feed look professional and engaging.