Are you looking to create a digital planner to sell but unsure where to start?
As an alternative to paper planners, digital versions have become increasingly popular as they offer convenience and customization options.
Today, they are highly sought after by professionals and other individuals, life coaches, and clients.
To help you create a digital planner to sell, we will guide you through the process of making them from scratch.
Not only that, but we'll also discuss how you can turn your passion for planning into a profitable online business by selling these digital products.
Here's what you'll learn in this comprehensive guide on how to create a digital planner to sell:
What is a Digital Planner?
How to Create a Digital Planner Step by Step
How to Sell Digital Planners
Tips for Marketing and Selling Your Finished Product
What is a Digital Planner?
A digital planner is an electronic version of a traditional paper planner designed to help users organize their lives and achieve their goals.
How can it help you as a life coach?
Creating digital planners can enhance your coaching practice by offering extra benefits to your clients and generating additional income for your business.
In the next sections, we'll discuss the key elements of a digital planner and ways to integrate it into your coaching practice seamlessly.

Benefits of Using Digital Planners
With the technology we have today, the traditional method of manually inputting tasks and schedules into planners is gradually being replaced by more advanced digital alternatives.
Here are some of the several advantages that digital planners offer:
Eco-friendly: By going paperless, you're contributing to reducing waste and helping protect the environment.
Accessibility: Digital planners can be accessed from any device with internet access, making it easy for clients to stay organized on the go.
Customization: With countless design options available online or through software like Adobe InDesign or Canva, you can create personalized layouts tailored specifically for each client's needs.
Integration with other tools: Many digital planning apps allow users to sync their calendars or task lists with popular productivity tools such as Google Calendar or Trello, keeping everything in one place for better organization.
Examples of Digital Planners for Life Coaches
Need some digital planner ideas? To get started on creating a digital planner customized for your coaching practice and target audience, check out these popular examples:
GoodNotes Blog: This blog post features "Best Digital Planners" that can provide inspiration for designing your own digital planner. It highlights a collection of well-designed planners from different niches and styles, allowing you to explore and draw ideas from a variety of creative sources.
Passion Planner Digital Edition: It is a versatile digital planning system that offers a wide range of features. It includes yearly overviews, monthly spreads, and weekly spreads, allowing for customization according to individual needs.
Amanda Rach Lee Doodle Planner: This is a unique and creative planner that seamlessly integrates productivity and mindfulness. It offers doodling exercises, which not only enhance the planning experience but also promote stress management and self-care.
Now that you have a better understanding of what digital planners are and how they can benefit your coaching practice, let's dive into the process of creating one to sell.
How to Make Digital Planners To Sell Step by Step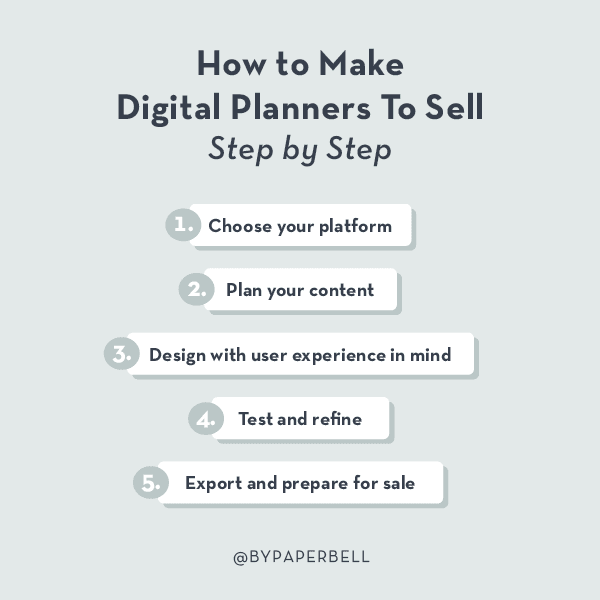 So, we're now down to how you can create your own unique planner to sell.
Do you want ideas to come to life that will boost your brand as a coach?
Well, creating a digital planner as an additional revenue stream for your coaching business is easier than you might think.
With the right tools and some creativity, you'll have a valuable resource that clients will love!
Below are the steps we prepared to help you get started so you can create your own planner to sell:
Step 1: Choose your platform
The first step in creating a digital planner is deciding which platform or software you want to use.
Consider your personal preferences and skill level when making this decision, as each platform offers its own set of features and capabilities.
There are various options available, including
Canva: Known for its user-friendly interface.
Adobe InDesign: A powerful tool preferred by professional designers.
Affinity Publisher: Provides a balance between functionality and accessibility.
You can also use digital sketch programs like Procreate or GoodNotes. Another option is to purchase pre-made digital planner templates from creative marketplaces like Creative Market or Etsy.
Take your time to explore these options and choose the one that best aligns with your needs and abilities.
Our suggestion? Start with Canva! They have several digital planner templates you can use instead of starting your design entirely from scratch.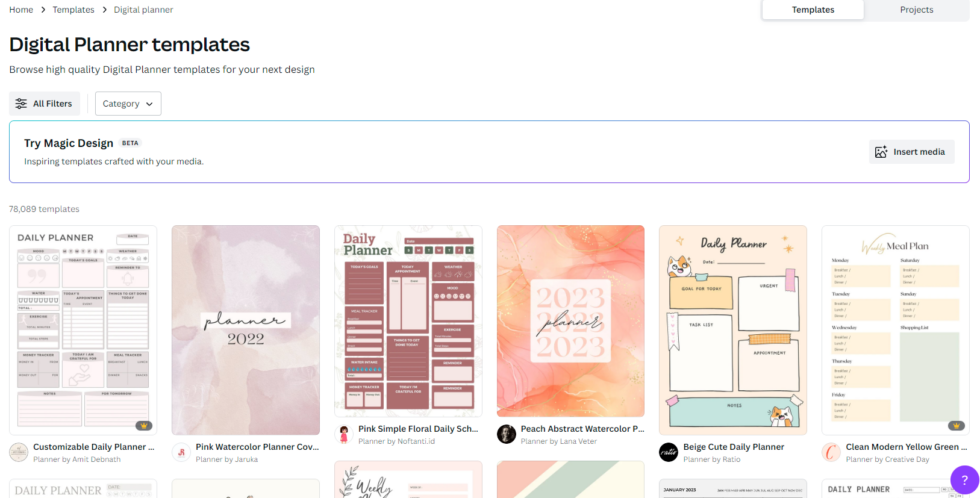 Many templates are free, while others require a subscription to Canva Pro.
Step 2: Plan your content
To create an effective digital planner, make sure to plan out what content you want to include before you design a planner to sell.
Consider incorporating these elements tailored specifically for life coaching clients:
Goal-setting pages: help users define and track their objectives
Habit trackers: promote positive habits and progress monitoring
Daily schedules: provide structure and organization for users' daily activities
Gratitude logs: encourage a positive mindset
Reflection prompts: can facilitate self-reflection and personal growth
Think about the needs of your audience – what would they find most helpful? What are their biggest pain points, and how can you address those in a digital planner?
Try to design a digital planner that supports their journey and provides valuable resources for their personal development.
Step 3: Design with user experience in mind
Visually appealing design is always a big hit. It plays a vital role in ensuring that people will actually use and value the planner.
To achieve this, it's important to:
Maintain consistency in fonts and colors throughout the planner as it creates a cohesive and aesthetically pleasing look
Make sure to incorporate hyperlinks or clickable tabs within the document, allowing for easy navigation and accessibility to different sections or pages of the planner
Include customizable and versatile page templates into your design process so that your users can personalize the planner to their specific needs and preferences
A good-looking design will help your digital planner sell well, but it won't increase client trust if it's not usable!
Step 4: Test and refine
Before launching your digital planner for sale, test it out yourself or ask some trusted friends or clients to provide feedback.
This will help ensure that everything works as intended and allows you to make any necessary adjustments before putting it on the market.
Check for any broken links, formatting errors, or difficulties in accessing different sections of the planner.
You can also gather feedback on the overall user experience, including the clarity of instructions, ease of navigation, and visual appeal.
Step 5: Export and prepare for sale
Once you are satisfied with the design and functionality, export the planner in a suitable format for tablets or computers, such as PDF.
If you're using Canva, you can navigate to Share > Download > PDF Standard: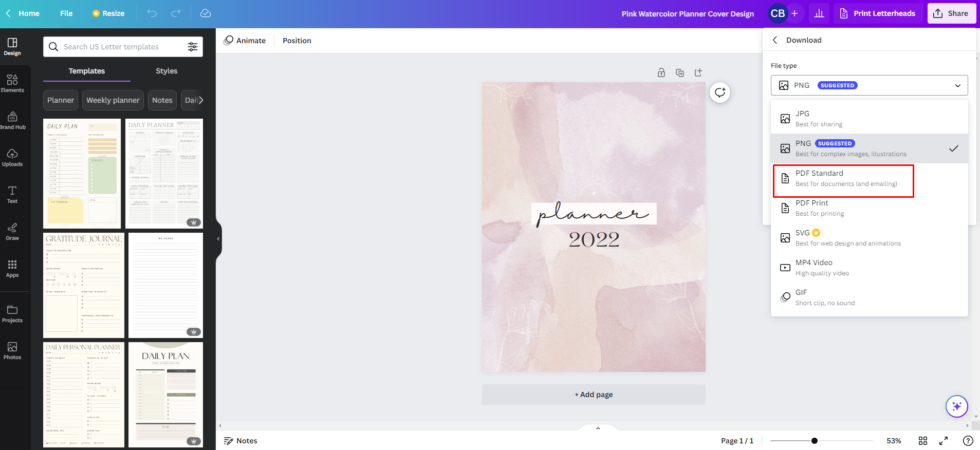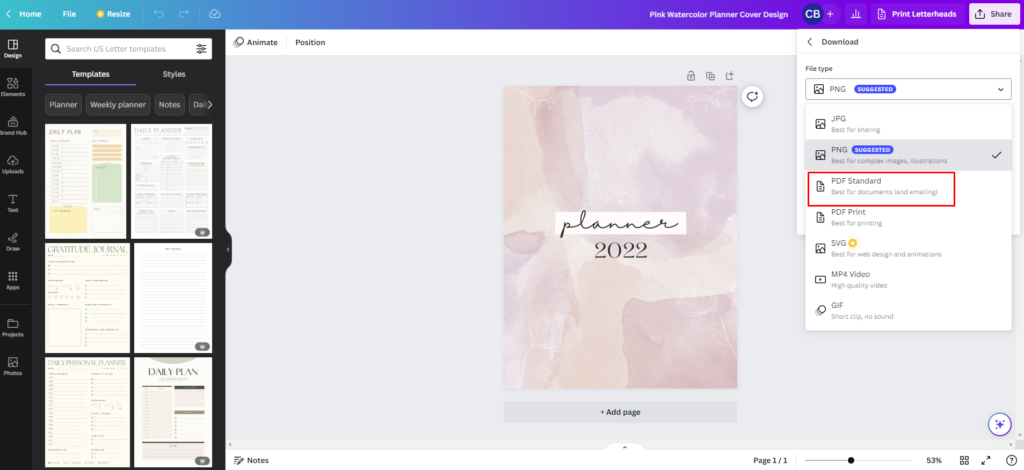 Ensure that the file size is optimized for easy download without compromising the quality of the planner.
To sell your digital planner effectively through platforms like Paperbell, create an eye-catching product image on your shop landing page.
You can showcase its features along with an engaging description that highlights how this resource can benefit potential buyers.
Remember – marketing is key.
In just five simple steps, you can create a valuable tool that not only adds value to your coaching business but also provides additional income opportunities.
With dedication, creativity, and effective marketing, the potential for success is limitless!
How to Sell Digital Planners
Once you create a planner to sell, it's time to — well, sell it!
If you're wondering how to make money selling digital planners, follow the steps below!
1. Choose a platform for selling
When selling your digital planner, there are various platforms to choose from.
But did you know that you can use Paperbell to sell your digital planners and other digital products, too?
You can go through the same process to create a coaching package.
But instead of adding appointments to your package… you can add your digital planner!
In every coaching package on Paperbell, you can upload Content via a link or a file:

It's as simple as that. Instead of using a separate platform, you can keep your digital planner in the same place you sell your coaching packages.
2. Set up payment processing
Setting up payment processing is a crucial step in selling your digital planner online.
It's essential to select a payment processor that ensures a smooth and secure payment experience for your customers, helping to build trust and streamline your sales process.
Two widely used and trusted payment processors are Stripe and PayPal, making transactions secure and seamless while providing multiple options for customers' preferred methods of payment.
Stripe

Offers a robust and developer-friendly platform for accepting payments, making it convenient for customers worldwide
Supports various payment methods, including credit cards, digital wallets, and local payment methods

PayPal

A widely recognized and accepted payment solution
Offers a user-friendly interface
Enables customers to make payments using their PayPal accounts or credit cards
Provides buyer and seller protection, enhancing trust and security for both parties
If you're selling your digital planner on Paperbell, you can choose between both of these options.
3. Price your product strategically
Determine the right price point by researching similar products in the market and considering factors such as:
Production costs (design fees): Consider the expenses incurred in creating your digital planner, such as design fees, software subscriptions, and any other production costs.
Perceived value by potential buyers: Assess the value it provides to potential buyers and how it stands out from competitors.
Target audience: Consider their purchasing power and what they might be willing to pay for a high-quality digital planner that meets their specific requirements.
You can also search on Gumroad or other digital marketplaces to see what other coaches are charging for their digital content.
4. Promote your digital planner
Once your digital planner is available for purchase, it's time to spread the word. Here are some effective ways to promote your product:
Email Marketing: If you have an existing email list of clients or subscribers, send out a newsletter announcing the launch of your new digital planner and any special offers or discounts.
Social Media: Share posts about your digital planner on platforms like Facebook, Instagram, Pinterest, and LinkedIn. Create eye-catching graphics using tools like Canva to grab attention.
Collaborate with Influencers: Partner with life coaches or other professionals in related fields who can help promote your product through their own networks.
Content Marketing: Write blog posts discussing how a digital planner can benefit users and provide tips on maximizing its use. Include links back to where they can purchase yours within these articles.
Be a guest on podcasts: You can share your expertise and mention how you use your digital planner to help coaching clients get better results.
Run ads to your digital planner: Keep in mind that this is an advanced strategy if you want to break even.
These are only a few examples of how you can market your digital planner, but feel free to try additional strategies!
5. Track your sales performance
When you start selling, monitor the performance of your digital planner by tracking metrics such as the number of sales, revenue generated, traffic sources, conversion rates, etc.
Through this, you can identify areas that need improvement to optimize your marketing efforts moving forward.
By following these simple steps – from designing and pricing to promoting and selling – you'll be well on your way toward success in this endeavor.
Incorporating a Digital Planner into Your Coaching Practice
To incorporate a digital planner into your coaching practice effectively, consider these tips:
Identify client needs: Focus on common challenges or niche-specific issues relevant to your clients, such as time management or goal-setting strategies.
Provide resources and tools: Offer helpful materials like worksheets, templates, or links to articles that complement your coaching sessions.
Personalize the planner: Customize it with your branding elements and add personal touches like motivational quotes or affirmations tailored to each client's goals.
For instance, if you specialize in helping entrepreneurs manage time effectively, create a digital planner with:
Goal-setting sections
Customized weekly scheduling templates for entrepreneurs' unique needs (e.g., networking events)
Curated productivity hacks from successful business owners
If you can provide valuable resources alongside your one-on-one coaching sessions or group programs, you're not only offering additional support but also positioning yourself as an expert in your niche.
FAQs about How to Create a Digital Planner to Sell
How do I create my own digital planner business?
To start your own digital planner business, begin by designing your templates using a design program like Canva, Adobe InDesign, or Microsoft PowerPoint.
Once you have created your pages, upload them in Paperbell as part of a coaching package!
Can I make passive income from selling digital planners?
Yes, you can make money selling digital planners. Selling digital planners can be an excellent source of passive income once they are uploaded and available for purchase online.
With platforms like Paperbell handling all the tricky moving parts, it's easier than ever before to start earning money through this avenue.
Can You Sell a Digital Planner Made on Canva?
Yes, you can create and sell a digital planner designed using Canva.
However, it's important to ensure that all elements used are licensed for commercial use under their terms and conditions before selling your planner.
Start Creating Your Own Digital Planner to Grow Your Coaching Business
So, have you thought of the perfect digital planner you can create that matches your coaching brand?
It may seem daunting at first, but considering the value you can provide to your clients, it's a fulfilling project for a life coach while generating income in the long run.
To keep your digital planners and your coaching packages all on the same platform, consider running your coaching business on Paperbell!
Try it for yourself by claiming your free account today.