Selling digital products online is a smart way to increase your earnings as a coach or consultant. Creating information products gives you a chance to share your knowledge and perspective with your target audience and help them improve in a particular area of their life or business. In turn, you can reach more people with your message and establish yourself as an expert in your industry.
Although digital product sales are often referred to as passive income, they still come with quite a bit of work. You need to develop your product content, give it a nice design, and then market it on a digital marketplace or your own online store. Luckily, there are plenty of tools out there that help you promote and sell your products to a relevant audience. With Paperbell, you don't even have to set up an online store: you can simply add your course content and digital downloads to your existing packages.
In this guide, we'll introduce 3 types of digital downloads you can create as a coach or consultant, share what makes a great online product store, and help you pick the best platform to make it all happen.
3 Types of Digital Products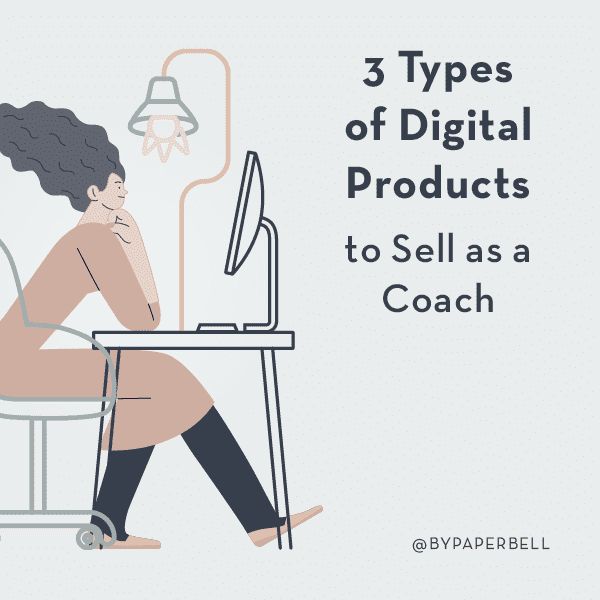 Downloadable PDFs
Downloadable PDFs are documents that provide helpful information, tools, or frameworks for your target audience. The most commonly known digital downloads of this category are ebooks and guides but you can also create resource lists, checklists, or templates. To supplement your coaching exercises, you can create printable journals, digital planners, or workbooks.
It's not the length of your document that counts but how helpful they are for the people who download them. A great downloadable PDF solves a problem for their reader and arms them with tangible techniques or perspectives they can apply in their life and business.
Online Courses
Online courses typically consist of a series of video lectures accompanied by practical exercises. You can set up your course as "drip content" and unlock one lesson each day or each week, or you can share all course materials at once and let your students go through their lessons at their own pace. Some courses also have live elements with weekly group coaching calls or webinars.
[ Read: These Are the 10 Best Online Course Platforms That Coaches Are Obsessed With ]
Audio Downloads
As a coach, there are plenty of ways you can support your clients with audio downloads as well. You can record guided meditations and positive affirmations for your life coaching clients, or create guided journaling exercises that help them reflect on the content of your sessions. If you're not comfortable recording and editing your audio downloads yourself, you can easily hire a freelance audio producer or voice actor to help you finish your product.
3 Key Characteristics of a Great Digital Goods Store
Once your digital product is ready, it's time to set up a store where people can access it. Thankfully, you don't have to build it from scratch. There are plenty of digital tools that can help you set up an online store and start selling your products right away. Here's what you should consider when picking the best one for you.
No Tech Headaches
Website design, checkout functionality, payment gateways, customer login… these are just a few technical elements of an online store that would be a nightmare to figure out how to set up if you're not a developer. Instead, why not just click upload and be done with it?

A great digital product platform doesn't require any tech knowledge and can guide you through the process of setting up your store step by step. Even if you do it for the first time, you'll find that selling your digital products can be super easy when you use the right software. You can update your store with new products and information at any time.
It's also important that your customers can navigate the platform and access their digital products in the future. Do them a favor and save yourself from "where is my product" emails filling up your inbox with an easy-to-use digital marketplace.
Strong Product Positioning
Digital products can do so much more for you beyond just a side income. They can position you as an expert and help you gain the trust of your customers to become returning clients. Whether you sell your digital goods as a part of your coaching packages or in an independent store, they should be true to your brand and speak quality. A great design layout and a user-friendly customer experience are a must if you want to sell products online.
Great Conversion
The primary reason why a digital product platform is more than just a regular website is its ability to convert visitors into customers. With a great marketplace solution, you don't have to list your goods next to hundreds of competitors, instead, you can customize it for your packages only. You can use payment plans to increase conversion, boost sales with a limited-time sale, or introduce upsells as an add-on to your current offers.
[ Read: The Overwhelmed Life Coach's Guide to Marketing ]
Where to Sell Your Digital Products
Paperbell
Paperbell is an all-in-one client management platform specifically designed for coaches and consultants where you can sell your digital products with ease. You can design custom packages with digital downloads only or combine your coaching and consulting sessions with bonus materials. With Paperbell, you can deliver ebooks, spreadsheets, audio downloads, journaling prompts, training videos, and more to accelerate the growth journey of your clients.
Paperbell makes it easy to upload and update files within your packages anytime, which will be safely stored in a re-accessible client portal. If you sell courses, you can schedule your content to unlock on a particular day of your coaching program without the complex functionality of a course-first platform.
You can take one-time payments, set up a payment plan, and even create limited-time offers that expire on a certain date. Paperbell also handles your contracts, scheduling, payments, client surveys, landing pages, and more in one simple platform. Try Paperbell for free with your first client.
Sellfy
Sellfy is an affordable marketplace solution for both digital and physical products. You can sell your digital downloads as well as your own branded journals and workbooks in the same store. Their visual builder makes it easy to set your site up in a few minutes with your own custom brand design.
You can sell both subscription packages and standalone products, and even include upsells during the checkout process to increase the cart value of the orders. Sellfy offers multiple payment options and in-depth analytics features to monitor your conversion rate and sales. If you have other websites, you can even embed "buy now" buttons on them that take your audience directly to your Sellfy checkout page.
You can try Sellfy with a 14-day trial, followed by paid packages starting at $19 a month, without any transaction fees on your orders.
Podia
Podia is a combination of an online course builder, a community hosting platform, and a digital marketplace. You can use it to create a website for all your digital products and subscriptions and design it with your own brand elements. However, you won't be able to white label your store, i.e. remove Podia's branding.
You can get started on Podia for free with an 8% deduction from your sales, or you can go premium and keep all your earnings while also getting access to their advanced marketing and affiliate features.
Payhip
Payhip is a no-fuss platform for selling digital downloads, physical products, online courses, and memberships. You can set up your products in a store and use their smart embed feature to cross-promote them on your website, blog, or social media pages. Payhip helps you create coupons and special offers and then promote them on your mailing list.
You can get started with Payhip for free and give up 5% of your sales, subscribe to Payhip Plus for $29 a month and 2% of your sales, or go commission-free with Payhip Pro for $99.
SendOwl
If you want to sell only digital products, SendOwl can be a great alternative for you. It integrates with any website so if you already have an online presence, you can integrate your store with your existing Shopify or WordPress site. You can also boost your sales by promoting your product listings in your social media posts and email signatures.
With the wide range of marketing solutions on this platform, you can really get creative. You can set up cart abandonment emails, affiliate deals, and one-click upsells. SendOwl offers a 30-day free trial followed by their paid plans starting at $15 a month.
How to Choose the Best Platform for Your Digital Products
If you're looking for a simple solution that takes care of all your client admin and lets you add bonus materials to your packages, Paperbell is the best option for you. Designed for coaches and consultants, it makes it easy to upload and sell your coaching packages and digital downloads without any complicated features. Paperbell also replaces your invoicing software, e-signature app, scheduling platform, landing page builder, and more with a single tool.
If you want to set up a course-first platform with more advanced e-learning tools, you may want to go for an online course builder. You can use these tools to create cohorts, quizzes, or certifications for your students and design your own online school. Podia and other course builders provide great features for you to do that.
If you're really into ecommerce or you want to make selling goods online your primary business activity, then go with a marketplace that lets you set up and manage your store with all the flexibility you need. Sellfy, Payhip, and SendOwl will help you set up your own digital marketplace and promote it through their various marketing and affiliate solutions.