So you're thinking of starting a coaching business?
If you're overwhelmed with the possibilities, you've come to the right place. Starting a coaching business isn't a one-size-fits-all journey, and you may have heard conflicting information about what to do first.
That's why we've created this guide to choose the best coaching business model for you! Keep reading to discover:
How to structure a coaching business
Why you need to come up with a coaching offer
7 coaching business model ideas and real-life examples
What is a Coaching Business Model?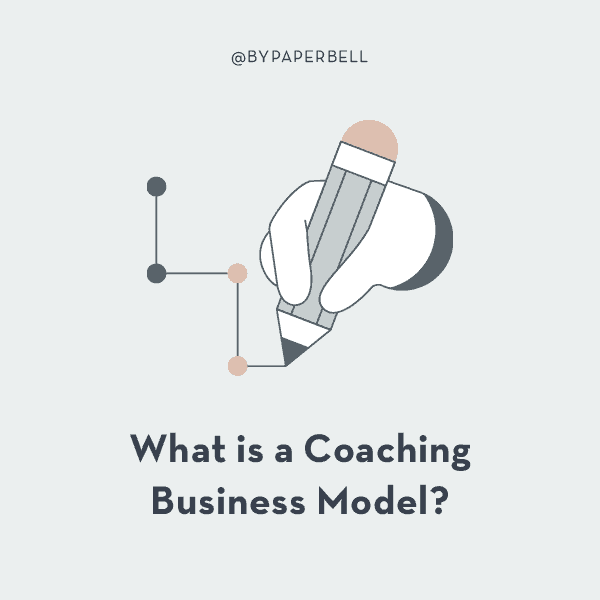 A business model describes how a coach creates, delivers, and captures value in the marketplace.
In other words, it's a structure for serving your coaching clients — and how you intend to generate revenue.
Your business model will also include what type of dream client you're targeting. But in the context of this article, we'll cover different coaching models — because any of them can work with any target client!
How Do You Structure a Coaching Business?
Whether you've been coaching for a while or just started your coaching business, here are some tips to help you structure your coaching business and develop a business model that makes sense for you.
1. Come up with your first offer
No matter which business model you choose, you'll need at least one coaching offer to sell before you can get clients.
Before you create your first offer, let's explore the differences between offers, coaching programs, and coaching packages:
Coaching program: the step-by-step process your clients will go through when they work with you. Coaching programs usually depend on a coach's signature framework.
Coaching package: everything included in what you're selling (and your pricing). This can include coaching sessions, digital products, workbooks, and anything else you deliver to your clients.
Coaching offer: a promise, outcome, or guarantee clients can get when they purchase your coaching packages. Some people refer to this as a value proposition.
In other words, the coaching package is the "what." Your coaching program is the "how." But the coaching offer is the "why."

Why should clients hire you as a coach? What specific outcome will they get from working with you?
Let's take a look at a coach who helps couples heal their relationships after an affair — Dee Tozer.
On her website, she breaks down the details of her 90-day coaching program. She also shares the details of what's included in the coaching package: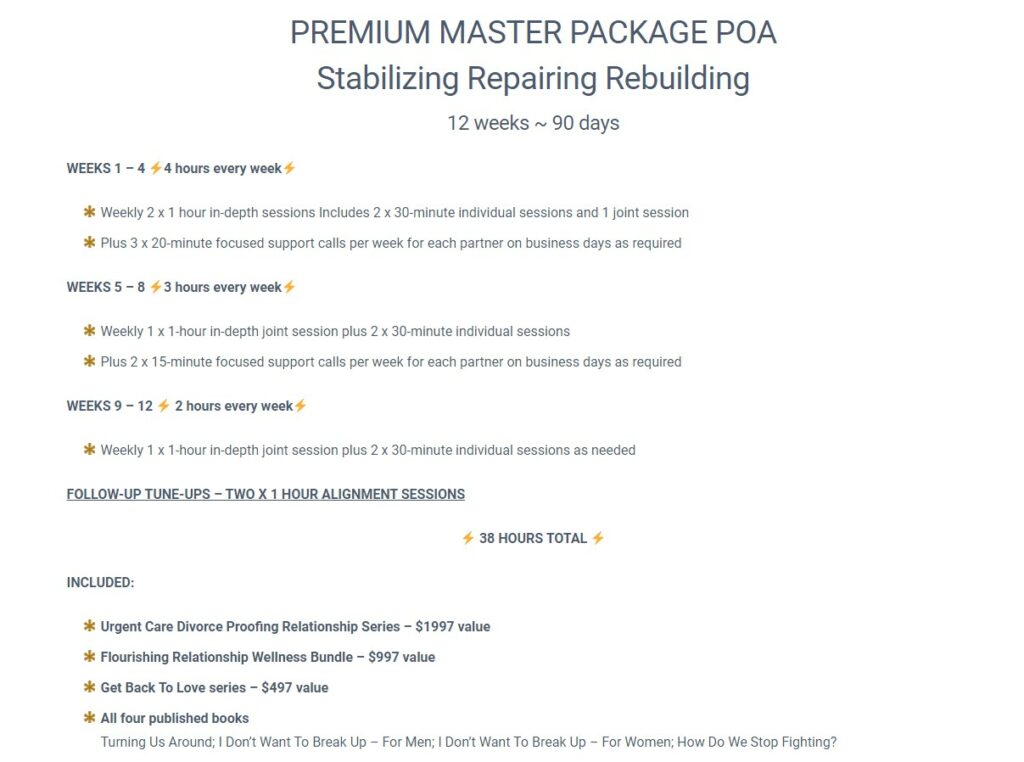 But what about her promise? The above sounds interesting, but what will really convince couples on the verge of divorce to hire Dee?
This is where Dee's coaching offer comes in. The promise she makes to her clients is to Rescue, Repair, and Rebuild Your Relationship Within 90 Days.
Notice how the offer is only one sentence long and doesn't include any superfluous details about what's included or how many sessions it will take.
That's because a coaching offer doesn't sell "sessions." Instead, it sells an outcome.
Now, you don't have to sell your coaching this way. You're free to sell coaching sessions instead. But by creating a specific coaching offer, you'll stand out from your competitors and position yourself as unique.
That's a much simpler way to get coaching clients, fast and make money!
For example, you can find hundreds (if not thousands) of relationship coaches. But how many make the same promise as Dee? Not many. That's how she's able to stand out and attract clients!
To come up with your coaching offer, ask yourself the following questions:
What end goal can your coaching program help your target audience achieve?
What is your coaching niche? In short, who is your ideal client?
What's a realistic timeframe to achieve this? The more clients you help, the more you'll know how to figure this out.
What undesirable things can your coaching clients avoid with this offer? For example, "I'll help you gain 15 lbs of muscle within a year without protein shakes".
What is my guarantee? (if applicable) For example, do you keep working for free with your clients if you don't achieve the desired results within the promised timeframe?
Make sure not to overpromise with your coaching offer. If your offer sounds too good to be true, potential clients may be turned off because they won't believe it!
Only once you have your offer ready should you elaborate on the details of your program and packages. Keep in mind that those details can change over time, especially as you gain more experience and refine your process.
2. Build a minimum viable business model
Now that you have your offer, it's time to create your business model. And before you get carried away… consider trying a minimum viable business model and marketing strategy!
This means: start with one business model — without bells and whistles. You can test your offer and your target coaching market before you build on this.
For example, let's say you want to try one-on-one coaching. Your minimum viable business model could look like this:
One coaching package for 3 months of coaching
Simple landing page to allow potential clients to book a free consultation with you
Simple landing page to allow clients to pay for your package, sign a contract, and book their first session with you
That's it. No fancy websites, and no overwhelming list of package options.
The key to your minimum viable business model is to avoid spending too much on an offer that hasn't been validated. And this goes for all entrepreneurs — not just coaches.
For example, don't build an entire new website — and don't spend thousands on ads!
Paperbell makes it easy to build a minimum viable business model you can build onto later. All of the above can be done with Paperbell — and it's free until you land your first paying client!
3. Validate your offer and business model
There are several ways you can validate a coaching offer — depending on your budget and how much time you have.
If you want to validate your offer for free, you may have to:
Message past clients (if you have any)
Reach out to existing members of your audience on social media
Ask your existing network if this offer sounds appealing to them (or if they know someone who'd find it appealing)
But if you want to use paid advertising, you can launch a simple ad to get people to book a free consultation in your calendar. Facebook Ads is one of the easiest ways to validate a coaching offer.
Spend somewhere between $100-$150 to test your messaging. If you get zero booked calls on your calendar, this means you may need to tweak your messaging or your offer.
It can take a few tests to get the offer right. But don't spend more on a campaign until you've validated that people are interested in booking a free discovery call with you.
Once you've validated your coaching offer and business model, it's up to you to decide what to do next. Some coaches are perfectly happy working with just 3 to 4 clients, while others will prefer to scale their businesses and add new revenue streams.
7 Coaching Business Models to Inspire Your Own Journey
Need some ideas for online coaching business models to implement in your own business? Here are 7 business models, along with real-life examples of coaches who've successfully used them!
1. One-to-one Coaching
Individual coaching is the most straightforward type of coaching model. In this model, you simply work alone with all your new clients.
You can perform a one-to-one coaching practice in person, during virtual sessions on Zoom, or asynchronously using text messaging or Voxer. The goal is to work closely with your clients, so they have your full attention during their dedicated time with you.
Nayshondra Mercer offers personal coaching in nearly all of her packages. Here's an example of her 6-month program: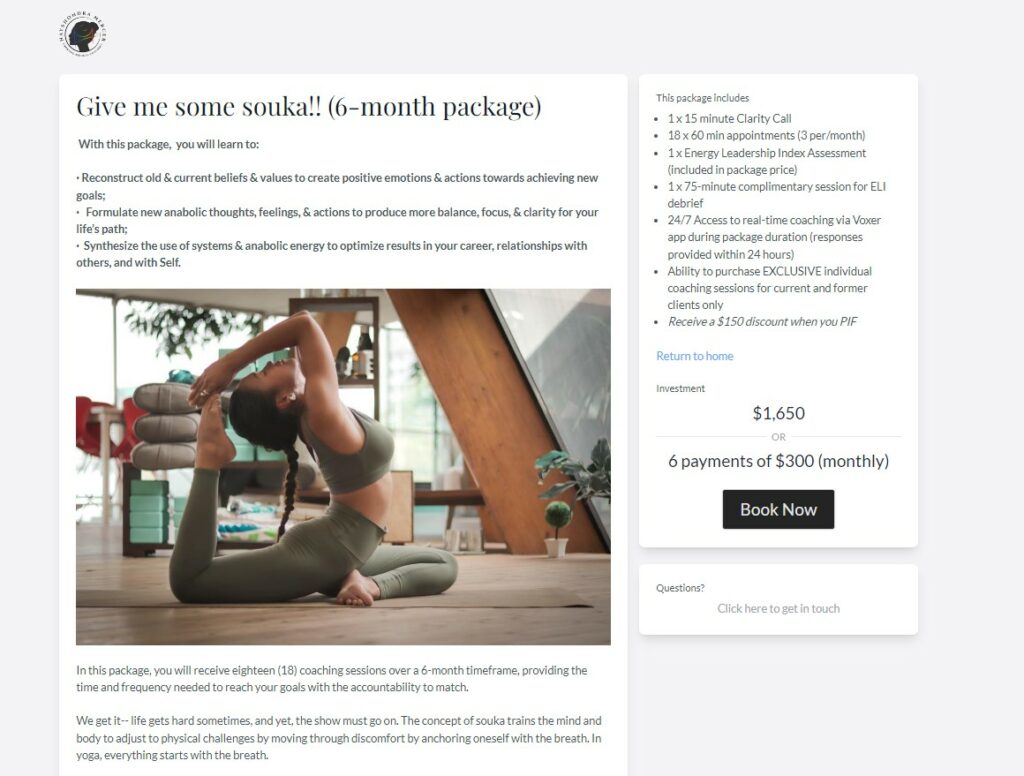 2. Group Coaching
Group coaching works in similar ways to one-to-one coaching — except on a one-to-many basis. You, the coach, can serve several people at once!
You can still implement some one-on-one sessions in your group coaching services. But at its core, you'll typically serve a larger number of clients in a group setting.
Some coaches will also call their group coaching program a Mastermind. But in a true Mastermind, all members are peers of relatively equal footing. It's peer-to-peer instead of being one-to-many.
Tarzan Kay is an email marketing coach who mostly works in a group coaching format. She provides support to her cohorts using Slack in addition to live calls.
Notice anything special about Tarzan's sales page? Yup — it's a simple Google Doc. That's a minimum viable funnel in action! And to take payments, she has a simple checkout link: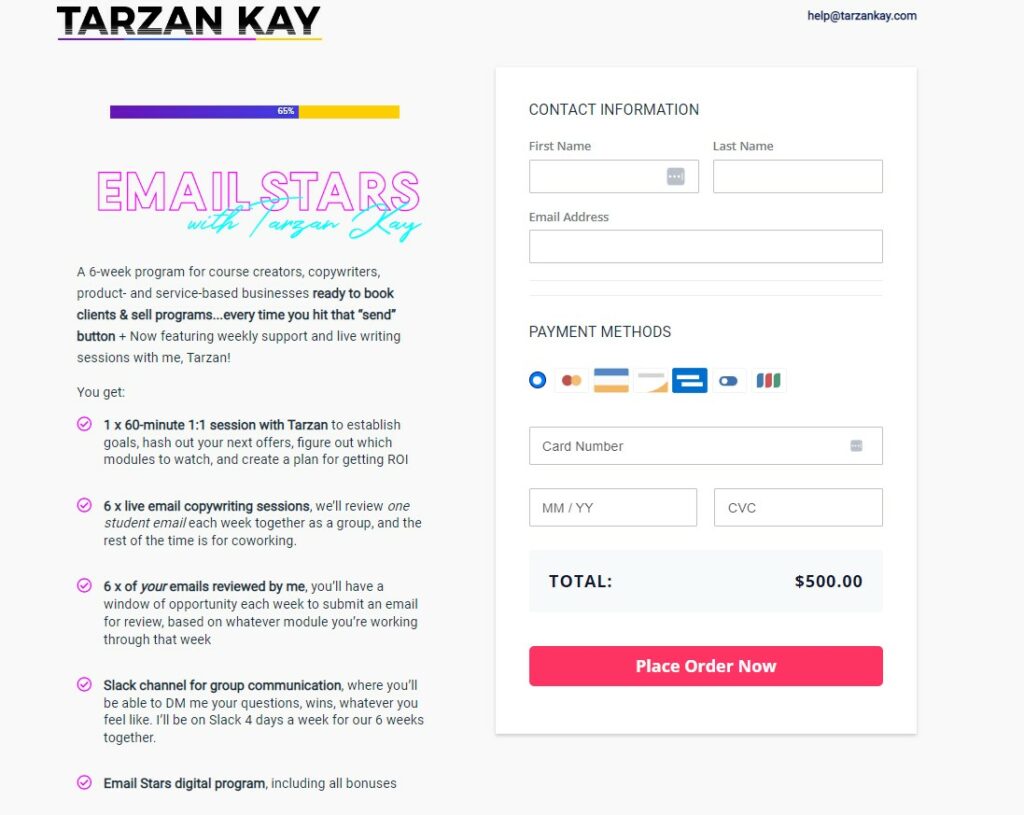 3. Consulting
Consulting is a bit different from one-to-one coaching. Instead of helping your clients with accountability and soul-searching questions, you figure out what to do for them.
For example, Luke Charlton runs an advertising agency — but also has a consulting program, The 15 Minute Client.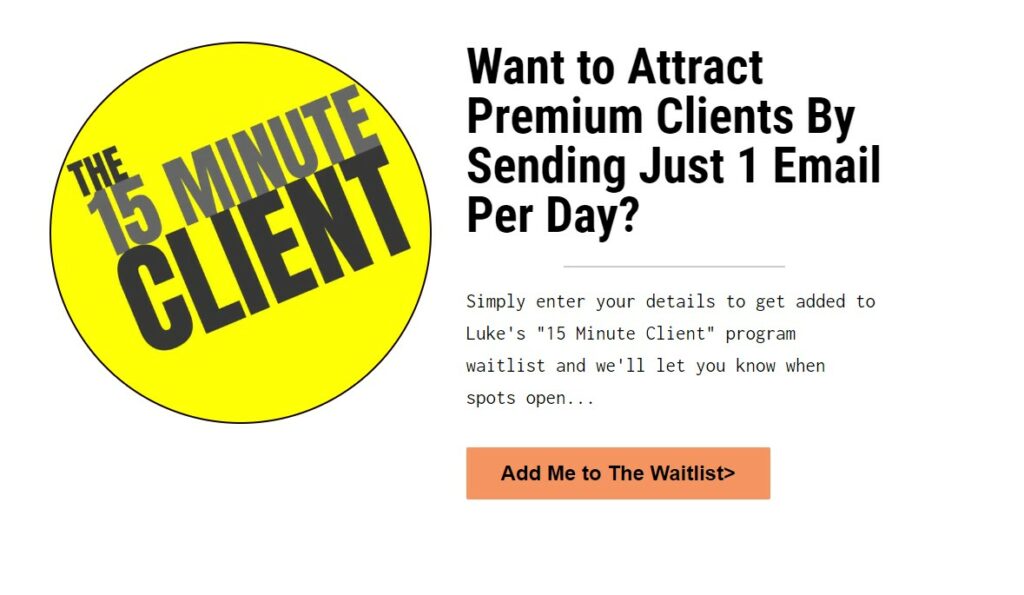 Throughout this program, clients go through training videos and do their homework. But Luke's team provides actionable feedback and is available to answer any questions.
4. Memberships
A membership is a recurring subscription that gives your clients access to you, your community, your content, or anything else you wish! You can offer group coaching or one-to-one coaching in a membership, or you can simply offer access to digital resources or Q&A sessions.
Kia Cannons is an example of a life coach who's launched a membership: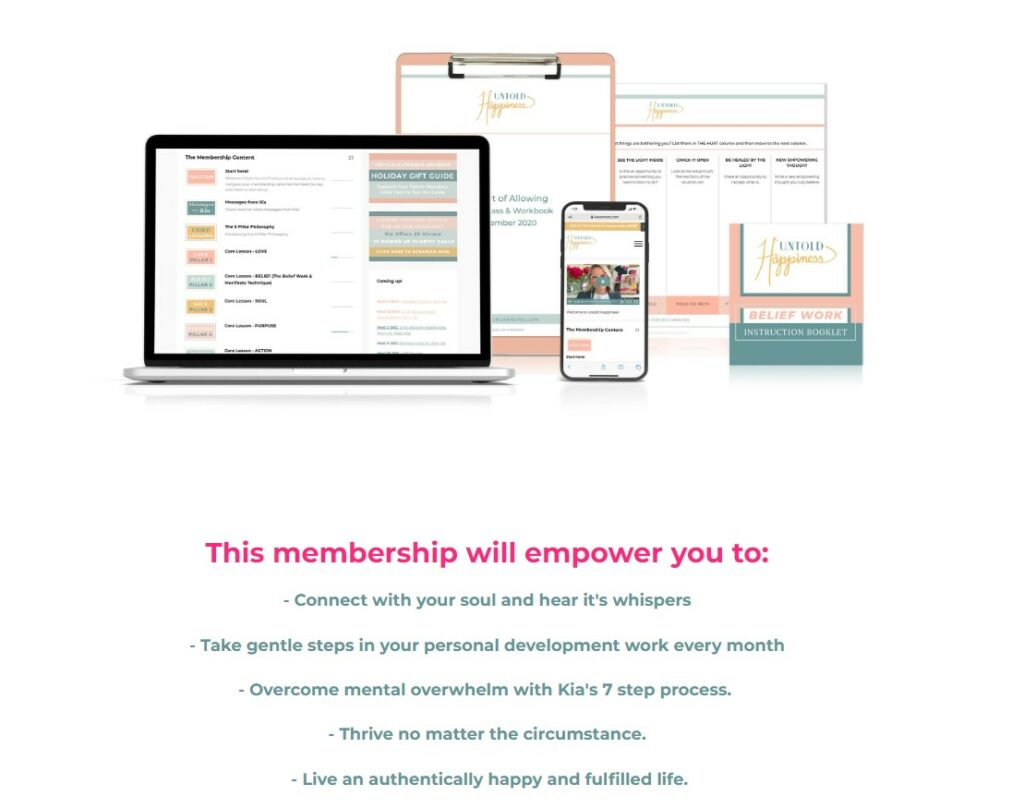 Her membership offers live sessions each month as well as monthly Creative Hours and additional bonus sessions.
5. Courses and Digital Products
Coaching courses and digital products differ from group coaching in that they don't require your active input. Clients pay for access to content — not you.
You can offer single workshop recordings — or break down a course into several modules.
For example, Savannah Bustos offers one-on-one sessions, but she also sells an online course as a more affordable option to work with her: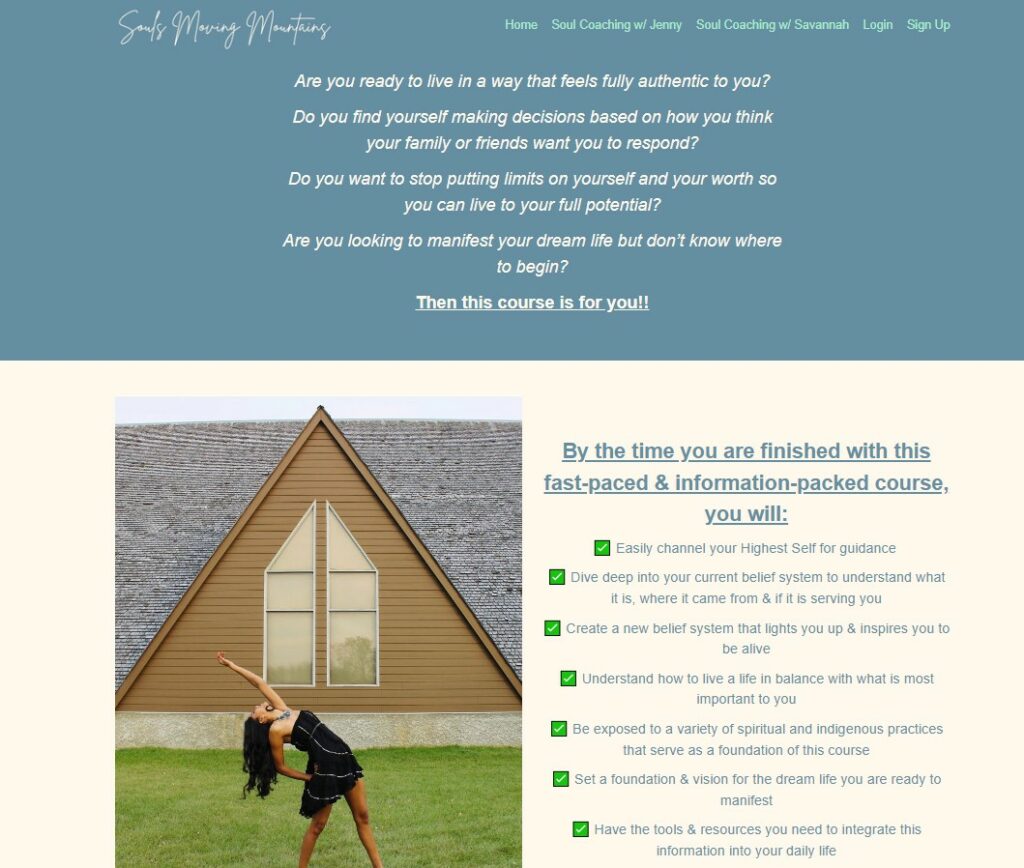 One caveat with courses — coaches often get told courses are "the best way" to grow a coaching business. But that's not always the case.
For a course, template, or digital product to be high-quality, you need to have tons of experience helping your clients through what you're teaching. This means a course should rarely be your first business model — unless you have prior experience from another job or life experience.
6. In-person Events
Offering coaching online is awesome. But face-to-face events are still a valuable tool for coaches and their clients to fast-track their results.
Whether you offer retreats, workshops, or summits, you simply can't beat interacting with people in person.
For instance, Amy Bell only offers her NLP program in person.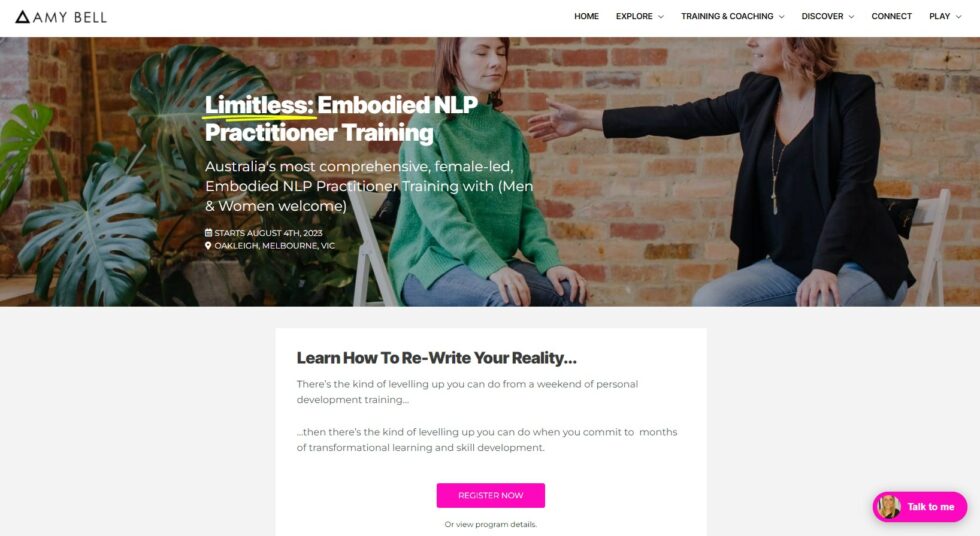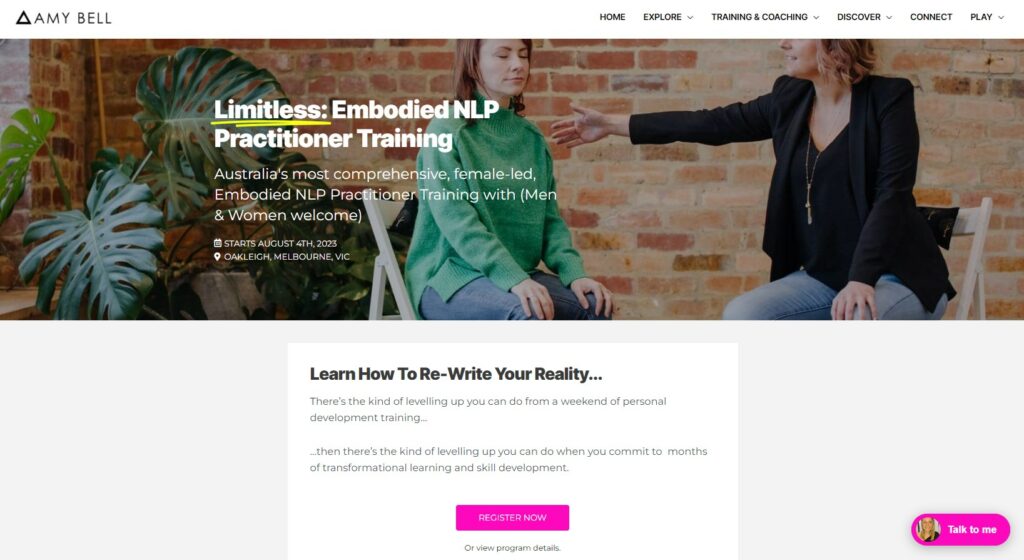 She does this because, according to her, it's nearly impossible to train new coaches on the techniques of NLP without seeing them in person.
7. Blended Approach
You can stick to a single business model. But as you grow and gain more experience as a coach, you may want to take a blended approach with more than one business model!
For example, let's look at ads specialist Laurel Portie. She first began as a service provider — not a coach — when she ran ads for her clients.
And when her agency got booked out, she launched a consulting program for $1000/month.
But that program got booked out, too. That's when she launched a $7 membership to coach people on ads!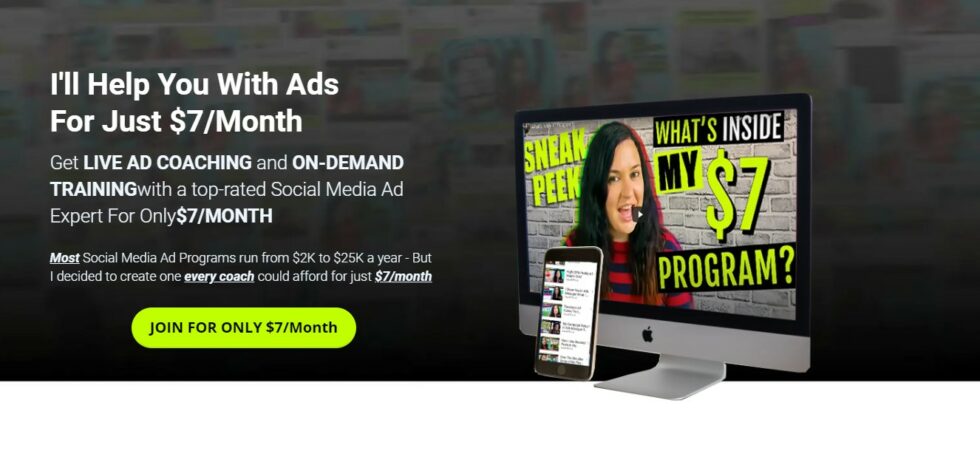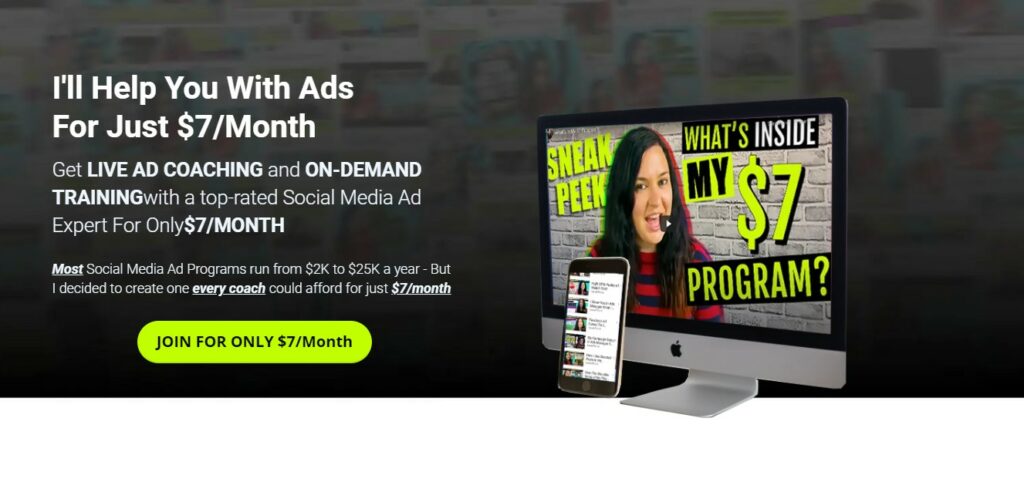 This shows a great example of how a business can evolve over time.
Keep in mind that blending more than one business model isn't a beginner-friendly approach! It's important to master one business model before you attempt another one.
Once you've built a foundation, feel free to expand to another model — just like Laurel did when she got booked out for her service and consulting offers.
What is the Most Profitable Coaching Business?
You'll see plenty of other coaches claim that their method or business model is "the most profitable."
Some will argue you can't build a successful coaching business without courses or group coaching.
Others will say you must have a membership to secure recurring monthly revenue.
But here's the truth:
The most profitable coaching business is the one that works best for you! It's the model that takes your strengths and preferences into account.
For example, if you struggle to coach a large group, you may not profit from a group coaching program — especially if your clients can't get results. On the other hand, if you thrive in a group setting, that could be the path to a profitable business for you!
That's why there's no single best coaching business model for everyone.
No matter what coaching business model you have, Paperbell can help you build a foundation to sell your coaching online, the simple way!
Grab your free account to test it out commitment-free.