Ever wish you could start your own membership site to support your coaching clients and help them build a community with each other?
It used to take an entire development team to build a membership site, so coaches had to generate tons of revenue before taking this step. But thanks to modern membership platforms, that's no longer the case! Now you can build and launch your own coaching membership in a few days.
Let's explore the best membership platforms for coaches and how you can choose the one that'll suit your needs.
What is a Membership Site?
A membership site is a gated platform that business owners use to provide free or paid members with community access, training content, coursework, and other resources. Content on these websites is exclusive to members.
Coaches who want to build a community or start a new revenue stream can use paid membership sites to support their clients on a one-to-many basis. You can also adapt the style of your membership site depending on your business model.
For example, Laurel Portié runs an ad coaching membership with two live group coaching sessions. She uses her membership site to post every session replay, which means new members can access all her past sessions. But she also keeps other training replays neatly organized for members to progress on their own in between sessions.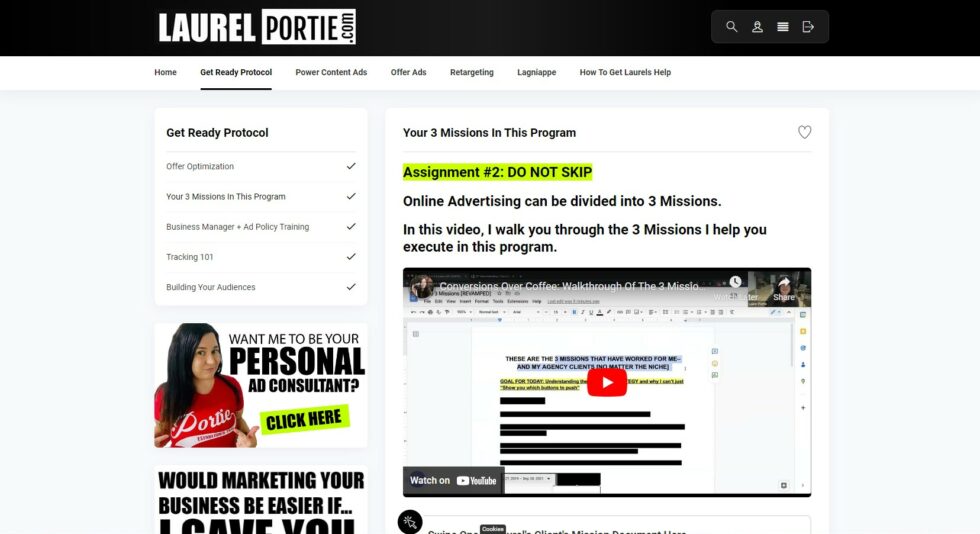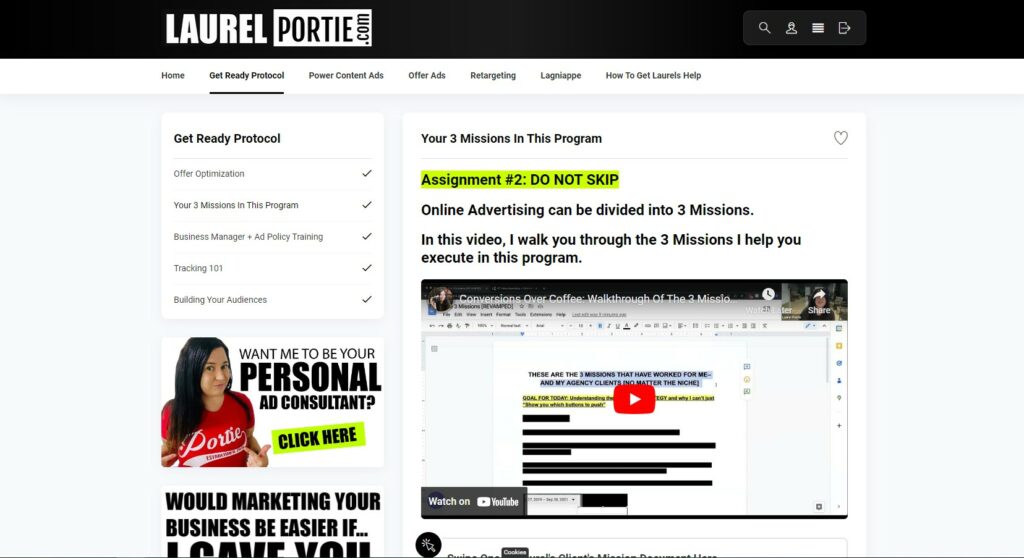 That's just one example, but you can offer virtually any type of coaching support and resources with a membership site!
Membership Sites vs. Subscription Sites
Membership sites and subscription sites are similar… but they're not the same. For starters, membership sites are subscriptions, but not all subscriptions are memberships.
A subscription is a recurring invoice that gives customers access to a product or service for a limited time. Memberships are a type of subscription that involves becoming part of a group.
For example, paying to receive a monthly newsletter is a subscription, but not a membership. On the other hand, paying a monthly subscription to access a website with a gated community and members-only content is a membership.

Here's another way to put it — subscriptions are a billing model. For example, you can use a subscription model to charge your coaching clients on a recurring basis every month.
Memberships are a business model. They're a specific way to provide your coaching services, just like a one-to-one coaching package would be.
Must-haves of a great membership platform
There are dozens of membership platforms that coaches can use to build their own membership sites.
But they're not all created equal! While some are easy to use and feel great for members, others are clunky and poorly designed for all parties involved.
Your must-haves for your ideal membership platform will depend on your needs, but here are some non-negotiables you should look for:
Ease of use for your clients
Easy to set up for your skill level
Integration tools so you can connect it with your other apps
Ability to take payments online
Cloud-based features (so you can access it from anywhere)
Lastly, a great membership platform should be secure, both for you and your clients. Without a secure tool, you risk leaking your clients' passwords and payment information.
10 of the best membership platforms for coaches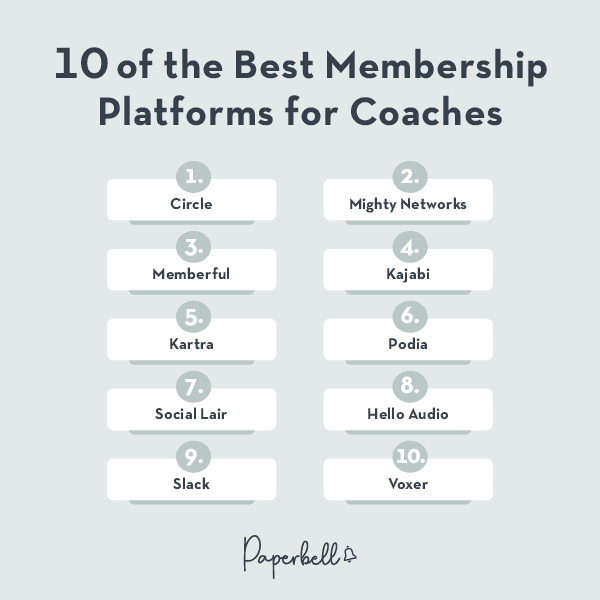 Below are some useful tools coaches can use to provide membership services to their clients! Not all of these are designed as membership platforms, but coaches can still use them depending on their business model.
Circle lets you bring your coaching content to life with immersive community experiences. If you offer coaching in cohorts, it also allows you to guide your members based on where they're at.
Because Circle is community-driven, it's easy for your members to have live chats and post rich content. You can even bring in co-hosts to add value to your membership site!
Circle starts at $39 a month, but you need the professional plan at $99 per month to provide courses and live streams.
Mighty Networks is a great alternative to Circle — it's easy to set up and focused on community-centric features, such as central feeds, live streams, and messaging.
This tool starts at $33 per month, with online courses and live cohort features available at the $99 per month tier.
Do you have an existing WordPress website? Do you want to host your membership directly on WordPress without using a separate tool? If so, Memberful is a great option for you! It's a WordPress plugin that integrates directly with your website.
Remember that setting up a membership site on WordPress will take more work than most all-in-one platforms. But if you're tech-savvy, it's a useful way to keep everything in one place.
You can use Memberful for free, but you'll pay a 10% transaction fee. With the $25 per month pro plan, your transaction fee goes down to 4.9%.
If you want to launch a membership site focused on courses and content, Kajabi has every tool you need to make that happen. Not only can you host your digital products and coaching courses, but you can mass email your customers and leads and create complex sales funnels.
However, Kajabi is expensive — it starts at $150 per month for up to three products.
Like the concept of Kajabi but don't enjoy the steep price? Kartra is a powerful Kajabi alternative that comes with membership sites on top of the other Kajabi features.
With Kartra, you can create up to two membership sites and 20 products with the $99 per month starter plan.
Podia's community features are simple, but its drag-and-drop features are so easy to use that it deserves a spot on this list! Plus, you can get started for free — although you'll need to upgrade to the Mover plan at $39 per month to launch courses and sales pages.
Social Lair isn't as widely known as other platforms, but it's definitely powerful. More than a simple membership platform, this tool allows you to create your own social media network and design it exactly as you please.
Make your network free or paid, upsell your clients into other coaching programs, and so much more! You can get started for $50 per month for your first lair.
Keep in mind that you'll need to host files that aren't images elsewhere since Social Lair can only host images.
Hello Audio turns your content into a private coaching podcast you can share with your clients! If you want to provide easy access to your coaching content so that your members can consume it anywhere they go, look no further.
This tool doesn't have community features — however, you can pair it with a free solution such as a Facebook group or a Slack channel (read more about this below) to create a membership that's free from overwhelming features.
You can start with Hello Audio for as little as $17 per month.
If you enjoy chatting with your clients — or letting your clients chat amongst themselves — consider using Slack as a membership platform. It's a great way to offer support without overloading members with content.
Slack is free to use for most features, which makes it a perfect pairing for Hello Audio.
Prefer to offer audio support instead of chat support? Try Voxer instead of Slack. Voxer is a voice chat app you can use to speak to your members one-to-one or in a group setting.
Voxer is free for large group chats of up to 500 people.
Paperbell
What happens if you want to use Slack or Voxer to deliver a simple, seamless experience for your coaching members — but you still want to offer coaching sessions or manage payments?
That's where Paperbell comes in. With Paperbell, you have everything you need to manage a simple yet profitable coaching business — and nothing you don't. If you feel the other platforms are too expensive or have too many bells and whistles, Paperbell has got you covered.
Paperbell lets you automate subscription payments to help clients pay for their membership. You can even build beautiful landing pages without building an entire website!
Once members are in, you can provide one-to-one or group coaching sessions — but you can also pair it with another free tool like Slack or Voxer to nurture a sense of community. Thanks to automation tools like Zapier, you can even add new members to these apps automatically.

How to Choose the Best Membership Site Platform for Your Coaching Business
There's not one "perfect" membership platform. But there is a perfect tool for YOU! So how can you choose the best platform to serve your coaching clients in the best way possible?
First, define the pillars of your coaching membership. What will your clients get out of the experience? What matters most for success?
For example, will your community be a key selling point? Or do you want members to have fast access to you for quick coaching questions?
Your core pillars and priorities will determine what features to look for. But you also need to decide your method of delivery. Are you a writer? A speaker? A video presenter? What's the best way you can express yourself? For example, if you need visual aids to guide your coaching clients, Hello Audio wouldn't work for you.
Finally, assess your tech knowledge and your existing tech stack. Can your chosen tool easily integrate with your tech stack? If not, can you migrate everything to that new platform? And can you manage this tool without hiring a tech expert?
With these three elements, you'll be able to choose the platform that makes the most sense.
Support Your Coaching Clients With or Without a Membership Platform
Membership platforms are invaluable for coaches who want to add a level of complexity to their businesses online.
But what if you want to keep things simple and offer group coaching sessions to your clients instead? Your dream clients will gladly pay to access time with you, even if you don't have a dedicated membership platform.
Paperbell makes it easy to keep your coaching business organized on a single platform — including keeping track of group coaching sessions and how many sessions each client has left! Create your free account today to try it out yourself.