Have you seen other coaches start their own coaching membership offers and started feeling FOMO as a result?
You're definitely not alone. When done right, a coaching membership can be an invaluable tool to build recurring revenue and even nurture members into higher-paying coaching programs.
However, coaching memberships are not for everyone!
Keep reading to discover:
What a coaching membership is
Benefits of the coaching membership model
Types of coaching memberships
Who should launch a coaching membership site (and how)
What Is Coaching Membership?
A coaching membership is a type of coaching business model that involves building a community of clients. Instead of purchasing a one-time coaching package, your client signs up for a subscription-based service that lets them become a "member".
In exchange for payment, you can offer a variety of resources and services in your membership, including but not limited to:
Group coaching calls
1:1 private sessions
Digital downloads such as templates, guides, checklists, or planners
Pre-recorded video lessons
Co-working sessions
Facebook groups
Slack or Telegram channels
Private Voxer coaching
While coaching memberships typically involve a community aspect, it can also focus on 1:1 coaching. But I'll explore the types of coaching memberships you can build a bit later.
Examples of coaching memberships
There's no better way to explain what a life coaching membership can do than by giving you actual examples.
Let's start with a low-ticket monthly coaching membership with Laurel Portie's Ad Coaching For $7. As the name suggests, for only $7 a month, Laurel provides video lessons and direct coaching to help small business owners with cheap Facebook ads.
Not only do members get access to checklists, video lessons, live Zoom workshops, templates, and more, but they get their questions answered weekly in a live video inside the Facebook group!

All members need to do is ask their questions in the correct thread. Then, every Friday, Laurel goes live and provides in-depth answers.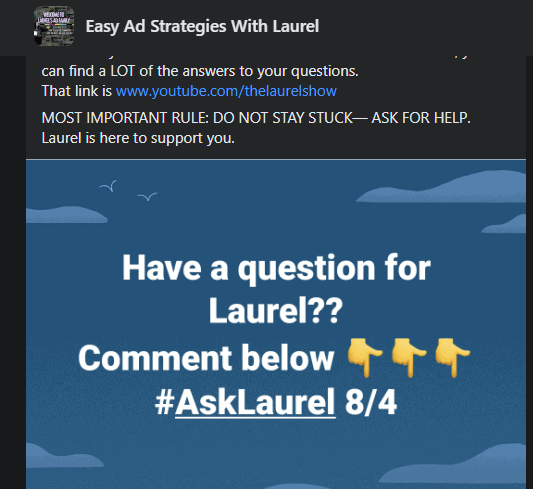 Now let's look at a more expensive example of a coaching membership: Copy Chief.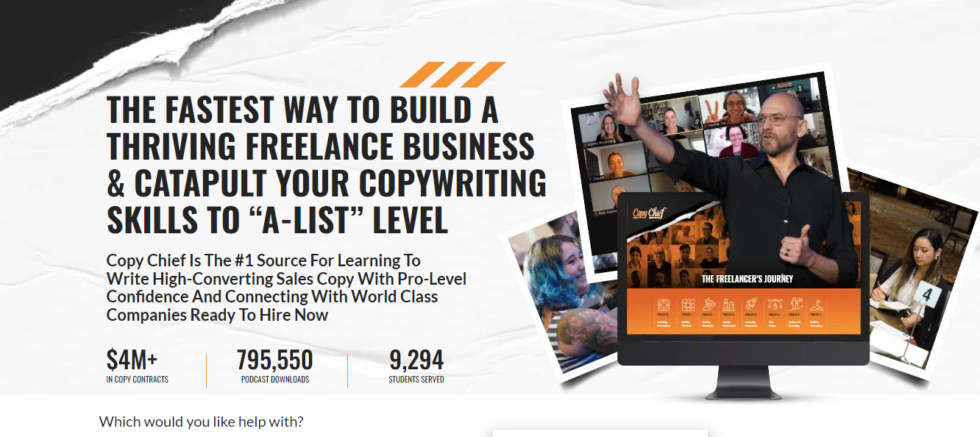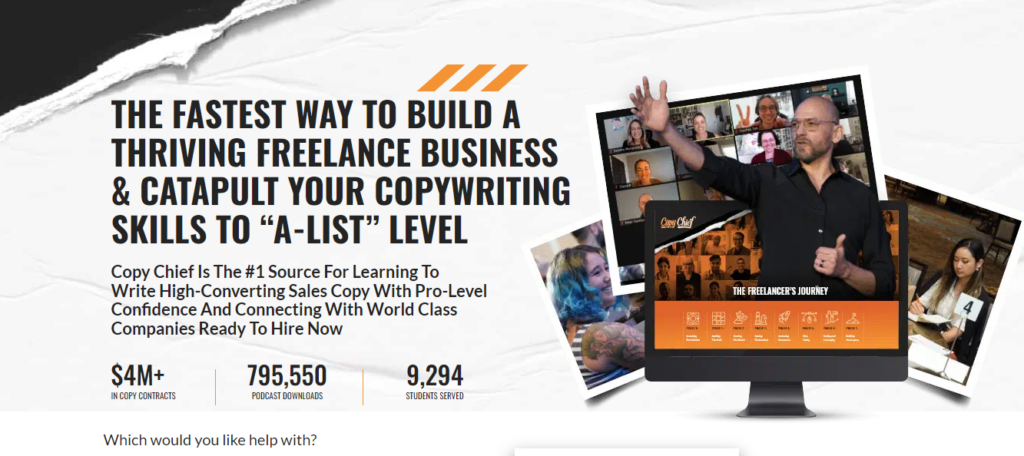 At $149 per month, this coaching membership gives members access to highly valuable training content. But members also get access to weekly hot seats, copy critiques, and a copywriting job board.
These are only two examples. When you create your own coaching membership, you can implement the resources and type of support you want – at the price point that makes sense to you and your ideal clients. You can charge anywhere from $5 to $5,000 a month!
Benefits of the Coaching Membership Model
First off, I want to make it clear that starting a coaching membership is not for everyone.
It's perfectly okay to keep your coaching business super simple and only offer 1:1 sessions!
With that being said, there are tons of advantages to building a membership into your existing coaching business. Let's get into it!
1. Leverage your time
At first, a coaching membership won't bring in as much revenue as one-to-one coaching clients. For instance, you only need one "yes" before making four figures per month in revenue with private coaching sessions!
But over time, coaching memberships give you leverage. As you gain more and more members, you can leverage a single hour of your time to provide tons of value for several people at once.
It's similar to the way you can leverage group coaching. But with a membership, you can also make the most of the community aspect to let members get value simply from being connected to one another.
For example, older members can help answer questions from new members. While it's still your job to oversee membership and guide your paying members, it helps to have other people supporting each other within the group.
2. Build a warm audience to upsell your high-ticket coaching services
Finding new coaching clients for a high-ticket coaching program is far from easy. Several studies have shown that it costs 5x as much to attract a new customer compared to keeping an existing one!
This means that once you put in the work to build a membership community, you'll have a pool of existing customers who already trust you. From those existing customers, many will be happy to keep paying for your membership. But others will want to get more support or have a more customized plan for their goals.
You can have a process in place to upsell your members into the right coaching programs for them. For instance, you can conclude group calls by letting people know you've got new 1:1 openings available.
Or, you can take a page from Laurel's playbook and build up interest in your other programs simply by giving a glimpse of its value! For instance, notice how students get a peek at the benefits of being a Lean on Laurel member (for $1,000 a month) without Laurel even pitching the program itself: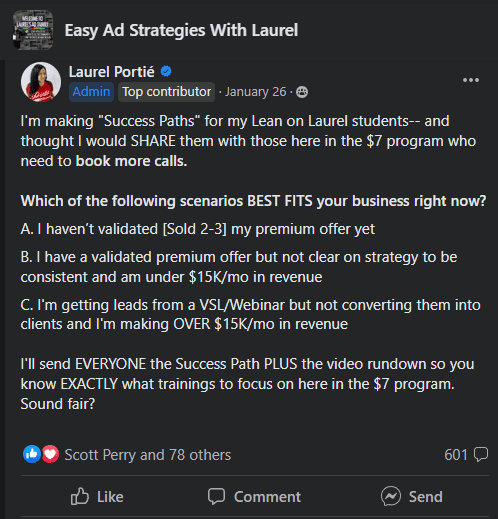 From seeing these posts, students know that Lean on Laurel members get more custom "success paths." This doesn't remove value from the $7 program since she openly shares those paths with her students there, too – they're just not custom to every single student.
3. Build monthly recurring revenue
Memberships are typically subscription-based coaching products. This means members will keep paying you every single month until they cancel their membership.
So, instead of scrambling to start from zero every month, you'll have recurring revenue as a baseline.
Of course, you can't take members for granted. You need to account for some customers leaving the membership. But if you provide an awesome experience and invest as much time in serving existing members as you do trying to find new ones…
You'll start generating monthly recurring revenue you can rely on for years. This means you'll be less vulnerable if one client leaves.
When you have this baseline recurring revenue, you'll then have the flexibility to only work 1:1 with your ultimate dream clients and say no to any client who doesn't fit that description!
Types of Coaching Memberships
Although you may have a specific image in mind when discussing coaching memberships, know that they can come in various forms!
Let's cover a few examples of what a coaching membership can look like online.
One-on-one coaching membership
A one-on-one membership offers personalized attention to each client.
This model allows you to work closely with your clients in a way tailored to their goals and challenges.
Coaches can offer different packages based on session frequency or duration. You can also offer unlimited access (or limited) to your Voxer or Slack coaching.
Group coaching or course-based membership
This caters to individuals who prefer learning in a live group setting or asynchronously with prerecorded content. A group coaching membership site allows members to learn from you and others' experiences.
Most coaching memberships fall under this umbrella.
Community-driven membership
In some cases, the community itself could be the most valuable part of your coaching membership.
Community-driven memberships are the perfect place for your clients to mingle and grow their network in a space you facilitate.
A perfect example is Jenn Robbins' Pink Pistachio Community. Jenn facilitates this membership for $11 per month and provides members access to coworking sessions and mixers!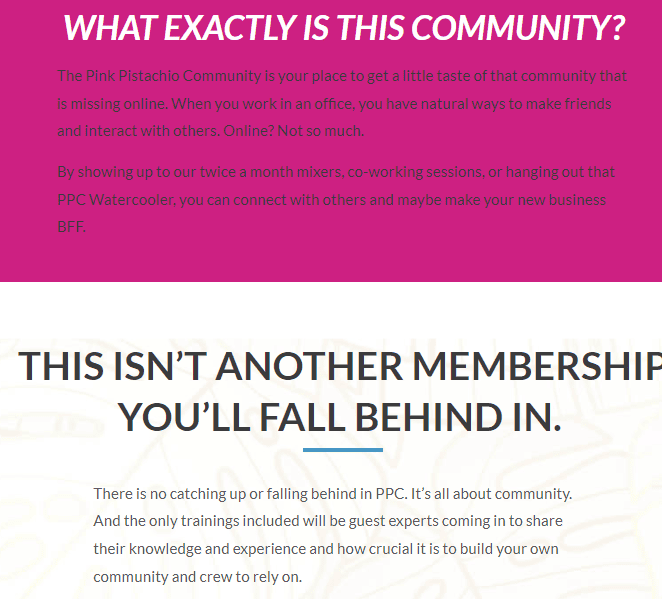 Monthly content membership
Apart from direct coaching, you can also offer other types of support in a membership, like digital resources or content. This is where the monthly content membership comes in!
You could offer monthly meditation videos to your members. Another option is to drip out a new training each month.
With this model, you can choose between giving full access to your back catalog to new members or not. Here's an example of the former with Liz Wilcox's Email Marketing Membership.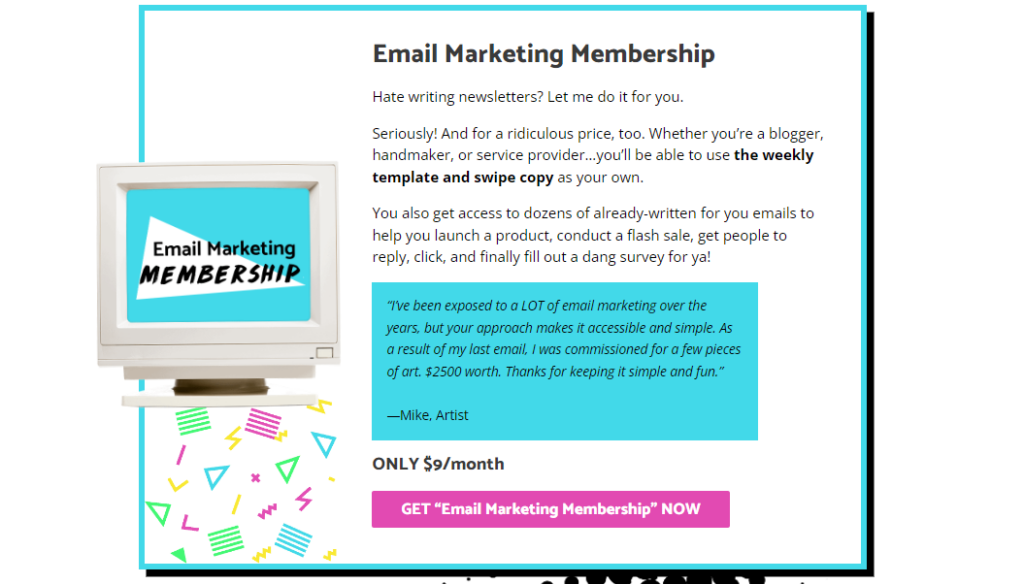 For $9 measly dollars, Liz will send you four fresh newsletter templates and swipe examples per month, in addition to a video guide walking you through each one. Plus, members get access to all past content from previous months!
Mixed model memberships
As the name suggests, you can mix it up and create a membership with several of the above elements.
Several coaching memberships start with one element. But as new members join and feedback starts coming in, the coach may realize what members need most – and add it as a new offer to the existing elements.
Who Should Launch a Coaching Membership Site (and How)
To create a successful coaching membership site, it's important, first and foremost, that this aligns with the way you picture your business growing.
It's easy to get distracted by shiny objects and start a membership just because someone told you that EVERY coach needs one.
But that's far from the truth.
Take it from me: I once launched an email marketing membership. And shortly after starting the membership – despite getting about 20-30 paying members at first – I took it down.
Why?
Because I realized I didn't see myself working with a large group of people. At least, not yet. I decided to keep my business simple, focusing on one-on-one coaching and done-for-you service clients.
That said, some coaches are in a great position to start and grow a membership! If any of the following sounds like you, perhaps it's the right move for your business:
You've already validated a coaching offer, meaning several people have paid you in exchange for that offer.
You've validated your coaching program, meaning several people have gotten results by working with you.
You're a consistent person who doesn't struggle to show up month after month.
You either have time or a budget to build an audience to start marketing a membership.
Starting a membership sounds appealing to you for the sake of the membership itself, not just for the sake of recurring revenue.
You enjoy building communities of like-minded people.
Sounds like you? Keep reading 🙂
Your roadmap to launching your own successful coaching membership site
You can take several paths to create your own coaching membership. But if you've got no idea where to start, swipe this roadmap and adjust it according to your needs:
Determine your offer: What will members get by paying for their membership every single month? Start simple – more content and more coaching isn't always better. If you can help members achieve specific results in less time and with less content, that can be valuable in and of itself.
Choose a model: How will you deliver the outcome of your offer? Once again, start with a minimum viable model and expand as needed once you've validated that people are interested.
Pre-sell your membership: Before you start building anything, reach out to your existing audience (like your social media following or email list) to see if there's any interest in your offer. You can even pitch a lower monthly fee for founding members!
Set up your membership platform: This can be as simple as a Facebook group or a group Telegram chat… or as complex as an entire website filled with forums, resources, chats, and more!
Create your baseline content: If you're starting a membership where people are paying for any type of content, you'll need to build that up as more and more members join.
Get feedback from your first members: A membership doesn't exist without its members. That's why you must prioritize your first members and get their feedback from the first month onward. From there, you can adjust what you're doing as you see fit.
Build a coaching membership funnel: Only once you've got paying members should you build any coaching funnel and start marketing your membership more heavily. Otherwise, you may approach it from the wrong angle. But once you have paying members, you can get testimonials and really understand the pains and desires of your ideal member.
Scale your membership: Once you've got the ball rolling, you can scale by running social media ads, asking members for referrals, or scaling up your organic marketing efforts!
No matter where you are in this roadmap, remember to prioritize your paying members. The more people you retain, the easier it will be to grow your coaching membership in a sustainable way!
Grow A Valuable Coaching Membership Program
If you're at the point in your coaching career where starting a membership makes sense, and if it sounds like something you'd enjoy doing… then nothing is stopping you!
The best part? You can easily build a simple coaching membership if you already have a Paperbell account. Because Paperbell allows for group coaching and subscription packages, you can create a simple membership in just minutes. And with automated emails and forms, you can even set it up once and automatically get feedback from your members!
Whether you want to start a membership or just want to keep it simple with your coaching, give Paperbell a try.