Let's face it: We love coaching, but it takes a ton of time and energy to coach someone on a deep level.
You probably didn't become a coach so that you could live month-to-month, paycheck-to-paycheck, slowly burning out as you try to take on more and more clients to make ends meet.
So, how do you achieve financial success while allowing yourself to provide amazing support for your clients?
High-end coaching packages could be your solution.
Common Misconceptions About High-End Coaching Packages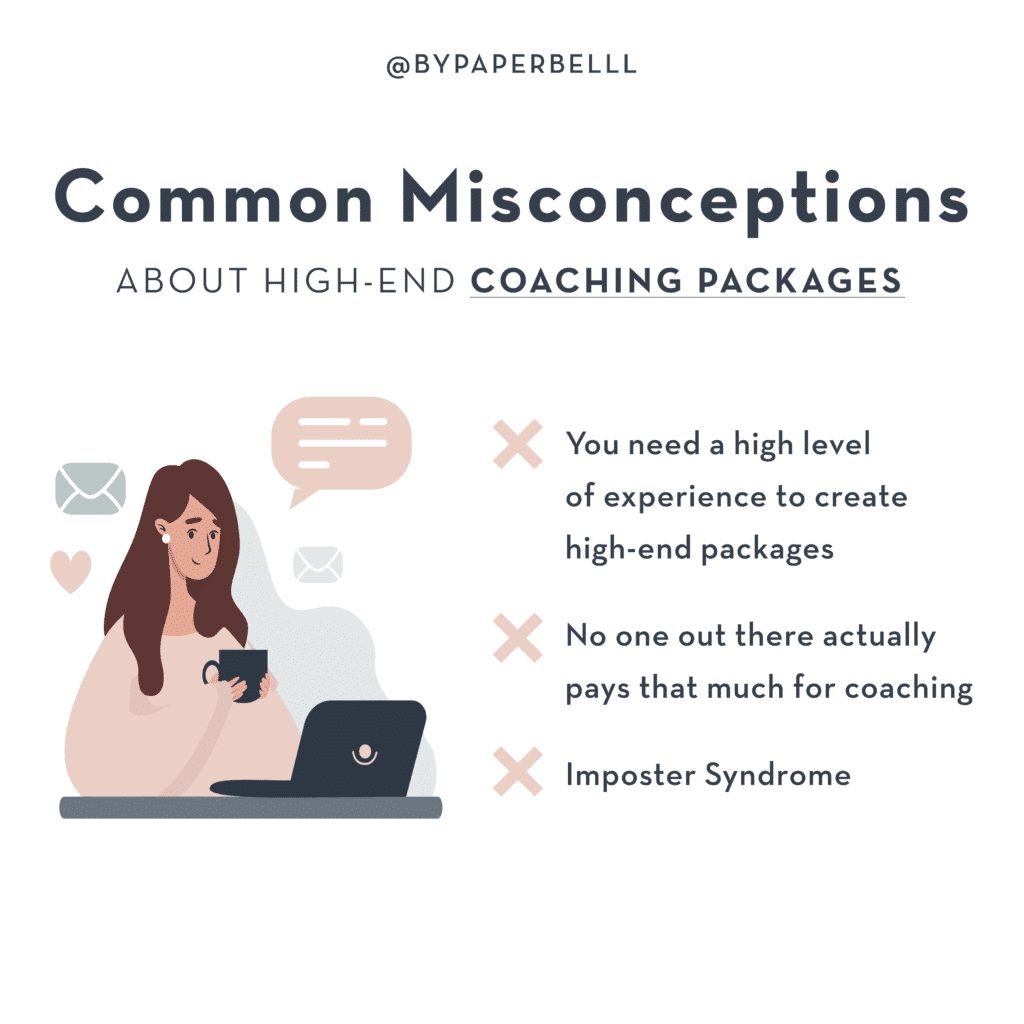 So many coaches believe they're not worthy of charging high-end prices.
And there can be so many reasons why.
Maybe you believe you don't have enough experience just yet.
Maybe you think no one out there actually pays this much for coaching (hint – there are, and they do!)
Or, maybe you believe no one would pay YOU that much! Imposter syndrome is too real, and almost every coach believes this at some point.
But here's the thing about high-end coaching – it's on a completely different level compared to lower-end packages.

People aren't paying for a certain amount of experience. They're paying for the results this package can get them.
When you provide high-end coaching, you're serving your clients on a much deeper level. That's because high-end coaching is so much more than adding a few zeros at the end of your usual pricing. By charging more, you allow yourself the space to go as deep as you need to with your client and provide true breakthrough moments.
A lot of your energy will go into supporting your client. They provide you with a high level of energy in the form of money, and in exchange, you'll be expected to show up on a higher level, yourself.
This is something you can do, even if you don't have decades of experience!
Oh, and don't think only business and executive coaching packages can be sold to VIP clients. They might have the reputation of being the highest-paid coaching niches, but in reality, you can create a coaching package in any coaching niche if you can add massive value to your client's life.
Why It's Worth Creating High-End Coaching Packages
Do you still find the idea of switching to premium offers in your coaching business intimidating? Here are a few reasons why it's worth making this transition in your practice.
You Can Position Yourself Better
High-end packages position you as an expert in your field and communicate to potential clients that you offer a premium level of service and expertise. With this increased level of trust, you can close more deals and concentrate your energy on more profitable offers in your business. Earning a better brand reputation can even lead to word-of-mouth referrals and increased visibility in your industry.
Your Revenue Will Increase
High-end packages naturally come with higher fees, which means you can earn more income from fewer clients. This will allow you to focus on providing top-notch services and really go all out on the coaching relationships you take on. Remember, you're not billing for the time spent on coaching but the level of impact you create on your clients' lives. Working most closely with a smaller group of clients allows you to create that impact and help them achieve more significant and sustainable transformations.
You'll Attract Better Clients
High-end packages speak to clients who are committed, serious, and value the specialized services you provide. Switching to these packages can give you a way to finally land those dream clients you've been wanting to work with. Try adding some scarcity to your offer to motivate your clients to act quickly and secure their spot.
You Can Create A Stronger Offer
With high-end packages, you can offer more personalized and in-depth coaching, tailoring your approach to meet the specific needs and goals of each client. You will also have the capacity to incorporate chat support or create other training materials to further increase the value of your packages. By working with fewer clients at a higher fee, you can have more flexibility in your schedule, allowing you to allocate time to other areas of your business or personal life.
It Will Help You Grow
Charging higher fees for your services can boost your confidence as a coach, reinforcing the value you bring to your clients' lives. It will also encourage you to continuously improve your skills and knowledge so that you can offer more to your coachees. It's not just a business tool but a growth tool for you as well to push your limits and get better at all aspects of your coaching business.
How to Structure High-End Coaching Packages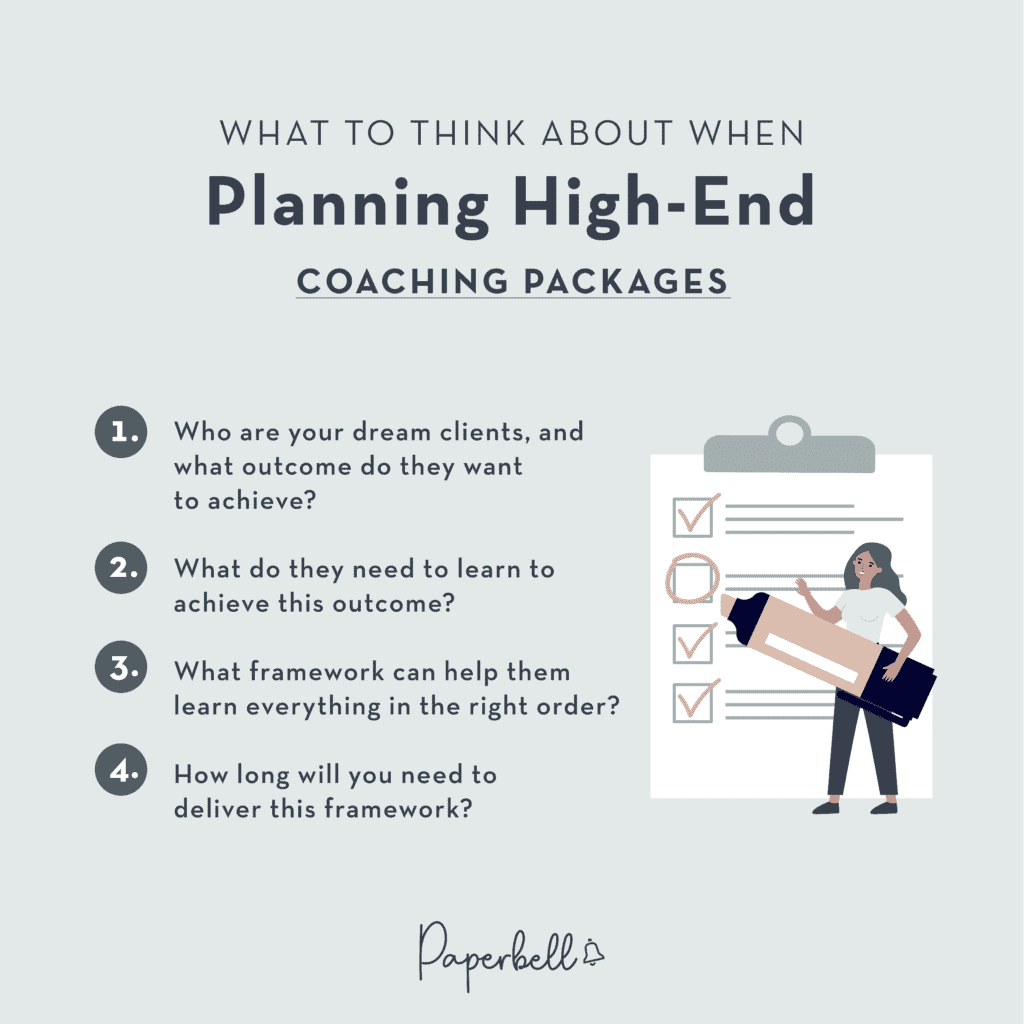 If you want to provide the highest level of experience and results that high-end coaching clients are looking for, you'll need a package that steps up to the plate.
1. Determine the Length Of Your Program
For starters, high-end packages should be a minimum of three months long, unless your process allows your clients to get to their desired outcome in a shorter period of time.
But that will rarely be the case.
Three months isn't a magic number – you can package your service to last an entire year if you believe that is what your clients need.
On the other hand, you could also provide a shorter (but more intensive) period of time, like a VIP day. A single day of extreme focus can be so effective at achieving bold goals!
2. Organize The Content Of Your Program
Think about how you want to break down what needs to be worked on and how long a client typically needs to absorb and integrate what they've learned. For instance, if you're walking clients through deep-set trauma to help them overcome huge blocks in their life, they may need more than a week in between sessions to fully take in the experience.
To help you establish how long a high-end coaching package should last, consider documenting your process, just like you would with a signature coaching program:
Who are your dream clients, and what outcome do they want to achieve?
What do they need to learn to achieve this outcome?
What framework can help them learn everything in the right order?
How long will you need to deliver this framework?
However, not all signature coaching programs are necessarily high-end so you will need a little bit more to truly provide an out-of-this-world experience for your dream clients.
3. Consider Additional Support And Other Services
On top of the framework you're planning, establish what other support systems you'll provide. There's a high likelihood that your clients will have questions or need your input in one way or another in between sessions.
It's important that you clarify how you'll deliver this support so that you can establish clear boundaries. A high-end price tag isn't a permission slip to fully take over your life and call you at every possible hour – unless that's the level you're willing to provide, of course!
One way to give support, without constantly hopping on additional hour-long calls, is by using a voice-chatting app like Voxer. You can establish your 'office hours' and let your high-end clients know they can reach out to you for questions or feedback via a channel like this.
Just don't make the mistake of offering more than one support channel at the same time! This can get overwhelming with a single client – imagine when you'll be juggling more than one.
If you have to constantly hop between emails, Voxer, text messages, Instagram DMs, and comments on a Facebook group, you'll get exhausted and won't have as much energy to dedicate to your clients.
Make sure you specify how long it will typically take you to reply. Your high-end clients should always know what to expect.
And if you happen to over-deliver on what you promised? Even better. Just as long as what you are doing contributes to what they need to achieve their desired outcome.
How to Deliver High-End Coaching Programs
Once you have the contents of your package structured, it's time to get down to the nuts and bolts. How to actually put the package out in the wild so that clients can buy it?
Paperbell is an online software tool for selling and delivering high-end coaching programs. Your clients will experience a smooth onboarding process where scheduling, payment, client intake and even contract signing all happen in one place.
When going high-end it's important that your business doesn't look too "homemade". You don't want the onboarding process to be a disorganized mess, sending clients random links and not having one central place for them to schedule, pay, and receive coaching materials from you. Paperbell solves all of these problems.
Paperbell also allows you to easily deliver any kind of program you can imagine including group coaching and securely delivering online materials like audio downloads and journal prompts.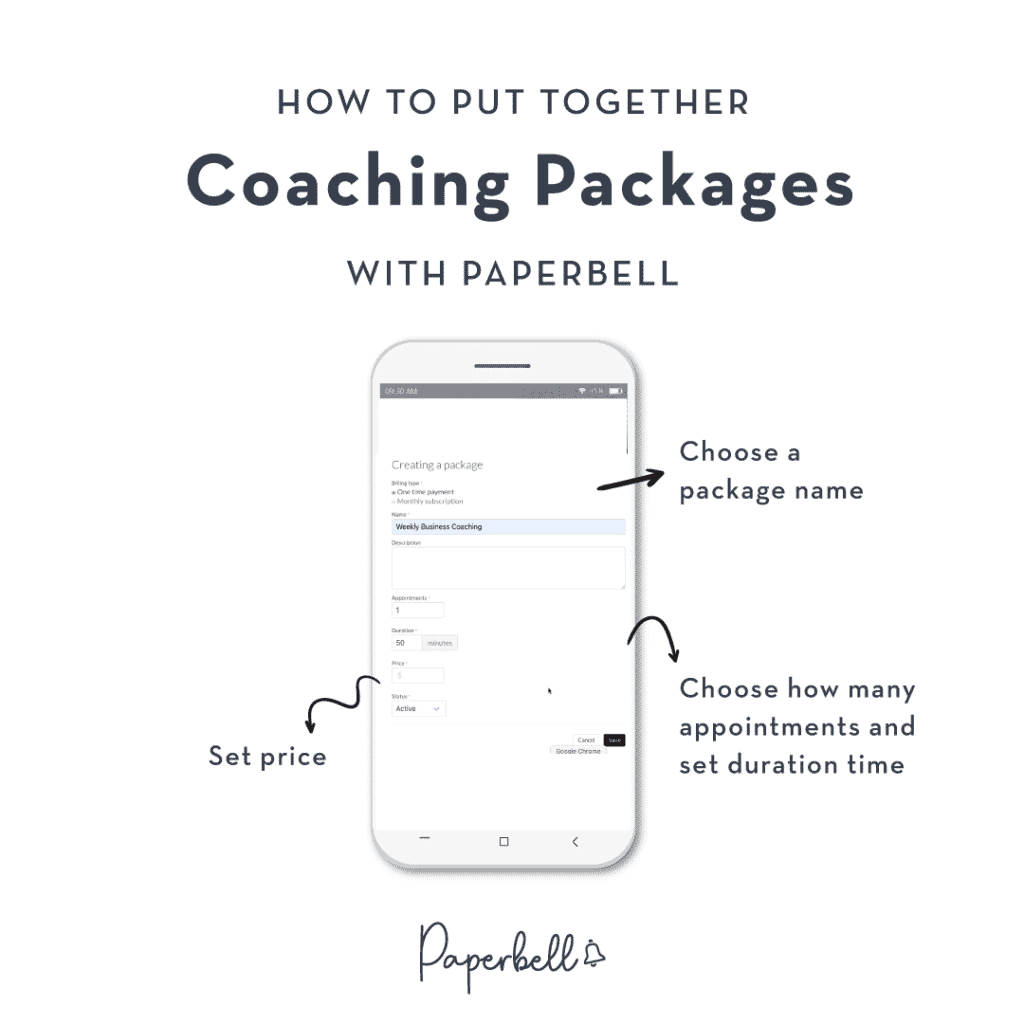 How to Name High-End Coaching Packages
The very first thing your future dream clients will see from your high-end coaching package is the name.
Brand names provide a first impression and can help potential clients determine whether or not they're interested in learning more about your program.
Don't be tempted to fill the name of your program with buzzwords that don't mean anything. A more complex-sounding name doesn't mean your program sounds like it's worth more. Instead, focus on the outcome you're promising.
What is it about this outcome that matters so much for your clients?
What challenges are currently blocking them from achieving this result on their own?
What key actions will they need to take to bust through these blocks?
These are some questions that can help you come up with a strong name for your program.
Your name should be descriptive and hint at the type of transformation or outcome your future clients can expect. If they read the name and end up more confused than how they started, chances are you still need to refine it!
How to Price High-End Life Coaching Packages
With high-end packages, pricing can vary drastically depending on a variety of factors. Ultimately, you need to determine what to include in a coaching package.
One thing that's important is not to undercharge. By undercharging, you'll be more likely to need to take on more clients at once, which will leave you with less energy to give to them.
And since the goal of a high-end package is to show up on a higher level, underpricing defeats the purpose.
You can only get so far by providing high value for low coaching prices. Giving too much for too little can put you at risk of burnout, and at that point, you're helping no one!
To make sure you are pricing correctly in order to empower yourself to deliver at the level your high-end clients deserve, break down the following:
How long will each coaching session take?
How many coaching sessions are included over the course of the package?
How much time do you estimate your most high-touch clients will take for support outside of your coaching sessions?
How many clients do you think you can take per month at this level (and how much do you want to make each month)?
Once you've figured this out, add at least another 20% to your price tag, because chances are, some clients will require much more energy than you anticipate. And as far as prices go, the sky is the limit. Some very high-end coaches like Amanda Frances charge $100,000 and upwards for their private coaching.
It's better to start with a higher price and allow yourself to overdeliver than to underprice and only show up half as powerful as you know you can on your best days.
You can also find out what other coaches are charging right here!
Examples of High-End Coaching Packages
All of this sounds great in theory, but what do high-end coaching packages look like in the wild?
Let's look at some examples.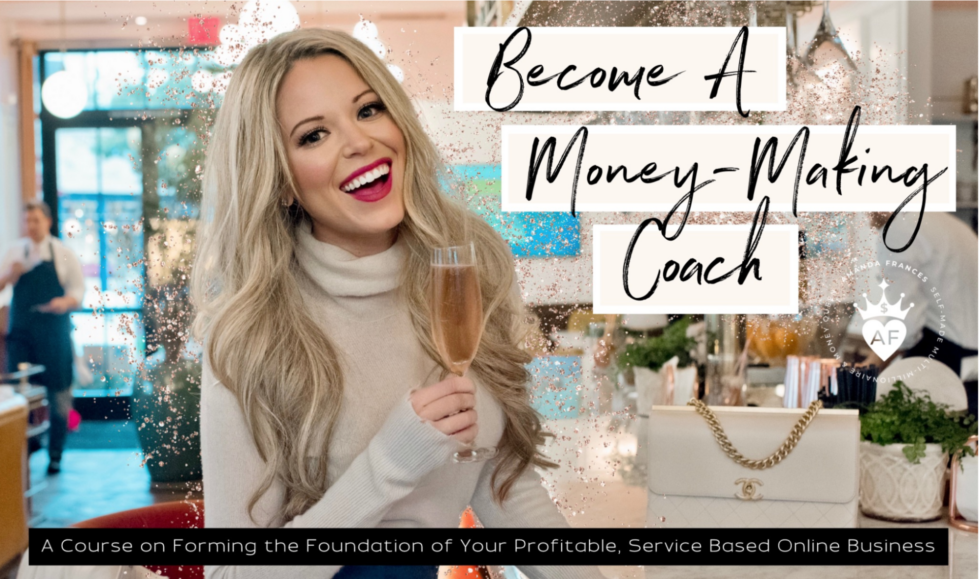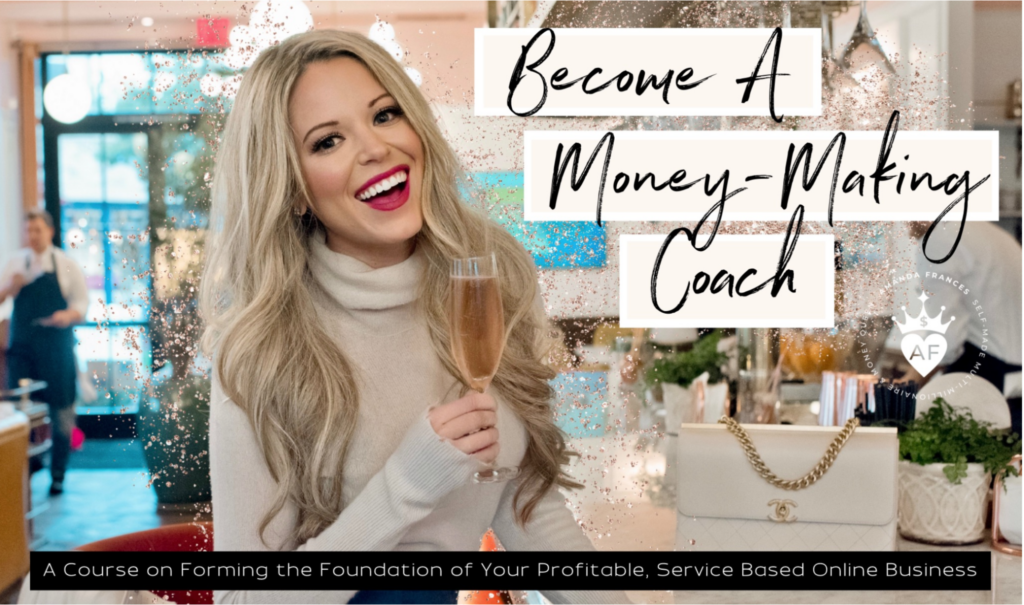 Image source: amandafrances.com
The brand name of this program instantly suggests what it offers: building a profitable service-based online business. Amanda clearly outlines the core content of her program and the outcomes attendees can expect.
Her seven modules include identifying the target audience of your coaching program and strategies for establishing a solid online presence. She also offers bonuses like templates and marketing training which make her coaching package more competitive than other similar offers.
Beyond her training program and the bonuses, she offers:
Lifetime access to her community of members
A peer-to-peer support group of other people completing her course
She charges $1,555 in total for members who want to join her program.
Think about what extra value you can provide with your packages besides your coaching sessions or training videos. The more interactive and personalized your program, the more you can charge for it. On the other hand, adding pre-recorded materials to your packages can increase their value without requiring any of your time.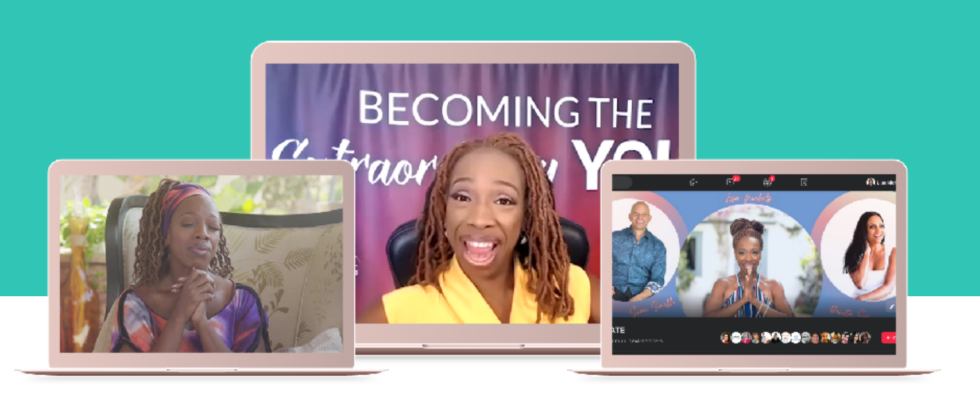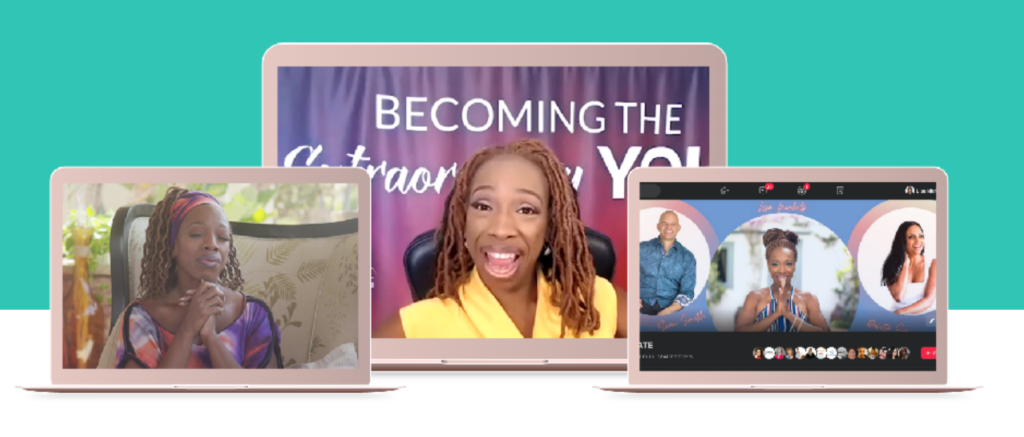 Image source: motivatingthemasses.com
Lisa Nichols is one of the most well-known speaking coaches and motivational speakers in the world. Emerging from her rags-to-riches story, she's now busy running her own business, one of the only two public companies founded by a black American woman.
Naturally, her time is limited. Yet, she still found a way to provide live group coaching sessions for her attendees thanks to two coaches from her team. This way, she can offer 6 live Q&A calls, dedicated support ambassadors, as well as access to accountability groups as a part of her package.
Teaming up with other coaches can give you a way to provide more value to your clients while sharing the load of building a more robust program. She charges $1,997 in total for joining Elevate and offers payment plans as well.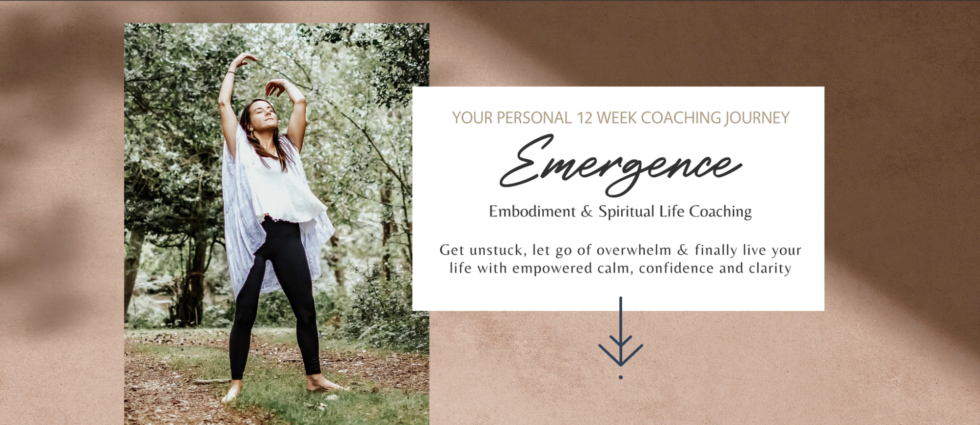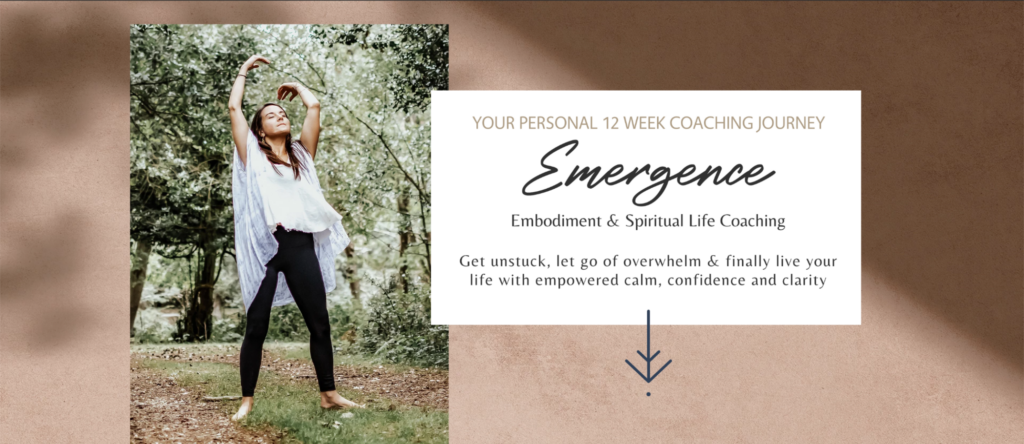 Image source: www.rachelbednarski.com
Rachel Bednarski offers an embodiment and spiritual life coaching program called Emergence that consists of 12 weeks. In these three months, she guides her clients from overwhelm and overthinking into being present in their body and connected to their intuition.
Her program includes:
6 x 75-minute 1-1 coaching calls on Zoom, plus the recordings of these sessions
3 x 75-minute live 1-1 breathwork sessions on Zoom
12 x online group Shake Out classes
Support in between the sessions throughout the 12 weeks via the popular chat app, Voxer​
Plus a bonus yoga course
She charges £1777 for the whole experience.
Notice that we mentioned "experience" instead of 12 weeks of coaching or X number of sessions. At the end of the day, your clients want to know what they can walk away with after completing your program. Complementing your sessions with additional materials, events, and support can boost the positive impact you can provide within the same time frame and consequently, increase the price of your program.
Launch a High-End Coaching Package With Confidence
If you feel called to serve on a higher level and help your dream clients achieve what they never believed they could, you too can price your own high-end life coaching packages and launch your new offer, even if you don't feel ready yet.
Remember that qualifying your potential clients is key to your success if you want to offer high-end coaching packages! You can easily set up your own booking process and ask qualifying questions before prospective clients book their first call using Paperbell. The best part? You can start with your first client for free!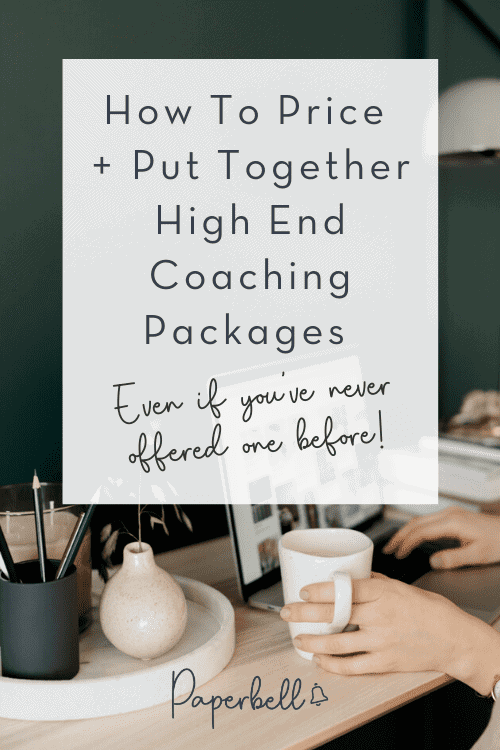 Editor's Note: This post was originally published in January 2023 and has since been updated for accuracy.