Coaching isn't an easy career.
It's your calling, and you do it because you love it, but it takes so much time and energy to coach others on a deep level.
You probably didn't become a coach so that you could live month-to-month, paycheck-to-paycheck, slowly burning out as you try to take on more and more clients to make ends meet.
So, how do you achieve financial freedom, while allowing yourself to provide amazing support for your clients?
High end coaching packages could be your solution.
Common Misconceptions About High-End Coaching Packages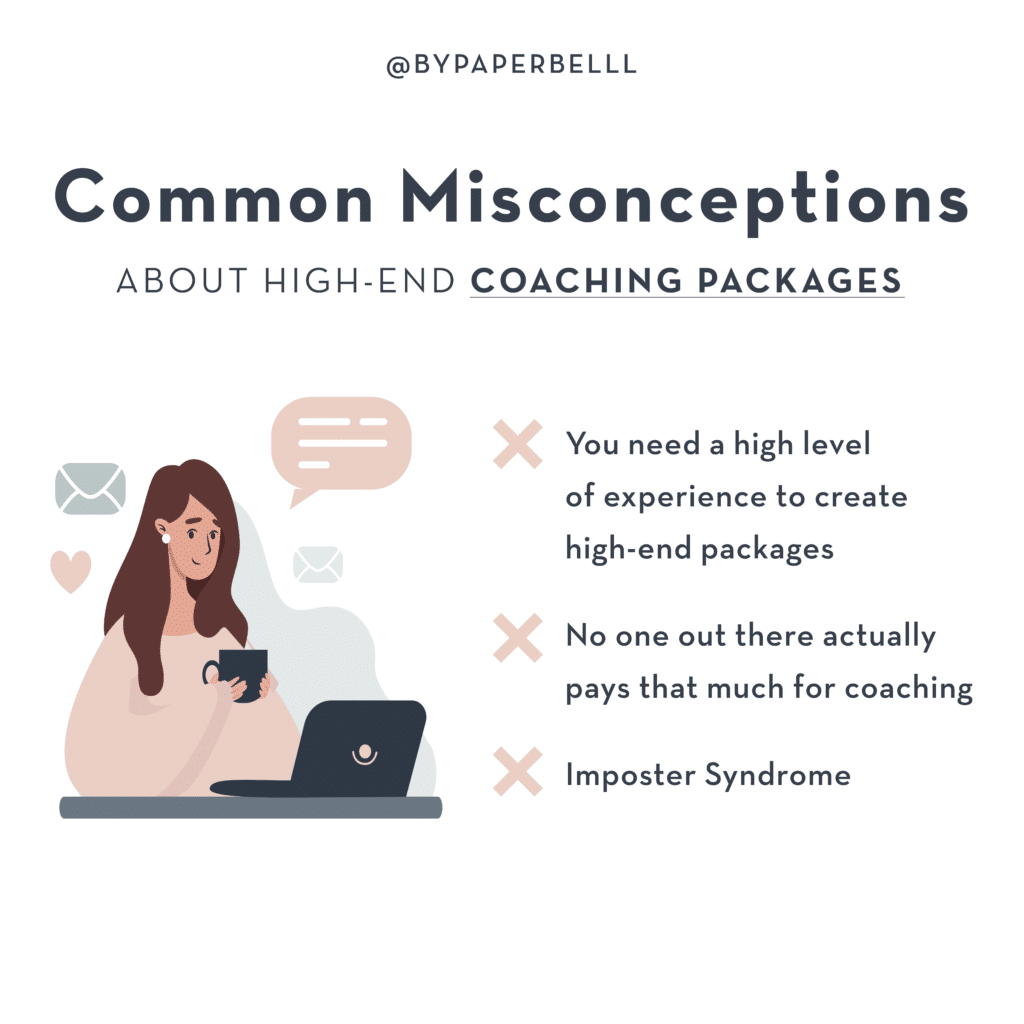 So many coaches believe they're not worthy of charging high-end prices.
And there can be so many reasons why.
Maybe you believe you don't have enough experience just yet.
Maybe you think no one out there actually pays this much for coaching (hint – there are, and they do!).
Or, maybe you believe no one would pay YOU that much! Imposter syndrome is too real, and almost every coach believes this at some point.

But here's the thing about high-end coaching – it's on a completely different level, compared to lower-end packages.
People aren't paying for a certain amount of experience. They're paying for the results this package can get them.
When you provide high-end coaching, you're serving your clients on a much deeper level. That's because high-end coaching is so much more than adding a few zeros at the end of your usual pricing. By charging more, you allow yourself the space to go as deep as you need to with your client and provide true breakthrough moments.
A lot of your energy will go into supporting your client. They provide you with a high level of energy in the form of money, and in exchange, you'll be expected to show up on a higher level, yourself.
This is something you can do, even if you don't have decades of experience!
How to Package High-End Coaching Packages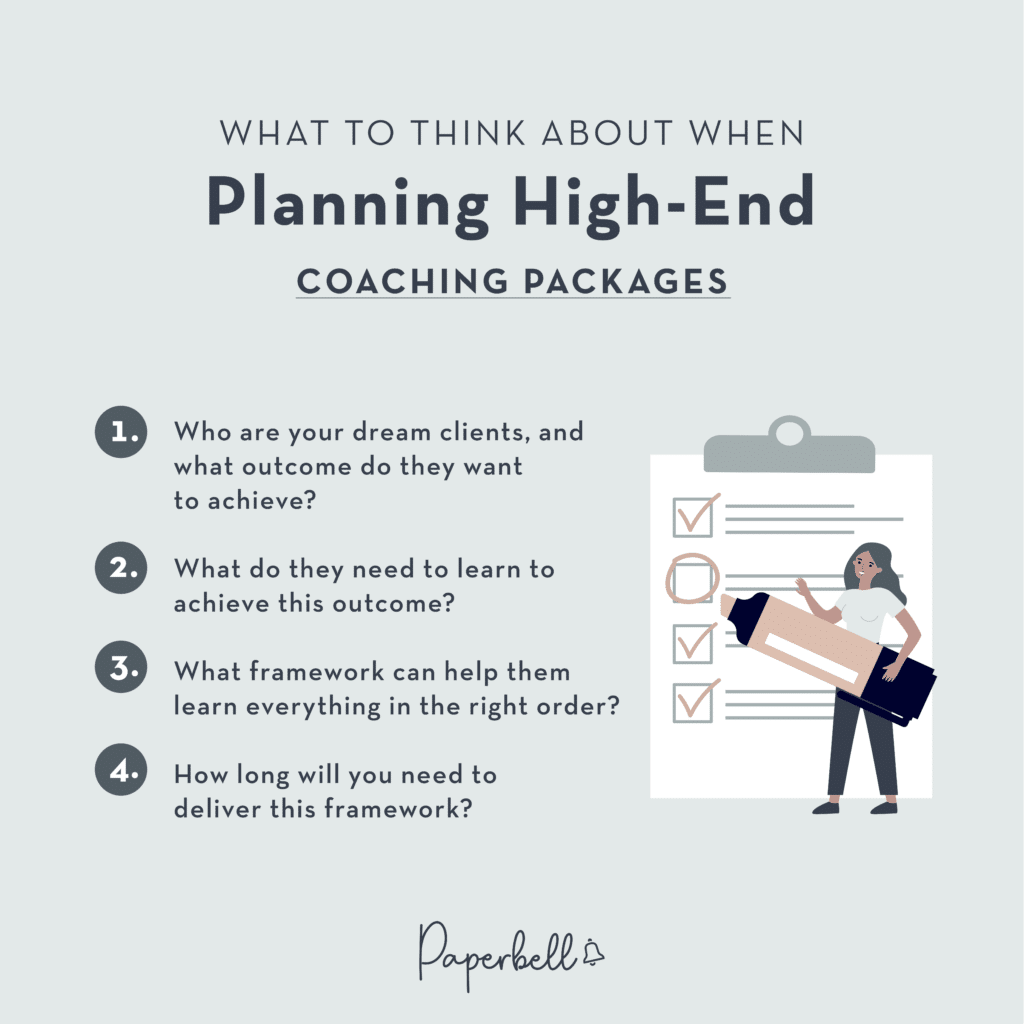 If you want to provide the highest level of experience and results high-end coaching clients are looking for, you'll need a package that steps up to the plate.
For starters, high-end packages should be a minimum of three months long, unless your process allows your clients to get to their desired outcome in a shorter period of time.
But that will rarely be the case.
Three months isn't a magic number – you can package your service to last an entire year if you believe that is what your clients need.
On the other hand, you could also provide a shorter (but more intensive) period of time, like a VIP day. A single day of extreme focus can be so effective at achieving your goals!
Think about how you want to break down what needs to be worked on and how long a client typically needs to absorb and integrate what they've learned. For instance, if you're walking clients through deep-set trauma, to help them overcome huge blocks in their life, they may need more than a week in between sessions, to fully take in the experience.
To help you establish how long a high end coaching package should last, consider documenting your process, just like you would with a signature coaching program:
Who are your dream

clients

, and what outcome do they want to achieve?
What do they need to learn to achieve this outcome?
What framework can help them learn everything in the right order?
How long will you need to deliver this framework?
However, not all signature coaching programs are necessarily high-end, and so you will need a little bit more to truly provide an out-of-this-world experience for your dream clients.
On top of the framework you're planning, establish what other support systems you'll provide. There's a high likelihood that your clients will have questions or need your input in one way or another in between sessions.
It's important that you clarify how you'll deliver this support, so that you can establish clear boundaries. A high-end price tag isn't a permission slip to fully take over your life and call you at every possible hour – unless that's the level you're willing to provide, of course!
One way to give support, without constantly hopping on additional hour-long calls, is by using a voice-chatting app like Voxer. You can establish your 'office hours' and let your high-end clients know they can reach out to you for questions or feedback via a channel like this.
Just don't make the mistake of offering more than one support channel at the same time! This can get overwhelming with a single client – imagine when you'll be juggling more than one.
If you have to constantly hop between emails, Voxer, text messages, Instagram DMs, and comments on a Facebook group, you'll get exhausted and won't have as much energy to dedicate to your clients.
Make sure you specify how long it will typically take you to reply. Your high-end clients should always know what to expect.
And if you happen to over-deliver on what you promised? Even better. Just as long as what you are doing contributes to what they need to achieve their desired outcome.
How to Deliver High-End Coaching Programs
Once you have the contents of your package structured, it's time to get down to the nuts and bolts. How to actually put the package out in the wild so that clients can buy it?
Paperbell is an online software tool for selling and delivering high-end coaching programs. Your clients will experience a smooth onboarding process where scheduling, payment, client intake and even contract signing all happens in one place.
When going high-end it's important that your business doesn't look too "homemade". You don't want to the onboarding process to be a disorganized mess, sending clients random links and not having one central place for them to schedule, pay, and receive coaching materials from you. Paperbell solves all of these problems.
Paperbell also allows you to easily deliver any kind of program you can imagine including group coaching and securely delivering online materials like audio downloads and journal prompts.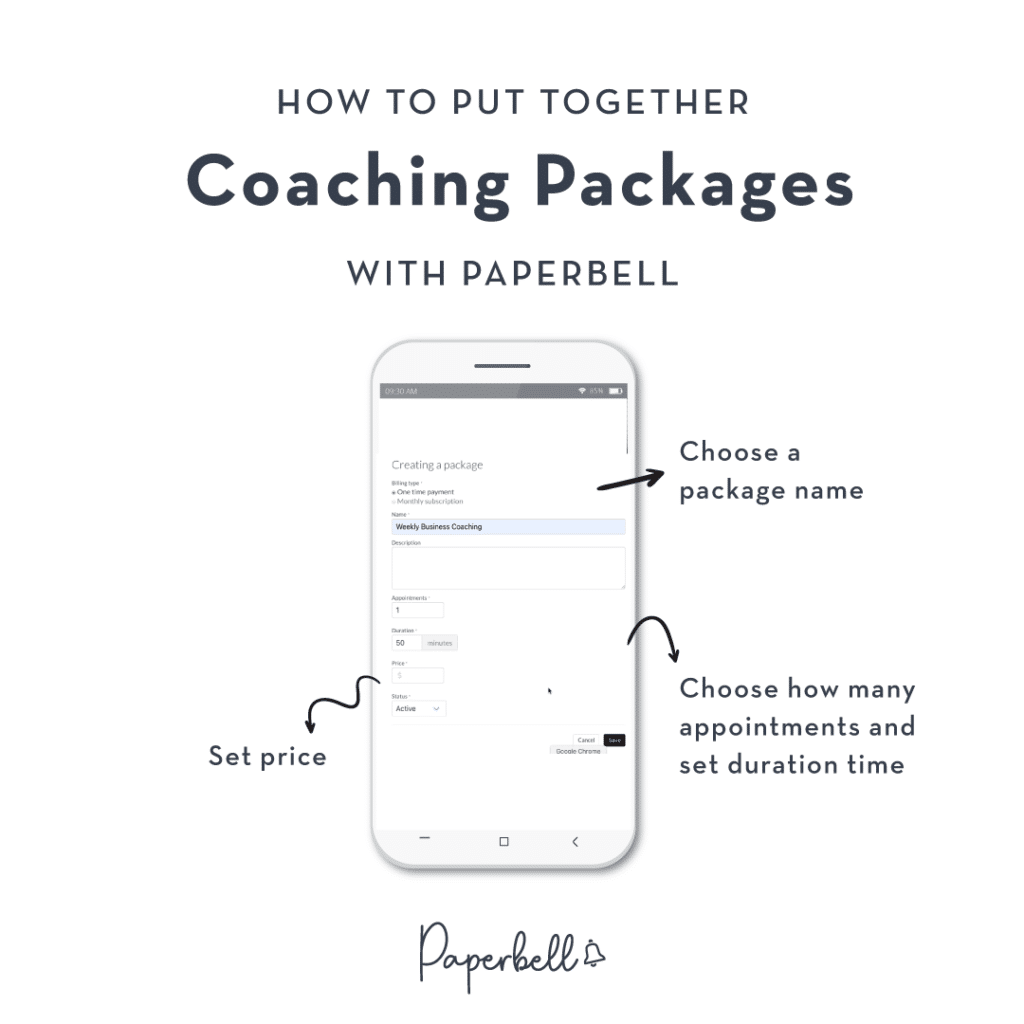 How to Name High-End Coaching Packages
The very first thing your future dream clients will see from your high-end coaching package… is the name.
Names provide a first impression and can help potential clients determine whether or not they're interested in learning more about it.
Don't be tempted to fill the name of your program with buzzwords that don't mean anything. A more complex-sounding name doesn't mean your program sounds like it's worth more. Instead, focus on the outcome you're promising.
What is it about this outcome that matters so much for your clients? What challenges are currently blocking them from achieving this result on their own? What key actions will they need to take to bust through these blocks?
These are good coaching questions that can help you come up with a name.
Your name should be descriptive and hint to the type of transformation or outcome your future clients can expect. If they read the name and end up more confused than how they started, chances are you still need to refine that name!
How to Price High-End Life Coaching Packages
Ah, the question of price! With high-end packages, pricing can vary drastically depending on a variety of factors. Ultimately, you need to determine what to include in a coaching package.
One thing that's important is not to undercharge. By undercharging, you'll be more likely to need to take on more clients at once, which will leave you with less energy to give to them.
And since the goal of a high-end package is to show up on a higher level, underpricing defeats the purpose.
You can only get so far by providing high value for low coaching prices. Giving too much for too little can put you at risk of burnout, and at that point, you're helping no one!
To make sure you are pricing correctly in order to empower yourself to deliver at the level your high-end clients deserve, break down the following:
How long will each

coaching

session take?
How many

coaching

sessions are included over the course of the package?
How much time do you estimate your most high-touch

clients

will take for support outside of your

coaching

sessions?
How many

clients

do you think you can take per month at this level (and how much do you want to make each month)?
Once you've figured this out, add at least another 20% to your price tag, because chances are, some clients will require much more energy than you anticipate. And as far as prices go, the sky is the limit. Some very high end coaches like Amanda Frances charge $100,000 and upwards for their private coaching.
It's better to start with a higher price and allow yourself to overdeliver than to underprice and only show up half as powerful as you know you can on your best days.
You can also find out what other coaches are charging right here!
Examples of High-End Coaching Packages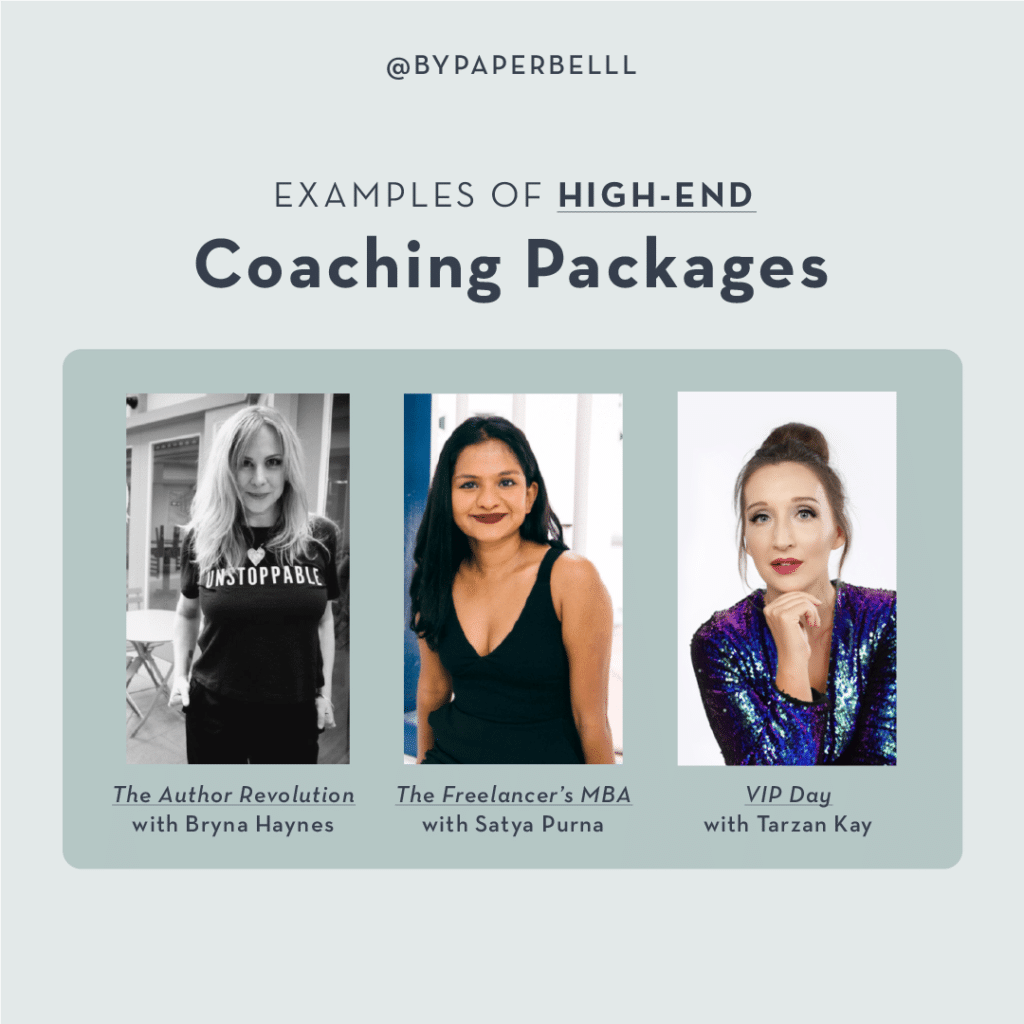 All of this sounds great in theory, but what do high-end coaching packages look like in the wild?
Let's look at some examples.
For service providers and course creators who want to achieve out-of-this-world results for a launch but have no idea how to achieve this, Tarzan can help.
With several 7-figure launch clients behind her, Tarzan now only works one-on-one via VIP days. Starting at a 5-figure investment, clients can use their VIP day to completely strategize and plan out their launch.
Keep in mind that Tarzan wants her VIP day clients to get a return on their investment, so she knows how to qualify her clients. Only clients who have launched before and made at least $20,000 in sales in a single launch are qualified for a VIP day.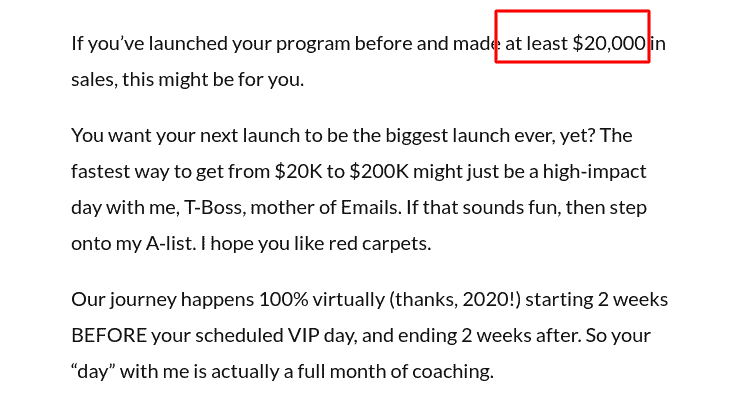 You can apply this to your own program as well – perhaps you can only provide the high-end results your clients are looking for if they have already achieved something in particular.
She also provides a kickoff call to plan the VIP day, as well as some follow-up support.
The Author Revolution is designed for entrepreneurs who are serious about creating impact and upleveling their income with a non-fiction book that establishes thought leadership.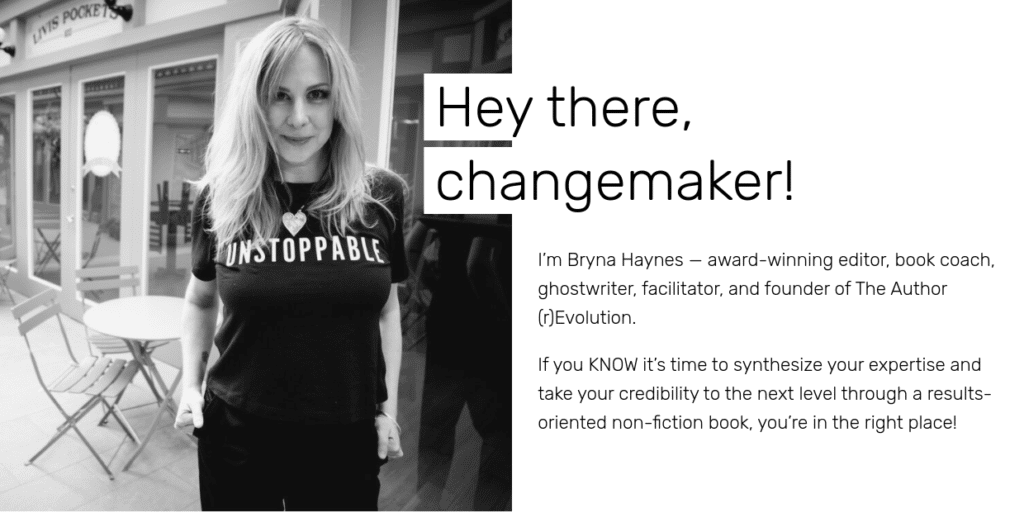 Prices start in the high five figures to work with Bryna, and in exchange, she guides you through her proven book creation process.
In addition to coaching and support, she also provides ghostwriting and editing services, as well as design services and publishing consulting.
This one is slightly meta – because Satya coaches service-based entrepreneurs on how to launch and sell high-end packages.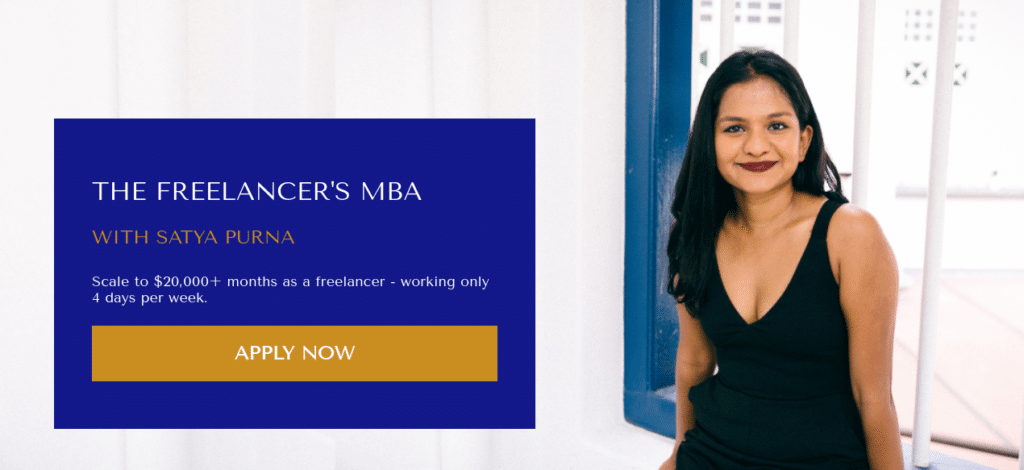 Her goal is to help freelancers scale to $20k+ months without burning out.
This package lasts 12 months and is broken down into three phases:
Implementing a high-ticket freelancing model
Systemizing your processes
Learning how to sell your packages
Just like Tarzan, Satya knows who she wants to work with! For instance, her package doesn't apply to coaches or to people who are brand new to their service-based business.
Launch a High-End Coaching Package With Confidence
If you feel called to serve on a higher level and help your dream clients achieve what they never believed they could, you too can price your own high-end life coaching packages and launch your new offer, even if you don't feel ready yet.
Remember that qualifying your potential clients is key to your success if you want to offer high-end coaching packages! You can easily set up your own booking process and ask qualifying questions before prospective clients book their first call using Paperbell. The best part? You can start with your first client for free!