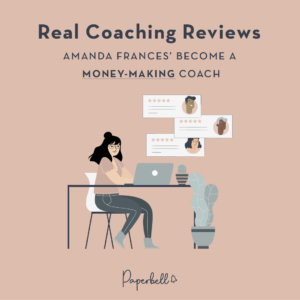 Amanda Frances' Become a Money Making Coach (BMMC) focuses on making money only by covering a variety of topics in an extensive way.
From basic coaching skills through determining your ideal client and marketing to energetic principles around your money mindset, the course gives you a money mentality makeover. If you're struggling with making money and becoming a successful coach, this course could be for you.
The course also has some cool additional resources like the legal bonus, the pre-work training, and FAQ call recordings.
Want to find out if Amanda Frances' courses are worth it and whether you can use them to get over your money blocks? Then, keep reading this Amanda Frances review! Unlike other Amanda Frances reviews, this one is honest and by someone who actually did the course.
Let's get into it.
Who is Amanda Frances?
Amanda is a best-selling author, thought leader, and businesswoman who runs an eight-figure global brand that empowers women to run their own businesses and create financial abundance. Her book Rich As F*ck is a best seller.
She previously worked in mental health counseling and has spent years using her life experience and expertise to create some of the greatest online courses for women who want to become online life coaches.
Her website states her mission is helping good-hearted women achieve financial empowerment. How? Through teaching women personal development and working on their subconscious money mentality, wealth paradigms, and negative beliefs around their possibility to make money.
Unlike other life coaches, Amanda's technique blends business with spiritual practices to get results. Her spiritual brand is well-regarded in the online coach community.
You Don't Need A Certification To Be a Great Coach
I think my biggest a-ha moment I had through the money queen Amanda Frances' course was that I don't need a certification to be a good coach – but instead, I need to embody what I teach. This is what actually gave me the confidence to start my life coach journey.

Amanda leads you through a process where you determine exactly what it is that you can help your clients with and create a framework for yourself. I still successfully work with the practical financial advice I discovered through the money mentality makeover course.
How I Started My Coaching Business
Before I took Amanda's course, I was struggling as a blogger and freelance web designer. I had the dream of becoming a life coach for quite a while, but I didn't think that I'd succeed as a coach and lacked a positive money mindset.
When the email with the Amanda Frances course offer popped up in my inbox, I just knew that it was now or never. I then started out as a coach while I was still working through the course. Being a coach is my life's passion and calling, and I was able to quit my 9-to-5 and support myself with my coaching business – even after I became a mom.
An Online, Self-Study Money Mentality Makeover Review
Amanda Frances' BMMC is a self-study course, but Amanda offers a peer-to-peer Facebook support group – which I found very helpful.
The Facebook group is very active and a great place to nurture connections with like-minded people,
I am still in touch with some of the people I met there, and I really enjoy watching and being part of their journeys and learning from their money stories. It's great to create a supportive relationship with others who went through the exact same thing and are on the spiritual path too.
Amanda Frances

: Course Outline

The following information comes directly from the overview of the course Amanda Frances runs:
Making money online as a coach was designed to help you:
Identify your personal coaching strategy and give you a profound understanding of your unique gifts for helping others to create growth and healing in their own lives.
Learn the skills for creating a safe and supportive online business environment that enables change within your client.
Form your strategy for establishing your online presence, and get practical advice for your sales page. Make it easy for clients to find you and arrange one on one consultations.
Identify who in the world needs your coaching and what it is you do to help them.
Use other business models to give you the inspiration to create your own successful business model.
Integrate trust and ease into the manifestation process. Allow yourself to receive money through your coaching business with the use of spiritual and energetic techniques.
Prework for the money mentality makeover program:
The Business Basics Bootcamp
What it Takes to Go Big in Business
Core Modules:
Module One: Coaching Skills
Module Two: Getting Clear
Module Three: Believing in Yourself, Telling Your Story, Creating Your Brand
Module Four: Let's Get Visible
Module Five: Implementation Week
Module Six: Vision. Goals. Super Clarity
Module Seven: Next Level Manifesting Money
Bonuses:
Life Coach

Legal Bonus (Including tax advice)
Internet Marketing for Coaches
FAQ Trainings
Explode Your Online Presence
Facebook Famous
Earning Six Figures as a Heart-Centered Entrepreneur
How to Slay Insta-Stories
How Much Does the Amanda Frances Online Course Cost?
At the time of publication, to gain instant access to these online courses, it was $2,200.
If you can't afford to pay upfront, there's a payment plan option where you make monthly payments.
A Good Fit for Someone Who Wants to Start a Coaching Business
The Money Mentality Makeover course is a good fit for anyone who wants to start a coaching business but doesn't know how or where to start or doesn't have a clear business model.
I also think the Amanda Frances approach is very helpful for practicing coaches who want to change their relationship with money advance their business and make more money. I still get back to the modules if I feel like I need fresh input on what to do next in my business, and I always draw new inspiration and answers from the course.
People who are looking for a quick fix or just money and are not really serious about helping others through their work are not a good fit for the program.
The program goes really deep into your mindset, passion, and purpose. Anyone who wants to be financially successful and is not willing to do this work should not invest in this program. It's not only about making money but working on your inner game and finding your purpose as a coach.
Overall Amanda Frances Review: Thumbs Up!
So is the Money Mentality Makeover worth it?
My overall Amanda Frances review is that I 100% recommend BMMC to anyone who feels drawn to it. The tools in the course changed my whole life and helped me live my purpose and create a self-determined life on my own terms – and help others to do so, too.
You can read more success stories from people who took the course on the money queen's website.