Do you have a way with money?
Do your family and friends consistently turn to you for budgeting tips and tricks?
If so, you may have what it takes to become a financial coach!
Financial coaching is an increasingly popular field that combines money management skills with personal development techniques. Keep reading to discover what's involved with this career, including:
What is financial coaching?
Financial coach vs. financial advisor
Requirements to become a financial coach
How to start a financial coaching business
How much does a financial coach make?
How to market your financial coaching services
What is Financial Coaching?
Financial coaching is a personalized way to help people and families achieve their financial goals. A financial coach works with clients to create tailored plans that address their unique needs, challenges, and aspirations.
You'll help your clients:
Budget
Save money
Pay off debts
Invest wisely for the future
And all that while developing helpful money management habits!
The ultimate goal? Helping them make informed decisions about their finances so they can live life on their own terms!
Financial Coach vs. Financial Advisor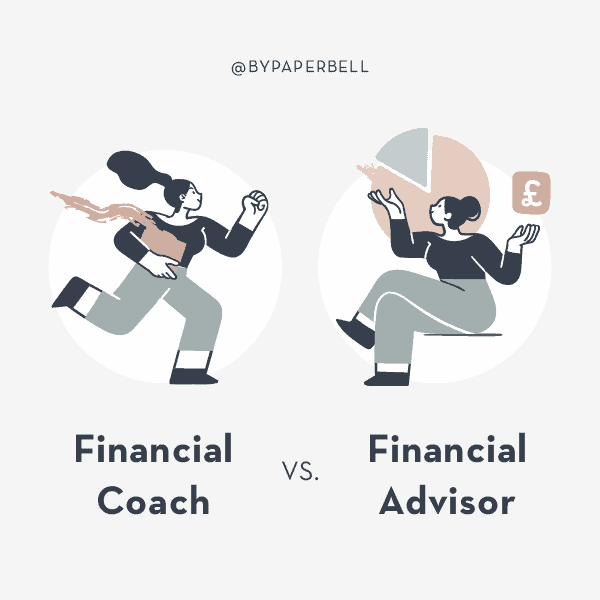 If you're considering a finance career, knowing the difference between financial coaches and financial advisors is important.
Both roles aim to help clients improve their financial situation, but they focus on different aspects of personal finances and require distinct skill sets.

First, a financial coach is a type of life coach who helps people develop good financial habits, set achievable goals, and make smart decisions about their money. Financial coaches usually don't offer investment advice or sell financial products.
Instead, they focus on financial literacy.
Financial advisors, on the other hand, can focus on more specialized financial sectors. Examples can include:
Investments
Taxes
Insurance policies
Estate planning
They're legally allowed to give specific recommendations based on their client's unique circumstances. A financial advisor's main objective is to help clients grow wealth by offering personalized investment advice tailored to individual needs.
Depending on the state and their practice, financial advisors need specific licenses to operate legally.
Requirements to Become a Financial Coach
While there aren't specific legal requirements or certifications required to become a financial coach, certain credentials can help establish credibility with potential clients.
It also helps to have an educational background in any of the following fields:
Finance
Accounting
Business
Although not legally required, getting an Accredited Financial Counselor (AFC) certification from the Association for Financial Counseling & Planning Education (AFCPE) can give you an extra boost of knowledge and credibility.
In addition to education and certifications, successful financial coaches have skills and qualities that help clients achieve goals. These include:
Strong communication skills
Educator mindset
Analytical abilities
Motivational expertise
Understanding and communicating financial basics is key to being a successful financial coach. With these skills, you can start learning how to create and market coaching packages to help your business succeed.
How to Start a Financial Coaching Business
Think financial coaching is for you? Here's how to become a financial coach and start your business!
1. Find your financial coaching niche
Niching down as a financial coach is an important step in creating a successful business. It's not enough to be "a financial coach"—you need to identify your specialty and the type of clients you want to work with!
That way, you can focus on your zone of genius and only attract your dream clients.
Start by considering who your ideal client is. Who are your favorite people to coach?
What are their goals? Are they looking for help managing debt or investing for retirement?
Do they have specific needs related to taxes or estate planning?
Think about what sets you apart from other coaches in the same field. What experience or qualifications make you unique?
Maybe it's a special certification, like being a Certified Financial Planner (CFP). Or perhaps it's knowledge gained through years of experience in the industry.
Whatever makes you stand out should become part of your brand message so potential clients understand why they should choose YOU over someone else!
2. Choose an accredited training program if you want to get certified
If you want to become a certified financial coach, then choosing an accredited training program is the best way to go to build credibility. The International Coach Federation (ICF) offers accreditation for coaches in over 140 countries!
To be eligible for ICF certification, you must complete at least 60 hours of professional coaching education and 10 hours of mentor coaching.
All applicants need to pass the written exam and show that they're good at core competencies like:
Active listening
Powerful questioning
Direct communication
Creating awareness
Designing actions
When looking for a financial coaching program that meets ICF standards, make sure it includes both classroom instruction and hands-on experience with real clients.
Look for programs that provide mentorship opportunities so you can learn from experienced professionals who have already been through the process themselves.
3. Come up with your first financial coaching offer
You'll have lots of competitors as a financial coach, even if you niche down. But one of the best ways to differentiate yourself is to come up with compelling financial coaching offers.
A coaching offer isn't the same as a coaching package. Here's the difference:
Coaching package: a list of all the deliverables you'll provide in your coaching program, such as coaching sessions, digital products, workbooks, and anything else you deliver to your clients.
Coaching offer: the outcome clients can expect when they purchase your coaching package.
Lots of financial coaches focus on selling coaching sessions — or they'll emphasize the details of their coaching packages.
But clients care more about the ways you can help them than about how many sessions they'll get!
That's why you should start by coming up with an offer — and build your coaching package from there.
For example, if your niche is financial coaching for single moms, you could have the following offer:
"I'll help you optimize your budget so you can send your kids to college."
See how that sounds way more compelling than a list of what's included in a coaching package?
4. Optional: create your financial coaching website
Creating a financial coaching website is an optional but powerful way to reach more clients and build your business. It can be daunting, though – there's so much that goes into it!
For example, you'll need to think about:
Your domain name
Where you'll host your website
What tool to use for website building and designing (WordPress, Squarespace, Weebly, etc)
A simpler option is to start with landing pages that host your coaching packages instead. (Hint – Paperbell lets you do that!)
How Much Does a Financial Coach Make?
The amount of money you make as a financial coach will be contingent on elements like your proficiency, locality, and promotional strategies.
According to PayScale, the average salary for a full-time financial coach in the United States is around $48,000 per year. However, this figure includes both employed and self-employed coaches; those who run their own businesses can earn more or less depending on:
Target market: If you want to make more money, it's better to specialize in working with high-net-worth people or entrepreneurs instead of people struggling with debt.
Pricing Strategy: Some coaches charge hourly rates while others offer high-end packages (like we described above!)
Location: Financial coaches who live in more expensive areas can charge more for their services. But don't forget that online coaching lets you work remotely and reach clients anywhere in the world!
Remember that it takes time and effort to build a successful financial coaching business. Promote yourself effectively (more on this topic below) since marketing plays an important role in attracting new clients.
How to Market Your Financial Coaching Services
If you want to grow your clientele as a financial coach, there's no way around it — you'll need to market yourself!
Here's a step-by-step process to build an effective marketing strategy for your financial coaching business.
1. Build an audience
It can be hard to attract clients and make money if you don't have a lot of engaged followers.
Social media platforms like Facebook, Instagram, Twitter, and LinkedIn offer great opportunities for connecting with potential customers.
Posting content regularly on these channels will help you establish yourself as an expert in the field while also increasing brand awareness.
If you have the budget to do so, you can also consider running ads on social media platforms such as Facebook to reach even more people who may be interested in what you have to offer.
Creating blog posts related to financial coaching topics is another effective way of building your audience.
Not only does this give readers valuable information about the industry but it also helps increase traffic to your website which can lead to more sales down the line.
Additionally, blogging allows you to share personal stories that can help connect with potential customers on a deeper level than just providing facts or statistics.
If you're using blogging as a strategy, you'll have two main ways to drive organic traffic to your blog: SEO optimization or Pinterest!
Alternatively, if you're better at speaking than writing, you can either start a podcast or be featured as a guest speaker on other people's podcasts. Being featured as a guest speaker on other people's podcasts is a great way to reach new audiences who may not have heard about you before now!
It's important, though, that whatever podcast series you participate in aligns well with your values and those of its listeners, so make sure any invitation received fits within these parameters before accepting it!
2. Create a financial coaching funnel
Building an audience is just the first step. Now you need to find a way to turn your audience members into leads…
… and turn those leads into paying clients!
Financial coaching funnels can look different depending on what audience-building strategies you're using. But all effective funnels should at least have the following four elements:
Awareness: This is where you build your audience (from step 1).
Engagement: At this point, new people have not only found your content, but they've started to engage with you. They also begin to know, like, and trust you!
Conversation: Engagement turns into a conversation. Whether you talk in the DMS, exchange info via email, or get on a free coaching discovery call, the goal is to have an open conversation with your leads.
Conversion: Your lead says yes and becomes a paying client!
You can learn more about building a custom financial coaching funnel in this blog post.
3. Launch a financial coaching newsletter
Starting a newsletter is one of the most cost-effective ways to engage with your audience and start conversations!
Here's what you'll need to start your financial coaching newsletter:
Choose your email service provider (ESP): You need an Email Service Provider (ESP) that allows you to manage your subscriber list and automate certain aspects of the newsletter. Here's a list of our favorite ESPs for coaches!
Create a lead magnet: A lead magnet is a valuable resource offered to email subscribers in exchange for joining a newsletter. The lead magnet should be actionable and help the client solve a related problem.
Set up and share your lead magnet: Set it up in your email service provider, add opt-in forms and popups to your website, and share with the audience you've built from Step 1.
Send your email newsletter consistently: Consistency is key to ensure subscribers know what to expect. While some coaches send daily emails, it's important to avoid sending boring or spammy newsletters that will turn subscribers off. Start with a cadence that feels comfortable, and adjust as needed.
Automate a welcome sequence: These are the first emails your subscribers will receive when they join your list.
Make sure to check out our post about coaching newsletters to dig deeper into this strategy!
4. Ask For Testimonials And Referrals
Satisfied clients will usually be happy to recommend you to others seeking financial guidance. Ask your clients to leave testimonials on your website or social media, and see if they know anyone else who could use a financial coach.
You can also ask them for a referral!
Become a Reliable Financial Coach
Being a financial coach is a very rewarding career choice that allows you to help people achieve their financial goals. By taking the time to:
Understand what it takes to become a financial coach
Set up your business
Market your services
…you can begin helping others on their journey towards success!
Need help streamlining the admin side of your financial coaching business? With Paperbell, running a coaching business online has never been easier! Try it for yourself by claiming your free account.