Do you need a confidence coach certification? If you want to become a confidence coach, getting certified may be the best path forward!
Keep reading to learn everything you need to know about confidence coaching as well as getting a confidence coach certification, including:
What is a confidence coach?
Do you need qualifications to be a confidence coach?
How to become a confidence coach
How to get your confidence coach certification
What Is a Confidence Coach?
A confidence coach is a professional that works to help people boost their self-confidence, challenge any restricting thought processes, and take action toward desired objectives. These coaches work with people from various backgrounds, such as entrepreneurs, executives, students, or anyone seeking personal growth and improvement.
Confidence coaching focuses on empowering clients by addressing key areas that impact their self-esteem and overall well-being. Some of these areas include:
Personal development: Building skills like assertiveness, communication techniques, and emotional intelligence to navigate life more effectively
Career advancement: Assisting clients in identifying career goals and creating strategies for success in the workplace
Social confidence: Helping individuals improve their interpersonal relationships through a better understanding of social dynamics and effective communication practices
Mindset transformation: Challenging negative thought patterns while fostering positive thinking habits that lead to increased self-belief
If you love nothing more than helping others realize their highest potential through building strong self-assurance, becoming a confidence coach may be an ideal profession for you!
In this role, you'll have the opportunity to make lasting impacts on people's lives while also enjoying flexibility as an entrepreneur or working within established organizations.
Do You Need Qualifications to be a Confidence Coach?
While there are no specific legal requirements for becoming a confidence coach, having relevant qualifications can enhance your credibility and effectiveness. You'll be seen as a trusted expert by your future clients!
This is especially true if you're brand new to coaching. After all, no one is born with the necessary coaching skills to help their clients! We recommend that aspiring confidence coaches pursue training programs accredited by organizations like the International Coach Federation (ICF).
While there are other respected organizations, the ICF is widely recognized as one of the best!
How to Become a Confidence Coach
Think becoming a confidence coach is the career you were born for? Follow these steps to become a confidence coach and start your own business!

1. Pick a confidence coaching niche
If you want to become a confidence coach, the first step is to figure out what skills and experience you have that are relevant to this career. It's also important to have an idea of what niche you want to focus on.
Why? With a niche in mind, you can hone in on the right clients for your business.
While you can go after a general clientele, you'll be a much better fit for your future clients if you specialize further. The more you help a specific type of client, the more successful you'll be at helping them achieve the confidence they desire!
Start by asking yourself: how can I help people most as a confidence coach?
Think about any unique experiences or qualifications that make you stand out from other coaches.
For instance, do you have a degree in psychology? Have you been through something difficult that gives you insight into helping others with similar issues? Are there any hobbies or activities that give you special knowledge related to coaching?
Once you know what makes your expertise unique, it's time to pick a niche. You don't need to limit yourself too much—you can always expand later if needed—but having an area of focus will help attract dream clients who are ready and willing for your help.
For example, you can become a dating coach who helps millennial women gain confidence during first dates. Or you can become a career coach who guides fresh graduates as they take the first steps into their jobs.
As you can see, you can niche down based on several factors — not just coaching topics. If there's a specific demographic you enjoy working with, that's another niche idea for you.
Whatever it is, try narrowing down potential clientele based on these criteria. When it's time to find your first clients and market yourself, it'll be easier for you to come up with messaging and copywriting strategies to attract those specific people!
Finally, take some time to reflect on why this particular niche resonates with YOU – after all, this should be enjoyable work!
Ask yourself questions like "What kind of person am I drawn towards helping?" "What topics excite me?" This way, when clients come knocking at your door (or inbox!), not only will they feel seen, but so will you!
2. Come up with confidence coaching offers and packages
Now that you've identified your niche, it's time to start building your offer.
Your "offers" are different than the actual services you offer. Instead, they're the result of the transformation you help your clients achieve.
So, for example, let's say you're a confidence coach who works with high-achieving women in corporate careers. Your "offer" could be:
"I will help you become more confident so you can become a CEO."
From there, you can determine how many sessions and how often you think you should meet. Then, you can figure out whether your clients need other types of support to reach their goals, such as workbooks or assessments. These are all the elements you can include in your "coaching packages."
You can set all of this up in your packages using Paperbell!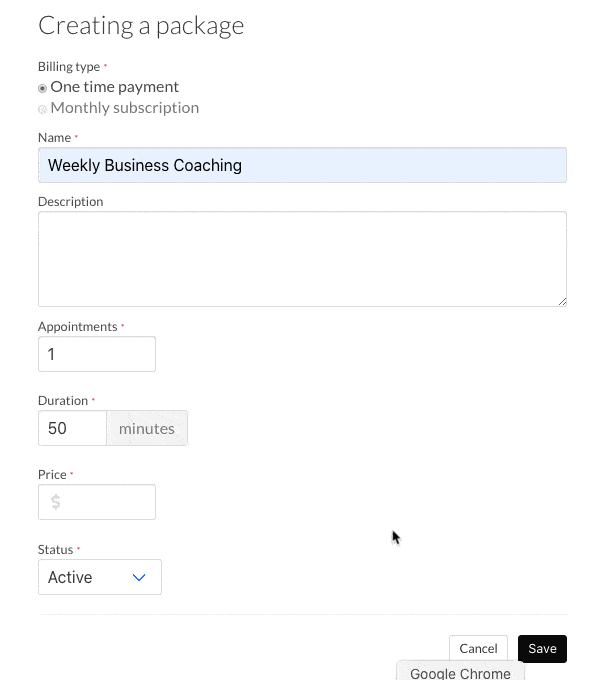 Then, you can share your package's landing page with any potential clients — no designing or web development is needed.
This approach will help you stand out from other confidence coaches. Instead of showcasing your value through selling sessions, you'll be selling an outcome.
3. Find your first confidence coaching client
Once you've figured out who you want to work with, the next step is to find your first ideal client.
Reach out through your personal network to see if anybody you know could use your help with their confidence. Maybe somebody in your friend circle could benefit from your advice!
Alternatively, you can sign up on Coach Compare (it's 100% free) so people who are looking for someone like you can easily find your profile. 
Remember, your offering will likely change as you learn more about who you work best with. The more you understand your clients' pain points, desires, and biggest struggles, the more you can tailor your coaching program to their needs.
Your coaching skills will also grow with your first few clients!
The first client will be the most challenging to find. But once you do, you can ask them for a testimonial or for a referral to keep growing your clientele.
4. Develop your online presence
The first strategies you use to land your first clients may work for a few more. But if you want to scale your confidence coaching business, you'll need to grow your audience online.
Is there one ideal way to build your brand online as a confidence coach?
Nope!
Your ideal marketing strategy will depend on:
What you enjoy doing
What you're good at
What you're willing to do consistently
Where your ideal clients hang out (and how they consume information)
Focus on finding something that works for you — and ignore those who claim they know the "only" way to land confidence coaching clients.
Here are just a few examples of how to expand your reach as a confidence coach:
Start a blog: Write about topics that your ideal audience will be searching for. Your blog can become a source of trusted information – and so can you! You can use SEO optimization or Pinterest to drive traffic to your blog.
Become a LinkedIn expert: You can get coaching clients on LinkedIn by posting on this platform and engaging with your ideal clients. 
Make TikTok videos: Is video your jam? You can get leads on TikTok if you enjoy sharing information via video!
Grow your Instagram following: Not a fan of LinkedIn or TikTok? Instagram is another great social media platform that confidence coaches can use to build a following of potential clients.
Run Facebook ads: This costs money, but it can help you reach a larger audience quickly. However, keep in mind that ads won't fix a broken message. It can help you test your messaging and validate whether it's broken or not, though.
Launch a coaching newsletter: Whether you're building an audience from your blog, social media, or elsewhere, you can funnel that audience into your confidence coaching newsletter. Here are 10 lead magnet ideas to help you start your confidence coaching email list!
These are just some of the proven strategies that other confidence coaches have used to land clients. And if your favorite marketing strategy isn't on this list, it doesn't mean it's not valid. If it works for you, it works!
Getting a Confidence Coach Certification
If you've decided that getting your confidence coach certification is the way to go for you, the International Coaching Federation (ICF) is an excellent place to start. The ICF is globally recognized as the gold standard in coaching certifications. This means your credentials will be respected and valued by clients worldwide. Keep reading to learn how to get your confidence coach certification with the ICF!
Step 1: Complete an Accredited Coach Training Program
The first step towards getting certified as a confidence coach is completing an Accredited Coach Training Program (ACTP).
These certification programs are designed to provide training in coaching skills, ethics, and best practices. Some programs even give you opportunities to get coaching experience hours!
While there are no coaching certifications or programs that specifically train you as a confidence coach, you can find a life coach certification right here. Because confidence coaching is a sub-niche of life coaching, you'll gain all the experience you need to succeed.
Step 2: Gain coaching experience hours
To qualify for ICF certification, you'll need to accumulate a certain number of paid or unpaid client-coaching hours on top of your training program (education) hours.
Depending on which level of certification you're aiming for – Associate Certified Coach (ACC), Professional Certified Coach (PCC), or Master Certified Coach (MCC) – these requirements may vary:
ACC: At least 100 hours of coaching experience and 60 hours of education
PCC: At least 500 hours of coaching experience and 125 hours of education
MCC: At least 2500 hours of coaching experience and 200 hours of education
Keep in mind that as a brand new confidence coach, you won't qualify for the MCC! You need to start with either the ACC or PCC.
If you want to get your MCC certification eventually, you'll need to get your PCC. So if you think you want to get your MCC one day, consider skipping the ACC and going straight to PCC.
Step 3: Pass the ICF Credentialing Exam
Once you've completed your training and gained the necessary coaching experience, it's time to take the ICF Credentialing Exam. This exam will test your knowledge of ICF Core Competencies, Code of Ethics, and other essential aspects of professional coaching. 
Here's another thing to keep in mind — the ICF credentialing exam won't test you on confidence coaching specifically.
To prepare for this assessment, consider taking advantage of ICF resources such as study guides or practice exams.
Step 4: Apply for your confidence coach certification
After passing the credentialing exam, you can apply for your confidence coach certification through the ICF online application system.
You'll need to provide documentation proving that you've met all requirements – including completion of an ACTP program and client-coaching logs – along with payment for any applicable fees. 
Once approved by ICF reviewers, congratulations! You're now a certified confidence coach.
Start Your Career as a Confidence Coach
If you feel called to get your confidence coach certification and start your own business, nothing will fulfill you quite like undertaking this path. As a certified confidence coach, don't let anything stop you from achieving your dreams!
Need help streamlining the admin side of your confidence coaching business? With Paperbell, running a coaching business online has never been easier! Try it for yourself by claiming your free account.