Think you have what it takes to help people develop their emotional intelligence?
If so, have you considered taking an emotional intelligence certification and becoming a coach?
An emotional intelligence certification is a valuable certification for life coaches who want to improve their skills and help their clients achieve personal growth.
This training equips coaches with the necessary tools to promote emotional awareness, social intelligence, mental health, communication skills, stress management, and more.
In this blog post, you'll learn what it takes to become a certified emotional intelligence coach, including:
What is emotional intelligence coaching?
How to become an emotional intelligence coach
How to get your emotional intelligence coaching certification
FAQs about emotional intelligence certifications
What is Emotional Intelligence Coaching?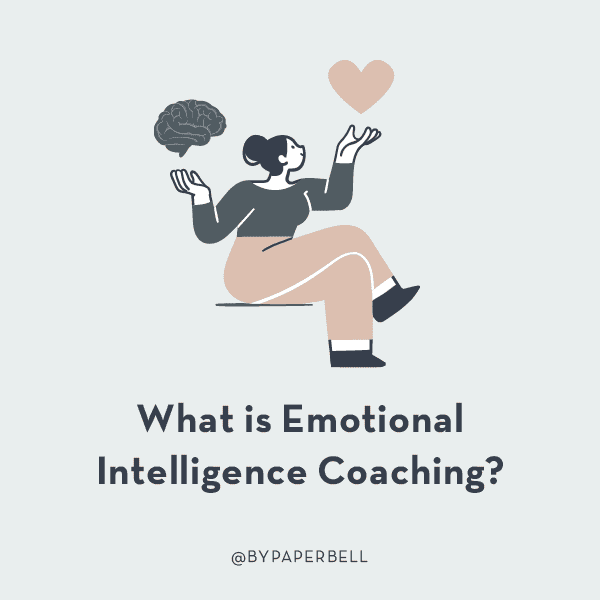 Emotional intelligence coaching is a kind of life coaching that helps people develop and improve their emotional intelligence. It allows people to build healthier relationships, make wiser decisions, and have a more successful life, both personally and professionally.
If you're good at empathizing with others, communicating, and handling tough situations, you might make a great emotional intelligence coach.
An emotional intelligence coach helps clients through self-discovery by:
Evaluating clients' current level of emotional intelligence: Coaches can use assessment tools like questionnaires or interviews to figure out areas that need improvement.
Setting goals for growth: Coaches work with clients to set goals for improving their emotional skills.
Crafting personalized strategies: Coaches create action plans to help clients reach their goals based on what the client needs and wants.
Motivating progress: Coaches provide support, encouragement, and accountability throughout the journey towards improved emotional well-being through regular check-ins and feedback sessions.
You need certain qualities to be an effective emotional intelligence coach, which not everyone has. If the following traits sound like you, then this might be a great career path for you:
Empathy: Emotional intelligence coaching requires the ability to understand and share the feelings of others.
Active listening skills: Coaches need to be able to listen to what their clients are saying, both verbally and non-verbally, to give useful guidance.
Perspective-taking: Being able to see things from different perspectives allows coaches to help clients deal with complex emotions more effectively.
Persistence and patience: It takes time to grow emotionally; coaches need to be resilient and determined to help clients through long-term change.
If you like psychology, counseling, or self-development, you might have an advantage if you want to be an emotional intelligence coach. With these qualities, you're on your way to making a positive impact on people's lives.

Do You Need Qualifications to Be an Emotional Intelligence Coach?
Although there are no legal requirements, having relevant qualifications can make you more credible and effective. Your future clients will be seen as a trusted expert!
The newer you are as a coach, the more an emotional intelligence coaching certification may be able to help you. Even though you may have strong emotional intelligence, you may not yet have the coaching skills to support clients just yet.
We recommend aspiring confidence coaches pursue training programs accredited by organizations such as the International Coach Federation (ICF).
The ICF is widely recognized as one of the best, even though there are other coaching organizations available, too. Later in this post, we'll cover the best ICF-accredited coaching programs you can take to get certified ASAP.
How to Become an Emotional Intelligence Coach
If you're passionate about helping others improve their emotional intelligence, you might make a great emotional intelligence coach. Here's a guide to becoming an emotional intelligence coach and helping others grow their EQ.
1. Choose your emotional intelligence coaching niche
Before you dip your toes into the emotional intelligence coaching world, you just decide from what angle you'll want to enter! That's where picking your coaching niche comes into play.
Yes — emotional intelligence is a coaching niche in and of itself. But a general coach in this niche will be able to work with just about anyone to achieve just about anything.
While that sounds great in theory, it's not such a great idea in practice!
Someone who wants to improve their emotional intelligence will look for a coach who truly gets them on a deep level. That's important to develop the necessary trust in a coaching relationship.
And what better way to show your dream clients you "get them" than by niching down to their level?
For example, let's say your dream client is a mother of adult children who wants to reconnect with those children. That could be your exact niche! Instead of working with everyone, you can tailor your messaging to attract that exact type of person.
You'll be able to carve out a portion of the coaching industry as your own.
Here's another example from a real coach! Frederick Sanders, Ph.D., MCC, helps high-performing men of color awaken to their divine authoritative power so they can generate their "next level" with intention, integrity, and vision: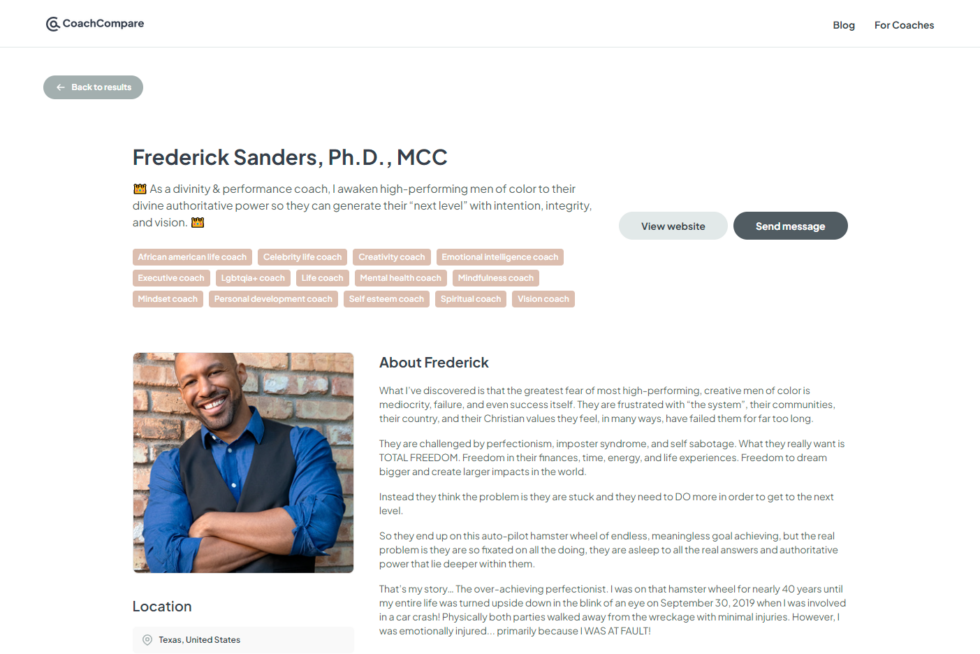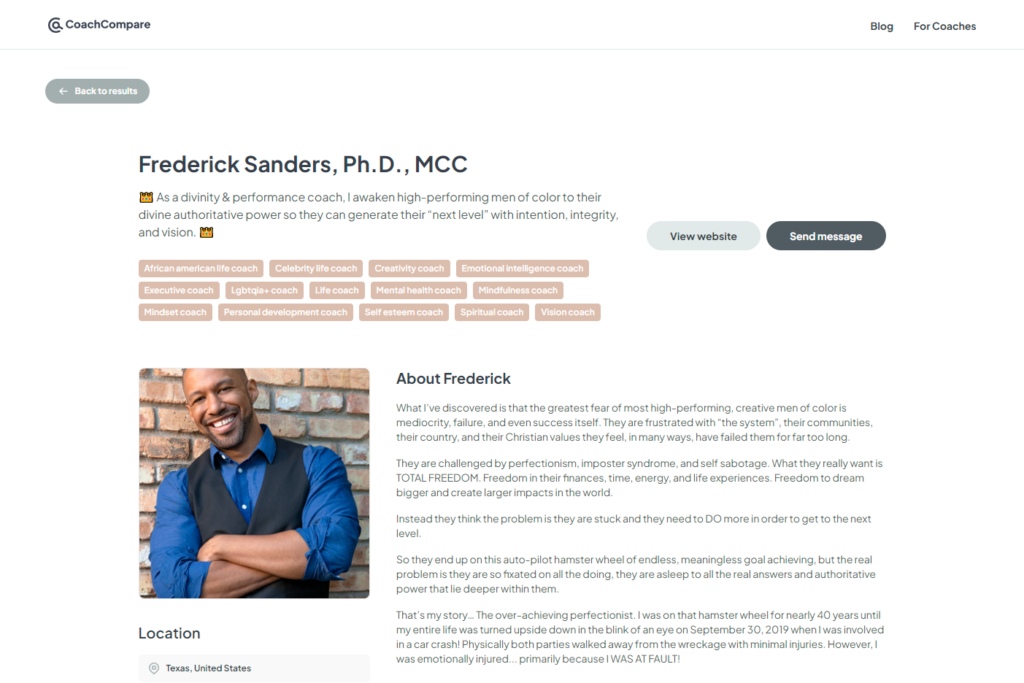 Notice how this niche automatically disqualifies the majority of potential clients. However, his ideal client — high-performing men of color — will directly feel called to work with him.
The more niched-down you become, the smaller the pool of potential clients — but the more compelling you become to these exact people!
2. Build your offers and coaching packages
Do you have an idea of your emotional intelligence coaching niche? In that case, you can start figuring out what types of coaching services you'll sell to your dream clients.
On one hand, you can sell your coaching by the session. But a more compelling approach is to come up with an emotional intelligence coaching offer instead — and to build a coaching package from those offers.
A coaching package describes everything a client gets when they buy from you. Instead of buying individual sessions, they pay for a "package" of sessions and other deliverables.
Some examples of deliverables you can include in an emotional intelligence coaching package include:
A number of coaching sessions over a specific period of time (weeks or months)
Voxer coaching in between sessions
Workbooks with emotional intelligence exercises
In-person retreats
Self-paced video content to watch in between sessions
Group coaching sessions
But what about the coaching offer?
Your offer shouldn't focus on describing what's included in your coaching package. Instead, it should sum up the promise or desired outcome that clients can get when they purchase that package.
Consider this: what good will 12 one-on-one coaching sessions do if they can't help your clients improve their EQ and get closer to their personal goals?
That's why the package isn't everything. Think of how you can make that package more attractive by explaining your clients' transformation.
3. Land your first client
Finding your first client may seem tough, but everyone must start somewhere!
Start by reaching out to friends, family members, or colleagues who might benefit from working with someone focused on improving their EQ skills.
You can also ask these same people if they know anyone who would be a good candidate. That way, you'll not only rely on your own network but on your secondary network, too!
Don't be afraid to offer your services for free to get started. Once you have some confidence under your belt, start offering your services for a fee to build a client base.
For instance, you could offer a free 30-minute consultation to assess a person's emotional intelligence and suggest ways to improve it, and then offer a more in-depth program with additional sessions for a fee!
You can also find potential clients on social media platforms like LinkedIn or Facebook groups relevant to life coaches and your niche. Offering a free trial or reduced fee for the first few customers is a great way to build confidence and create word-of-mouth publicity.
Free trials and discounted rates give them a chance to experience your services without making a large financial commitment, which can help build trust and credibility when you don't have any of your own yet!
4. Start marketing your emotional intelligence coaching business
After your first client or two, you'll have what it takes to scale your emotional intelligence coaching business to the next level.
But what got you here won't necessarily be scalable. That's why you should create a marketing plan that fits your coaching business goals.
For example, let's say you're able to get one or two new coaching clients per quarter via word-of-mouth. If you have goals to onboard a new client each week, you'll need a different approach!
Keep in mind that there's more than one way to implement marketing for your emotional coaching business. What worked for another coach won't necessarily work for you.
For example, don't force yourself to publish a long-form blog post every day if you hate writing. Instead, focus on your strengths — if you prefer speaking, start a podcast! Or, dictate your thoughts and hire someone to write for you (if you have the budget to do so).
You can try one of these marketing strategies to find more clients:
Start a blog: Write about topics that your ideal audience will be searching for. Your blog can become a source of trusted information – and so can you! You can use SEO optimization or Pinterest to drive traffic to your blog.
Become a LinkedIn expert: You can get coaching clients on LinkedIn by posting on this platform and engaging with your ideal clients. This is especially true if you help career-driven people with their emotional intelligence.
Make TikTok videos: Is video your jam? You can get leads on TikTok if you enjoy sharing information via video!
Grow your Instagram following: Not a fan of LinkedIn or TikTok? Instagram is another great social media platform that emotional intelligence coaches can use to build a following of potential clients.
Run Facebook ads: This costs money, but it can help you reach a larger audience quickly. However, keep in mind that ads won't fix a broken message. It can help you test your messaging and validate whether it's broken or not, though.
Launch a coaching newsletter: Whether you're building an audience from your blog, social media, or elsewhere, you can funnel that audience into your emotional intelligence coaching newsletter. Not sure how to grow your list? Here are 10 lead magnet ideas to help you attract people to your newsletter!
Become a guest on other people's podcasts: This is ideal for coaches who don't yet have an audience of their own. You get access to other people's audience while sharing your own expertise – it's a win-win!
Remember not to burn yourself out by trying all of these marketing strategies at once. Start with one, become great at it, validate your offers, and go from there!
How to Get Your Emotional Intelligence Certification
You can start an emotional intelligence coaching business without a certification. But a certification backed by a reputable organization like the ICF will give you an extra edge!
Here's how you can get your emotional intelligence certification with the ICF:
Research ICF-Accredited Programs
The first step towards becoming a certified emotional intelligence coach is researching ICF-accredited programs.
All of these programs meet rigorous standards set by the International Coach Federation, so you can be confident you're receiving quality training that aligns with current industry best practices!
Not sure where to start? We've gathered some of the best life coaching certification programs that are well-suited for emotional intelligence coaching and so much more.
Select a Program That Fits Your Needs
There are plenty of ICF-accredited programs out there with different levels of certifications and specializations. Choose an ICF-accredited emotional intelligence coaching program that fits the credential you want to get – ACC, PCC, or MCC.
You won't necessarily find a program that only teaches emotional intelligence coaching since that will be a part of nearly all programs. But read the syllabus carefully to make sure it takes up a big portion of the curriculum.
Here are just a few examples of programs you can consider taking:
Institute for Professional Excellence in Coaching (IPEC): The Institute for Professional Excellence in Coaching (IPEC) is a well-known certified life coach institute. The best thing about this program is they run tons of in-person events that inspire and energize coaches! The program includes almost 400 hours of formal training. A program at the IPEC offers role-play exercises, writing, simulations, and top-tier teaching.
CoachU: At CoachU, you'll go through 77 hours of professional coaching training! It'll take at least 6 months to go through this program. However, it's self-paced, which means you can adapt it to your lifestyle.
Coach Training Institute: The CTI has been running its coaching training for over 20 years! So you can't go wrong with this option. It'll take you between 3 days and 6 months to complete, which makes it ideal for all types of life scenarios.
Coach Training Alliance: If you want to have a bigger emphasis on the business side of emotional intelligence coaching, this is the program for you. With this education in hand, you'll be in a great position to market your business later on.
The Certified Life Coach Institute: An ICF-certified coach training program that only takes 3 days? Sign me up! Although it's not as comprehensive as other programs on this list, it's a great option to dip your toes in the world of emotional intelligence coaching before making a bigger investment.
These are only five options, but the ICF also offers an Education Search Service to help you find the ideal program for you.
Complete Your Training
Once you're enrolled in an accredited program, finish all the required courses and practical experience hours that your chosen program outlines. This may include:
Attending workshops
Participating in webinars
Working directly with clients under supervision
Attending in-person events
Make sure to give it your all! Going through a coaching training program isn't easy, but it'll be worth it once you come out to the other side.
Earn Required Coaching Hours
You need to have coached a certain number of clients for a certain amount of hours to apply for an ICF credential at any level – ACC, PCC, or MCC.
Below is an explanation of what you'll need for each of the credentials:
Associate Certified Coach (ACC) – You must complete 60 hours of coach-specific education, plus 100 hours of client coaching experience
Professional Certified Coach (PCC) – You must complete 125 hours of coach-specific education, plus 500 hours of client coaching experience
Master Certified Coach (MCC) – You must already have your PCC Credential, complete 200 hours of coach-specific education, and accumulate 2,500 hours of client coaching experience
If you're aiming for your PCC, keep in mind that it'll take you much longer to accumulate your 500 hours of coaching logs.
Optionally, you can get to 100 hours and apply for the ACC. Later on, when you've gotten more experience under your belt, you can apply for the PCC or MCC!
Keep track of these hours throughout your training so you can submit them when you apply for certification. You can use Paperbell to keep your ICF coaching logs more easily!
Become Familiar With Core Competencies
The ICF Core Competencies are a set of essential skills that every certified coach should have.
For instance, the ICF Core Competency of 'Establishing the Coaching Agreement' requires coaches to clearly define the scope and goals of the coaching relationship with their clients.
You'll need to show that you're competent in these areas to pass the certification process. So, you should get to know them now. They'll serve you for the rest of your coaching career!
Preparing for the CKA is similar to studying for a college exam. You need to put in the effort to learn the material and take practice tests to be sure you are ready for the official assessment.
Doing this will ensure you are in the best possible position to pass the test and get your ICF credential!
Pass the Coach Knowledge Assessment (CKA)
The CKA is an online exam that tests your understanding of coaching principles and ethics.
You need to pass this assessment to get your ICF credential.
Make sure you study and take practice tests before taking the official assessment. Practice as often as you need.
If you don't feel confident about passing the exam, there's no shame in waiting and practicing more!
Submit Your Application
Submit your application for certification with any required documentation, like proof of training completion and client-coaching hours, after you finish all the requirements.
It's not easy becoming an emotional intelligence coach, but it's worth it when you see the difference you can make in other people's lives.
If you follow these steps and get your emotional intelligence certification from ICF, you'll be able to help clients develop their emotional intelligence skills while building a business you love!
Frequently Asked Questions About Emotional Intelligence Certifications
How do I become an emotional intelligence expert?
To become an emotional intelligence expert, follow these steps:
Gain foundational knowledge through books or online resources
Attend workshops or seminars on EI
Pursue relevant certifications
Practice applying EI concepts in personal and professional life
Consider additional training, such as coaching or mentoring programs
What are the 5 domains of emotional intelligence?
The five domains of emotional intelligence, as proposed by Daniel Goleman, are:
1. Knowing one's own emotions (self-awareness)
2. Managing emotions (self-regulation)
3. Motivating oneself (self-motivation)
4. Recognizing others' emotions (empathy)
5. Handling relationships effectively (social skills)
Launch Your Coaching Career With an Emotional Intelligence Certification
Becoming an EI coach is a great way to help people achieve their goals and be successful.
You can achieve your ICF certification quickly if you have the right knowledge, dedication, and commitment.
This type of coaching requires patience, understanding, and empathy – skills you'll need to get your emotional intelligence certification!
Need help streamlining the admin side of your coaching business? With Paperbell, running a coaching business online has never been easier! Try it for yourself by claiming your free account.