So you want to become an executive coach — but you're getting overwhelmed with all the conflicting information about programs and certifications.
Yes, there are dozens (if not hundreds) of executive coaching programs to choose from. But we've done the hard part of sifting through them to find the best executive coaching certifications to help you make your decision!
Do You Need an Executive Coach Certification?
If you want to become an executive coach, one of the best ways to add credibility and authority is by getting an executive coaching certification.
But does that mean you absolutely need an executive coach certification to start a career or a business as an executive coach? No.
What you'll need before you can begin taking executive coaching clients will depend on your background!
If you don't have any coaching skills — or have little to no experience working in a corporate or executive setting — you'll struggle without a certification.
But if you've worked as a C-level executive for 10+ years and have coached junior employees throughout your career, you may have what it takes to start taking clients right away.
With that said, even an experienced and skilled executive coach can benefit from getting certified. An official certification is more than just a credential you can add to your website or social media bio!
For instance, you'll learn new:
Plus, being part of a coaching program before your certification can help you build your network. You never know when your new biz bestie could become the source for your next client!

Types of Executive Coaching Certification Programs
Not every executive coaching program available online is the same!
Keep in mind that there are three "levels" of certification — but levels aren't the same as program types! The three levels of credentials you can get are:
Associated Certified Coach (ACC)
Professional Certified Coach (PCC)
Master Certified Coach (MCC)
All types of executive coaching programs can help you obtain one of the above. The difference is that the PCC and MCC require significantly more hours of coaching education and experience!
Let's cover the main types of programs available for certification with the ICF.
1. Accredited Coach Specific Training Hours (ACSTH)
With an ACSTH program, you will receive education on how to coach. However, it doesn't include the other elements you need to become certified, such as:
10 hours of Mentor Coaching
Recorded coaching sessions to evaluate your performance
Hands-on coaching experience
You can enroll in a program if you're particularly interested in the curriculum. But you'll have to get your hours of mentor coaching and fill out your ICF coaching log separately.
2. Accredited Coach Training Program (ACTP)
A program that's accredited as an ACTP is the most comprehensive executive coaching education you can get!
Not only will you get at least 60 hours of coaching education, but you'll also receive your mentor coaching and performance evaluation. Many programs also help you get your coaching hours in, although you'll likely still need to get some hours on your own.
3. Continuing Coach Education (CCE)
Also known as the Portfolio path, a CCE coaching program can get you 60 hours of coaching education without choosing an accredited program.
Some programs are accredited but are still considered Continuing Coach Education. But if your program isn't accredited, you can still submit documentation to prove the curriculum meets ICF standards.
In addition to submitting the curriculum, you'll also need to complete your 10 mentor coaching hours separately. You'll also need to go through the performance evaluation separately.
Best Executive Coaching Certification Programs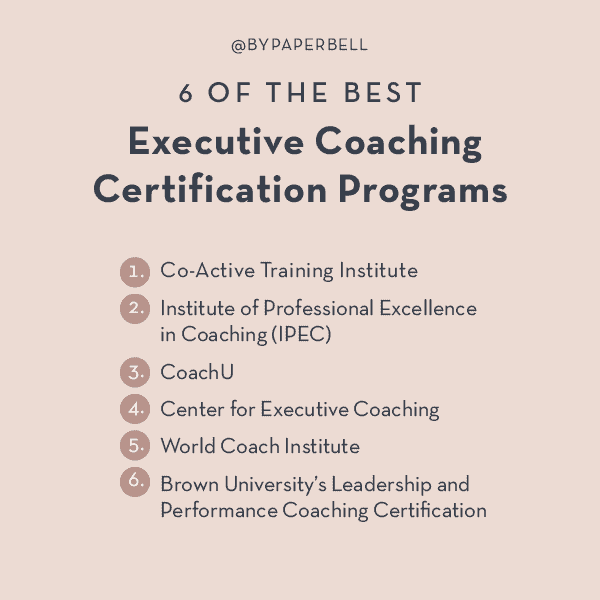 Have you decided that getting certified is the best path forward for you? Awesome! To help you along your path, we've curated the best executive coaching certification programs available today.
According to this organization, 50% of all professional coaches follow one of their trainings!
Not only have they trained over 65,000 coaches, but they've also trained employees and executives working in over a third of Fortune 100 companies.
So if you're looking for a program that knows its way around the corporate world, look no further.
In Co-Active's coach training program, you'll learn how to:
Leverage "coaching moments" to create deeper connections with your clients.
Cultivate trust and inspire your clients to take bold action.
Provide a safe environment for your clients to be themselves and trust their intuition.
Help your clients transcend limitations.
Understand your impact on other people and the world around you.
This training program is split into three separate courses. To get started, you can learn more about the first course, Co-Active Fundamentals of Coaching.
IPEC promises to not only help you master coaching techniques but also to help you reach your own personal potential.
When you take the IPEC Coach Training Experience, you'll receive over 320 hours of training hours, including 200 ICF-accredited training hours. You'll also get 3 separate certifications from IPEC itself! Those are:
Certified Professional Coach (CPC)
Energy Leadership™ Index Master Practitioner (ELI-MP)
COR.E Dynamics™ Specialist, in one of four niches
IPEC separates its executive coaching program into 4 phases:
Phase 1: undergraduate training
Phase 2: graduate-level specialized training (where you can specialize as an executive coach)
Phase 3: integration into your daily life and career
Phase 4: in this alternative to Phase 3, you'll start your own coaching business!
You also get 6 sessions with a dedicated Mentor Coach, which will help you get the 10 hours you need for your certification.
At CoachU, you'll get a coach training program that emphasizes helping you develop core, foundational skills as an executive coach.
Their program works in two phases:
Phase 1: core essentials
Phase 2: professional essentials (for certified coaches only)
You'll receive 78 hours of training that you can complete over 8 months. But you can also take a fast-track, which condenses 78 hours into a 6-day intensive, as well as pre-and post-event courses.
Not only will you learn core skills and proprietary coaching models, but you'll also learn how to position your coaching business and create sustainable coaching packages.
The name says it all — the Center for Executive Coaching is one of the best organizations for people who want to specialize in executive coaching!
With this coaching program, you'll learn all the foundational skills you could get with other programs. But because it's oriented toward executive coaches, you'll also receive additional education, such as:
Business coaching methodology
Results-focused leadership and executive coaching solutions
Career coaching methodology
A PowerPoint deck full of leadership development solutions
20+ hours of Business Development webinars plus business development guides
Their goal is to equip you with much more than academic or theoretical knowledge. They want every graduate of their program to have practical and measurable ways to get results for executives, managers, and other leaders.
They'll also train you to facilitate, assess, train, advise, or consult your clients if that's something you want to do!
The WCI gives several certification programs. So when you take their Certified Executive Leadership Coach (CELC) program, you'll get two certifications in one!
You'll become a Certified Executive Coach (CEC) and a Certified Professional Coach (CPC). And if you move forward with your ICF certification, that's a third credential you can add to your name.
In this executive coaching program, you'll learn:
Essential coaching communication skills
Coaching applications for a variety of scenarios
Core coaching competencies
Business and career development
Tools and assessments to help your clients
You'll have three paths to choose from with the WCI. Keep in mind that the Certified Executive Coach (CEC) program is a niche add-on, which means it'll take longer than doing only the Certified Professional Coach (CPC) program.
Yes — you can go to college to become a certified executive coach!
Brown University has partnered with ACT Leadership to offer its Leadership and Performance Coaching Certification Program.
This is an 8-month program that you can either take 100% virtually or as a hybrid of online and in-person. Not only will you get your certificate from Brown University and ACT leadership, but you'll also be able to take the ACSTH pathway with the ICF.
If you value the college experience, this is a great option.
How Much Does an Executive Coaching Certification Cost?
The dreaded money question — how much will you spend to become a certified executive coach?
First, you'll need to pay for the program itself. Executive coaching programs vary from $7,000 to $13,000, depending on which organization you choose.
But if you want to get certified with the ICF, you'll also need to pay for your application.
Here's the breakdown of the application costs for all three program types:
ACSTH path: $375 for ICF members and $525 for non-members
ACTP path: $175 for ICF members and $325 for non-members
Portfolio path: $475 for ICF members and $625 for non-members
The ICF gives you the option to break up your payments if you wish.
Launch Your Executive Coaching Business With Ease
Getting certified as an executive coach isn't always easy.
But you know what doesn't have to be hard? Managing the admin side of your coaching business. With Paperbell, you can focus on helping your clients achieve massive transformation instead of chasing clients for payments or booking reminders.
Create your free account to try it for yourself!