You have heard the saying, "if you can dream it, you can do it," right? If you dream of becoming a certified life coach so you can impact others' lives, we're here to help you do it.
Ready to follow the yellow brick road to building your life coaching business? Put on your ruby slippers and let's go!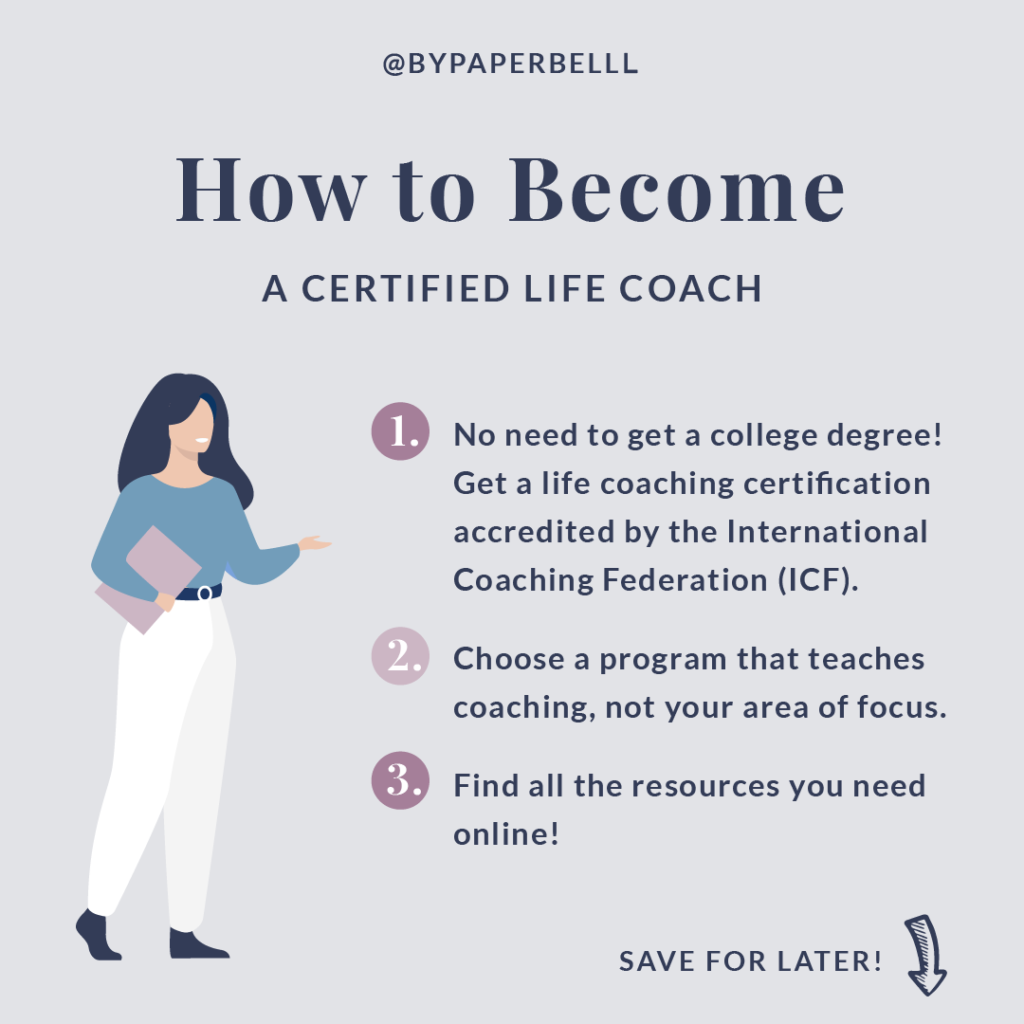 With all dreams pursued, having passion is only part of the equation. To reach a destination, certain researched and calculated steps need to be taken to make those dreams a reality. That is why we are laying those steps out before you, so you know exactly how to become a certified life coach.
You may be wondering if you need a college degree or what certifications will be required. And of course, how much do life coaching certification programs cost? Can I do it online, and how long does it take? And legitimacy, let's not forget that one!
Take a breath, drink some lavender-infused tea, and let us calm the questions floating around in your head. Give us a few minutes, and you will get even closer to doing what you love: coaching others towards a better life.
A college degree is not needed to become a certified life coach, phew!
Most coaches don't become coaches until after they have lived a little, experienced a lot, gone through the muck to figure things out, and gained valuable experience to help others. No college degree is needed for a career in coaching.
I mean, who thinks of this when they are 18 and entering college? Practically no one. So, yay! No more formal schooling is required.
But you do need some superpowered skills to win that "coach of the year" award you are aspiring to. This is where training and certification programs come into play. Life coaching is a non-regulated industry, meaning there are no laws that govern the field. There is also legally no license required to practice as a coach. 
Yes, anyone with life experience and a desire to help others can call themselves a coach. But when it comes to starting a life coaching business the better practice is to be trained and certified. Credibility will also play a significant role in your confidence to excel in your life coaching business.
[ Read: Life Coaching 101: Exactly How Much Does It Really Cost To Become A Life Coach? ]

Get a life coaching certification accredited by the International Coaching Federation (ICF)
If you are getting a little punch-drunk and dizzy by all of the different certification programs out there, you are not alone! You want us to point you in the right direction, and we will, but there are things to consider before investigating the three top certification programs we recommend.
If you don't have an official background in coaching or therapy, that's OK! All that is needed is a sincere desire to help people navigate their challenges and some good hard-learned skills. But "How" to coach is a whole different flavor of vegan enchilada. That is where the life coaching certification process comes into play. Sure, you could wing it. But that is a significant risk, and we cannot advise you to take someone's life and happiness into your own well-meaning hands without proper training.
What is the International Coaching Federation (ICF), and why is it so important?
When it comes to coaching programs, this is the holy grail of acronyms to look for. The International Coaching Federation (ICF) is the leading global organization that certifies coaching programs. They are the gold standard to which programs are modeled after. By choosing an accredited program, you can rest assured they are meeting the high standards set forth by the ICF.
But wait, it gets better! By attending an ICF accredited program to become a certified life coach, you will join a worldwide network of trained professional coaches. How's that for a perk?
The ICF has over 1000 accredited coach training programs offered around the globe. Yes, they know what they are doing when it comes to coaching. With an ICF accredited program, you can take a breath and relax a little bit. You are getting the right balance of value, reputation, skilled instructors, and real-world applicability.
But it's not just about becoming an effective and transformational coach. You are running a business, and that is where ICF hits a sweet spot. Not only will you join an echelon of high-quality coaches, but you will also learn to launch, build, and grow a successful coaching business.
Choose a program that teaches coaching, not your area of focus
If you were panicking because you can't find a coaching certification program that teaches banjo plucking coaching skills, don't fret! You don't have to choose an industry-specific program that fits your passion. You can bring your experience, talent, empathy, and key focus area to any certification program.
The important part is choosing a program that speaks to you, fits your budget, and can be attended and attained in a method that fits your schedule and learning style.
Choose a certification program that focuses on coaching skills, active listening techniques, business practices, ethics, and how to build a clientele. Through these training tools that end with a piece of paper you can provide your clients, you will develop the skills and strategies for growing your coaching practice.
What is the best life coach certification program?
You want to be the best life coach you can be, right? We want that for you too!
You may not like this open-ended answer, but the best life coach certification is the one that resonates the most with your calling. There is no one-size-fits-all coaching program. Of course, we certainly have our favorites for you to consider, to help make your search a bit easier. You're welcome!
Here are the building blocks of a reputable and effective life coaching certification program:
Focuses on teaching you how to coach, not how to help. You already know how to help people through empathy and life experience. But coaching must be learned.
Your program is accredited by the ICF-check this first before reading any further.
It matches your value system and speaks to your soul. Yes, this is important. You will be spending several months of your life in this program. It's vital that you feel comfortable and inspired to keep going.
Differentiates between coaching and marketing. Say what? "Don't I need to know marketing?" you ask? Yes, but there is more to coaching than selling the dream of a more fulfilling life.
Beware of marketing-heavy coaching programs
To elaborate on that last bullet point…yes, marketing is a crucial part of building your life coaching business. And it's easy to be seduced by hearing fellow coaches touting their "$20,000 month" on social media. But too many of these high-priced "I'm going to turn you into a 7-figure earning coach if you buy my program" don't teach coaching; they teach sales!

These programs might be appropriate for learning how to grow your coaching business after you've trained as a coach, but don't mistake them for programs that teach you how to coach.
This is just another reason why choosing an accredited life coaching program should be your top priority.
Yes, you can get your life coaching certification online
It seems everything is online these days, and getting your life coaching certification is no different. Given the thousands of available and accredited programs to choose from, you are sure to find one that you can attend in your PJ's. Yes, life is good that way!
How much does a life coaching certification program cost?
Sure, it would be great to find a coaching program on Youtube for free…but you get what you pay for, and your certification is no different. Reputable and accredited programs by the ICF can run anywhere from $3,000 to $12,000 and up. The good news is that you can find a program that fits your budget. If you need to save, scrimp, and bypass your daily latte (gasp! what a travesty), then do it. Where there is a will, there is a way. You can have all the mocha lattes with extra non-dairy whipped topping you want once your goal is achieved.
How long will it take to become a certified life coach?
I think you will be delighted to know that you could be stepping into your new career and calling as a life coach within six months. Of course, that varies depending on the program you choose. You can expect to have the basics covered within six months and continue building upon those skills for another 12-18 if you choose to.
So, what do you say? Feel better about moving forward? Have we illuminated some of the mystery of how to become a certified life coach? Oh, good.
At Paperbell, we look forward to being your resource for all things coaching and can't wait to see where this takes you. Now go out and change the world!