If you've decided to become a life coach, then give yourself a well-deserved pat on the back.
You're ready for a new direction but you're thinking about the big question: how much does it cost to become a life coach?
Though it's all new and exciting when you're first starting out, those big career considerations can feel pretty overwhelming. Juggling advice on getting certified, finding clients, and picking the perfect niche can be a minefield if you're not familiar with the industry.
Sure, becoming a life coach is incredibly rewarding, but actually getting to the coaching stage is slightly tricky. The right level of enthusiasm for the job is one thing, but what about the costs that come with kickstarting a career? You're unlikely to be accounting for an office full of people when calculating your coaching costs, but you will have to figure out what costs are necessary, what costs are recommended, and what costs you just don't need to worry about when starting your life coaching journey.
But I Just Want to Get Started!
Look, we'll level with you. We all wish that costs weren't a factor when following our dreams. If we're excited about something, it's tempting to just go, go, go!
But have patience, young grasshoppers.
Being aware of the necessary financial steps that you'll need to take to become a life coach is much more likely to set you up for long term success than jumping in too quickly.
So if you're struggling to balance the books as a newbie or just want to figure out how much it's going to cost you to become a fully fledged life coach, we've got your back. To help you out, we're going to cover everything you need to know about the costs associated with becoming a life coach, so you can focus on building a successful brand without burning through your pocketbook!
Got it? Now let's talk business.
Necessary Costs to Become a Life Coach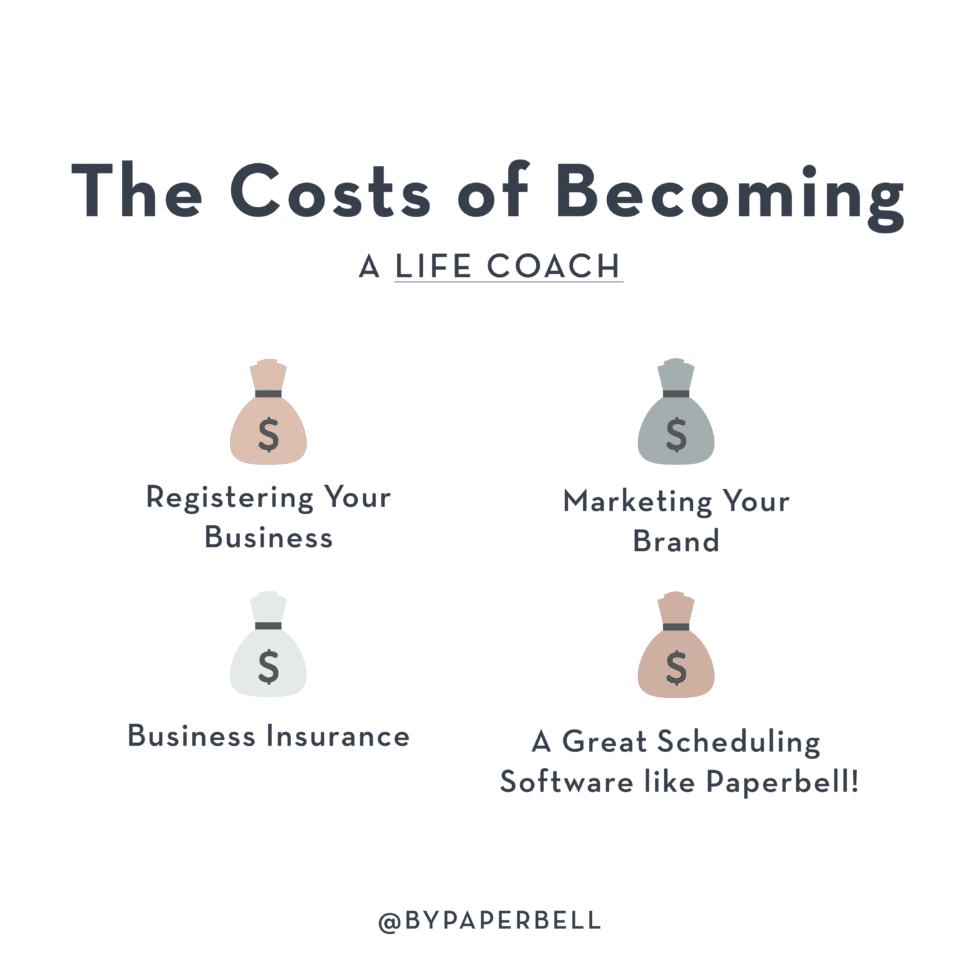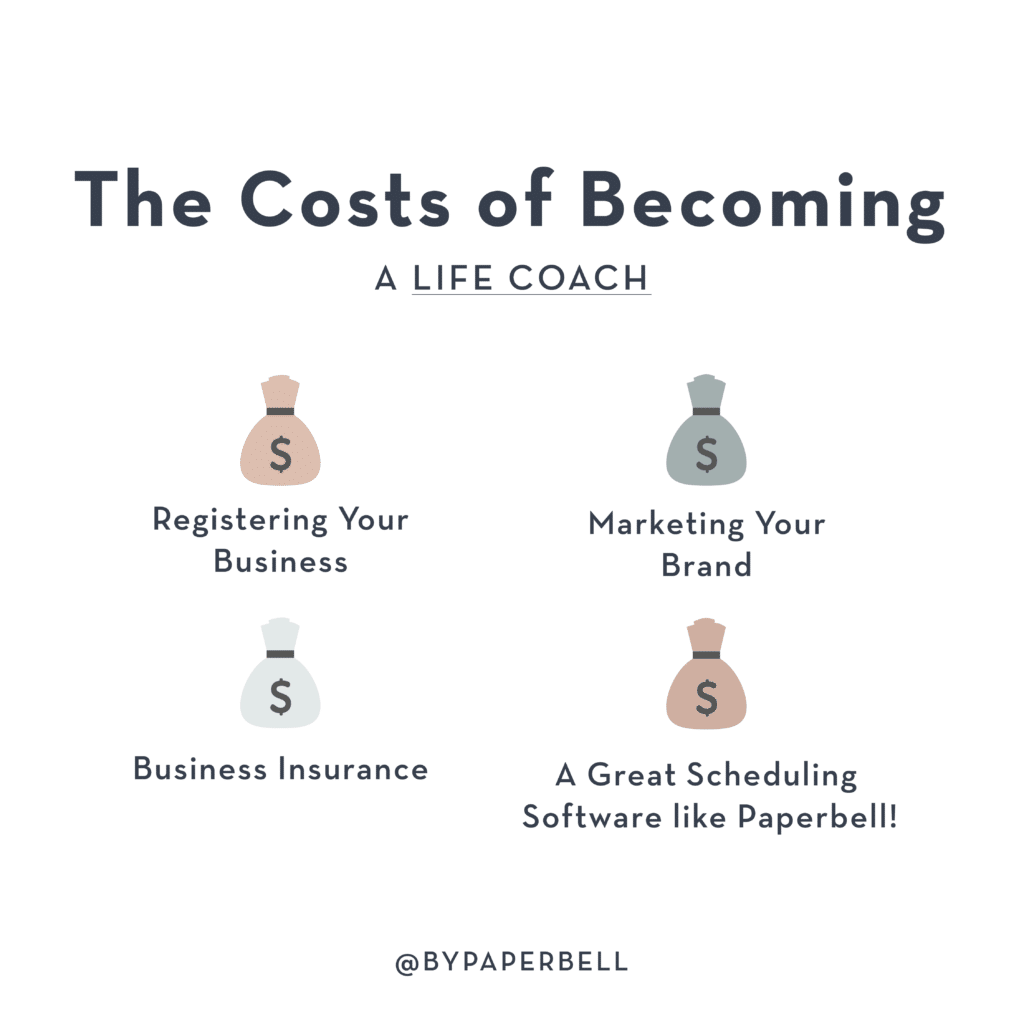 Registering Your Business
One of the first things you'll need to do when you enter the coaching world, is register your business. Whether you choose to register as a Limited Liability Company (LLC) or a sole proprietorship, you'll need to be registered in some way to legitimize your business.

If you're wondering why this is necessary, we'll give you a quick run down.
If someone decides to sue your business (we obviously hope that this never happens!), they will only have access to your LLC's assets, not your personal assets. Though life coaching is a noble business, your home, car, and sanity should not be on your list of things to sacrifice in a worst-case scenario.
The cost of creating your LLC depends on whether you want to go it alone or shell out some cash for a lawyer. In addition to these startup costs, the filing fees for LLCs tend to run at around $100-150 a year, so be sure to add that to your finance spreadsheet.
Business Insurance
Another necessary cost that you'll face as a life coach is insurance.
Though you might not have considered this yet, if you're running your business from home, it's entirely possible that you'll need to beef up your homeowner or contents insurance. As well as insurance relating to your place of business, you'll also need to consider costs like liability coverage and cyber risk in our Zoom-heavy world.
You will be handling client data in some capacity as a coach, so just be sure to sort any privacy concerns before you get into the fun stuff!
Marketing and Creating Your Brand
As a life coach, you need clients. Point, blank, period.
But how do you go about getting them? With some tip-top marketing of course!
While some people might not see this as a necessary cost for becoming a life coach, we cannot stress how much of a difference marketing can make to both your public perception and potential reach. We promise, when you're first starting out, it's crucial to invest some capital into a great marketing plan.
Networking is a fantastic way to market your brand in those early days, and hosting free webinars or participating in coaching conferences are both great ways to get your name out there.
But don't stop there! Once you've gained some visibility, you can stay relevant by creating a great online presence on Instagram, Facebook and Twitter – you know the score!
A Great Scheduling Software
Whether you're a newbie or a fully-fledged coach, your calendar can quickly fill up, so investing in a great scheduling software is a must!
As a coach, you really don't want to be focusing on things like invoice reminders or contract signing if you can help it. Don't get us wrong, that stuff is incredibly important for your business, but you probably didn't get into the life coaching industry to focus on admin, right?
Well, luckily for you, there's software out there like Paperbell which exist to make your coaching business as streamlined as possible. As a little lifesaver that takes the pressure off running your business, we think that scheduling software is a necessary cost for any coach who values their time.
Who doesn't love a bit of extra breathing room? We certainly do.
Getting Online
In this day and age, having an online presence is crucial.
As well as investing in a video conferencing tool such as Zoom, to conduct your online sessions professionally, you'll want to consider the costs that come with creating a site and cementing your brand image.
When you're figuring out how much it costs to become a life coach, be sure to account for the cost of a domain name, website hosting costs, and web design. Though you can do a lot of these things on the cheap, it's well worth hiring a freelancer to curate an online brand image that sets you apart from competitors.
Don't stress too much about this, as the cost of your domain should only range from $5 – $20 a year. Though hosting is a little more pricey (we'd say up to $20 a month), it's important to consider if you want to keep your content looking as professional as possible.
[ Read: Level-up Your Life Coaching Website With These Incredible Examples And Templates ]
Most life coaches are found online or via word of mouth these days, so don't sleep on the importance of creating a great online presence.
Recommended Costs to Become a Life Coach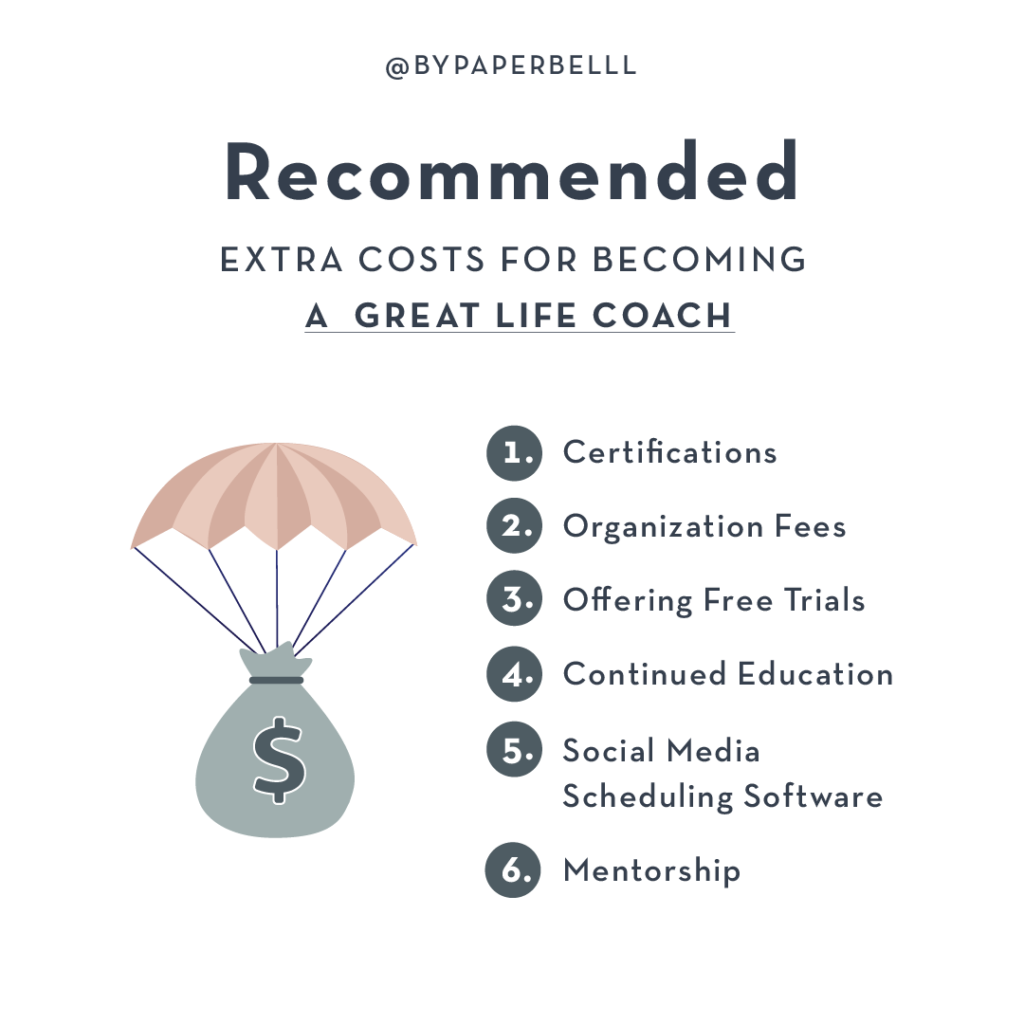 Certification
As life coaching isn't a licensed industry, you don't strictly need to get any kind of coaching certification.
However, getting a life coaching certification is a great idea, as it gives you credibility with clients and may increase the amount you can charge as a coach. If you're not sure where to go for your life coaching certification, then be sure to check out our post on the best coaching life coaching programs that will have you certified in no time!
When it comes to assessing how much it costs to become a life coach, you will need to consider the cost of your certification. There are bits of training available online for next to nothing, but many accredited organizations charge upwards of $10,000 for certification (which is a pretty considerable overhead cost).
Now, of course a certification is a great investment, so don't be put off in the slightest! Just be aware that it's definitely going to make a dent in that budget of yours.
[ Read: Navigating The Coaching Industry: Do You Have To Be Licensed To Be A Life Coach? ]
Organization Fees
As a coach, you can get great benefits if you're part of a coaching organization.
Joining one of these isn't a necessary cost if you want to become a life coach, but joining a federation can improve your networking skills, connect you with like-minded people, and keep you up to date with the latest tricks of the trade.
Joining an organization isn't extremely expensive, but you do need to consider the cost of monthly or yearly membership when calculating your budget.
The Cost of a Trial Session
Okay, you don't have to do this, but offering free trial sessions is the perfect way to score clients as a newbie. Though this isn't a direct cost to you as a coach, you will have to take the financial hit of lost income that comes with a free session.
However, before you shrug this idea off, just think about it…
From a great trial session comes a new client. From a new client comes great word of mouth. From great word of mouth comes a client base. And repeat.
Ah, the coaching circle of life – it certainly does move us all.
Costs You Don't Need to Worry About When Starting Out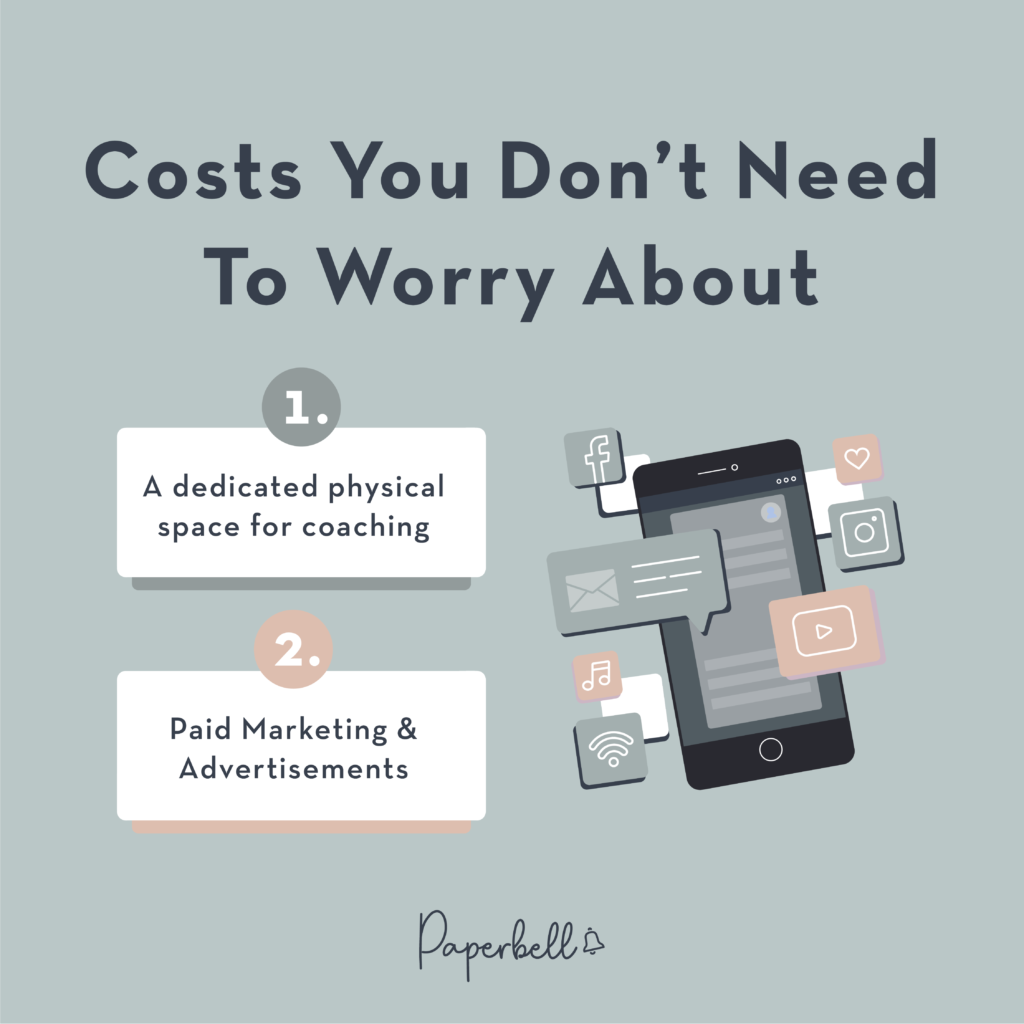 When you're starting out as a coach, you don't need to plow everything into your business at once.
Setting up a life coaching business can be expensive when you take certification, marketing, and registration into account. So, here are a couple of costs that you can probably afford to put off at the very beginning.
A Dedicated Coaching Space
Having a dedicated coaching space is awesome, and as you build your business it will become a prime thing to invest in. However, when you're starting out, it's likely that you'll meet your clients in a shared space or online.
To avoid sinking a bunch of money into a rented space, it might be a good idea to reinvest that cash into setting up your brand and finding effective ways to score clients.
Paid Advertisements
Paid advertisements are super effective, especially if you can get on the targeted advertising train.
However, paying out for these quickly adds up, and if your coaching business hasn't taken its final form yet, you might want to focus on other marketing strategies, such as trial sessions first (which won't technically cost you a cent).
[ Read: The Beginner-Friendly Ultimate Guide to Facebook Ads for Life Coaches ]
Costs That'll Help You Take Your Business to the next Level
Continued Education
We've said it once and we'll say it again – coaches never stop learning, so it's a great idea to invest some cash into workshops and retreats, as you build up your coaching business.
Though these things do cost money, they're not outrageously expensive, and you often take home invaluable tools that make them well worth the price of admission.
Realistically, the more you learn, the more you can earn – so we think it's well worth the investment!
Social Media Scheduling
If you really want to get noticed, then having a great social media presence is key.
To save time, you can invest in a social media scheduling software, like Meet Edgar, to curate content and post to your different accounts when you aren't able to! This is a real lifesaver, and though it is an additional cost to account for each month, it can really help to keep you relevant as an up-and-comer.
Mentorship
No matter how good of a coach you are, there's always going to be someone who's been on the ladder a tad longer. Many established life coaches run mentoring programs, where they provide top tier advice to aspiring coaches as they build their businesses.
So, if you want to follow a successful coaching model and gain some invaluable skills along the way, investing in a mentor is a great way to take your business to the next level.
So, How Much Does It Cost to Become a Life Coach?
Now that you've learned about the costs associated with setting up your life coaching business, it's up to you to crunch the numbers and get started.
Before you get carried away with setting everything up at once (we know it can be tempting!), we recommend prioritizing those necessary costs before moving on to the stuff that will help you level-up as a coach.
[ Read: How To Invest In Your Business: The Four High-Return Moves For a Coaching Practice ]
Whatever your financial situation, remember that a budget is always key. So take stock, figure out your path, and get planning, so that you can start hitting those career milestones.
We're rooting for you!
If you're looking for the best online life coach software, make sure to check out Paperbell. They offer scheduling, taking payments online, client admin and more in on easy online coaching platform.