If you're new to the coaching game, then you may be trying to strike the perfect balance.
In a world of certifications, landing clients, scheduling, AND finding your niche, your to-do list can quickly pile up.
Though it doesn't happen to everyone, when the going gets tough some people find themselves going into full hibernation mode as a way to cope.
No social life, no productivity – nada.
And, there's nothing more frustrating than trying to explain your coaching struggles to people that just don't understand the industry. You might consider yourself a social butterfly, but when you're trying to find your feet in the coaching world, it can be difficult to keep that happy-go-lucky vibe going.
If you've tried discussing your coaching business with your nearest and dearest, then you might have already dealt with conflicting advice. Your parents may be too opinionated and unaware of the industry's expectations, and partners may just coddle you and hope for the best.
Now, opinions and coddling have their place, but there's nothing better than that feeling of relief when you have meaningful conversations with fellow coaches that just GET IT.
The client you failed to land? That marketing pitch that wasn't a home run? They've been there too.
Whether you're talking to a coach on your own level or one of the top pros in the field, being able to chat with a fellow coach can be extremely validating and really take the weight off when the going gets tough.
Phew – time to decompress.

That sounds awesome – so, how can I find fellow coaches to talk with?
"That's all very well", you say, "but how exactly can I connect with fellow coaches when I'm just starting out?"
If you've not taken part in a coaching certification program, which naturally brings coaches together, then it's unlikely that you've found a steady group of coaching friends that you can bounce ideas off.
Enter: coaching organizations.
As a coach, you may have already done some research on coaching organizations. However, you may not be familiar with the pros and cons that come with joining one.
Usually, coaching organizations help coaches become accredited through their courses. So if you're looking to kill two birds with one stone and gain some great pals along the way, then joining an organization may be the perfect way to connect with fellow coaches AND get licensed.
Talk about multi-tasking…
What are the main benefits of joining a coaching organization or coaching association?
There's nothing better than creating your own little community, but in those early coaching days you may find navigating this industry quite lonely.
So, if you want to make sure that you're getting regular in-person contact (or online if you prefer!) then we certainly recommend joining a coaching organization.
Even if you're totally career-driven and don't feel that you need the social aspect that these associations offer, there are also great business-based reasons for joining coaching organizations!
Most organizations pride themselves on being up to date with the latest trends in coaching, so you'll be an expert on the newest innovations to use with clients well before they hit the world stage. Insider knowledge? Check.
And who knows, you might even get a new perspective on tried-and-true coaching tools that make them work more seamlessly for you. Nice, right?
Oh – and one more thing!
If you're a coach who is looking for a no-judgement zone, then coaching organizations are perfect for this too – just saying!
Things you need to consider
As you might have already guessed, choosing the right coaching organization to join is a decision that only you can make. Don't panic though, as we can help you on your way with a list of things to consider before you make that all-important decision!
Though we don't personally endorse any of the coaching organizations that we're going to talk about, all of these organizations are well-regarded and seen as top-tier. So, you're unlikely to go far wrong!
Just weigh up the pros and cons that each offer, think about what you want from an organization, and get joining!
What kind of association is it?
Though we're all for coaching organizations, you're kind of wasting your time if the association isn't an independent body. It's worth being careful here, as a lot of communities tack on buzzwords (think federation and institution) to make themselves sound more legitimate.
Obviously these associations aren't trying to rob you blind or anything, but you will want to join an independent body if you're looking to pick up genuine credentials along the way.
Don't let yourself be misled, and always be sure to read that fine print!
How will they actually help you?
If you're feeling lost, you may just want to find people who walk in the same circles as you.
But when you're deciding on which coaching organization to join, you do want to weigh up what that association can offer YOU.
Some coaching organizations have a full directory of members where clients and fellow coaches can look you up. So, if you're on the hunt for clients, being able to create a coaching profile with an organization is a huge benefit that you should definitely think about before making your final decision.
What's more, there are coaching organizations that directly match prospective clients to life coaches from within their membership ranks. Remember, as a life coach, it's all about marketing, so don't miss out on any potential leads that coaching organizations can offer you.
Is there any 'red tape' involved?
When you're applying to a coaching organization, the last thing you'll want is to feel restricted by a bunch of red tape. By this we mean regulations that actually hold you back instead of pushing you forward!
Not cool.
If you join a coaching organization, you'll want to be able to broaden your horizons (and client base of course). If you can't successfully network within the organization you choose (or outside of it for that matter!), then you're going to hit some major roadblocks as a member further down the line.
What is the community like?
As we've said, part of what makes joining a coaching organization so great is the sense of community you experience!
The coaching community is a beautiful thing, and if you join an organization that's specifically designed for underrepresented groups that you happen to be part of it can work wonders for your confidence.
For example, The Gay Coaches Alliance has a stellar reputation for being an open and accepting community for gay individuals who are seeking guidance on their coaching. This amazing group of male coaches aims to directly support their members through global cultural shifts and changes.
So, if you're looking for a safe space as a coach, then there's likely to be an organization or alliance that will welcome you with open arms! Take a look around – the options out there might just surprise you.
Making genuine connections with other coaches can really spur you on in your career, so these community considerations are some of the most important ones to bear in mind when you're weighing up which coaching organization to join.
The best coaching organizations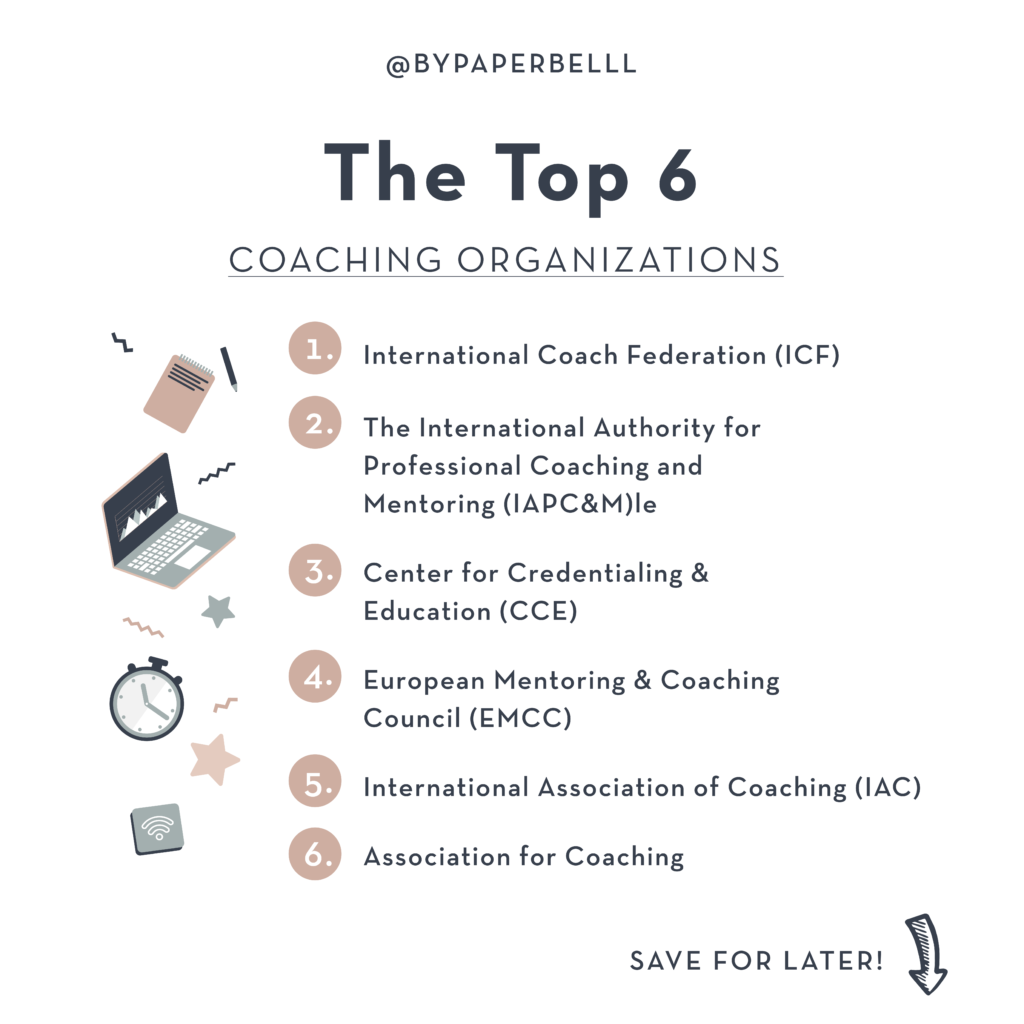 As a life coach, you've probably heard of the ICF.
The ICF was founded back in 1995, and since then it's gained over 30,000 members. As coaching isn't exactly the oldest profession in the world, these numbers are really incredible!
One of the most interesting aspects of the ICF's business profile is that it was the first association to create legitimate accreditation for coaches. If you've been exploring licensing, then you'll know that all courses MUST be accredited by the ICF to be considered legit.
So, if you want to walk amongst the best in the biz, then this is a great coaching organization to join.
Another excellent coaching organization is The International Authority for Professional Coaching and Mentoring (IAPC&M). This organization was founded by professional coaches and prides itself on being entirely run by them too!
With a worldwide reach that promises excellent training and mentoring programs for members, the IAPC&M is certainly one of the most promising organizations for coaches that need an extra push.
Oh – and in case you were wondering, there are some great membership benefits which include accreditation and advanced education opportunities.
So, what are you waiting for?
The Center for Credentialing & Education (CCE) is a not-for-profit organization that provides practitioners and organizations with assessments, business support and credentialing.
Working to help certify 25,000 practitioners globally each year, this organization aims to keep the coaching business as well-trained as possible. The CCE is an organization that's recognized all over the world. So, if you decide to join this organization, you'll definitely come across well to prospective clients.
The EMCC is a professional organization that aims to promote best practice for those working in mentoring, coaching, and supervision. The EMCC love getting a good conversation going, and they're constantly working to improve standards and ethics within the coaching industry.
Not only will the EMCC help to connect you with other like-minded coaches in your country, but it's an excellent choice for individuals who are looking for a top standard organization based in Europe.
The International Association of Coaching is another excellent coaching organization that aims to keep its coaches in tip-top shape. The IAC is quite unique, as it believes in transformative coaching over credentials.
The folks at the IAC aim to take into account prior training, education, and life experience, and like to see life coaches demonstrating their skill instead of boasting about their credentials. As the IAC is a constantly evolving organization that focuses on the needs of professional coaches, it's packed with diverse individuals who are sure to teach you some new tricks!
Clients hiring coaches who have gone through the IAC know that they've been challenged during their training. So, you will gain a degree of trust from clients if you choose to join this group of pros.
If you're looking for a coaching organization which is open to membership from ALL those involved in the coaching industry, then the Association for Coaching should be your go-to.
Sometimes, you want an association with a wider reach, so that you can meet folks from all walks of life, and the Association for Coaching is absolutely in the top-tier when it comes to this kind of inclusiveness.
A final note on coaching organizations…
Though we can't cover every single coaching organization on our list, we hope that we've given you a decent background on why you should consider joining one!
With membership benefits, credentials, and a great community waiting for you, it's certainly worth taking the plunge.