Summary of Life Coaching Statistics:
71,000 life coaches based in 161 countries worldwide
In 2018 there were 53,300 coaches
Life

coaching

is the second fastest growing industry in the US
23,300

coaching

practitioners in North America
The percentage change in total revenue for coaches between 2015-2019 was 36% in the US
The estimated global revenue from

coaching

in 2019 was $2.849 billion
The

coaching

industry has a $1 billion value in the US
A search for 'coaches' on

LinkedIn

brought in over 6.28 million results in 2020
When you think about pursuing a coaching career, does it fill you with excitement? Are you raring to go? Can you not refrain from checking coaching blogs and podcasts?
Well, we're pleased to tell you that if you're jumping for joy at the prospect of becoming a fully-fledged coach, then you already have the most important thing that you'll need in your arsenal: passion! But what do the statistics say about the life coaching industry?
I'm Definitely Committed – Now What?
Before you burst onto the scene, you'll probably want reassurance that you're jumping into a field that can make you some money. Now, loving what you do is great, but you do need to be able to sustain yourself on a coach's income!
Whether you're trying to convince others to support your coaching career or just want to validate your own decision to become a coach, making a case for jumping in headfirst can be difficult without any cold, hard facts in hand.
That's why we put together this complete guide to life coaching industry statistics.
Is Life Coaching a Growing Industry?
The answer to that question is a resounding YES.
The life coaching field has never been a more promising one to work in, as the number of people wanting to be coached just keeps increasing. As coaches have become a hot commodity in our modern world, the demand for every type of life coach has literally skyrocketed.
Can you say score?
But why is life coaching such a growing industry? Well, we're here to answer that burning question for you!
Reasons Behind the Coaching Boom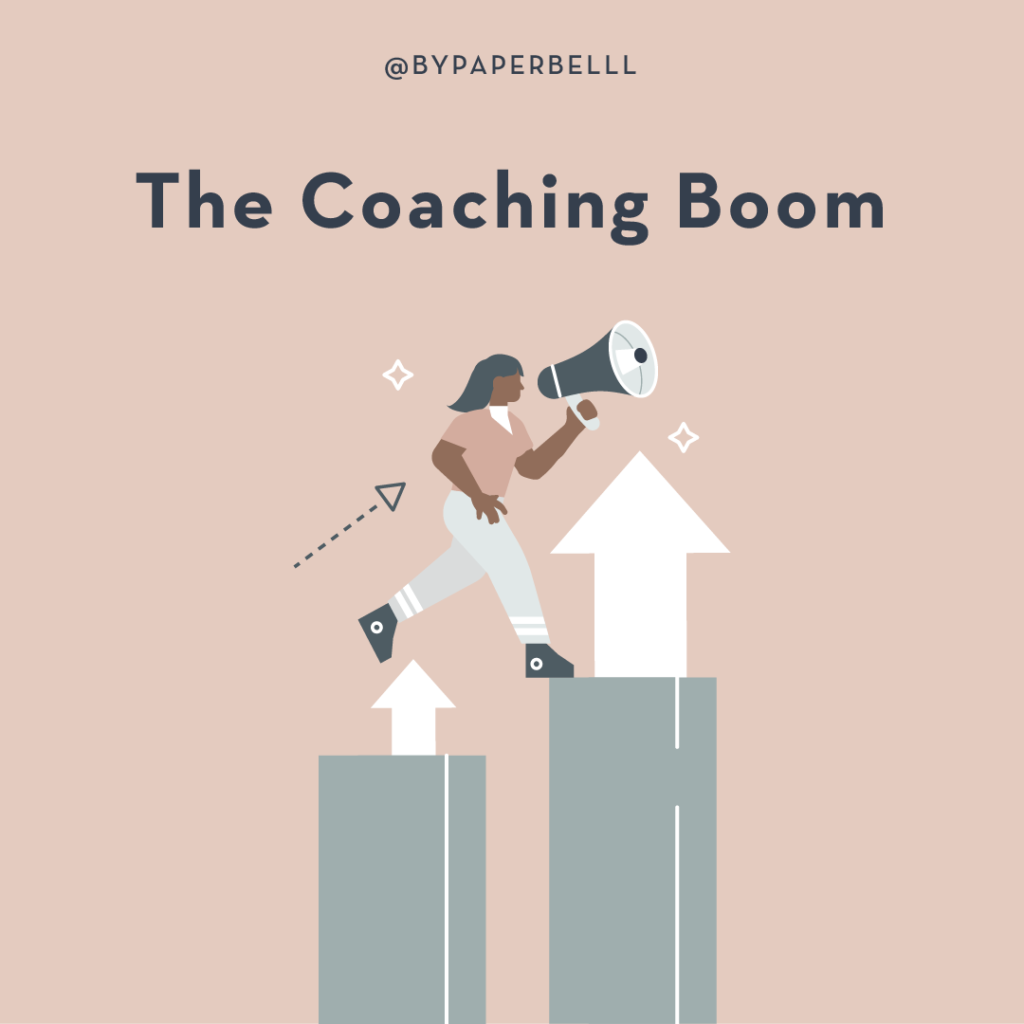 More People Want to Be Coached
We've touched briefly on this, but there's the simple fact that more people want to be coached these days than ever before.
In the last ten years or so, companies have seen how life coaches directly help to boost their bottom line. Career and executive coaches have always charged premium prices, as their work helps companies of all sizes to get great results. 
Generally, a productive team leads to higher profit margins, so more businesses are hiring coaches in order to invigorate their workforce! Neat.
However, it's not just big companies that benefit from the existence of life coaches. As you're probably aware, our personal lives have become more complex than ever!
On any given day, we have to juggle dating apps, wellness plans, the presence of social media, and general "Energizer-Bunny-itis". Okay, so that's not a genuine physical condition, but folks these days are veering dangerously into burnout territory due to the perceived need to be "on" all the time. Because of this, more people are seeking out great life coaches that can help them handle the stressors of modern life.
Whether it's an overworked Fortune 500 CEO or a wide-eyed young professional who needs help, a life coach will always be on hand to assist as best they can.
Life coaches are bonafide heroes to some people, and with so many different niches out there, you're sure to find demand for your skillset in such a crazy mixed-up world!
The Technology Boom
We're no longer living in the days of dial-up and Windows 95. Oh no – we've hit the big leagues now.
Due to the acceleration of IT performance, many people's jobs have been displaced by computers. Though this might not seem relevant to you as a coach, it's actually a key reason behind the growth of the life coaching industry.
Losing your job is a difficult obstacle to overcome, and many who have lost their jobs in the technology boom need help finding a new path. It's possible that these people have never worked outside of the field they were booted from, so navigating that huge shift often requires an expert hand.
That's where life coaches come in.
As many coaches focus on big life transitions, the demand for them has naturally risen in the last decade.
However, it's not just these unfortunate job losses that have contributed to the growth of the coaching industry. Technology has actually brought opportunities to coaches everywhere, by facilitating easy marketing, low-cost online advertising, and the ability to curate a great online presence. Because of the technology available to us now, there has never been a better time to be a coach.
All hail the technological gods!
The Lack of Regulation in the Coaching Industry
Another reason behind the growth of the coaching industry is its lack of regulation.
Though you can invest in a great certification as a coach, you don't need any formal experience to get started. In other words, no one can stop you from hopping on the coaching wagon and creating a life for yourself. There's always space in the market for new coaches, so anyone is free to find their niche and join the industry as they please.
Size of the Global Life Coaching Industry
According to a report released by the International Coaching Federation (ICF), there are approximately 71,000 life coaches based in 161 countries worldwide. This is a massive increase on the 53,300 coaches that were in the industry in 2018. In case you were interested, this figure represents a huge 33% increase on the 2015 estimate!
Holy moly.
As you can see, coaches are smashing it, and the industry is predicted to keep growing at this incredible pace, as people become more interested in personal development.
Size of the Life Coaching Industry in the US
The life coaching industry in the US is pretty hefty too.
In fact, it actually makes up a considerable percentage of the global industry!
In terms of growth, life coaching is the second fastest growing industry in the US (just behind IT, of course!), and it's seeing increased demand in all 50 states. According to the ICF, there were 23,300 coaching practitioners on North America's books as of 2020.
If you ask us, that's a pretty impressive number of go-getters.
If that wasn't enough to convince you of the significant coaching presence in the US, the percentage change in total revenue for coaches between 2015-2019 was 36% (which is nothing to sniff at!).
How Much Is the Coaching Industry Worth?
As we've already mentioned, the life coaching industry is absolutely exploding right now. We're talking nuclear levels of reactivity here. So, if you came here looking for some life coaching industry statistics that will have you jumping out of bed in the morning, then just wait.
The estimated global revenue from coaching in 2019 was $2.849 billion. Yep, $2.849 billion. That's a 21% increase over the 2015 estimate – a massive overshoot!
If you account for the fact that life coaching is a concept that's only 30 years old or so, it becomes even more impressive that this industry now has a $1 billion value in the US. As a percentage of the global industry, the US definitely comes out as the industry's primary stakeholder.
Prospective US coaches – assemble!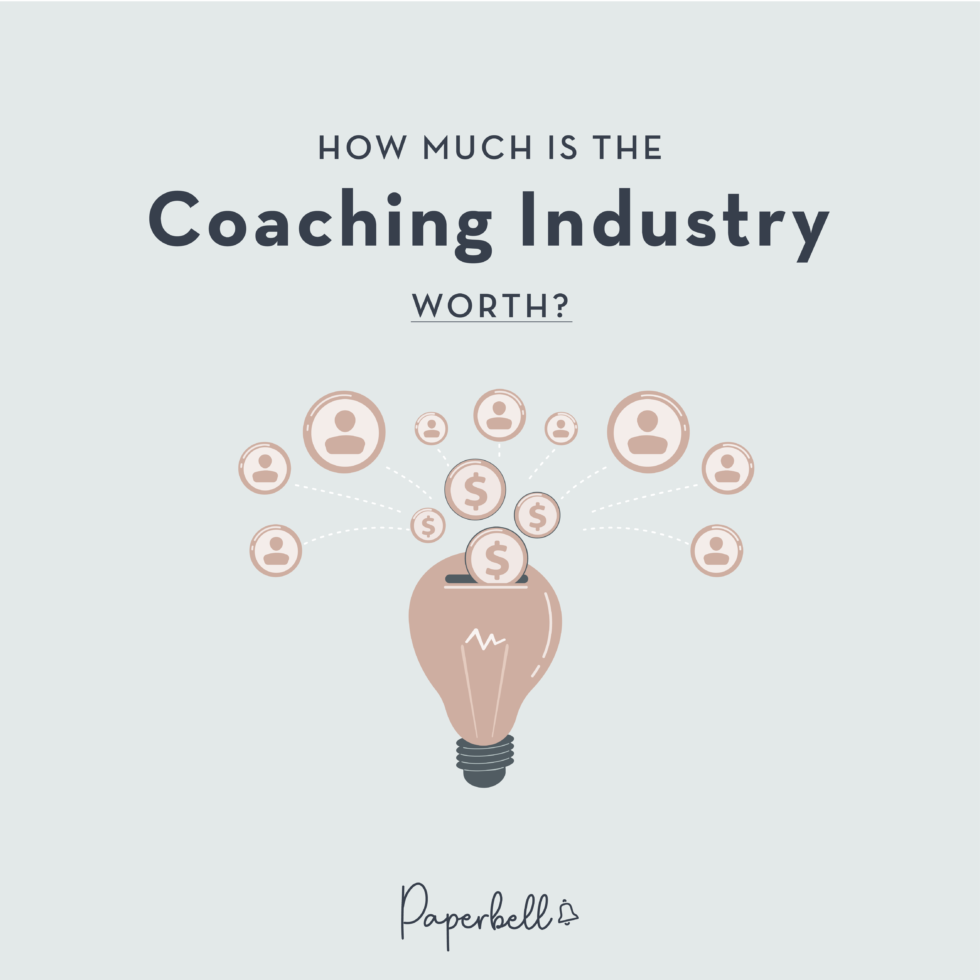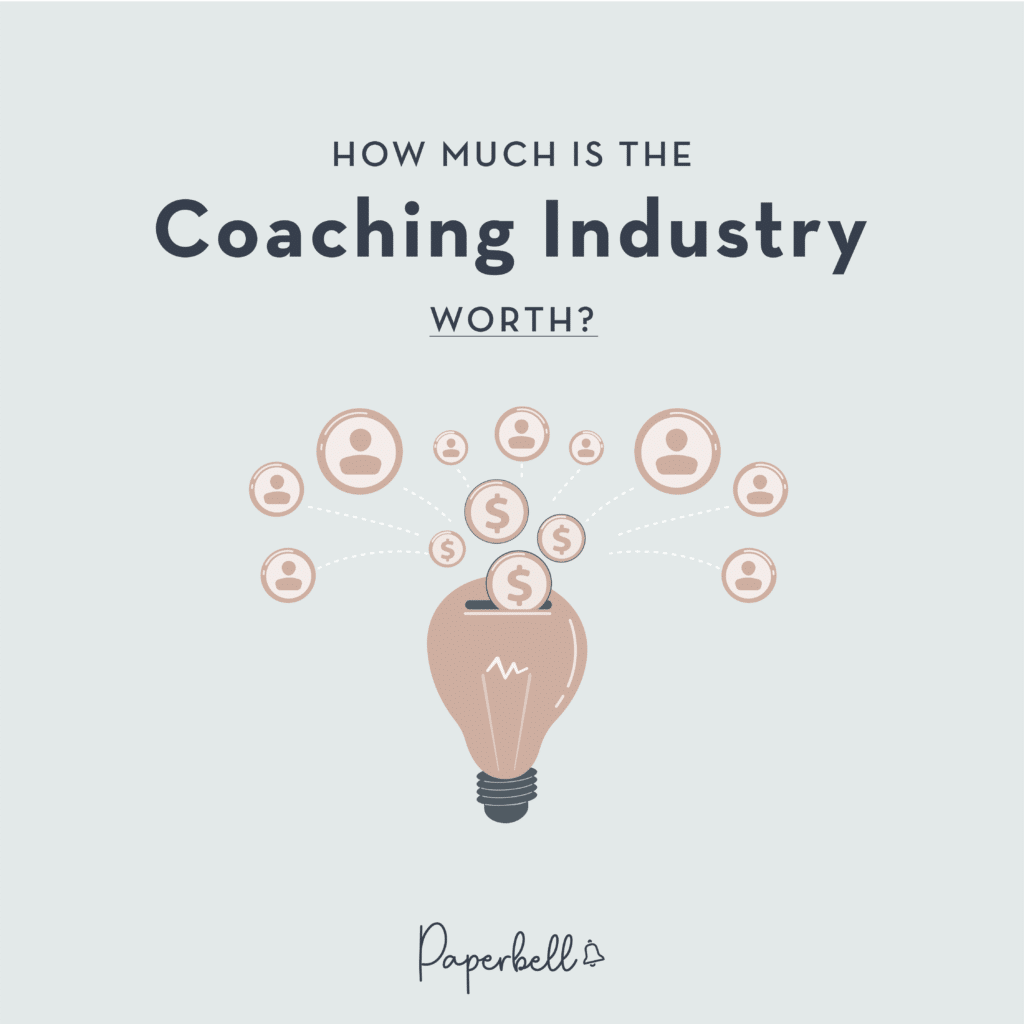 Interesting Life Coaching Industry Statistics
IBISWorld Statistics
If you're all about market research and interesting life coaching industry statistics, then you'll be pleased to know that IBISWorld has done annual reporting on the coaching industry for about a decade.
Though their reports are packed with jargon, their general predictions state that the coaching industry will greatly benefit from rising levels of disposable income in coming years. As the coaching industry has seen awesome annual growth since 2014, it's fair to assume that it will only continue to get bigger and better!
Though it's difficult to predict the effects of a future economic fallout on the coaching industry (we don't have a crystal ball that homes in on Wall Street unfortunately!), these pros don't expect the life coaching industry to take a financial hit any time soon.
Phew!
LinkedIn Statistics
Another really interesting set of life coaching industry statistics comes from the networking site LinkedIn.
Aside from being a great networking tool for professionals, LinkedIn is also an interesting bank of information for coaches who are looking to continually assess the growth of their industry. A search for 'coaches' on LinkedIn brought in over 6.28 million results in 2020, and we feel that this, alone shows how desired coaches are on the world stage.
So don't be afraid to take a bow, folks! You've earned it.
The Future of the Coaching Industry
If you came to this article thinking that you'd be bummed out by coaching industry statistics, then we hope that you feel more positive about it all.
There has never been a better time to start a coaching career, and if you distinguish yourself with some great training, certifications, and tools, then you're unlikely to go far wrong. If you keep track of market changes, your business should grow nicely in line with what's expected from the industry as a whole. So it's good news all around really!
The positive effects of life coaching are now being felt globally, and federations such as the ICF are great at keeping the coaching world up to date with the best innovative tools. With better tools and focus, comes better credibility, and that's always a good thing for coaches.
In general, the coaching industry is seeing a very steady trend of growth that's unlikely to slow down anytime soon. And seriously, who doesn't need a life coach these days?
The Bottom Line: The Life Coaching Industry Is Growing
The life coaching industry statistics that we've explored in our post should give you a great deal of confidence in the industry's potential. If you happen to face any naysayers on your journey to coaching greatness, simply pull out any of these amazing figures and sit there with a smug smile. We promise – any pesky doubters will soon disappear!
If you're a life coach, make sure to start a free trial of Paperbell life coaching software.