If you're running a coaching practice, you want to grow your business and focus on serving the needs of your clients.
The last thing you want is to deal with a ton of administrative work and monotonous tasks that could be automated. From client management to booking sessions and sending your invoices, you want to make business management as easy as possible.
There are tons of different tools out there to help you save time as a coach. In this post, we'll break down some of the best executive coaching software platforms out there.
4 Executive Coaching Software Tools To Try
Here are four different tools to check out if you want to optimize the way you run your coaching practice.
1. Paperbell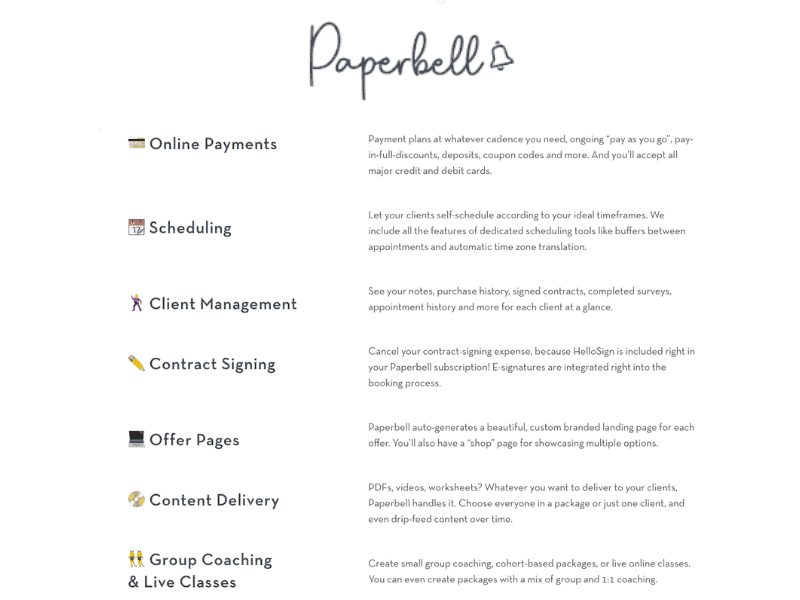 Paperbell is the coaching software that runs your entire business: scheduling, client admin processes, onboarding new clients, online payments, contracts & more.
As a coach, you need one app to be your command central. That's exactly what Paperbell was designed to do: we're the elegant online solution to manage your online coaching business.
How it works
Client Scheduling & Payments Processes Fully Integrated Into A Single Platform
Just one link takes care of your entire client onboarding process: scheduling, handling payments, contract signing, and intake information.
Paperbell is an online checkout platform with your scheduling and client CRM fully integrated. That means that you no longer have to deal with manual scheduling and send over a boatload of emails and reminders to potential clients. Say hello to automatic reminders, and send invoices and invites; Paperbell even handles your free discovery calls!
[ Read: 9 Client-Converting Questions to Ask In Every Discovery Session]

Deliver Any Kind of Coaching Package: Payment Plans, Subscriptions, Small Groups & More
Today's executive coach often does more than just an hour on the phone. Maybe you offer small group coaching sessions, multi-session packages, or ongoing subscriptions that automatically keep your client on a monthly schedule. You also want to track client progress and have visibility on where they are in your coaching program.
That's why Paperbell lets you deliver exactly the types of coaching plans and packages that your clients love! You can sell multi-session packages, mix different appointment lengths in the same package, and even mix and match 1:1 and group coaching appointments. We also allow you to offer every payment option that you need, like coupons, set-up fees, process payments and plans, and pay-in-full discounts.
Impress Your Clients with An Organized Experience
We believe that the inside of your coaching business should be as thoughtfully executed as the coaching service you provide. And as a coach, you want to impress your clients with organized and professional processes and systems. Paperbell allows you to track the number of clients you have and ensure client onboarding is an impressive experience.
That's why Paperbell is modern, elegant, and a joy to use for both you and your clients. Imagine the relief of having all of your sales, all of your clients, all of your appointments, all of your notes, all of your intake surveys, and all of your contracts clean and organized.
[ Read: How To Create A Legally Binding Coaching Contract From Scratch]
No More Overwhelm with Too Many Coaching Tools
The number of apps and tools a coach needs can be overwhelming! You got into this business because you love to help your clients create big change, not because you love adding yet another confusing management software tool to your monthly expense list.
That's why Paperbell provides everything you need for your coaching practice, all in one platform.
The All-In-One Command Central For You & Your Corporate Clients
Our key difference is having everything beautifully tied together in one coaching management software portal. You can cancel your scheduling software, your CRM, your contract signing tool, and your client workflow software and replace it all with Paperbell!
And your clients benefit as well. When they sign into their client portal they have everything they need at their fingertips: upcoming appointments, a history of packages they've purchased, and even their signed contracts and survey answers. Plus, they can easily book more appointments or buy more packages. It's a professional, organized experience that will impress the executives you work with.
Paperbell Coaching Software Features
Here's what our clients have to say about Paperbell: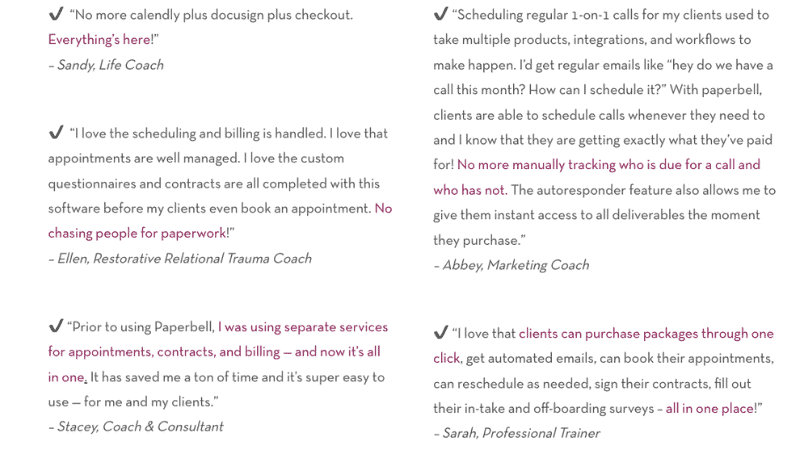 2. Profi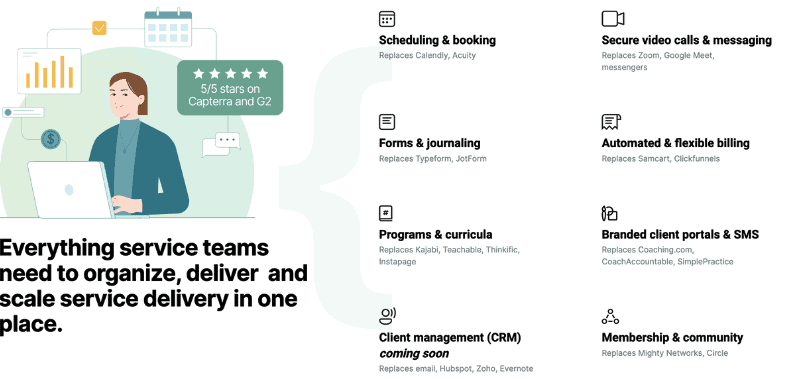 Profi was developed for coaches, trainers, consultants, and therapists. The platform allows you to manage your scheduling and booking, forms, billing, and community all in one place.
Features:
Booking Widget
Two-way calendar sync
Meeting reminders and SMS notifications
Video conferencing and meeting system
Track client progress
Co-host with other Profi users
Pros
The platform has good reviews and those who use it like all the integrations available. The booking widget can help you avoid double booking clients, and the progress tracking helps you share coaching resources with your clients.
Cons
The ease of use of Profi is where it falls a bit short, with current users reporting the UX to be a little complicated.
If you're specifically looking for a coaching management platform, Profi may not be right for you. The focus of the platform is a little too broad and maybe a little too corporate for individual coaches selling their first coaching packages.
If you're looking for coaching platforms that focus on the needs of larger teams who have the main goal of business growth, this could be a good option for you.
3. Satori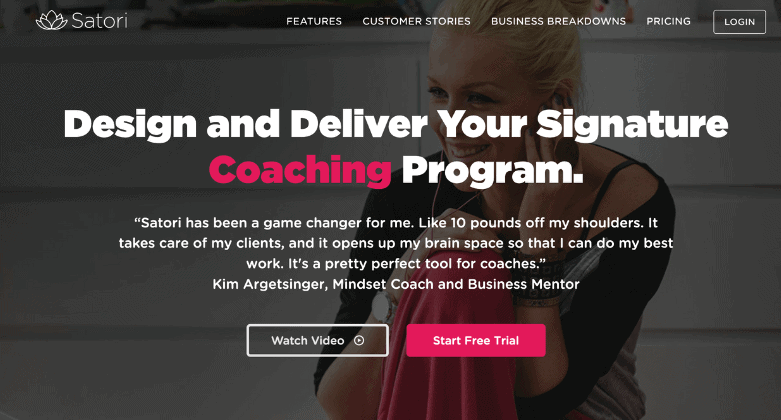 This executive coaching app claims to "streamline your coaching business management". It takes the hassle out of client interactions and helps you schedule sessions automatically. You can use the cloud-based coaching software to sell packages and auto-enroll people in your coaching programs.
Key Features
Custom branding
Automatic follow ups to track client satisfaction
One touch client enrollment
Check-ins with coaching clients
Client facing dashboard
Billing dashboard
Calendar integration with Google calendar and time zone converter
Pros
Created by someone in the coaching industry, the business coaching software is geared toward helping people who want to break into professional coaching. You can try the tool for free to see if it helps your coaching practice. The coaching platform is beginner friendly and could be useful if you're still figuring out your workflows.
Cons
There are often glitches with the payment dashboard, and it's difficult to track client engagement. There's no option to track habits and keep clients accountable. The platform has no third party integration with Zoom.
4. Upcoach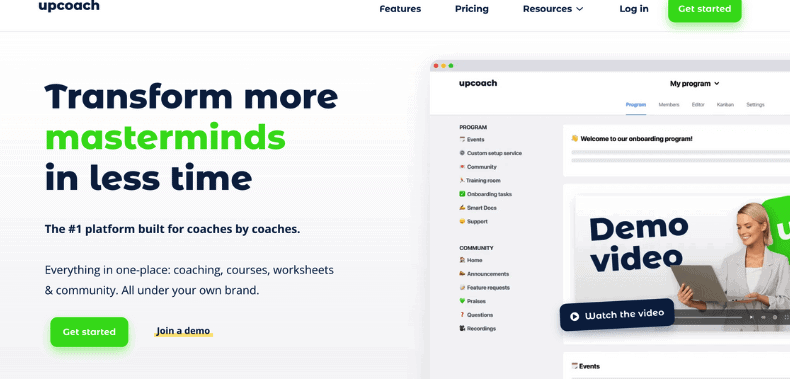 If you're looking for a platform to make tracking the coaching process simpler, Upcoach could be an option. It's one of the only coaching solutions that offer an integrated habits tracker. Sticking to habits, targets, and goals is an important part of the coaching process, so having a tracker integrated into your coaching software is handy.
Key Features
Hold your client accountable with habit tracking inside the platform
Schedule meetings
Host lessons or online courses
Assign tasks
Communicate with clients and send reminders
Track progress with the completion rate dashboard
Pros
If you want to assign tasks and keep all documents related to your coaching experience in one place, Upcoach can offer you that. It's one of the only coaching solutions with a habits tracker.
Cons
There's no integrated payment processing system in the platform which means you'll still have to manage all your sales, invoices, and payment tracking using a different tool.
There's no marketing automation, and the features are quite basic, which is not ideal for coaches who want to scale a small business.
What'sThe Best Executive Coaching Software?
Each of the professional coaching apps in this post has different pros and cons, and what is the best tool for you will depend on your business needs.
That being said, Paperbell allows you to manage your appointment scheduling, contracts, client details, calls, and payments all in one place, regardless of what your coaching packages look like. It's also easier to use than other software for the coaching industry, and more reliable.
Paperbell is currently offering free executive coaching software accounts for executive coaches.
There's no time limit, and you'll have access to every feature. That includes scheduling, checkout, digital downloads, contract signing, and more.
Your account is totally free and unlimited through your first client, however long that takes. And if you'd like to continue with Paperbell after that, it's very affordable. So if you want to streamline your coaching management, save a bunch of time, and get more clients, click here to sign up for your free account.