Starting a coaching business looks simple at first. But if you're already a life coach, you know there are infinite nuances that can make or break the coaching experience.
But there are so many powerful and intuitive apps available to help you run your business more smoothly and help your clients get more transformative results.
Let's explore the best life coaching apps available out there right now!
Coaching Apps to Use with Your Clients
Some life coaching apps aren't just for you – they're great for helping your clients achieve amazing breakthroughs and stay accountable. Here are three examples of amazing apps you can suggest to your clients.
1. Quenza
Quenza is a very user-friendly way to keep your clients engaged as a coach or mental health professional. The software is designed for providers looking for an easy way to create treatment plans, coaching programs, and online learning solutions; it even comes with 200 science-based templates that can be customized and sent to an individual or group clients in a few clicks. Quenza comes with mental health note features, HIPAA-compliant messaging, and free updates and reminders for all your clients.
Here are some of the things you can do with Quenza:
Create, share and store HIPAA-compliant progress notes
Build and implement health treatment plans from scratch
Customize premade activities, exercises, and worksheets for clients
Deliver group coaching and therapy programs to scale your business
Design and share intake forms, discovery questionnaires, and assessments with those you help
The best thing about Quenza is that it is 100% free for your clients to use on any Android, Apple, or web-based device, and they have a $1 trial if you want to test drive the product.
2. Remente
Remente is an amazing app that you can implement in your practice if you coach clients on mental well-being. It's jam-packed with powerful features for both individuals and businesses.
You can decide to use Remente to empower your own coaching practice, or you can use it alongside your clients to help them stay motivated and accountable in between sessions.
With tools like interactive goal setting and daily exercises, you can help your clients achieve their well-being goals with fewer distractions and less stress. It also includes a wellness tracker so that clients can make it easier to report on their progress with you.

If you prefer to use Remente yourself instead of asking clients to use it, you can use the daily sessions and exercises to inspire your own coaching practice.
But if you coach teams at their place of work, Remente can help you, too. Its business tools can help you:
Survey employees on their wellness
Support employees with morale, productivity, efficiency, happiness, and much more
Improve employee retention
Create custom training for teams
And much more!
3. Calm
Calm is much more than just a meditation and relaxation app. It's chock-full of meditations and relaxation sounds, yes, but it also includes other features like:
Sleep stories
Relaxing scenes
Music for focus, sleep, mindfulness, or just relaxing
Body exercises
A 'daily calm' that's different every day
While Calm is not a coaching app on its own, it can be used to supplement your coaching with additional content and materials. You can also use the music on the app or royalty-free music you download yourself as part of a meditation playlist for clients.
4. Aloe Bud
Need a simple way to remind your clients to take care of themselves in between sessions? That's exactly what Aloe Bud is designed for.
Aptly described as a 'self-care pocket companion', Aloe Bud sends gentle, daily push notifications to its users to remind them of self-care activities and check-ins for their well-being. The app helps add daily moments of mindfulness for its users.
So if your clients struggle to practice self-care outside of sessions – but don't want to get caught up in overwhelming apps – then you can suggest this app to them.
The app can also provide your client with simple reflection prompts that encourage journaling without overwhelming them
3 Best Life Coaching Apps to Enhance Your Practice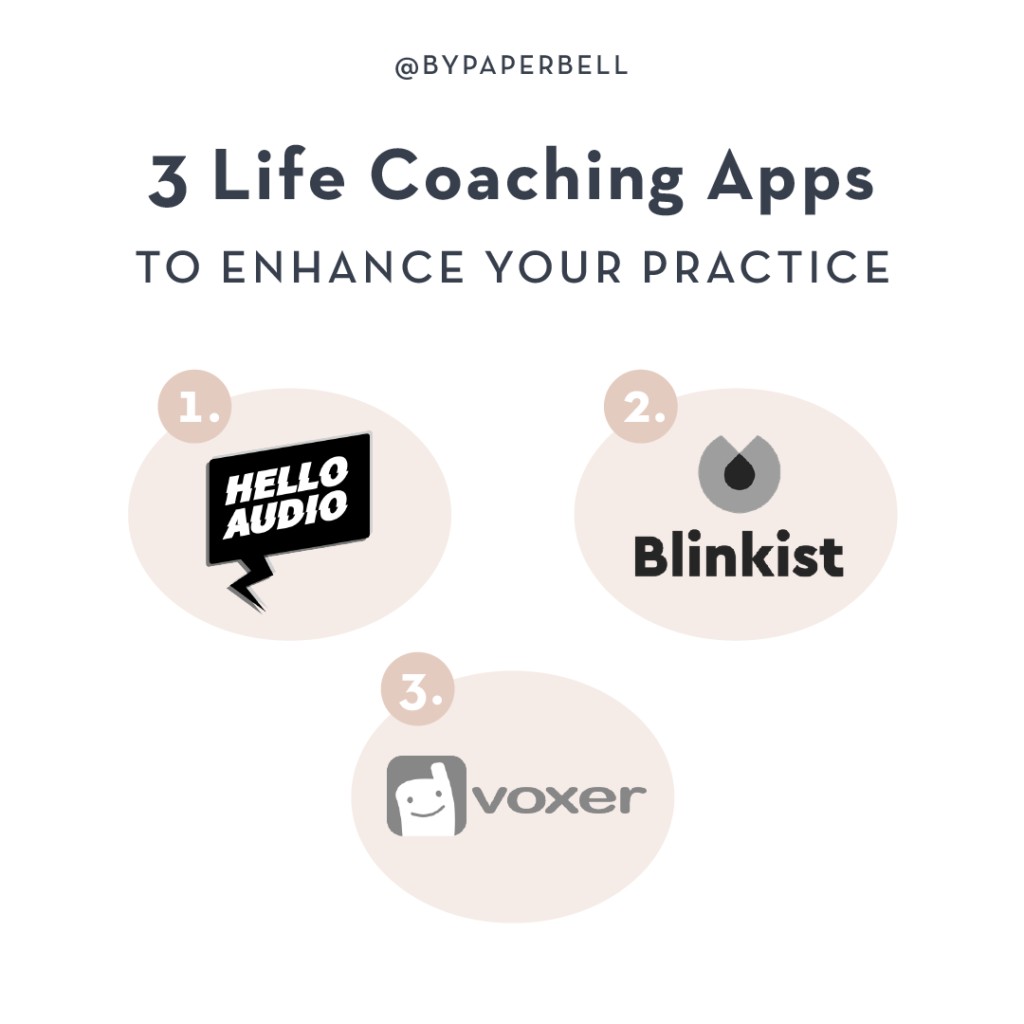 There are several apps you can use to improve your coaching practice. Here are three examples.
1. Hello Audio
Hello Audio is an amazing tool if you record video sessions for group coaching clients.
Here's the thing – your clients are busy. Not everyone has the time to sit in front of a screen to make the most of your coaching sessions. Hello Audio creates private audio feeds so that your clients can listen to your video content from anywhere.
Think of it as a private podcast for your paid clients!
2. Blinkist
Want to learn more from books and podcast but don't have as much time as you'd like to read? Blinkist is perfect for you!
With Blinkist, you can get the key ideas from nonfiction books and podcasts in as little as 15 minutes. You can listen to these insights while you're walking, driving, doing housework, or just relaxing at home.
You can then apply these insights to your coaching practice – or simply integrate them for your own self-improvement.
3. Voxer
Voxer can enhance your coaching practice by providing your clients with a whole new life coaching experience.
This app is basically a walky-talky for your phone. But some coaches have started using it to provide more intimate support for their clients. For example, you can create a package that includes 8 hours of Voxer support so that you can speak back and forth with your clients throughout the day.
Themed Coaching Apps
Looking for more niche coaching apps to use in a specific type of practice? Here are four you should look into!
1. Health and wellness coaching: MBODY360
MBODY360 helps health and wellness coaches create and deliver individualized plans for their clients.
The platform equips you with built-in templates that you can use to deploy personalized health and wellness plans much faster than you would on your own. Clients receive their plans directly to their mobile phone in their own version of the MBODY360 mobile app.
Clients can track their progress themselves, using the app. Plus, the tools in the app help them simplify their grocery shopping and meal prep!
You can even send clients personalized notifications and reminders to keep them more accountable – and to make sure they never miss a session with you.
2. PTSD coaching: PTSD Coach
Developed by the U.S. Departments of Veterans' Affairs (VA) and Defense, PTSD Coach helps its users manage the everyday challenges of PTSD.
It includes tools like:
Positive self-talk
Anger management
Relaxation skills
You can use this app yourself, to improve your PTSD coaching, or you can provide it for your clients with PTSD to give them an additional tool for coping.
3. Helping coaching clients quit smoking: Stay Quit Coach
Do you help clients battle addiction? If so, the Stay Quit Coach app could give you a hand when it comes to coaching clients who want to quit smoking for good.
It's specifically designed to help clients who are already in treatment to stop smoking, so that they can stay off the cigarettes for good after quitting.
And because the app helps users create tailored plans depending on their personal reasons for quitting, you can use it to support your own coaching practice with your clients.
4. Executive coaching: MasterCoach
MasterCoach is a handy solution if you help your clients with executive coaching. The app works in three steps:
Discover and activate strengths: In just a few seconds, you can create a Strength wheel with your clients so they know exactly what they need to focus on.
Develop insights-led actions: These coaching templates will help you steer conversations with your clients and provide them with action items in between sessions.
Dedicate to follow through: You can get real-time updates on your client's progress from your own side of the app, so that you're fully informed of what's going on before your next session.
MasterCoach has both a coach app and a client app so that both you and your clients only have access to what you need. Plus, the client app is free to download for everyone you coach.
Life Coach Apps That Help You Manage Your Business
Finally, apps can help you run your business more smoothly, so that you can spend more time doing what you love and less time managing the day-to-day details. Here are three apps that are perfect to help life coaches run a business.
1. Paperbell
Paperbell is the best all-in-one software that can help you solve all of the problems that plague you when you're trying to run your life coaching business.
Tired of sending out reminder emails so that your clients will book their sessions? That's automated. Don't want to chase clients so that they'll pay their invoice? That's automated too.
Paperbell also makes it easy for your clients to schedule themselves according to your ideal schedule. All appointments sync to your existing calendar and video calling software, so that you don't get any annoying scheduling issues.
But Paperbell does so much more. It also empowers you to:
Create coaching packages (ongoing subscriptions or one-time payments) and let Paperbell handle the checkout
Design beautiful landing pages for every package
Keep your notes in one central place, so you can stop jotting down your client notes in random places
Access client overviews and the complete history of every client
Create intake forms to get all the info you need before clients book a session
Include digital downloads in your coaching packages (or sell them on their own to create a new stream of income for yourself)
Handle contract signing as part of the checkout flow, so you never have to wait on procrastinating clients again
And because Paperbell is designed specifically for coaches, it takes care of all the little details you need to run your business smoothly, like time-blocking discovery calls and coaching calls on different days.
2. Trello
If you're someone who enjoys having a visual representation of your projects, then Trello is a perfect tool to help you stay on top of your business.
While Paperbell tackles the admin side of your life coaching business, Trello is a project management tool that uses visual cards and columns to keep you organized.
And because it's so flexible and intuitive, you can adapt it to so many types of projects, including:
A content management tool or content calendar to stay on top of your blog post/video/podcast ideas and publishing schedule
A general to-do list for your business (updating your website, creating new discovery session intake questions, etc.)
A list of life coaching apps you want to try (wink wink)
The best part is that Trello is free to use! It's got paid features for more robust uses, but most life coaches probably don't need them.
3. Loom
If you ever create video recordings for your clients – whether you're just showing your face, showing your computer screen, or both – then consider trying out Loom.
Loom is quite powerful for a free app. It lets you record your screen and your face from your computer, but it also lets you download the video or host it elsewhere.
But if you want to share a Loom video as is, you can do that, too! Every video gets a unique link that you can send over to your clients for easy viewing.
Plus, Loom also lets you:
Create a transcript of your videos
Trim your videos (to remove that awkward pause at the end)
Add a call-to-action in your video
The free plan lets you create and host a limited number of videos, but you can upgrade to $10 a month to get unlimited videos and more.
Level up Your Practice with These Life Coaching Apps
There's no need to run your coaching business the old way when there are so many tools available to help you.
That's why we designed Paperbell – to make the inside of your business as beautiful as the outside, without the headache. Start your free account today to start running your coaching business on easy mode!