Starting a coaching business looks simple at first. But if you're already a life coach, you know there are infinite nuances that can make or break the coaching experience.
But there are so many powerful and intuitive apps available to help you run your business more smoothly and help your clients get more transformative results.
Let's explore the best life coaching apps available out there right now!
Note: None of these apps sponsored this blog post or paid for their placement on our website. This is simply our personal experience and research using these apps for our coaching practice.
6 Coaching Apps to Use with Your Clients
Some life coaching apps aren't just for you – they're great for helping your clients achieve amazing breakthroughs and stay accountable. Here are three examples of amazing apps you can suggest to your clients.
1. Quenza
Quenza is a very user-friendly way to keep your clients engaged as a coach or mental health professional. It provides an easy way to create treatment plans, coaching programs, and online learning solutions. It even comes with 200 science-based templates that can be customized and sent to your individual or group clients in a few clicks. Quenza comes with mental health note features, HIPAA-compliant messaging, and free updates and reminders as well
Some of our favorite features on Quenza are:
Creating, sharing, and storing HIPAA-compliant progress notes
Building and implementing health treatment plans from scratch
Customizing premade activities, exercises, and worksheets for clients
Delivering group coaching and therapy programs to scale your business
Designing and sharing intake forms, discovery questionnaires, and assessments with those you help
The best thing about Quenza is that it is 100% free for your clients to use on both Android and iPhone, as well as on desktop. They also have a $1 trial you can use to test out all the features and then keep your access for $49-89 a month.
2. Remente
Remente is an amazing app you can implement in your practice if you coach clients on mental well-being. It's jam-packed with powerful features for both individuals and businesses.
You can decide to use Remente to enhance your own coaching practice, or you can use it as a part of your coaching packages with your clients to help them stay motivated and accountable in between sessions.

With tools like interactive goal setting and daily exercises, you can help your clients achieve their well-being goals with fewer distractions and less stress. It also includes a wellness tracker so that clients can make it easier to report on their progress with you.
If you prefer to use Remente yourself instead of asking clients to use it, you can use the daily sessions and exercises to stay on track with your own coaching practice.
Remente can also help you with coaching teams at their workplace. Its business tools can help you:
Survey employees on their wellness
Improve team morale as well as employee productivity, efficiency, and happiness
Improve employee retention
Create custom training for teams
3. Calm
You may know Calm as a meditation and relaxation app but it's actually much more than that. It's chock-full of meditations and relaxation sounds, yes, but it also includes other features like:
Sleep stories
Relaxing scenes
Music for focus, sleep, mindfulness, or just relaxing
Body exercises
A 'daily calm' track that's updated every day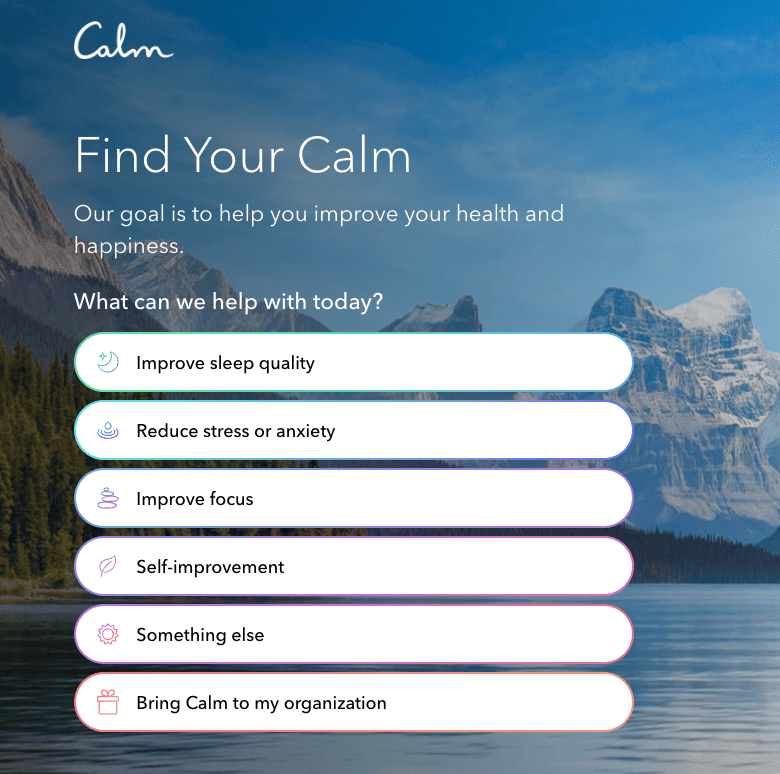 While Calm is not a coaching app on its own, it can be used to supplement your coaching with additional content and materials. You can also use the music on the app to help your clients with meditation practices or choose from a library of royalty-free music shared online.
4. Aloe Bud
Need a simple way to remind your clients to take care of themselves in between sessions? That's exactly what Aloe Bud is designed for.
Aptly described as a 'self-care pocket companion', Aloe Bud sends gentle, daily push notifications to its users to remind them of self-care activities and check-ins for their well-being. The "daily moments of mindfulness" feature on the app also helps your clients keep their self-reflection practices consistent.
So if your clients struggle to practice self-care outside of sessions – but don't want to get caught up in overwhelming apps with too many features – then you can suggest this app to them.
Aloe Bud can also send your clients simple reflection prompts that encourage journaling without overwhelming them with too many exercises at once.
5. Coach.me
Coach.me makes it easy to create custom coaching plans and set goals for your clients inside the app. You can also chat with your clients directly and share personalized feedback with them on their progress. It's like having a personal coaching assistant in your pocket with analytics and reporting tools to help you level up your coaching practice.
Their habit tracking feature is especially useful for helping your clients build new habits and stick to them until they incorporate them into their daily routines. Coach.me keeps them accountable and motivated to track and achieve their daily bite-sized goals.
You can work with multiple clients at the same time using group coaching programs which makes it super convenient to manage your cohorts besides your individual clients. The app also offers great resources and motivational content that can complement your coaching packages well.
6. Happify
Happify is made to boost the happiness and well-being of its users, in this case, your clients'. It's a fun and interactive tool to help them work on their mental and emotional health. Happify offers activities and games based on positive psychology and mindfulness, which are perfect for helping your clients…
Manage stress
Build resilience
And cultivate a positive mindset
Clients can create a personalized plan tailored to their goals. They'll get daily activities and exercises to complete, and you can track their progress through the app as well.
Happify is a great app to complement your coaching sessions by giving your clients ongoing support and tools for self-improvement. You can even discuss their Happify progress during your sessions and use it as a starting point for deeper discussions.
And here's a bonus: Happify also offers lots of science-backed articles and resources on well-being, so you can share those with your clients for some extra inspiration and motivation. All in all, it's a fantastic way to enhance your coaching practice and help your clients lead happier and more fulfilling lives.
3 Best Life Coaching Apps to Enhance Your Practice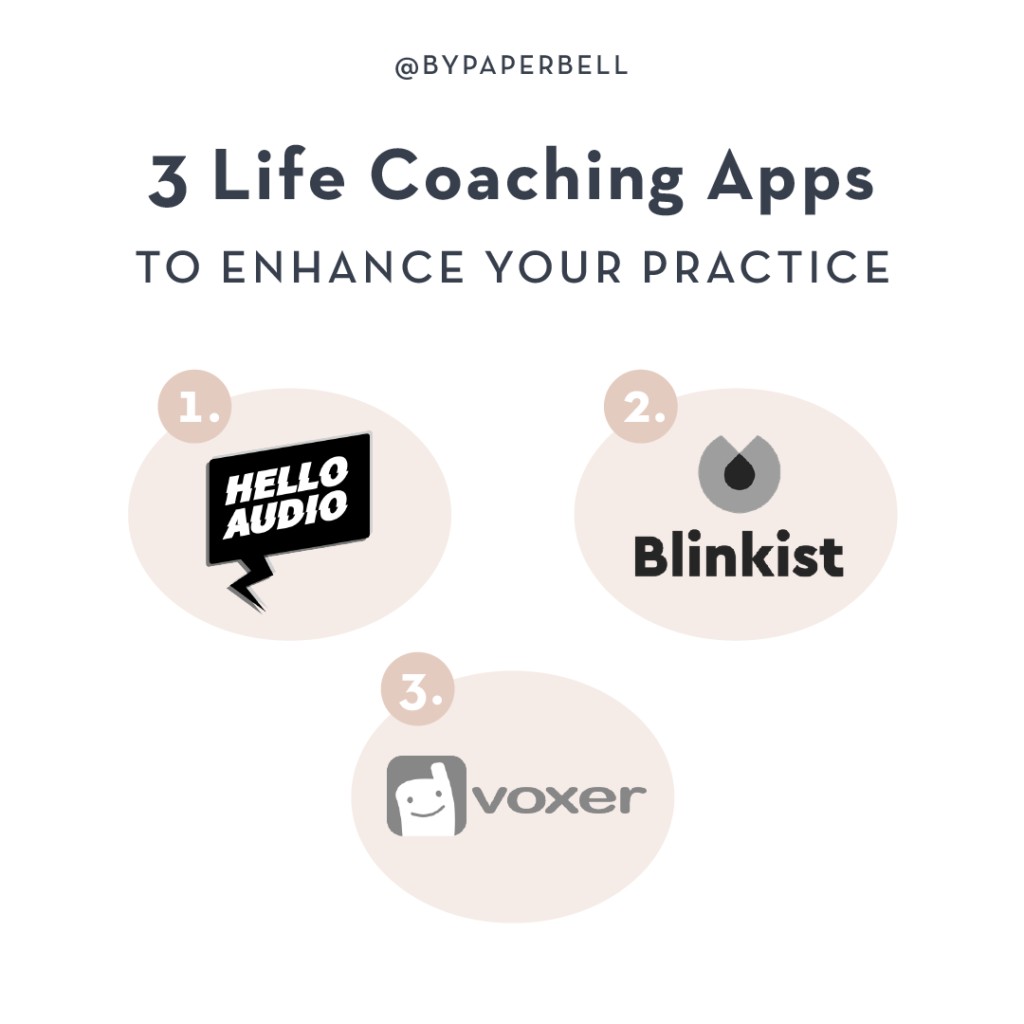 If you wonder how you can be a more successful coach, the answer might lie in using simple tools to manage your business with less hassle. There are several apps you can use to improve your coaching practice as a whole. Here are three examples.
1. Hello Audio
Hello Audio is a great tool for recording video sessions for group coaching clients.
Here's the thing: your clients are busy. Not everyone has the time to sit in front of a screen to catch up on your coaching sessions. Hello Audio creates private audio feeds so your clients can listen to your video content from anywhere.
Think of it as a private podcast for your paid clients!
2. Blinkist
Do you want to read more books and listen to new podcast episodes but can't find the time to get to them? Blinkist might be the perfect time-saver solution for you.
With Blinkist, you can get the key ideas from nonfiction books and podcasts in as little as 15 minutes. You can listen to these insights while you're walking, driving, doing housework, or just relaxing at home.
You can then apply these insights to your coaching practice – or simply integrate them for your own self-improvement.
3. Voxer
Voxer can enhance your coaching practice by providing your clients with a whole new life coaching experience. In fact, many coaches include chat support through Voxer as a part of their standard coaching packages.
This app is basically a walky-talky for your phone, but some coaches have started using it to provide more intimate support for their clients. For example, you can create a package that includes 8 hours of Voxer support to speak back and forth with your clients throughout the day. It's a much quicker way to answer questions about assignments between sessions and remove any roadblocks from your clients' progress.
4 Themed Coaching Apps
Are you looking for more niche coaching apps to use in a specific type of practice? Here are four you can look into.
1. Health and wellness coaching: MBODY360
MBODY360 helps health and wellness coaches create and deliver individualized plans for their clients.
You can use their built-in templates to create personalized health and wellness plans much faster than you would on your own. Clients receive their plans directly to their phones in their own version of the MBODY360 mobile app.
Clients can track their progress using the app without the need to check in with you. Some features even help them plan their grocery shopping and meal prep for the week.
You can also send personalized notifications and reminders to your clients to keep them accountable and ensure they never miss a session with you.
2. PTSD coaching: PTSD Coach
Developed by the U.S. Departments of Veterans Affairs (VA) and Defense, PTSD Coach helps its users manage the everyday challenges of post-traumatic stress disorder.
It includes tools like:
Positive self-talk
Anger management
Relaxation skills
The app helps you create a more well-rounded program for your PTSD clients by providing additional tools for coping with their condition.
3. Helping coaching clients quit smoking: Stay Quit Coach
The Stay Quit Coach app is an excellent addition to any coaching programs surrounding addiction management and recovery. If you have clients who want to give up smoking, this tool can be a great addition to your practice.
It's specifically designed to help clients who are already in treatment to stop smoking so that they can quit smoking and stay off cigarettes for good.
You or your clients can create specific recovery plans in Stay Quit Coach depending on their personal reasons for quitting, which can increase their motivation to stop bad habits.
4. Executive coaching: MasterCoach
MasterCoach comes in handy if you help your clients with executive coaching solutions. The app works in three steps:
Discover and activate strengths: In just a few seconds, you can create a Strength Wheel with your clients so they know exactly what they need to focus on.
Develop insights-led actions: These coaching templates will help you steer conversations with your clients and provide them with action items in between sessions.
Dedicate to follow through: You can get real-time updates on your client's progress and stay fully informed on what's going on before your next session.
MasterCoach has both a coach app and a client app, so you'll only have (and give) access to what you and your coachee need. Plus, the client app is completely free to download.
3 Life Coaching Apps That Help You Manage Your Business
Finally, apps can help you run your business more smoothly so that you can spend more time doing what you love and less time managing the day-to-day. Here are three apps that are perfect for helping life coaches run a business.
1. Paperbell
Paperbell is the best all-in-one software that can help you solve all of the problems that plague you when you're trying to run your life coaching business.
Tired of sending out reminder emails to your clients to book their sessions? It's taken care of. Don't want to chase clients to pay their invoices? It's all automated.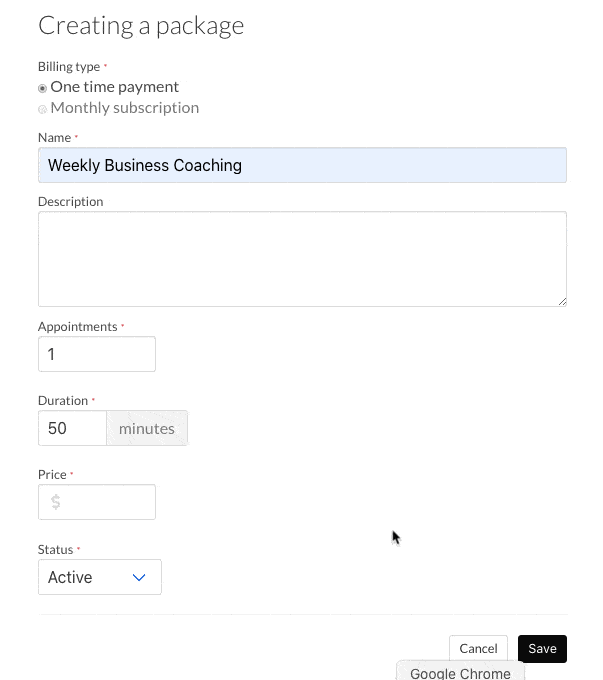 Paperbell also makes it easy for clients to book their sessions according to your ideal schedule. All appointments sync with your existing calendar and video calling tool so you can avoid frustrating scheduling issues.
Here are some other ways Paperbell help you manage your coaching business:
Create coaching packages (ongoing subscriptions or one-time payments) and let Paperbell handle the checkout flow
Design beautiful landing pages for all your packages
Keep your notes in one central place, so you can stop jotting down your client notes in random places
Access client overviews and the complete history of every client
Create intake forms to get all the info you need before clients book a session with you
Include digital downloads to your coaching packages (or sell them on their own to create a new stream of income for yourself)
Get all your contracts signed as part of the checkout flow, so you never have to follow up with your clients again
Paperbell is designed specifically for coaches by coaches. Itl is one of the secrets of how to be a successful life coach. 🙂 It takes care of all the nuances of running a coaching business smoothly, like time-blocking discovery calls and coaching calls on different days.
Try Paperbell now free with your first client and keep using all features with unlimited clients for just $47.50 a month.

2. Trello
Trello is a great app to visualize your projects on boards and manage your tasks easily. While Paperbell tackles the admin side of your life coaching business, Trello is a project management tool that uses visual cards and columns to keep you organized.
And because it's so flexible and intuitive, you can adapt it to so many types of projects, including:
A content management tool or content calendar to stay on top of your blog post, video, and podcast ideas as well as their publishing schedule
A general to-do list for your business (updating your website, creating new discovery session intake questions, etc.)
A list of life coaching apps you want to try (wink wink)
You can try Trello for free or sign up for their paid plan to try all their features and onboard any teams for your business.
3. Loom
Loom lets you record videos for your clients easily. You can choose to only use your camera or record your screen and send session recordings or presentations to the people you work with.
The basic features of Loom are free, including various options to send videos with a link or download them and host them elsewhere.
Additionally, Loom also lets you:
Create a transcript of your videos
Trim your videos (to remove that awkward pause at the end)
Add call-to-actions to your recordings
The free plan lets you create and host a limited number of videos, but you can upgrade to $10 a month to get unlimited videos and access to more features.
Level up Your Practice with These Life Coaching Apps
There's no need to run your coaching business the old way when there are so many life coaching apps and tools available to help you.
That's why we created Paperbell: to make the inside of your business as beautiful as the outside, without the headache. Grab your free account today and start running your coaching business the easy way.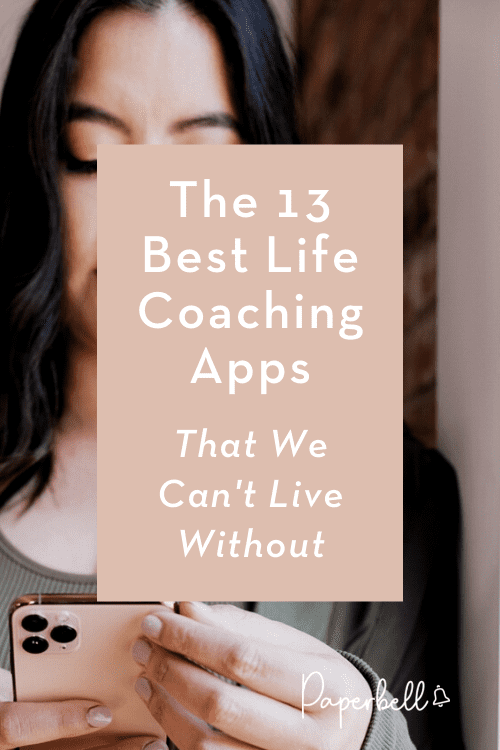 Editor's Note: This post was originally published in December 2022 and has since been updated for accuracy.