If you're a coach looking for clients, Pinterest is a great platform to focus on.
Because regardless of what type of coach you are, your target audience is on Pinterest!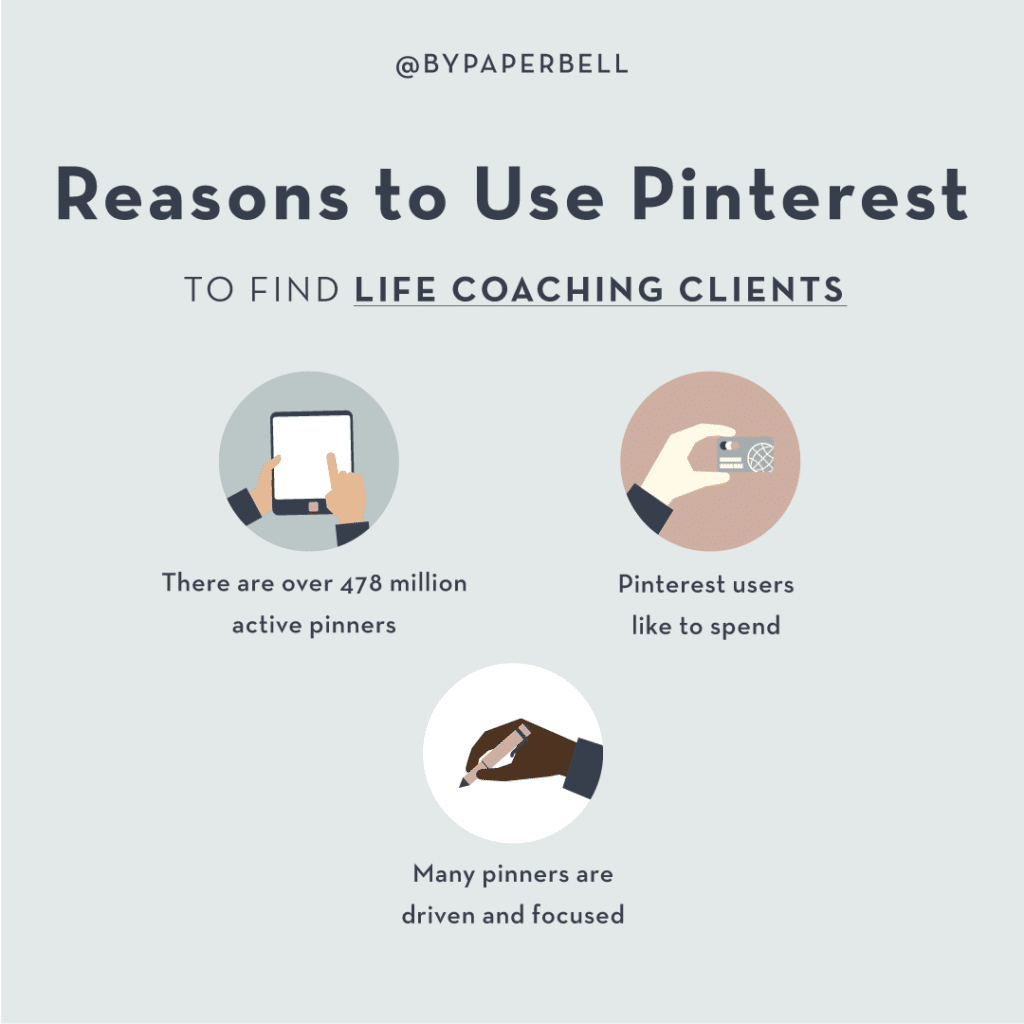 In fact, did you know that:
There are over 478 million active pinners

Pinterest

users like to spend (almost 9 in 10 people use

Pinterest

for purchasing inspo)
Many pinners are driven and focused, creating boards with titles like "

career

development" and "2021 ambitions."
If that doesn't sound like a platform full of ideal coaching clients, I don't know what does!
What is Pinterest?
If you've only ever saved recipes you'd like to try on Pinterest, or planned your dream wedding, you might not even know how unique the Pinterest platform is.
But Pinterest is a social media platform AND a search engine combined.
Just like you use Google to search for something, and Google recommends different results, Pinterest does exactly the same.
The difference is Google will show you websites, but Pinterest is a visual search engine, so it shows you images.
Being a search engine and social media mix, Pinterest brings together the best of both worlds.
Just like on any social media platform, you have your own profile, and can gain followers and DM people: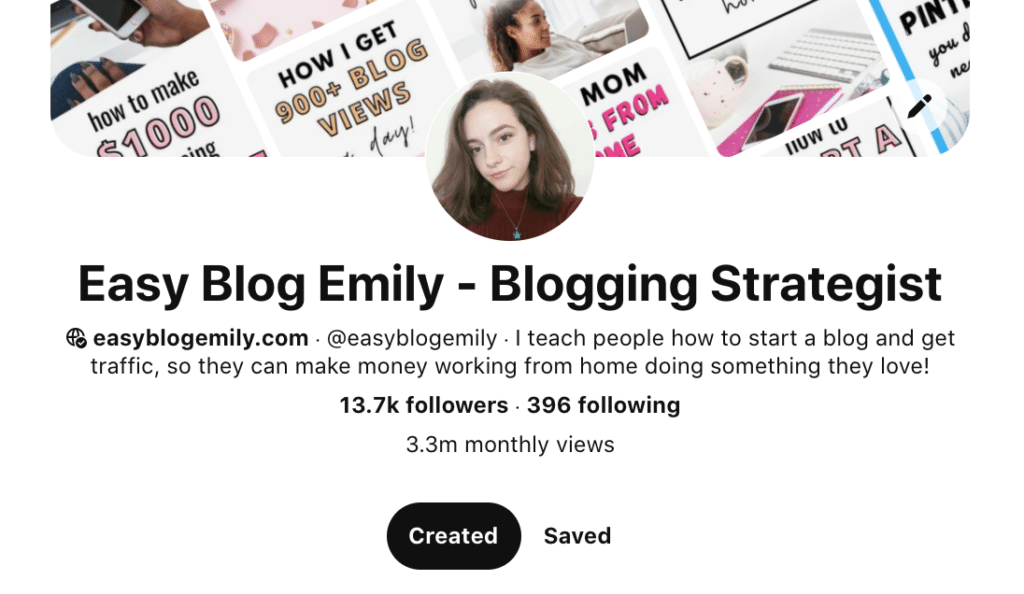 But as Pinterest is also a search engine, people can also search for content:


This means you can work to build your social profile, but also reach thousands of your ideal clients without actually having thousands of followers yourself.
Simply by optimizing your content to rank on Pinterest as a search engine!
How to Use Pinterest for Coaches
So now I've basically sold Pinterest to you as a platform you should use for your coaching business, you're probably wondering how to actually use it.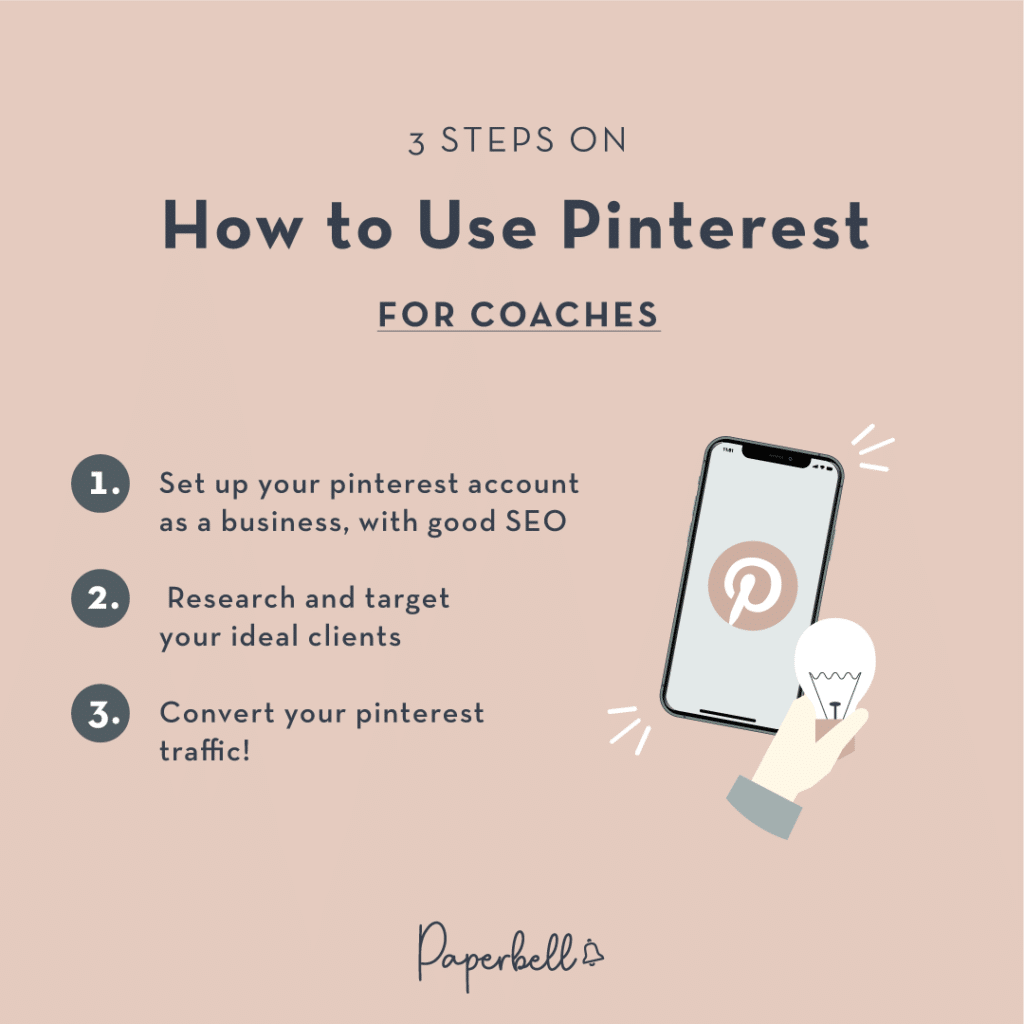 Here's a breakdown of how to use Pinterest for coaches:
Step 1: Set up your Pinterest account (as a business, and with good SEO).
If you're reading this post because you aren't using Pinterest for your coaching business yet, presumably you either;
a). Don't have a Pinterest account at all
b). Have a Pinterest account, but haven't optimized your account properly
So you'll either need to start a new account, or optimize your current Pinterest account.
Make sure your Pinterest account is a business account!
Whichever one you chose, you'll need to make sure your account is a business account.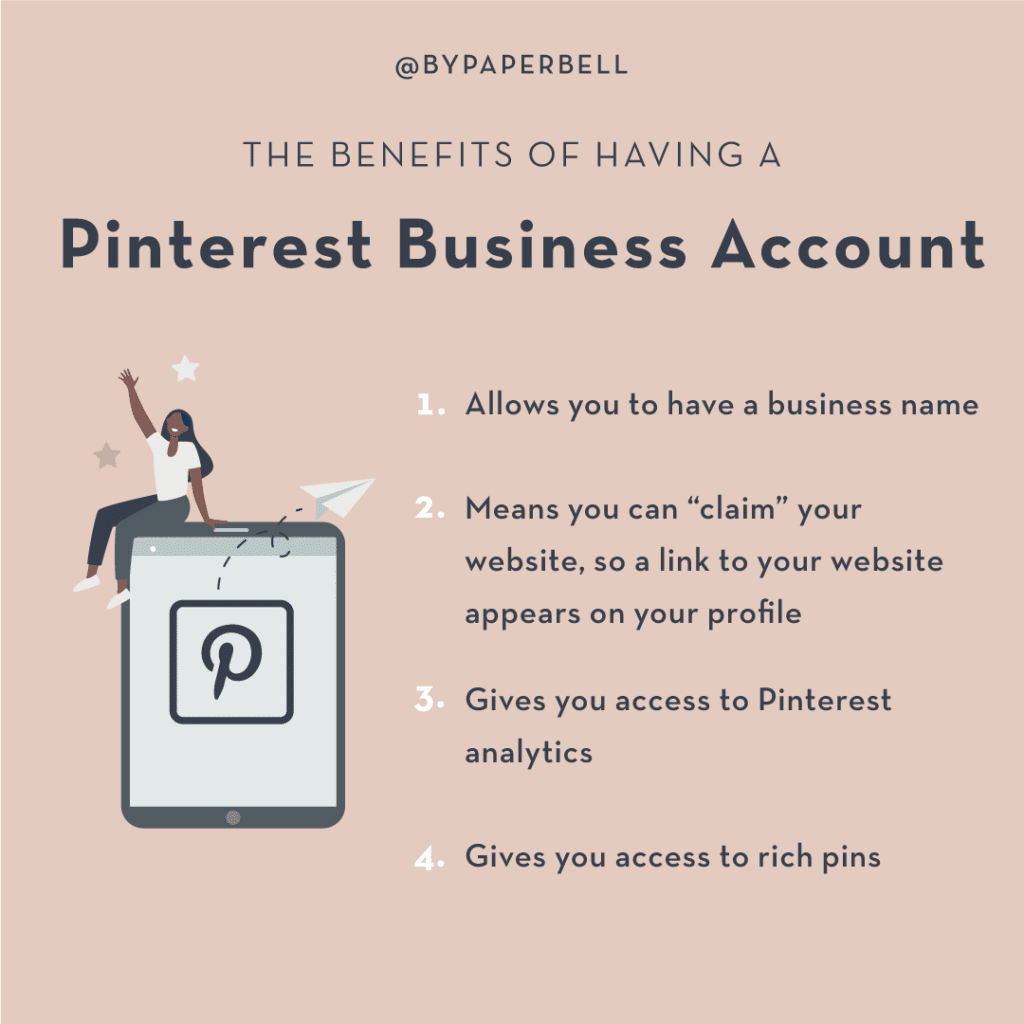 That's because a business account:
Allows you to have a business name
Means you can "claim" your website, so a link to your website appears on your profile
Gives you access to

Pinterest

analytics, which provides an insight into how your pins and profile are performing
Gives you access to rich pins. Rich pins are helpful as they provide more information on your pins, including automatically putting information from your website onto your pins (plus rich pins are free!).
How do I get a business account?
There are actually 3 options for getting a business account:
If you already have a personal

Pinterest

account (aka an account you just use for fun!), this will be a personal account. With an existing personal

Pinterest

account, you can either…

Link a business account to your existing Personal account. This will mean that you keep the personal account you have, but then have a business account linked and can switch back and forth.
Convert your existing Personal account to a business account. You can just convert your current personal

Pinterest

account to a business account if you don't think you'll use your personal account anymore.
If you don't have a

Pinterest

account…

You'll need to create a new business account from scratch. You can also do this if you've got a personal

Pinterest

account, but it's not relevant to your coaching business.
Follow this Pinterest step by step guide for getting a business account if you need help with this!
Claiming your website on Pinterest
Once you have created a business account, you'll need to claim your website.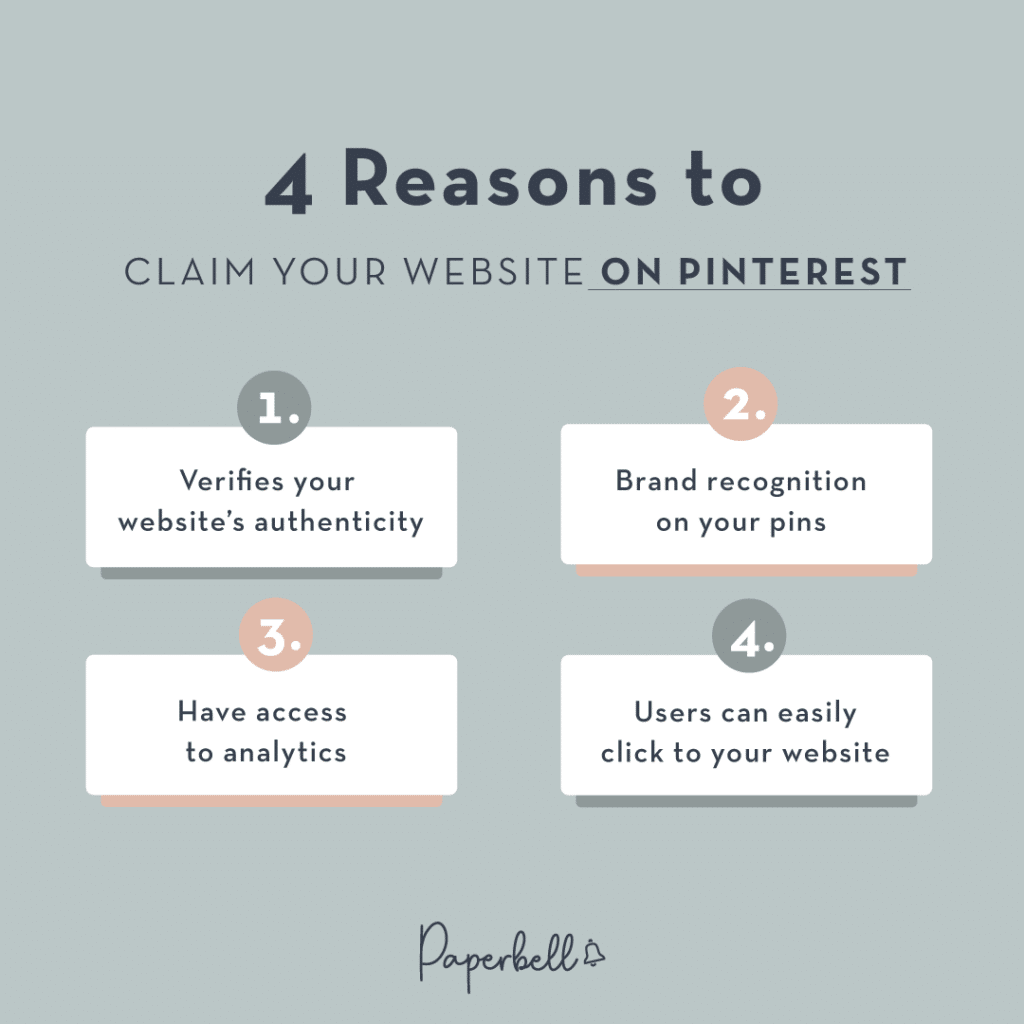 This verifies your website's authenticity, and once you have claimed your site:
Your profile picture will be shown next to pins that come from your website.
A small globe icon will show next to your website's URL on your profile.
You'll be able to access analytics
Plus, it's free!
To claim your site on Pinterest, follow this Pinterest help guide.
Setting up and optimizing your profile
Once you have claimed your website on Pinterest, you need to start creating and optimizing your profile.
This includes:
Writing a display name. Make sure to put your business name and include keywords on topics you cover, e.g " Name – Life

Coach

", so when people search for a life

coach

on

Pinterest

your profile comes up.
Setting a profile picture.
Writing an "About" section. Again, you'll want to explain what you do and use keywords here.
Follow relevant pinners. The content you see in the Home feed will include pins from people you follow, so make sure to follow accounts that are relevant to you and your coaching services!
If you would like more detailed help for each of these steps, you can sign up for my free Pinterest course Easy Pinterest with Emily.
We cover creating an amazing profile on Day 1 of the course!
Step 2: Research and target your ideal clients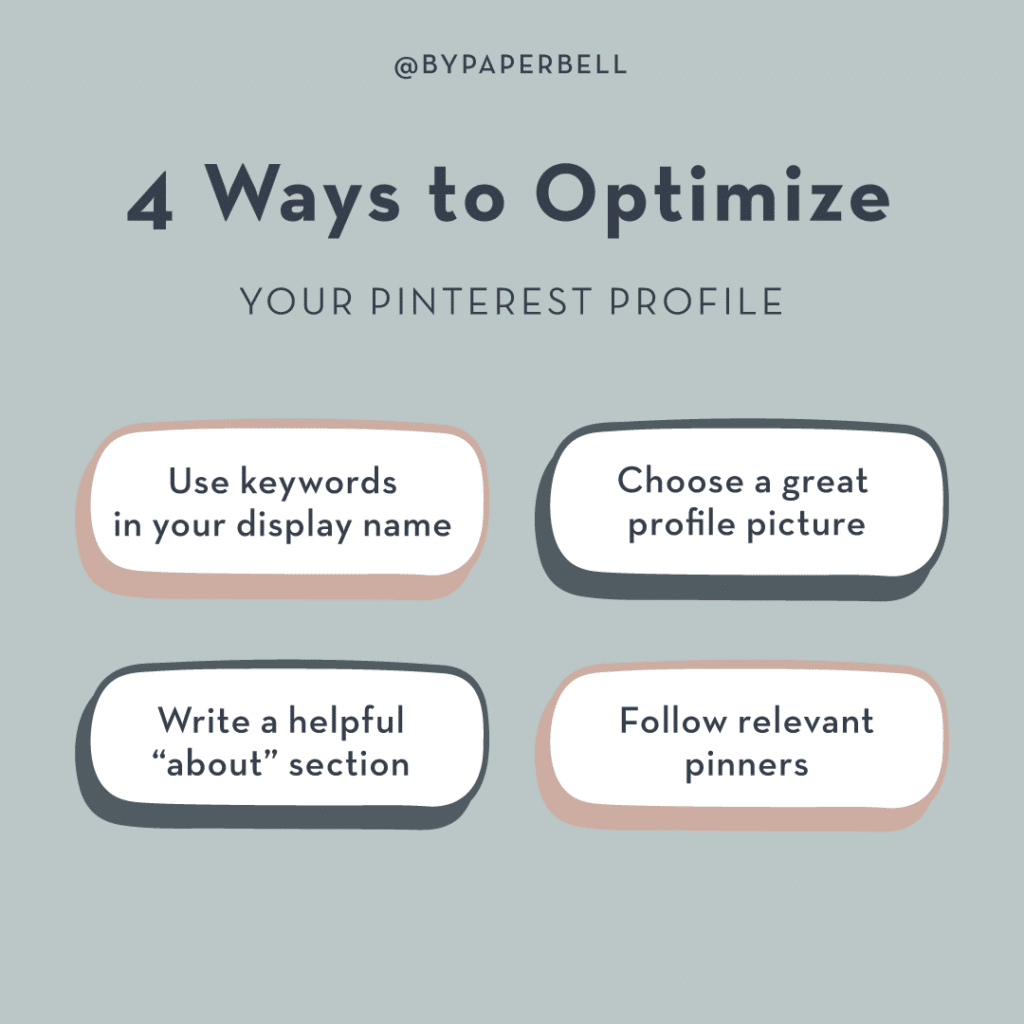 Once your account is up and running, you'll want to start creating content to engage your target client.
The best way to make sure you're reaching the right people on Pinterest is to create boards and pins targeting keywords that:
Are relevant to your content
Also engage your ideal client
As when you share a pin with a well optimized pin description (full of relevant keywords) to an SEO optimized board, that pin could eventually start to rank for those keywords in search results! 
How to find keywords your potential clients will engage with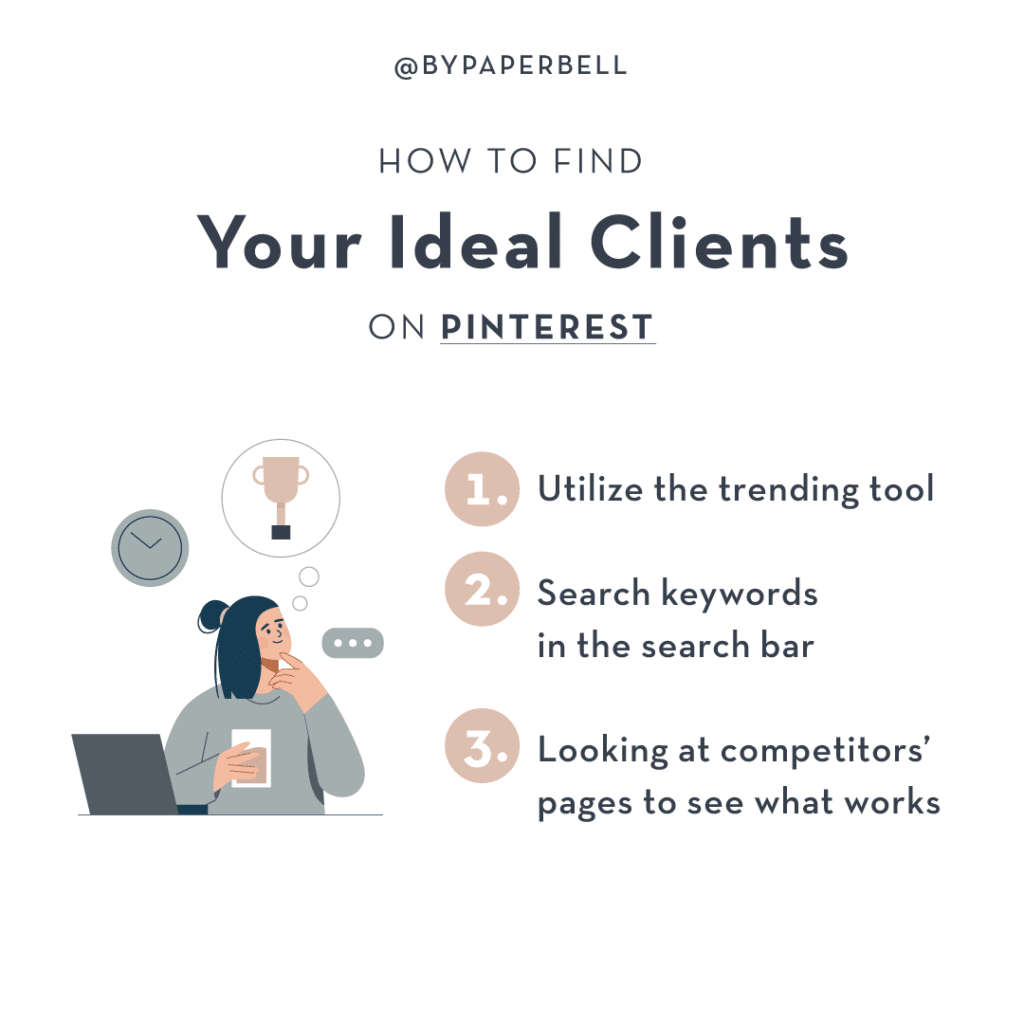 There are three ways to find relevant keywords to use for your content on Pinterest:
Method #1: The trending tool
If you go to the Trending tool by Pinterest, you can search for topics you cover in the search bar.
If you search for a topic in the search bar and there is a suggestion, it means Pinterest has data on this keyword:


Click on this keyword, and Pinterest will not only show you how many searches this keyword is getting over time, but also other relevant keywords you can target: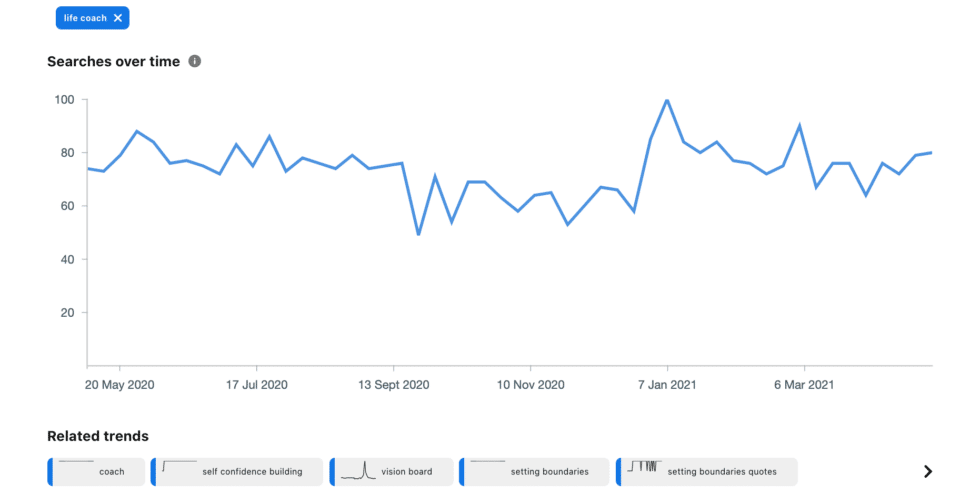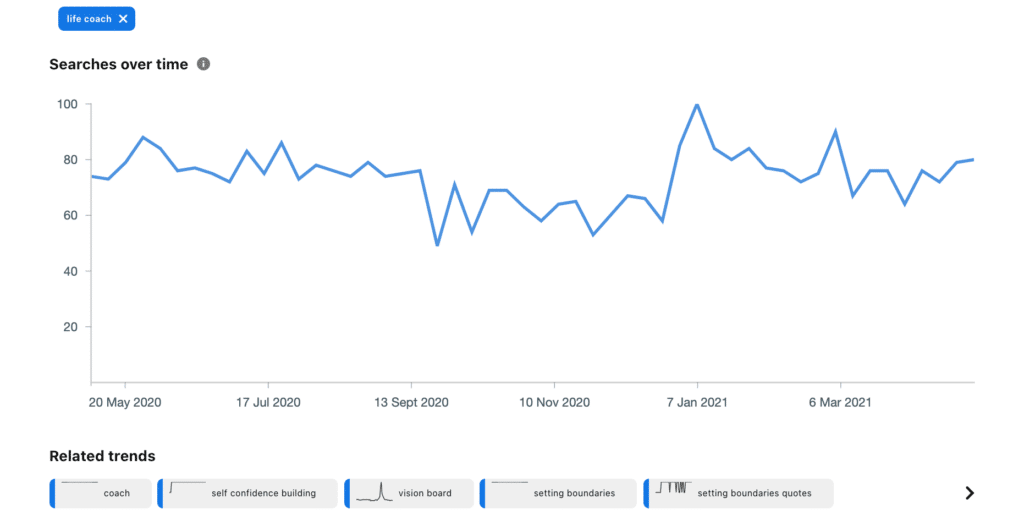 Method #2: The search bar
Another way to find keywords is to use the Pinterest search bar.
Just begin to type a relevant keyword, and Pinterest will predict what you are going to search for when typing in this keyword (based on what other Pinners have searched previously):

You can use these as keywords for your content.
If you then search for that keyword, sometimes Pinterest will suggest keywords underneath the search bar:


You can also use these as keywords!
Method #3: Look at your competitors
Lastly, you can also take a hint from your coaching competitors who are already doing well.
Just search for relevant topics, and see what keywords are being used in the top results. Then you can use the keywords as inspiration for your own content (do not copy exactly though!).
Remember, you can search for both pins and boards in the search bar:


You can do this to help make sure the pins you are creating and the boards you are saving them to are SEO optimized with relevant keywords.
Creating content to target your ideal clients
Following keyword research, you can then create your own content to target your dream clients!
This includes:
Creating boards
Your boards are where you'll save pins into, so make sure to create boards for topics you cover in your coaching business.
(You can also create boards that are purely to engage your dream clients, and not necessarily for content you cover on your blog!)
Make sure to use relevant keywords, but also to make your board descriptions interesting and helpful for the reader.
Creating pins
Once you have somewhere to start saving pins to, you can start to upload images that lead to your own content.
Simply create compelling pin designs that your target audience would enjoy, and upload them to the relevant board with an SEO optimized pin description and a link back to the relevant content on your site.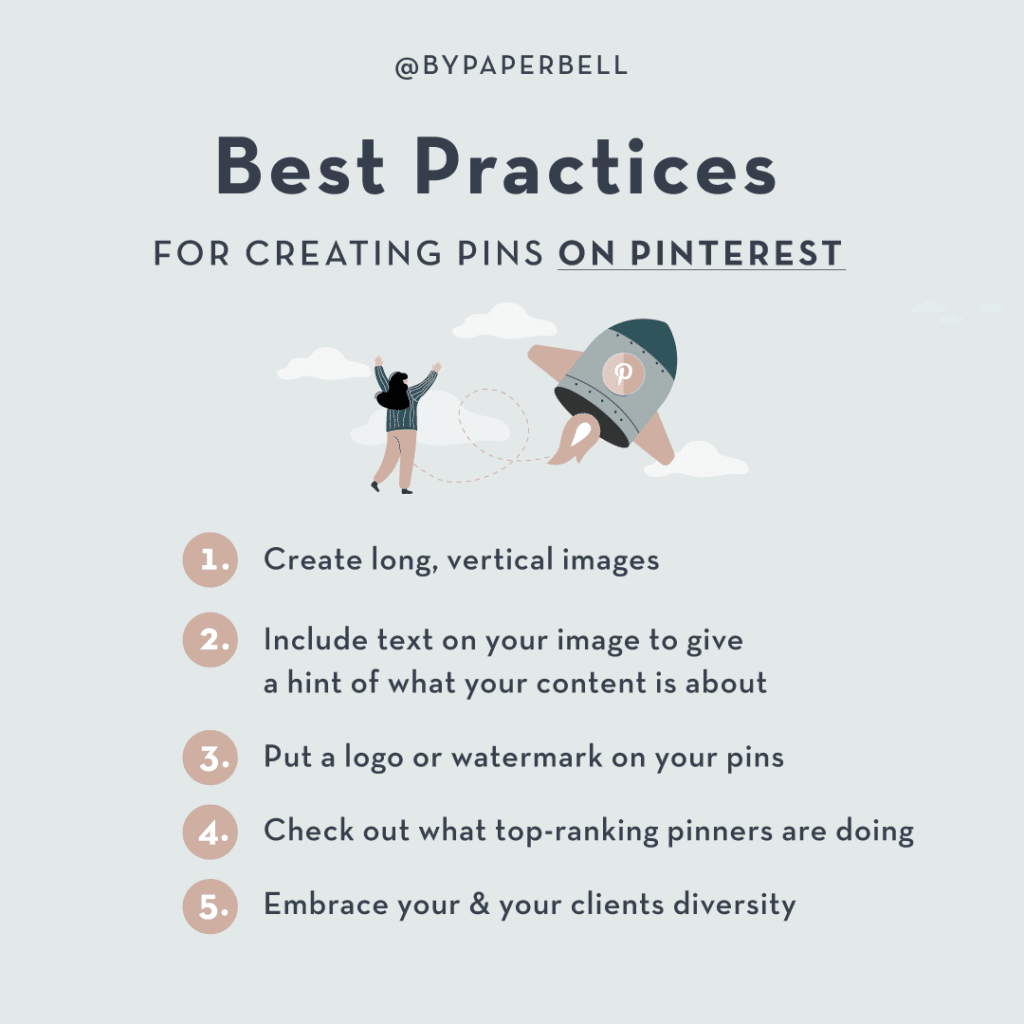 Some tips for helping with creating pins are:
Make sure to follow the best practices for your pin designs. Create long, vertical images at the recommended size, and include text on your pin to give it more context.
The text on your pin should give a clue as to what the content on your site is about, but not give it all away. This will make the viewer want to click through and engage with your coaching content.
Just like we researched into what keywords top ranking pinners are using, also check out their pin designs. You will be able to see what pin looks pinners are engaging with for certain keywords, and this can inspire your own designs.
Put a watermark, your logo, or site URL on ALL your pins. There are people out there who will steal your pins, and use them to lead to their own site! So make sure you put something on them to show you created them.
Step 3: Convert your Pinterest traffic!
With Pinterest, providing you are following Pinterest's best practices, using good SEO strategies, and are consistent, you can expect to start getting traffic to your site within 3 – 6 months.
So once you start getting those potential clients over to your website, you need to convert them!
How to convert potential clients into actual paying clients
Many of these potential coaching clients will be coming over to your website from Pinterest to engage with your free content.
They might not even be aware that you offer a coaching service.
They will simply read that one free blog post, then leave.
This will happen most of the time, but do not be disheartened; to avoid them leaving for good, you'll want to try and get them onto an email list.
Once they're a loyal subscriber you can build a relationship with them, until they are aware of your paid for services and are ready to buy.
How to drive email sign ups
One of the best ways to drive email sign ups is to offer a free incentive.
By creating something valuable, you can offer it to your site readers and drive readers to join your email list on autopilot.
I recommend creating a helpful resource that is relevant to you and your coaching niche, to ensure you are only getting people signing up to access your freebie that would also be interested in your paid-for coaching packages.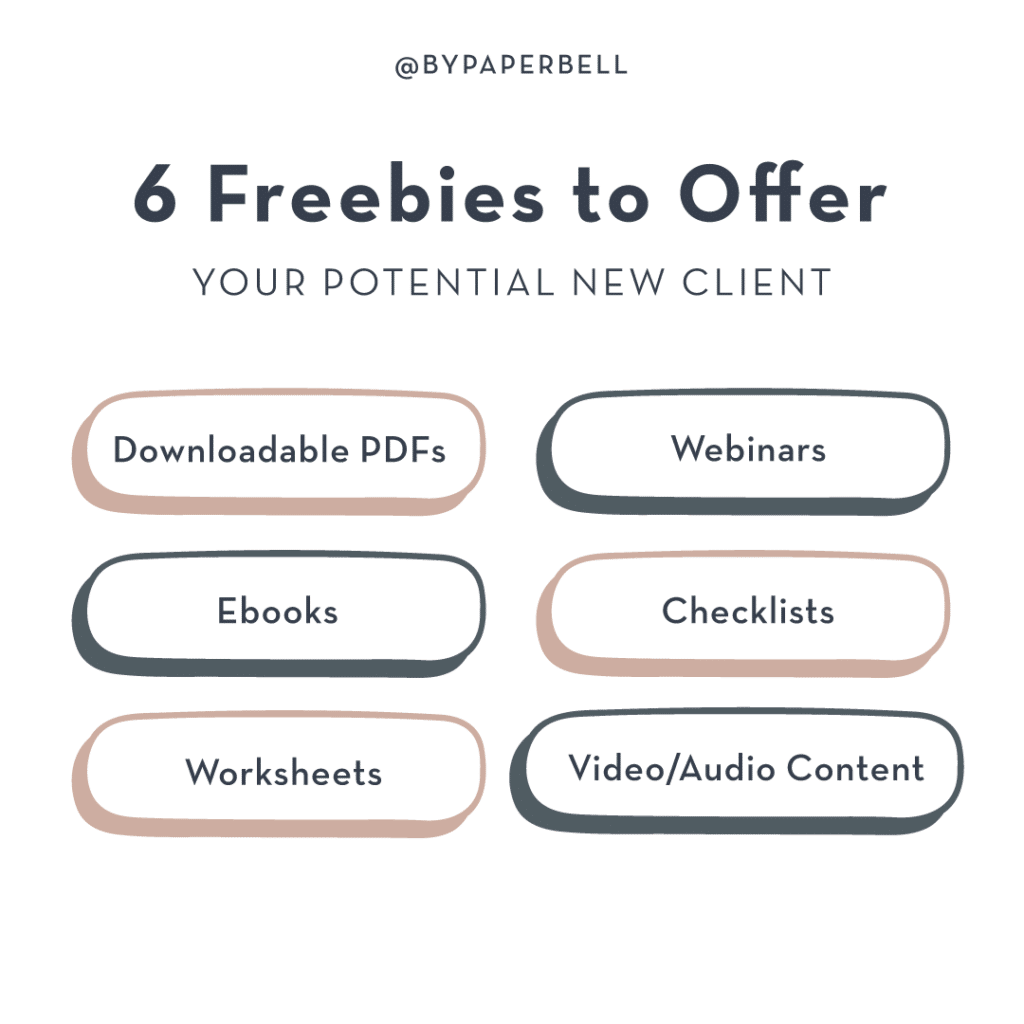 These freebies can include:
Downloadable PDFs
Webinars
Email courses
Ebooks
Checklists
Workbooks or worksheets
Video or audio content
Reports
Once you have people signing up to receive your emails, you can work on creating automated email sequences that promote your paid-for coaching packages.
You could even ask your subscribers one or two of these discovery call questions and see who replies, to establish which of your readers are engaging and you could suggest your paid packages to!
How to find coaching clients FAST with Pinterest – Final thoughts
I hope this post has helped you realize Pinterest can be a great tool for coaches. 
And it is the perfect platform to find coaching clients!