When you're looking for new coaching clients, the various marketing strategies out there can be a little overwhelming.
What works and what doesn't?
How can get you results today if you need clients fast?
What should you start working on now to reap the results over time?
We've gathered the most effective ways to get coaching clients below. Most of these marketing tactics can be as time-intensive as you want them to be, so choose the ones that make the most sense for your coaching business and experiment with them.
However, one thing is not optional: you should make sure that you're getting coaching clients organically.
How to get coaching clients organically
Getting coaching clients organically means that you're not directly paying for them. You're not paying for an ad that is shown to a potential client on social media or Google, but instead, you're employing different strategies to make new clients come to you.
When done right, organic marketing builds your credibility as a coach and keeps bringing in leads, even when you stop working on a certain strategy. It's what allows you to be free from having to spend money on advertising to generate an income.
Sound good? Let's get started!
Optimize your site to rank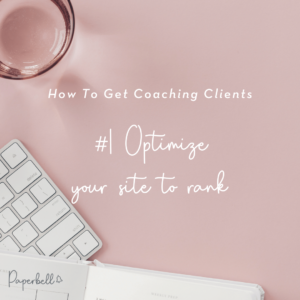 There is a reason businesses, small and large have a blog. Blog articles are the perfect tool to showcase your expertise, give people a feel for your personality, and draw in new leads.
However, the latter can only happen when people actually find your coaching website when performing a search on Google. That means you need to build your content strategically. If you've been blogging for a while but are not generating a lot of organic traffic, you probably haven't given much thought to what you write about and how.
Take the time to learn about SEO and content marketing to make sure your target audience finds your content on the first page of Google. Here are some good resources to look into:

If you're not blogging yet, today is the day to get started. Content marketing doesn't return results overnight. It takes a while for articles to rank well in Google, and usually the newer the website, the longer it takes.
Build your email list and promote your offer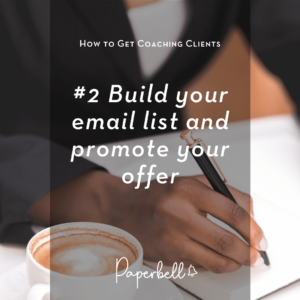 When you read about online marketing, you regularly come across the phrase "The money is in the list." While you can't control platforms like Facebook or what other website owners may do with the content you write for them, your email list is yours, and so it's worth it to invest in your email marketing.
Sure, you can use it to simply send newsletter updates to your subscribers, but it's also a great channel to get paying clients from. After all, people who've given you their email address and have been following you for a while will be more likely to buy from you than from a stranger.
If you don't feel comfortable pushing your coaching offer to your list, try setting up discovery calls instead. You can start by adding a quick call to action as a P.S. Here is an example phrase you can use and adapt:
"Wondering how this advice can help you achieve x? Book a free consultation today to discuss how I can help you."
Link that to a page where your subscribers can book a discovery call with you, and you've incorporated your offer in an elegant way. Later, you can try sending more offer-centric sales emails.
Getting people on your email list also offers an opportunity to get to know them. Once they've given you their email address, send them a welcome email asking them about their biggest struggle right now. Make a note of the things that come up, and reply to each response you get to keep the conversation going and potentially present them your coaching offer.
Guest post on relevant sites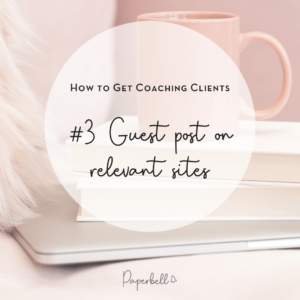 An efficient way to get in front of your target audience is by guest posting on blogs that cater to that same audience. That could be another coaching website, but it could also be a blog related to the services you offer.
Are you a lifestyle coach? Then you may want to guest post on productivity and financial blogs. Are you a fitness coach? Then you could pitch health and wellness publications. The more relevant the blogs you write for, the better.
If you've done a lot of guest posting already or if you're having trouble getting your guest posts accepted, you can approach websites outside of your niche by giving a little twist to your article ideas.
A health coach could pitch a travel blog a post on how to maintain your weight while traveling, while a personal finance coach could pitch the same site a post on how to successfully save for a big trip.
The great thing about guest posts is that they keep on giving. A guest post published yesterday can still send you clients five years from now.
You'll have the best chances of getting clients from guest posts if you post on blogs that target your ideal audience. However, you may also want to write for bigger and maybe less related blogs for the purpose of link building and increasing the authority of your own website.
Go on a podcast or host your own podcast show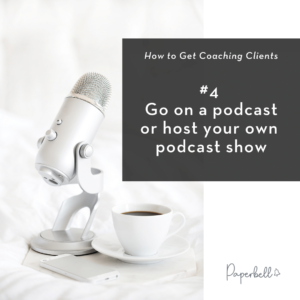 If you prefer speaking over writing, getting interviewed on podcasts is a great way to get your name out there. Just like with guest blogging, you can start by targeting podcasts of other coaches and those in niches that are closely related to the services your business offers, before casting your net a little wider.
While appearing on other podcasts puts you in front of different audiences, launching your own podcast show has its benefits as well:
It allows you to build your own audience.
It helps you establish yourself as an expert.
It offers the opportunity to invite and talk to big influencers in your niche, which elevates your credibility and potentially gives you access to their audience if they decide to promote the episode.
It gives potential clients a feel for how you communicate.
Establish yourself as a coach on social media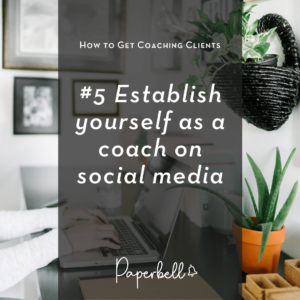 You don't need to use every big social media platform, but you do want to make sure you secure your handles and fill out your profiles on all of them, so people are guided to your website or email list, should they find you there.
If you know your audience is on Facebook, for example, you'll want to experiment with posting updates and advice on a Facebook page and growing a following there. However, this has gotten harder over the last few years as Facebook has been limiting organic reach for pages.
An easier way to engage with your audience on Facebook is to provide value where it's already hanging out…
Provide value in Facebook groups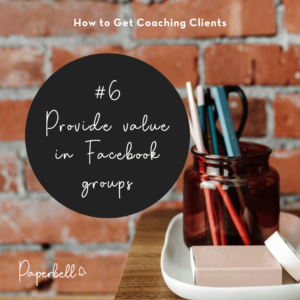 There are Facebook groups for just about every topic, so look for groups your customers are participating in, and set some time aside every day to answer questions and share valuable tips. The goal is to get a conversation going that makes it natural for someone to reach out to you privately, or for you to suggest they can private message you if they want more help.
Make sure to only choose around 3 groups to interact in. There will probably be more that seem interesting but you'll never be able to provide a ton of value and get your day-to-day work done if you spread your time over 10 different groups.
If one group doesn't get you any returns, you can still move on to another. Just realize that it takes time to build a reputation.
Lastly, you can also start your own Facebook group. It will take more time and effort than engaging in other Facebook groups but could become a great place to get insights into what your potential clients are struggling with and to test new coaching packages.
Dust off that Twitter account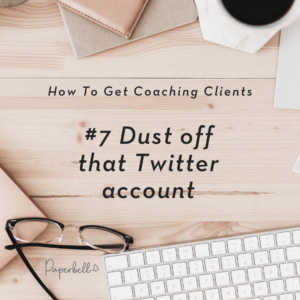 Twitter may not come to mind as the platform to market your coaching services on, but if your ideal clients are entrepreneurs, techies, or maybe even journalists, it's a great place to be. Because of the way Twitter works, it's also much easier to connect with someone one-on-one by replying to a tweet of theirs, than it is in a Facebook group.
Figure out if your ideal clients are on there, and, if they are, set some time aside every week to interact with them there and share updates about your business.
Create Linkedin connections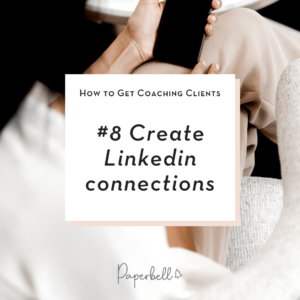 If you coach business clients, Linkedin is the place to be. Not only can you showcase your expertise by sharing updates and tips, you can send connection requests directly to people who could make great clients.
Ask them what they're working on, share useful content with them, and inquire about their struggles. Once you've built up a relationship with them, you can ask them to hop on a call to discuss how you can help them be a better version of themselves.
Answer questions on Quora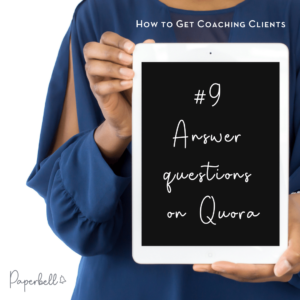 Quora can be a little overwhelming if you've never used it before, because people ask questions about literally anything on there. However, with 300 million active monthly users, it's a platform to look into.
The best way to figure out whether your target customers use quora, is to follow the topics those customers are interested in, have a look at their profiles, and see what kind of questions they ask.
If you offer productivity coaching for entrepreneurs, you'll want to follow topics like "productivity" and "entrepreneurship".
Once you've established that your potential clients are on Quora, make it a point to answer their questions as thoroughly as possible. If you've written a related blog post, make sure to add a link to it as well. Not only will you build your Quora reputation, you'll also get people curious enough to check out your profile and – if all goes well – reach out to you.
Two big benefits of Quora are that:
Quora answers rank in Google, so people who are actively searching for the help you can offer them, can find you through your answers.
Just like guest posts, Quora answers can be found and read years after they've been posted, so you never know when someone will reach out because they read your in-depth reply on the site.
Engage on Reddit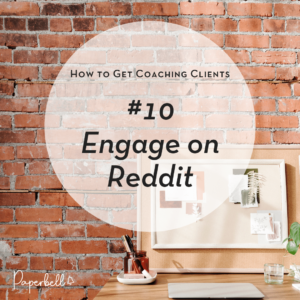 In October 2020, Reddit had 52 million daily users. That's a lot.
Just like Quora has topics and spaces you can follow, Reddit has subreddits (like mini forums or topic categories) you can join. The big difference with Quora is that on Reddit, self-promotion is frowned upon and if you start sharing links with every question you answer, your answers will get downvoted and you'll get banned pretty fast.
Instead, genuinely provide value and start building relationships, so you can tell people about your coaching business when the time is right.
Attend networking events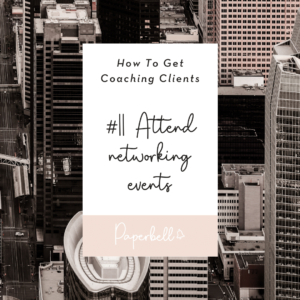 Networking is often thought of as this sleazy way of rubbing shoulders to later get things done from people, but really what you're doing is creating connections and finding your people. There is no better way to get to know your potential customers than by talking to them face-to-face.
Don't make the mistake of staying in your own bubble and only attending events for and by coaches. While these can lead to valuable relationships, you'll get more business from going where your target audience is.
General networking groups can be great too, as a new connection may not be an ideal client, but someone they know could be.
People more quickly buy from those they know, like, and trust, so make sure you get your name out there in a positive way, let your presence be noticed, and nourish the relationships you build.
Get on stage (or screen)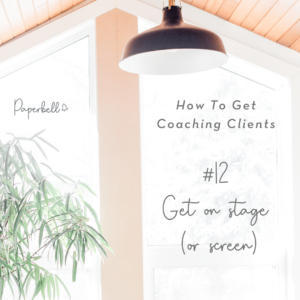 When we see someone speak on stage, we automatically assume they're ahead of us. But here's the thing: we all know something someone else doesn't. To an aspiring life coach, a coach with two years of experience is an expert.
No matter where you are in your coaching journey, you have unique experiences and skills that you can pass on to others. Getting on stage is not about knowing all there is to know, but about sharing what you do know.
Apply to be a guest speaker at recognized conferences, reach out to the organizers of virtual summits, and organize your own events. You don't need to do anything big. Start with a workshop at your local coworking space or collaborate with a local business to give a talk about something their customers might be interested in. Your local Chamber of Commerce is another good place to reach out to.
When you've built a solid reputation, speaking can even be one of the ways to get paid for your coaching expertise, alongside working directly with clients.
Ask your friends and family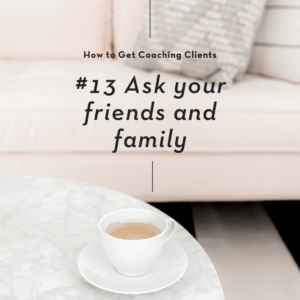 You'd be surprised at how many people within your circles could be interested in your services. Even when they're not the best fit as customers, they already know, like, and trust you so they're more likely to accept your help and become your biggest supporters.
And if nobody among your contacts seems to be needing your services, you can always tell them what kind of coaching you do and what kind of clients you're looking for so they can drop your name whenever someone interesting crosses their path.
Don't just stick to friends and family either. Make a list of all your acquaintances and even connections you have from previous careers that you could reach out to.
Actively ask clients for referrals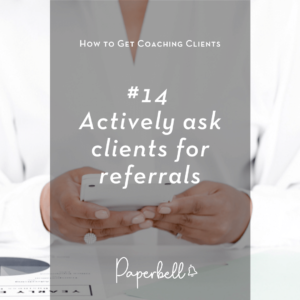 Aside from friends and family, there is another group of people that will be happy to help you grow: your satisfied clients.
It's super easy to ask your existing client for a referral, yet so many coaches leave this tactic on the table because they're not sure how to go about it.
Here are some good moments to ask existing clients whether they know someone who could also benefit from your coaching:
When they've paid their invoice, send them an email to confirm receipt, thank them again for working with you, and pop the question.
When they let you know they've achieved results.
When you follow-up with them after you've stopped working together, to see how they're doing.
If you keep forgetting to ask for referrals, make it a part of your offboarding process or set a calendar reminder for yourself.
Have a clear brand and service/market fit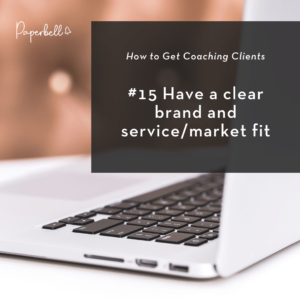 You don't just want to get new clients, you want to get the right kind of clients. That's where branding comes in. When done right, your branding is what makes the right client go "This is exactly what I've been looking for" while turning the wrong client away.
It entails everything from your website design, to the tone of voice you write in, the type of content you share, and the way you set your prices. It's what sets you apart from other coaches.
If you offer life coaching for high-level executives, your messaging should be different than when you're targeting new moms, and it should be consistent across all of your channels.
Get super clear about who you're targeting and what you have to offer them, so potential clients learn to recognize what you stand for no matter where they find you.
How to get new coaching clients with paid marketing strategies
Launch an affiliate program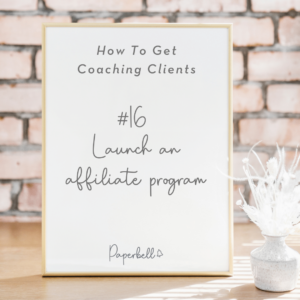 Running an affiliate program is a soft way of doing paid marketing. You're not paying anything upfront but instead, you pay a commission to those who send you new coaching clients.
It's a strategy that works particularly well if you have a program people can sign up for directly on your website as there is no doubt whether a lead has turned into a client or not.
While the people promoting your coaching business as affiliates will likely be the same people you can guest post for, they'll be more motivated to promote your services when they know they'll get compensated for sending you clients.
PPC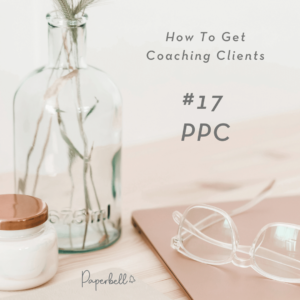 With PPC or pay-per-click advertising, you run ads for your coaching business based on a target audience and/or keyword that you only pay for when someone clicks the ad.
One clear example are the ads you often see at the top of Google's search results.
If you know your clients are searching for your services but your site isn't quite strong enough yet to rank on the first page of Google, paying for an ad like that may be a good solution. Not only does it create visibility for your brand, you can also design the ad in such a way that only the right type of clients will click it.
You can also use Google Adwords to run PPC ads to appear on websites where your next coaching client may be hanging out, or you can go directly through an ad network such as Mediavine or Adthrive.
Facebook ads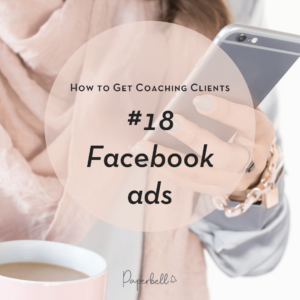 When you know your audience is on Facebook, running ads there might be more effective than running more general PPC ads. Facebook allows you to get very specific about the kind of people you target with your ads and also makes it possible to create lookalike audiences based on your email list. On top of that, you can retarget people who've already visited your website (and thus know about you) on Facebook.
Then there are the types of ads you can run on Facebook:
poll ads
lead ads
story ads
video ads
image ads
carousel ads
playable ads
dynamic ads
collection ads
video poll ads
slideshow ads
messenger ads
instant experience ads
And we haven't even mentioned the various goals you can choose for your ads.
This multitude of options means you'll need to do a lot of testing and tweaking to get your money's worth, especially if you've never ran Facebook ads before.
A word of caution
While paid forms of promotion can work well to get coaching clients, they can also be a huge money suck. If you're not experienced in running Facebook ads or don't know what to look for when deciding to place a sponsored blog post somewhere, it's easy to get burned.
On top of that, there are plenty of agencies who'll gladly take your money without delivering much of a result.
If you decide to do your own paid marketing for your coaching practice, thoroughly research the best ways to go about it before linking your credit card to something.
If you opt to outsource your paid marketing, try to find someone who comes recommended by people you trust, has a proven track record, and can clearly explain what they'll be doing, how they'll be tracking results, and what their pricing structure looks like.
It's also a good idea to research how paid marketing has worked for other coaches or businesses within your industry so you have an idea of the success rate you can expect.
Lastly, be crystal clear about the action you want people to take once they've clicked your ad, whether that's to sign up to your email list, book a discovery call, or buy your new course.
Nurture your current coaching clients
This post on how to get coaching clients wouldn't be complete without mentioning that it's almost always easier to maintain current clients than it is to get new ones.
The excitement of signing up a new coaching client can be thrilling but if you're in this business for the right reasons, the true excitement will come from helping your clients achieve the results they're looking for.
Always give them your best, overdeliver when it makes sense, and never let your hunt for new clients interfere with nurturing your current ones.
Wrapping up: whatever you do, test and be consistent
There is no need to try all of these marketing strategies to get clients. Figure out where your strengths lie and start with one or two tactics that are a good fit for you and your coaching business. Be consistent with them, track your results, and change what isn't working.
If you're quite analytical, dive into SEO and content marketing. If you already have a big list, try to improve your email marketing. And if you're great at giving quick tips, engage in social media groups and on forums.
It will take some trial and error but when done right, you'll walk away with a process that will continue to bring in clients for your business.