Have you ever felt like networking was more of an obligation than an opportunity?
Well, you're not alone. Many people find professional networking challenging.
Despite the difficulties some of us may face, professional networking can be much easier and more beneficial with a solid plan in place.
But how do you go about implementing networking effectively?
In this post, we'll delve into why networking is crucial for your career progression and how to harness the power of strategic networking.
We'll discuss various networking tips and strategies designed to make building stronger networks feel less daunting and more valuable.
In this article, you'll learn:
Why networking is important
The 5 effective networking strategies for coaches
Why Is Networking Important?
If you're a coach, having strong relationships is essential for success. This is where networking comes into the picture.
Networking isn't just about boosting your clientele; it's also about getting knowledge from others in the same field and discovering chances to work together.
But why exactly is networking so critical? Let's dive into some key benefits.

Growth opportunities
By using strategies for networking, you can discover new ideas and perspectives that help you grow as a professional.
You might learn about an innovative coaching technique or gain insights into how to serve your clients better.
New clients
The more people who know what you do, the higher the chances of referrals coming your way.
A recommendation from someone within a potential client's network often carries more weight than any advertisement.
Mentorship and support
Building connections with experienced coaches and other business owners can lead to mentorship opportunities, which are invaluable when navigating the challenges in this profession!
Plus, having a supportive community around you helps keep your motivation high during tough times.
To fully leverage these advantages, you need effective networking strategies and skills. Successful networking requires planning, consistency in effort, and being genuine in all your interactions.
Let's dive into each strategy below and find out how to make the most of it.
5 Effective Networking Strategies for Coaches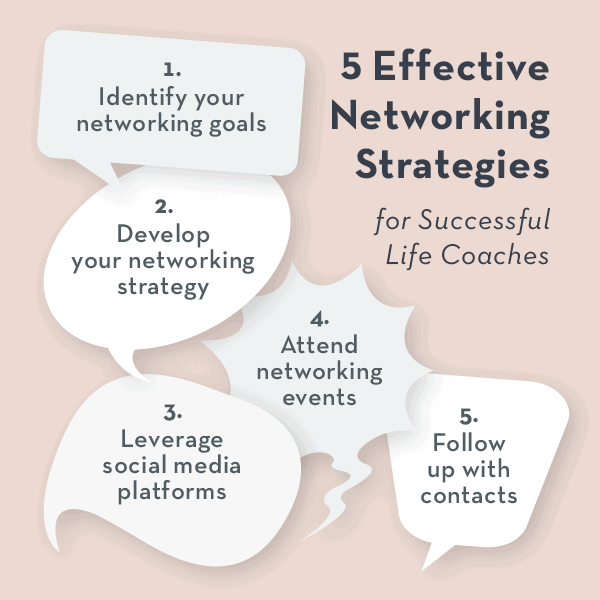 Networking isn't just about attending networking events or collecting business cards – there's so much more to it!
To really stand out and thrive in your networking efforts, you need effective business networking strategies that go beyond the basics.
These strategies will help you make genuine connections, build meaningful relationships, and ultimately open doors to new opportunities, collaborations, and clients.
Here are some proven networking strategies that can help you build a reliable network.
1. Identify your networking goals
The first step in any successful networking strategy is to identify your goals.
What's your networking game plan? Are you seeking new clients or aiming to collaborate with other coaches?
Or maybe you're thirsty for knowledge and want to tap into the latest coaching trends.
Once you know what you want to achieve, it's important to make a plan and focus on connecting with people who can help you reach your goals.
For example, if you're after new clients, you'd better show up at events where they're likely to hang out instead of spending most of your time with other coaches.
Your networking goals might include:
Finding potential clients
Forming strategic partnerships with coaches in parallel niches
Gaining industry knowledge
Promoting yourself as a coaching expert
Getting more coaching clients requires different strategies than cozying up to fellow coaches or learning from the bigwigs in the field.
But hold up.
Before considering any strategies, ask yourself: What makes you special? How can others benefit from connecting with you? It's a two-way street, after all. Others will want you in their network just as much as you want them in yours.
2. Develop your networking strategy
The second step to effective networking as a life coach is developing your own unique strategy. A well-thought-out strategy will guide which events to attend or which social media platforms are best suited for reaching out.
Identify the right people and organizations to build relationships with. Your networking strategy should be tailored to your coaching niche, goals, and personal style.
For example, if you're an executive coach focusing on leadership development, network with HR managers or executives in large corporations.
To develop a solid networking strategy:
Define your target audience: Who can benefit from your services? Think about both potential clients and influencers who can refer clients to you.
Determine where they hang out: Where do these people spend their time online and offline? Industry events, local meetups, LinkedIn groups, virtual summits? Find them and join the party.
Create a plan of action: How will you approach them? What value can you offer? Successful networking is about building mutually beneficial relationships.
A carefully crafted strategy ensures that every networking effort is purposeful and aligns with your business objectives.
It helps avoid wasting time on unproductive activities and increases chances of forming meaningful connections that may lead to opportunities like collaborations, getting new coaching clients, and referrals.
Also, don't underestimate the importance of face-to-face networking; it may prove more beneficial than virtual interactions.
Why? Because personal meetings create stronger bonds than virtual ones. They allow for non-verbal communication, like body language.
You can't give someone a high-five through a computer screen!
Once you have a plan, keep your eyes on the ball. Avoid getting distracted by events that don't align with your strategy.
For example, as an email marketing coach who works with online business owners, I won't spend time at local events for local businesses… even if it seems exciting.
Not only are local business owners, not my target clientele, but they also don't network with my target clientele!
3. Leverage social media platforms
Digital networking strategies, like social media platforms, can be powerful for making connections and engaging with potential customers and partners.
As a life coach, you can take advantage of these platforms to contact people who could be interested in your services.
Note that social media isn't just about broadcasting your message; it's also a dialogue. Make sure you engage with followers by replying promptly to comments/messages, acknowledging likes/shares, etc.
LinkedIn
To level up your connection to your audience, try LinkedIn – an excellent platform for professional networking.
Join groups connected to your specialty or set up a group of your own where you can offer helpful advice and knowledge.
Create a compelling LinkedIn profile that highlights your coaching skills and experiences.
Join relevant groups or discussions on LinkedIn where you can showcase your knowledge while learning from others.
Publish posts regularly about topics related to life coaching – it not only helps establish you as an expert but also increases your visibility among potential clients.
Here's an example of a perfectly tailored profile from Jasmin Alić: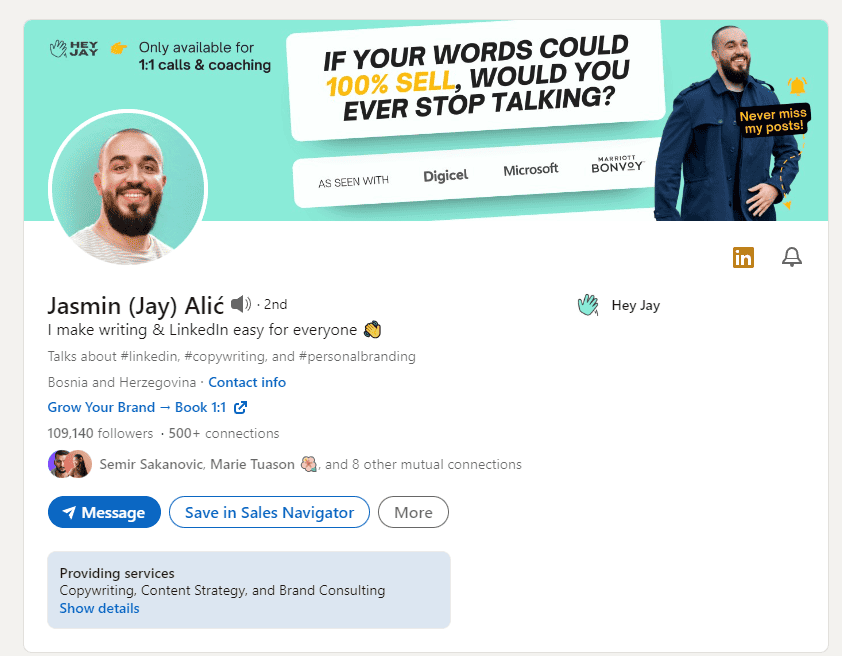 Why is this profile effective? Let's walk through every reason:
His bio states exactly how he helps his audience
The header image serves several purposes – specifies the services available, provides social proof, reminds people to follow him, and catches your attention with a hook!
The link specifies what you'll get when you book a 1:1 coaching session with him
Treat your LinkedIn profile as you'd treat a sales page.
Facebook, Instagram, and Threads
Facebook and Instagram offer opportunities for networking through their various communities.
Join Facebook groups centered around life coaching, self-improvement, wellness, etc., and participate actively by posting questions, providing answers, sharing resources, etc.
But you can also leverage Instagram and Threads to build a community and engage with others.
Threads is relatively new, but so far people seem to be using it to show up as a more authentic and raw version of their Instagram selves.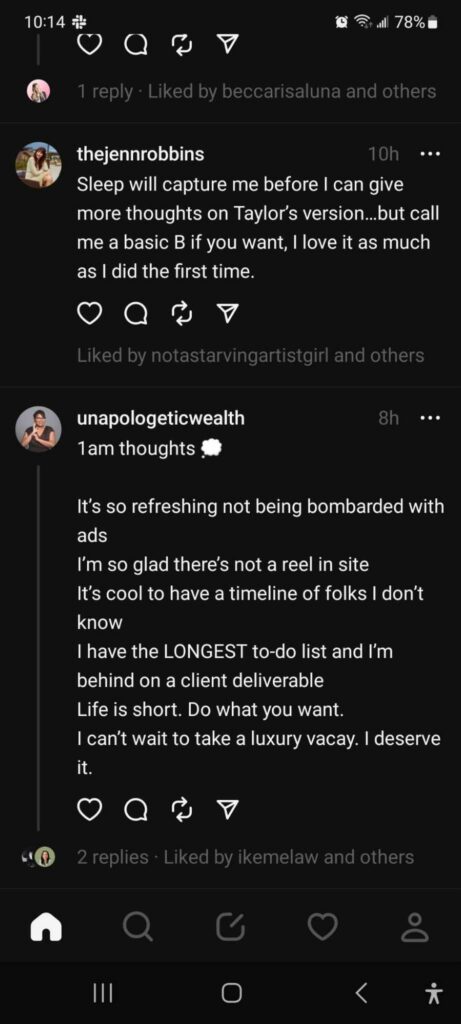 While there are other social media platforms you can use in addition to the above, these are some of the best for networking purposes.
But feel free to experiment where you see fit!
4. Attend networking events
Networking events are a goldmine for life coaches looking to expand their reach and influence.
These gatherings, whether in-person or virtual, are like a treasure trove for meeting like-minded professionals, potential clients, and industry leaders.
You might even consider hosting your own event to showcase your expertise and create brand awareness.
Find the right events to attend. Do some online research for life coaching conferences, seminars, workshops, or meetups that are relevant to your niche. Remember, you want events that align with your networking goals.
Once you've found suitable events, prepare yourself. Polish your elevator pitch and update your business cards with current contact info and social media handles. You want to make a killer first impression.
Now, here's the secret sauce: active participation. Don't just be a passive observer – get involved. Engage in conversations, ask smart questions during Q&A sessions, and volunteer whenever possible. Show that you're committed to learning and growing in the coaching field.
Networking isn't about aggressively selling yourself. Connect with others by building a relationship grounded in mutual respect and shared goals.
Be genuinely interested in others' work; they'll be more likely to stay connected with you after the event.
Oh, and don't forget those business cards. They're still one of the most effective ways to follow up after making initial introductions at these gatherings.
5. Follow up with contacts
Meeting new people is one thing.
But the game is in the follow-up.
Make sure that your networking strategy involves follow-ups so that you can nurture relationships with the people you meet.
The key here is consistency and authenticity. You don't want to be pushy or salesy – aim for genuine connection and conversation instead.
For example, I was recently invited to a coffee chat with Mike Gregga, a workflow and business systems consultant. He specified these calls were pitch-free.
And guess what? It was!
The call was exactly as advertised – a coffee chat. We exchanged banter, shared tips, and got to know each other better.
As a result, I'm much more likely to go to Mike if I need help with my systems. I'm also more likely to refer people to him if they need help in that regard.
Here's another example of someone incorporating contact nurturing into their business operations:
Every month, ethical cold email coach Bree Weber opens up 3 spots on her calendar just for the sake of connecting with her contacts. She calls this Bevy and Banter.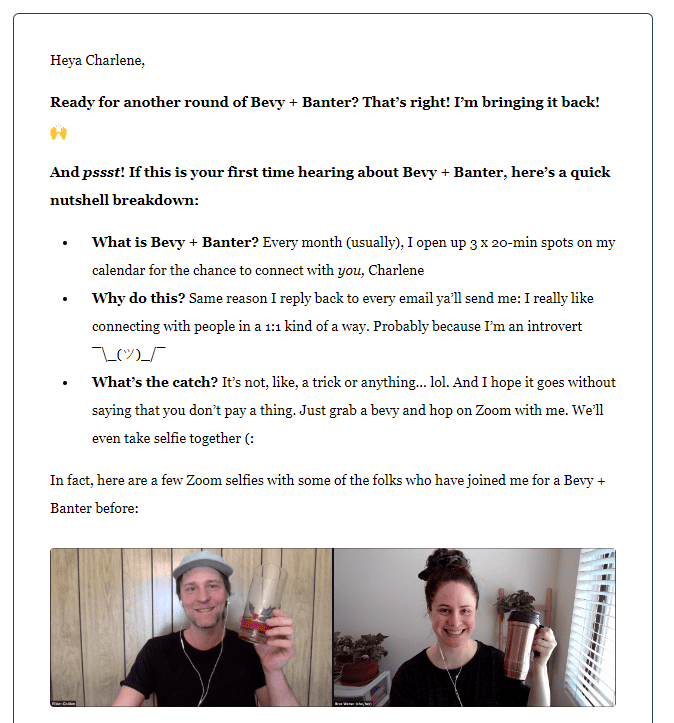 When you treat it as a way to connect and have fun, the pressure to "build a network" melts away and allows you to be yourself.
And that's where the real relationships are made!
Build Your Coaching Business by Implementing Effective Networking Strategies
Networking strategies play an important role in growing your business and establishing valuable connections.
You can have a successful coaching business without networking. But it helps to expand your playing field and feel like you're not in this alone.
Networking isn't just about making acquaintances; it's about forming meaningful connections that benefit both parties.
So take the time to invest in your networking efforts and watch as it pays off in the long run.
Are you worried that networking may take up too much of your time? Why not streamline the admin side of your coaching business with Paperbell and reinvest that time to build your network?
With Paperbell, running your coaching business online is faster and easier than ever before. Grab a free account today!