Are you a coach looking to grow your business on Instagram?
If so, you've probably heard about Instagram Threads. But what exactly is it, and how can you use it to your advantage?
In this article, we'll explore the world of Instagram Threads and provide you with some ideas on how to make the most out of this feature. You will learn:
What is Instagram Threads?
How to make a Thread on Instagram
Instagram Threads bio ideas for coaches
Instagram Threads post ideas for coaches
What Is Instagram Threads?
Threads by Instagram is a social media app developed by Meta that's connected to Instagram.
It's designed similarly to X (formerly known as Twitter), allowing you to create separate 'threads' for different topics.
A thread is a series of short posts that are interconnected and free-flowing, similar to the way you could have a conversation with a real person. You can also have a standalone post as its own thread or have several replies and posts connected to the initial post.
On the app, you can see how posts are connected to each other with the visual "thread" or line: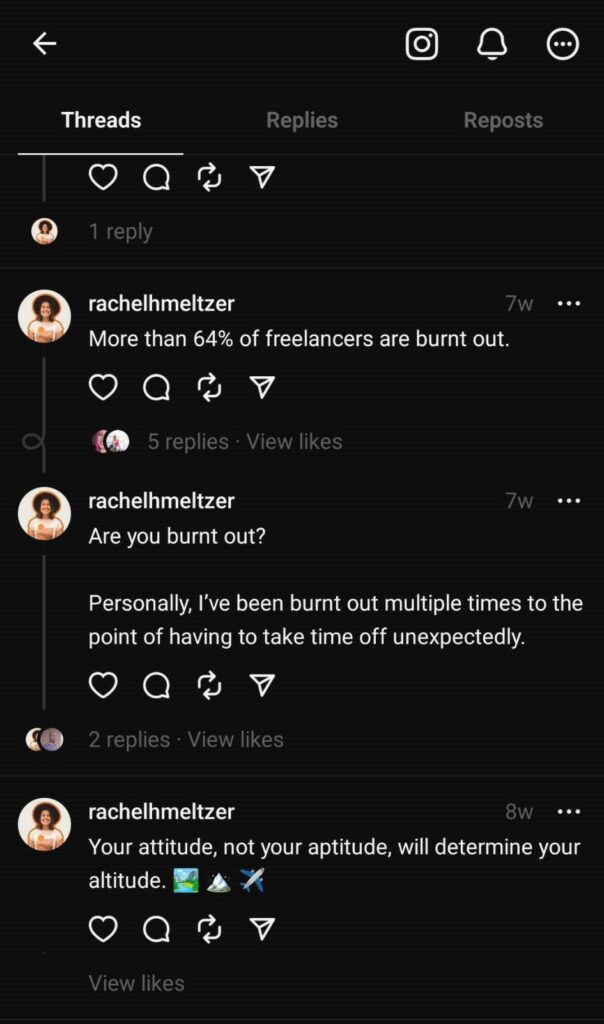 For instance, in the image above, you can see the top two posts are in the same thread because they're connected by a thin grey line on the left. But the post at the bottom is standalone.
You can also see that each individual post in the thread has received replies.
But Instagram Threads isn't just for personal use. It can also be a powerful tool for professionals like coaches to connect with their clients and build a community!

Unlike Instagram's main app, Instagram Threads provides a more intimate and personalized space to interact with your audience, allowing you to foster those relationships and provide the support your clients need. That's thanks to how replies are nested – although posts are public, threads of replies feel more personal.
Honestly, it's difficult to explain in words without having experienced it.
Each post on Threads can be up to 500 characters long.
Additionally, Instagram Threads allows you to share:
Photos
Gifs
Links
Videos up to 5 minutes long
You can use these features to share motivational quotes, progress pictures, or some of the Reels you would have shared on Instagram.
Because Threads is connected to Instagram, you'll automatically follow everyone you were already following on Instagram who also has a Threads account. This means you could create your Threads account today and already have several followers!
And when someone has a Threads account, you can see it on their Instagram profile based on the number of their Threads account. For instance, Jereshia Hawk, a business performance coach, was the 33,884,532th person to create a Threads account: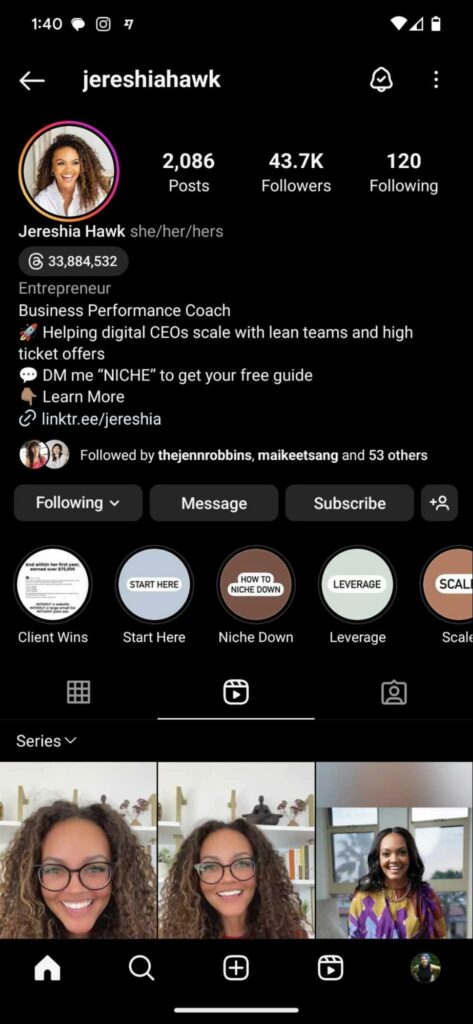 And when you click on that number, you get redirected straight to her Threads profile: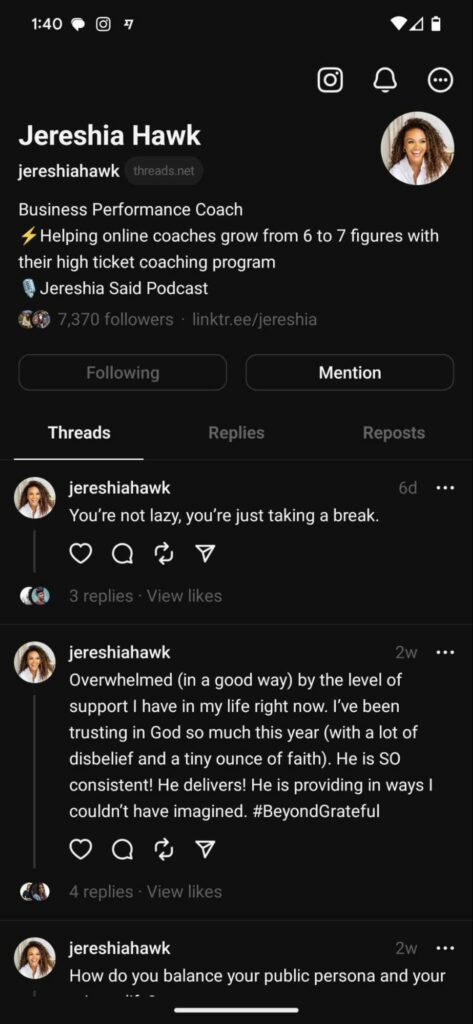 How To Make Threads on Instagram
Making threads on Instagram is a simple process. Here's how you can do it:
Download the Instagram Threads app from the App Store or Google Play Store.
Log in to the app using your Instagram account.
At the bottom of your screen, click the New Thread button.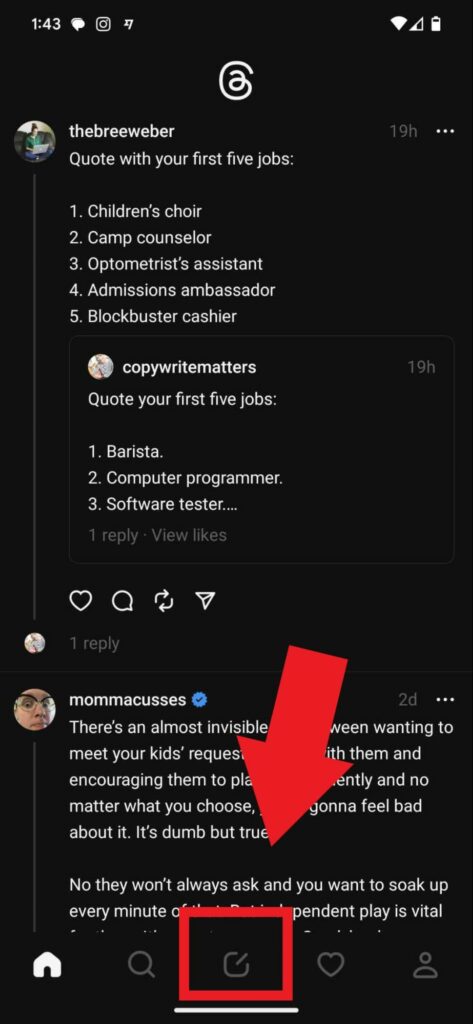 Write whatever you want in your Thread – remember you have a 500-character limit.
Click the paperclip symbol to add an image or video to your post if you'd like.
Click 'Add to thread' to write an additional post that will appear under the same thread.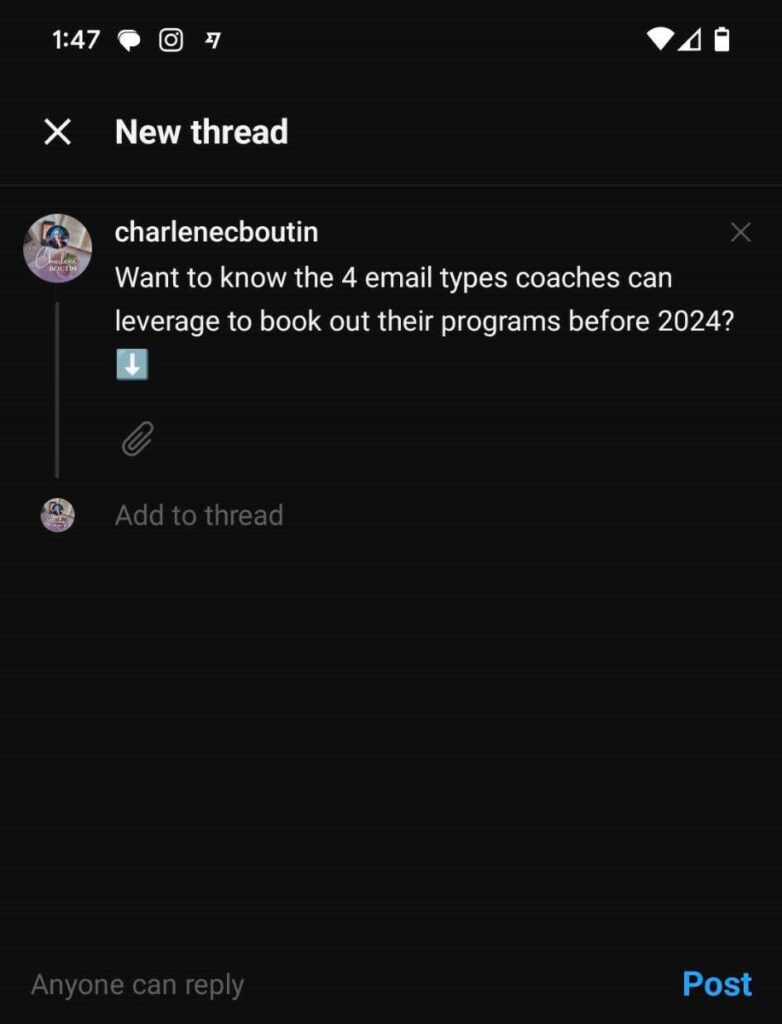 Repeat as many times as you'd like to create your entire thread, then hit "Post"!
Like other social media platforms, you can tag other users in your posts.
This is a great way to tap into your network to build your audience of potential dream coaching clients.
For example, let's say you recently had a coffee chat with a fellow coach. During your chat, you had an epiphany about a topic that could be relevant to your audience. When discussing this epiphany on Threads, you could tag your fellow coaches and encourage them to share the post!
In short, Threads was designed for users to engage and speak with each other. So, if you're going to use it, make sure you respond to other people's threads and add your own genuine thoughts when it makes sense to do so!
Oh, and guess what – Instagram makes it easy to share your Threads content on its platform, too. As someone who loves repurposing content, this is my dream come true!
All you need to do is click the Share button from your post (or someone else's post, too) from the Threads app. This will give you the option to share to:
Share the post with someone on Instagram DMs
Add the post to your Instagram Stories
Post the content to your Instagram Feed
So, if you decide to share images or videos on Threads, adding them to your Instagram Feed would make sense if you notice you're getting lots of engagement over on Threads!
That said, you don't have to share everything from one platform to another. They're still vastly different platforms.
Whereas Instagram is designed for a more curated experience, Threads is perfect for stream-of-consciousness, raw, unfiltered-style content.
Instagram Thread Bio Ideas for Coaches
Just like Instagram, your Threads profile will have a bio where you can introduce yourself to your potential followers.
You can sync your Threads from Instagram to have the same bio. Regardless of whether you write yours from scratch, here are some tips to help you make a great first impression with your bio!
1. Share a brief and impactful description of your coaching niche
Are you a life coach helping clients find their purpose and achieve their goals?
Or perhaps you specialize in business coaching, guiding entrepreneurs to success?
Whatever your coaching niche, craft a concise and compelling description that captures the essence of your coaching expertise.
Don't be afraid to get super specific here. The more you niche down with your description, the more that your ideal clients will read it and go:
"Woah. That person gets me. I need to follow them and see what awesome stuff they've got for me."
For example, take a look at the Thread bio for mindset coach Kate Carter: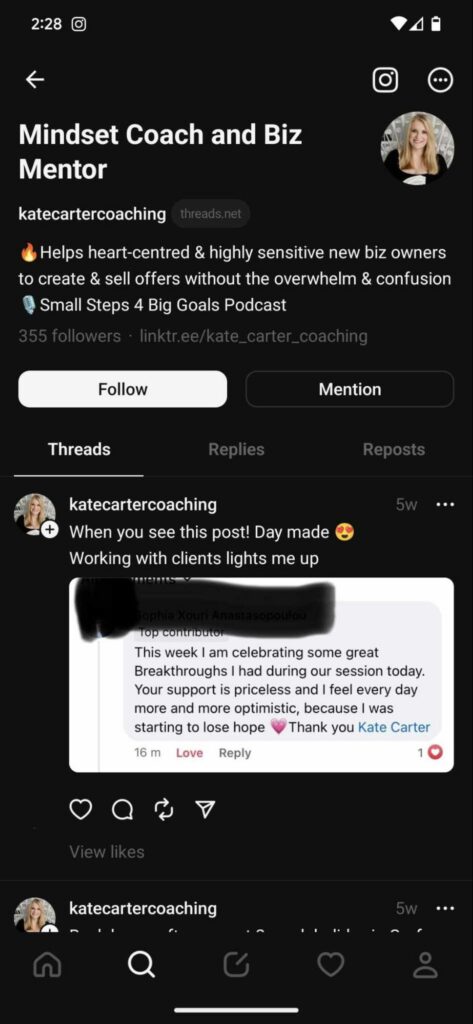 Who does she help with mindset? Heart-centered and highly sensitive new business owners.
What exactly does she help them do? Create and sell offers without the overwhelm and confusion.
If you were a new business owner, wouldn't you be more likely to follow Kate than a more generic mindset coach who simply states they'll help you "overcome mindset issues"?
I know I would.
2. Showcase your expertise and qualifications as a coach
Social proof is the name of the game. That's why sharing your expertise, qualifications, and anything else that provides you with credibility will help you stand out on Instagram Threads.
Let's pull from the previous example: below the description of her niche, Kate also mentions that she has a podcast: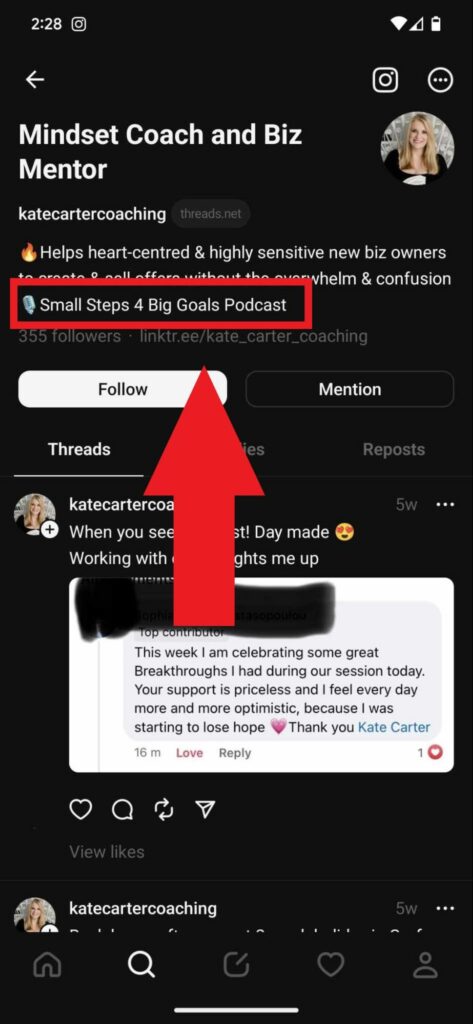 While a podcast doesn't prove she has coaching expertise specifically, it does tell people that she knows enough about her niche to have a dedicated show about it.
So, what can social proof and expertise look like otherwise?
You can showcase results you've gotten for clients – or yourself, too! For instance, Laurel Portié talks about her signature strategy and the results it has gotten her in her coaching business: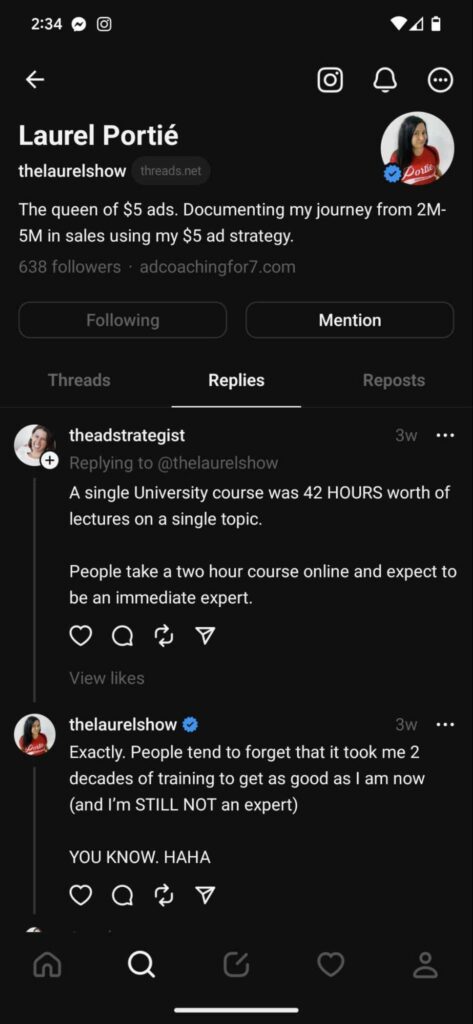 Alternatively, if you have none of the above, you can start with any coaching certifications you have.
With that being said, I suggest focusing on the more tangible results you can provide if you can. Coaching certifications can help your credibility initially, but remember that people care about where you can get them – not where you've been.
4. Add a link to your website or a specific landing page for more information
Your Instagram Threads Bio should act like a funnel – or a mini website. You can use your bio to capture attention and then add a short CTA to tell people to use the link in your bio.
So what should you link to? If you have several links, you can use a tool like Linktree to share all of them at once.
But if you don't have several links to share yet, consider sharing your discovery session landing page link.
And if you don't have one yet, make sure to snag your free Paperbell account to create yours in the next 10 minutes!
5. Mention any free resources or offers you provide to your thread members
If you want to use Threads to grow your email list, consider sharing your lead magnet link in your bio! Tell your audience about any valuable resources, such as e-books, webinars, or mini-courses you offer for free.
This provides immediate value to your followers and establishes you as a generous and supportive coach.
Plus, it lets you stay in touch with people via your coaching newsletter, even if they don't see your Threads posts.
Instagram Thread Post Ideas For Coaches
Now that your threads are set up and your audience engaged, it's time to think about what to post. Here are some Instagram Threads status examples to inspire your content creation!
1. Case study post
There's no better way to inspire your audience and showcase your expertise than to walk through an example of how you helped someone achieve a specific result.
Here's a great example from Laurel Portié. She starts by opening the story with a hook: someone needed feedback on a new offer. That's a problem she can help solve.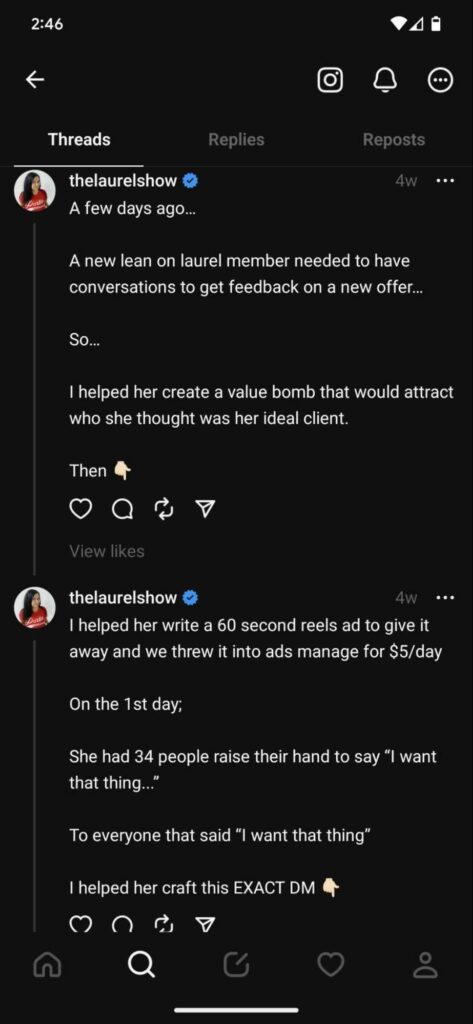 Afterward, she shows exactly what she told her client to do. In this instance, she's giving Threads followers the exact DM script and the ensuing result: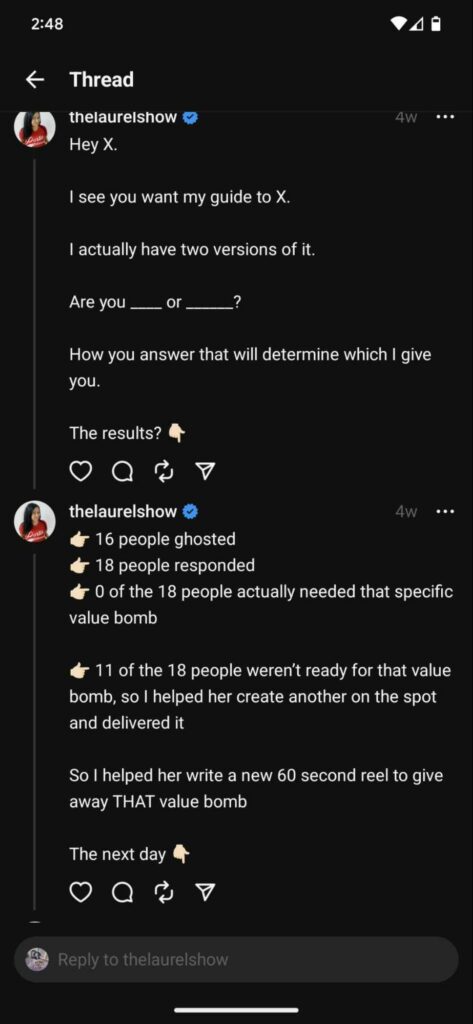 The thread continues like so until she showcases the final result. And when she does, she links her followers to a longer video that showcases her entire strategy.
This Thread example works because:
It's specific
It showcases expertise and social proof
It shows what happens when things don't work out right away
It calls readers to further action
Just remember to ask for permission before sharing a client's story publicly in this way!
2. Share inspirational thoughts and tips
Below is a one-post thread from Rachel Pederson, a social media marketing coach: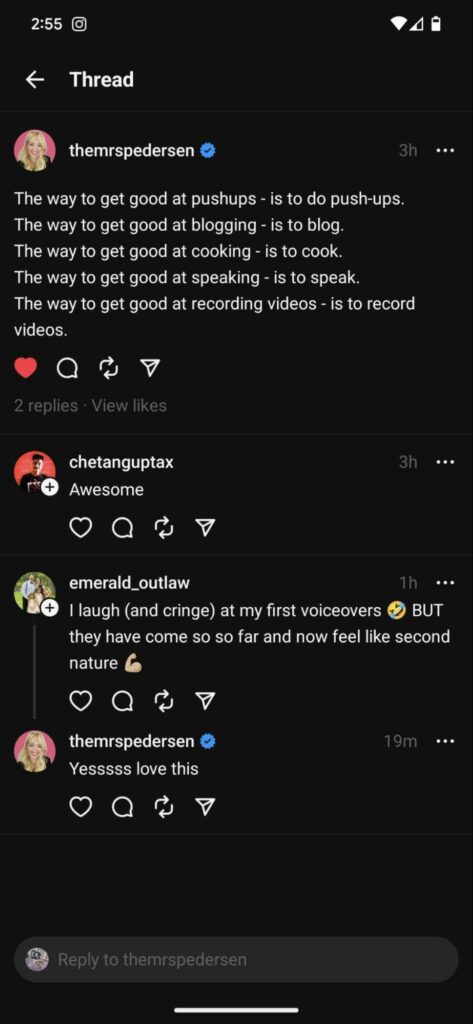 It's an inspirational and motivational message that can boost her audience's morale.
These types of posts are simple but can be extremely effective when your messaging is on point!
3. Create a list of actionable tips
In addition to inspirational tips, you can also curate a list of actionable strategies!
You can either add one strategy for the post in a thread or combine them in a single post if your list is short enough. The latter is what The Holistic Psychologist did with her "5 ways to compliment someone without using their appearance":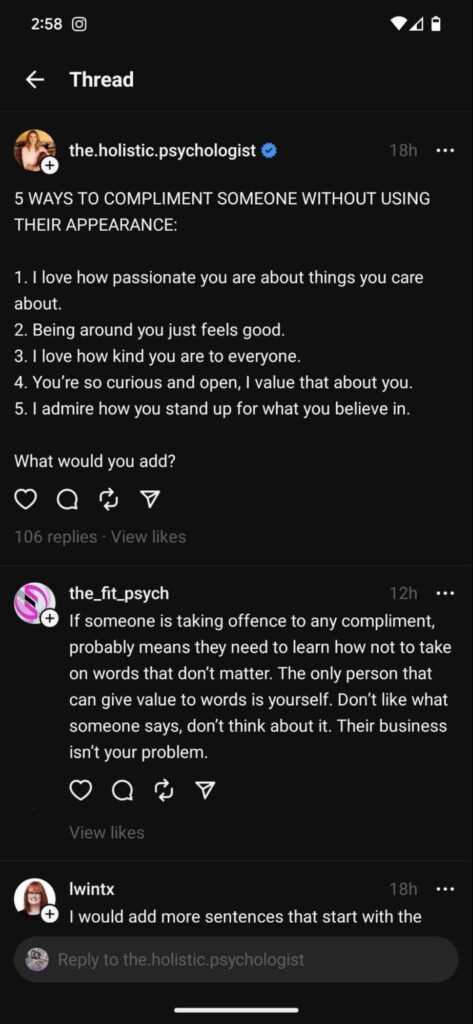 She finishes the post by writing, "What would you add?" encouraging engagement with her followers. This is a good strategy to start building relationships with your audience!
4. Share additional resources
Have you appeared on someone's podcast as a guest? Or have you recently published a new blog post on your coaching website?
You can use Instagram Threads to share an interesting story behind why this piece of content matters – and then share the link itself.
This is what performance coach Todd Herman did when sharing his podcast interview with Rachel Hollis.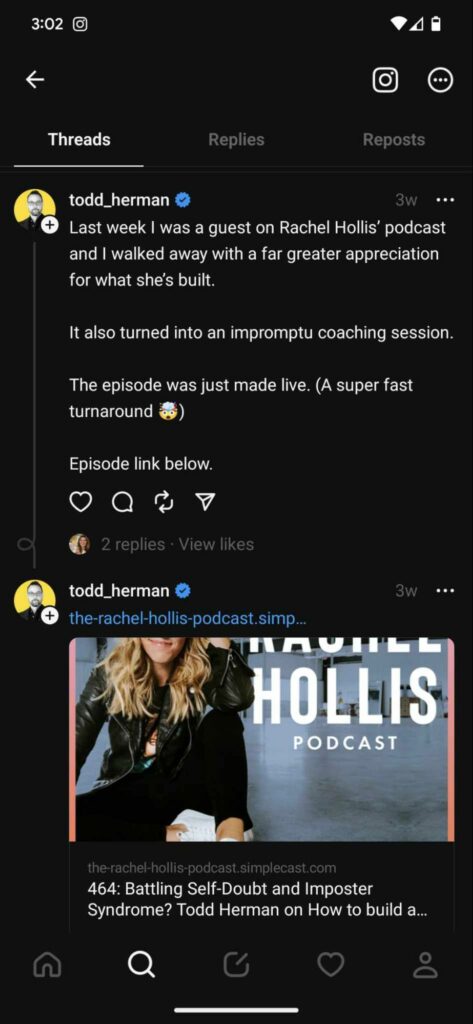 In the thread's first post, he starts building up intrigue about the episode. And in the next post, he links the episode for all to access.
Leverage Threads to Attract Your Dream Coaching Clients
So there you have it – some Instagram thread ideas to grow your coaching business. Use this powerful feature to connect with your audience on a deeper level and watch your coaching business thrive!
Remember, consistency is key when it comes to posting on Instagram Threads. If you're unsure whether you can be consistent on yet another platform, you're better off concentrating all of your energy on what you're doing already – whether this is TikTok, Instagram, LinkedIn, or another platform entirely.
Lastly, don't forget to engage with your audience. Respond to comments, like their posts, and show genuine interest in their journey. Building a community around your coaching business will foster loyalty and attract new clients through word-of-mouth recommendations.
And if you want more time to engage with your community instead of sorting through the admin mess of your business, consider giving Paperbell a try.
Your account is free forever until you land your first client! Try it out today to sell your coaching online the crazy-simple way.