Whether you're a brand new coach or a seasoned one, you've probably heard people say social media is one of the best ways to get coaching clients.
But if you're fed up with spending all day on social media, what can you do?
While social media is a useful tool, it can get overwhelming quickly. Luckily, there are other ways to build an audience and meet potential coaching clients.
Keep reading to find out how to get coaching clients without social media! Here's what you'll learn in this post:
Is it possible to get coaching clients without social media?
What you need in place to get clients without social media
9 marketing strategies to land clients without social media
Is it Possible to Get Coaching Clients Without Social Media?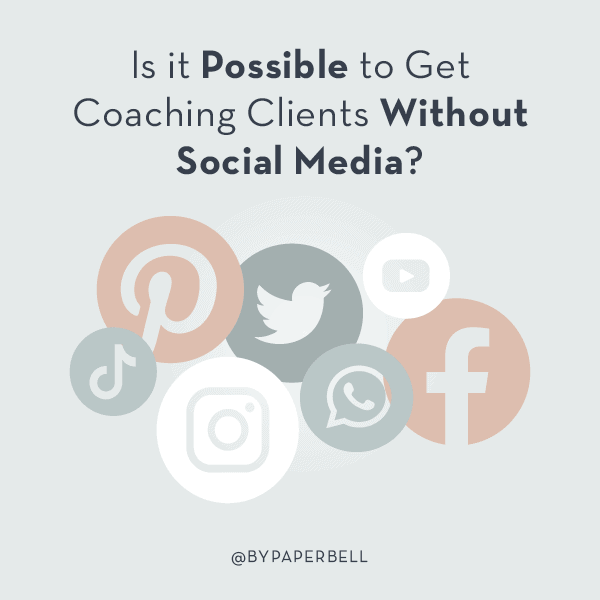 Short answer? Yes!
Social media marketing works well for coaches. But it does have several flaws.
For one, you don't own your social media followers. If Instagram goes down tomorrow — or if TikTok decides to ban your account — you lose everything overnight.
Social media also opens you up to trolls and haters, which can be detrimental to your mental health.
Yet, coaching has been around for way longer than social media! And coaches have been getting clients without social media for ages.
So if social media isn't your jam, don't sweat it.

What You Need in Place to Get Clients Without Social Media
Whether you want to leverage social media or not, there are a few elements you should have in place before you start marketing.
For example, you should get clear on what coaching packages people can purchase from you. It should be clear for your potential clients, too.
In addition, your coaching packages should clearly communicate the transformation you'll help your clients achieve. If that's not clear, potential clients may not see the benefit of hiring you.
Finally, you should have a few coaching automations in place to make it simple for potential clients to book you. That's exactly why we created Paperbell.
For example, you can create your coaching packages inside of Paperbell and customize everything about that package, including landing pages and intake forms. Think of Paperbell landing pages as your online coaching business cards where your prospects can learn everything they need to know about every package you offer.
Plus, when you set everything up, your clients can:
Click on your landing page
Choose a package that interests them
Proceed to checkout
Pay you in full
Book their first session on your calendar
Receive email notifications and confirmations so they don't miss their appointments
Receive intake forms automatically so they can prepare for their first session
Alternatively, they can follow a similar process for your free discovery session. And they can do all of that without you having to lift a finger!
Without these processes in place, you can still get coaching clients. However, you'll have to manage the back-and-forth conversations via email. And you'll also need to create an invoice manually, send a separate payment link, make sure your client remembers to show up to their appointment, and so much more…
All of these manual tasks will take time away from your schedule. But when you free yourself from these tasks, you can spend more time on revenue-generating work instead — like the 9 marketing strategies we cover below!
9 Marketing Strategies to Land Coaching Clients Without Social Media
Here are 9 ways to get coaching clients without social media! Almost all of these don't require any investment to get started, which makes them ideal for brand-new coaches.
1. Guest posting
Some of your ideal clients are out there reading other people's blogs. And posting an article as a guest can be a great way to get seen by those potential clients.
You can find guest posting opportunities by searching for the name of your niche + "guest posting" — or the name of a blog + "guest posting." Here's an example: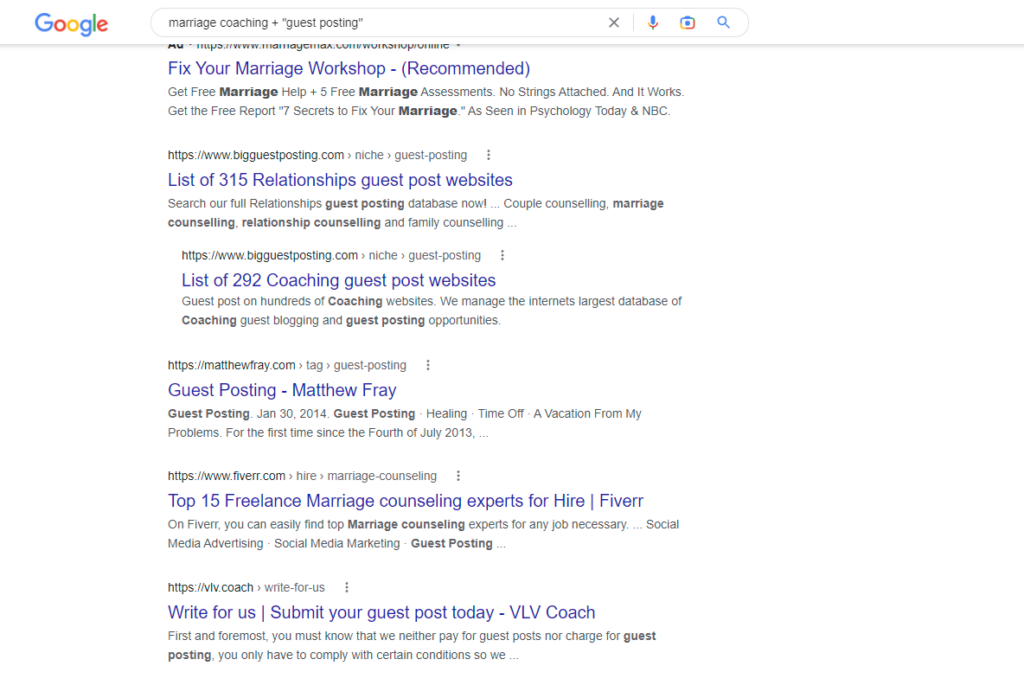 When you submit a guest post, remember to follow the blog owner's guidelines to the letter! Some bloggers will want to see a full post, whereas others will only want to see suggested topics.
2. Guest podcasting
Appearing on other people's podcasts can be a highly effective, no-spend way to get coaching clients.
Just like guest blogging, guest podcasting allows you to take advantage of someone else's audience to share your message.
But because your audience gets to hear your voice next to a well-respected host, guest podcasting can lend you even more credibility than guest posting.
3. Starting your own podcast
In addition to appearing as a guest on other people's podcasts, you can start your own!
You don't need high production value to start a coaching podcast. For example, marketing coach Luke Charlton publishes a short episode of The 15 Minute Client Podcast almost every day — and sometimes records straight from his phone.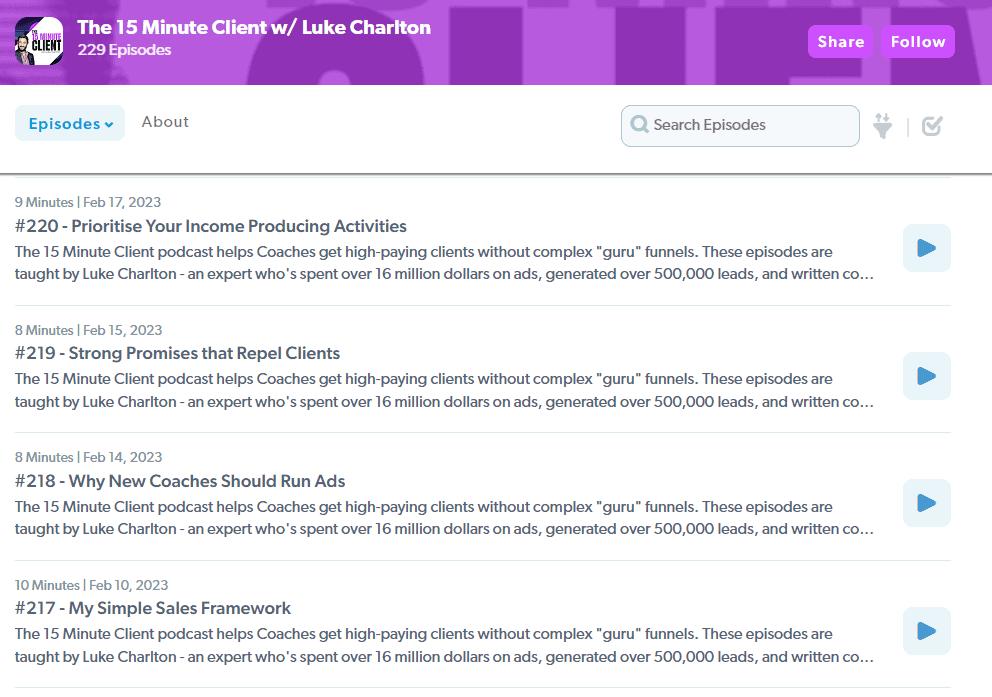 What's important about podcasting for coaches is having something of value to say. Whether you want to share your personal story or explain the process you use to help your clients, we're sure it's worth listening to.
4. Launching a blog
Not a speaker? Starting a coaching blog is a great alternative to podcasting.
You may see others saying, "blogging is dead". But you're reading this, aren't you? The fact that you're here proves that generating traffic to your website by blogging still works!
Remember to optimize your website and blog for SEO to increase your traffic. End each post with a call to action to book a free discovery session with you!
5. Leveraging Pinterest
Whether you have a blog or a podcast, you can increase your traffic by adding Pinterest to your marketing strategy!
Pinterest is more of a search engine than a social media platform. You can create pins for every blog post as well as share other people's pins when they're relevant to your coaching niche.
This platform will allow you to generate traffic a bit faster than search engine optimization. However, keep in mind that it still takes consistent effort to get the ball rolling on Pinterest. Your effort will compound over time — as long as you're consistent.
6. Starting an email newsletter
All of the above strategies can help you generate traffic to your website. But once people are on your website, not all of them will book a free discovery session with you right away.
In the meantime, you can add them to your email list instead! Add email forms and popups on your website to capture email addresses in exchange for a freebie.
Every week (or several times each week), you can nurture these people and gain their trust by sending them an email newsletter. When subscribers are ready to buy, you'll be top of mind for them, making you the obvious person to hire.
7. Collaborating with other coaches
Other coaches have audiences, big or small. And if you have an existing audience — or something of value to share — you can collaborate with other coaches to tap into their audiences.
Here are some popular ways to exchange audiences with other coaches:
Virtual summits: Several coaches, consultants, and/or experts come together to give various talks all around the same theme!
Digital product bundles: Every participating coach provides one or more paid products to add to a bundle, which clients can purchase for one low price.
List swaps: You email your list about a coach, and that coach emails their list about you!
These strategies work especially well with coaches who aren't direct competitors with you — but who serve the same audience.
Let's say you're a health coach specializing in helping people with menopause. Maybe a career coach who works with high-achieving women would share a similar audience. But because you don't help them with the same problems, you don't cannibalize each other's audiences.
Not sure where to find other coaches who share your audience? Try Coach Compare — and create a profile for yourself if you haven't already!
8. Starting paid ads
Want to grow your audience faster than the other methods allow? If you have the budget, consider only using social media to run ads — like Facebook ads.
And if you want to avoid social media entirely, you can run ads on Youtube or Google as well.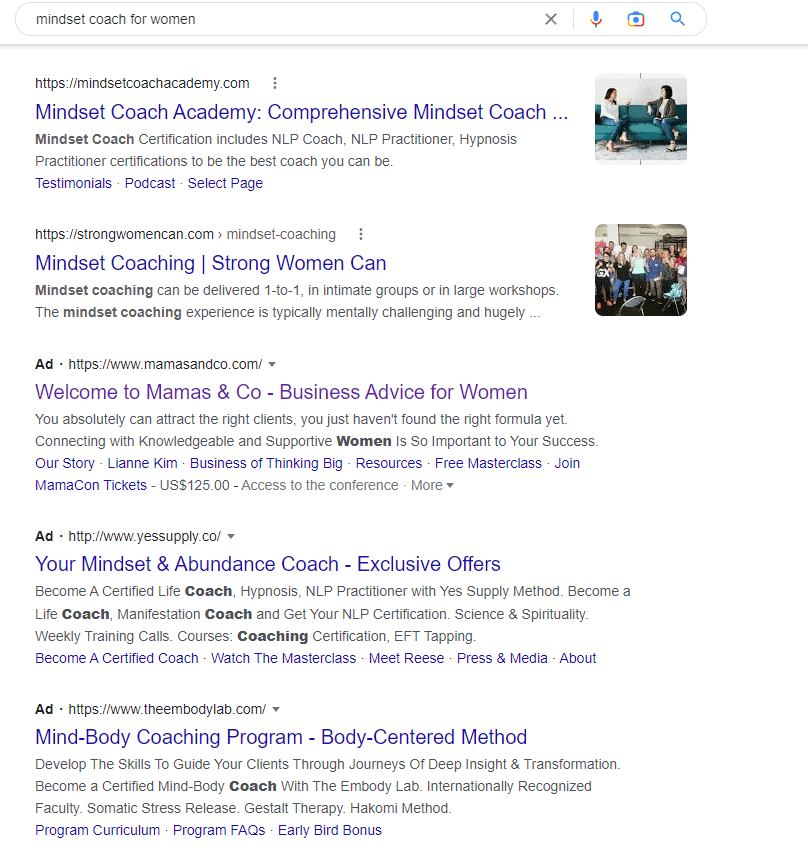 You can use ads for advertising your freebie or lead magnet. While you can run ads directly to a calendar page to entice people to book a call, this is a relatively expensive strategy that requires lots of tweaking. In short, it's not best for beginning coaches.
9. Trying in-person networking
So far, we've covered effective online methods to get coaching clients fast. But you can find potential clients offline, too!
Look up networking events in your area. They don't have to be specifically branded as "networking events" — any event that allows you to meet people who fit your niche will work!
You may not always land clients directly from such events. However, you can start asking people for referrals once you build a relationship with them. They may even take you up on that offer themselves if they need it.
Grow Your Coaching Business Even if You Don't Like Social Media
Social media is a powerful tool for coaches to find new clients — but you can certainly thrive without it! As long as you're able to reach people and start building relationships with them, you have what it takes to scale a coaching business without wasting time posting on social media.
Need help streamlining the admin side of your coaching business? With Paperbell, running a coaching business online has never been easier! Try it for yourself by claiming your free account.